Many of us spend hours on buses every week, and yet, bus drivers are one of the most overlooked and underappreciated workers. They spend their days navigating through traffic, dealing with unruly passengers and trying to keep things running smoothly.
One of my favorite memories as a child is when my bus driver pulled over to let me out at the top of Lougheed hill.
Bus drivers have an integral role to play in this, and they should be well appreciated because of their:
Time consciousness – Imagine what would happen if they stayed up late as many of us do. There would be no bus driver to help us make those early appointments.
Cautious driving – The safety of every passenger and even road user at large is in the hands of these professionals. A mistake from them can cost lives and do other untold damages.
Knowledge of the routes – No one knows the routes better than bus drivers. It is why we can rest assured of reaching our destination even when we do not know the routes so well.
So why not take a minute to write a thank you message for your bus driver? Thank you messages can be a way to show these workers we care about them and appreciate their hard work.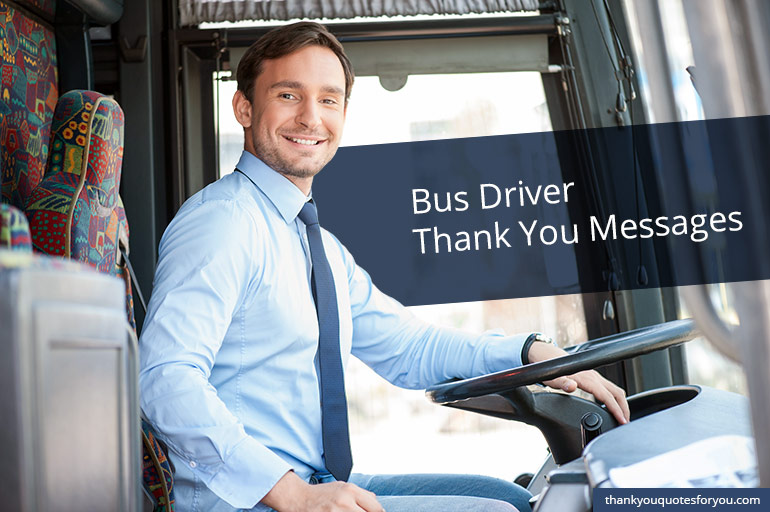 Some Appreciative Messages to Bus Drivers
Extraordinary acts mean ordinary things done extraordinarily. The last sentence defines how you drive your bus. You perform your duties as a bus driver in a remarkable way. Thank you for being extraordinary.
I always look forward to meeting you each day. I get this positive vibe from you, and I appreciate you for it. Well done (name of recipient).
There are several bus drivers littered all around this city. However, I always wish I were your passenger. It is because of how amazing you are at what you do. Thank you very much!
Thank you for taking your job very seriously. Lives are protected, and people are happier as a result. Keep up the excellent job.
I am highly certain that I am not the only passenger who thinks you are amazing. Many of them have made this known. I lend my voice to the several that have called your attention to this to say you are a good driver and person. Thank you very much.
Thank you for your services all this while. I and several others like me appreciate you for the quality of your services. Well done (name of recipient).
I refuse to take the amazing services that you render for granted. It is why I appreciate you for being the best bus driver I have ever come across.
A good day starts with meeting people like you. Your warm reception and friendly behavior are breathtaking. Thank you for all that you do in the line of duty.
I have heard a couple of people say remarkable things about you being a good bus driver and person. The truth is that I cannot agree more. You are one of the very best I have come across, and you deserve to know this. Well done (name of recipient)!
What a privilege it is to be your passenger. You drive every bit like a professional, and you are the true definition of a world-class driver. I am not shy to let you know this, and I appreciate your services.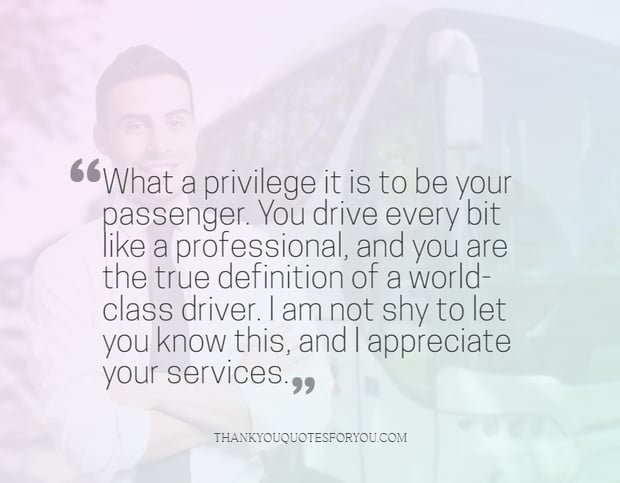 I appreciate that you do what you do the best way possible. I have seen many of your colleagues who do not take their jobs as seriously as yours. I raise my hat to you.
Unfortunately, thousands of people die daily due to road accidents. But fortunately, our roads are safer with drivers like you behind the wheel. I celebrate you and hope that more drivers like you will emerge. Keep up the fantastic work.
It was quite a long trip, and everyone slept off at some point. Well, I realized that you were the only one that stayed awake. It is because our safety and the possibility of reaching our destination rested solely on you. I am not unaware of your sacrifices as a driver, and I thank you very much for it.
Every parent should be deliberate about entrusting their kids to safe hands. I am a responsible parent, and this is why I have entrusted you to take my kids to and back from school. Thank you for being a safe hand for my kids.
I am not a bus driver, but I have driven smaller automobiles many times behind the wheel. As a result, I know that you make major decisions daily. Your choices determine a lot, and you cannot afford to make the wrong judgment call. Thank you for being very good at what you do.
The bus does not move until you move it. You have done an excellent job moving us to our various destinations with your bus all this time. Thank you for being dependable.
This is a message of appreciation for your services, and you deserve to hear this very often. It is because you have done so well driving us to our destinations all this time. Thank you very much (name of recipient).
I always rest assured with my kids right inside the bus you drive. It is because you are very cautious and professional. I celebrate you now and always.
You do more than just drive buses. You inspire me every day with those smiles of yours. I am sure that this is the experience for many other people. Thank you for always inspiring me and many others like me.
I would have you all to myself if it were in my power. It is because of how cautious you are behind the wheel and how reasonable you are as a person. Keep up the outstanding work (name of recipient).
People that need to send well-composed thank you messages to bus drivers have more than enough options here. You only have to go through these messages and choose one that best appreciates the bus driver in question. And if you do not mind, you can merge two or more of these appreciation messages.