Saying thank you is an important habit and skill set. It is also the most straightforward way to improve our relationships with other people. We express it when we receive assistance in times of need, when we get special favors and sound advice, and when we receive baby gifts too!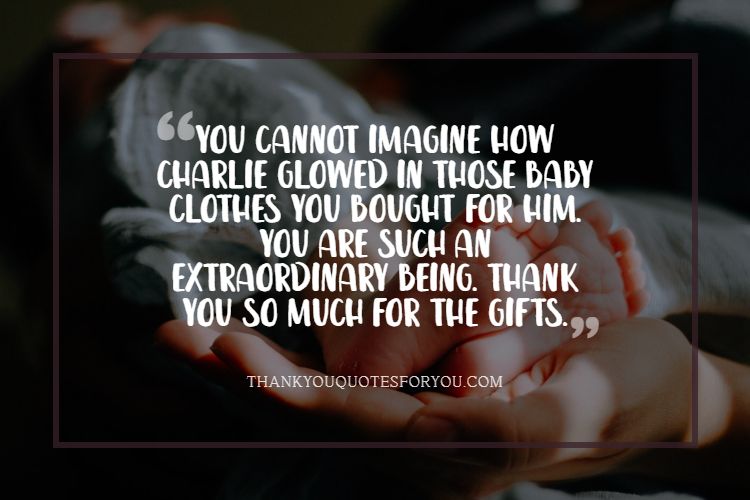 Just as "sorry", "thank you" is very magical. Beyond expressing gratitude, it shows signs of regard to the person who helped you, and it also indicates that you do not take them for granted.
More importantly, leaving thank you messages helps form a new relationship with people and solidifies the bond with those you already have a relationship with, ensuring a stronger and healthier friendship.
By always showing gratitude to people, you'll also get positive payback in different ways – from experiencing speedy success in your business to enjoying a much happier home! Many successful business entrepreneurs have attributed their successes to expressing kind words like 'thank you!' Before you start drafting thank you messages for your baby's gifts, here are some things you should consider to make your messages sweet and thoughtful.
Personalize your message to address the recipient by their name.
Draft a general thank you message that will include the gift items you received and how you intend to use them.
Close the message and sign your name in the message. You can also add a phrase that's suited to emphasize your relationship with the sender of the gift.
Sweet And Thoughtful Thank You Messages For Baby Gifts
Thank you for the fantastic baby gift you sent. You indeed chose the perfect gift for my baby, and I am so touched by it! This gesture of love has made my day even more special.
I can't thank you enough for celebrating the arrival of my baby. The gifts you sent to me made me feel special. I am grateful for it.
We are so thankful for the special gift you sent to us, all your best wishes, and support as we begin this new chapter in our family. It reveals the thoughtful consideration you have for my baby and me.
I appreciate the gift card. It is such an expensive pick. Indeed, my family appreciates your support and generosity.
Thank you so much for thinking of me and sending this fabulous gift for my baby. You spent time, effort, and energy to ensure this was the best for my baby, and it was just that. I am grateful.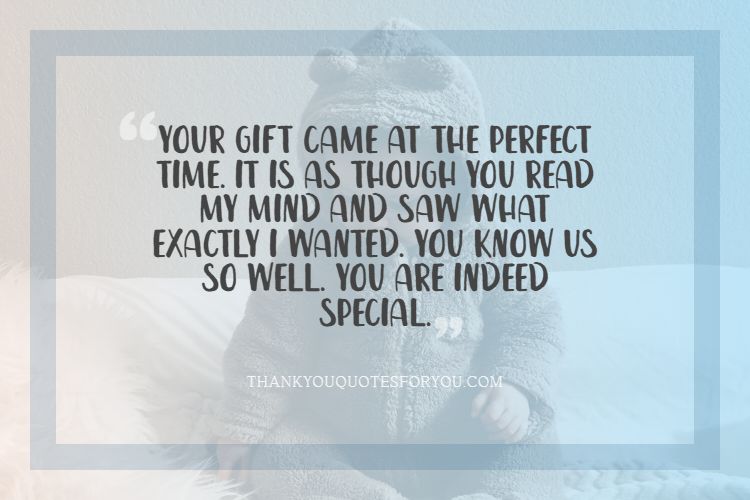 Hello (Insert gift sender's name), we appreciate you more than "Thank You" can express, but it's a start. It was a pleasant surprise to receive such a lovely gift for my baby from you. We love it so much.
We are grateful for your kindness, first for being present at our baby shower and then for the special gift you blessed us with. We appreciate it so much.
The gift card you sent came as a massive surprise to us. We bought [put baby's name] a baby swing with it, and he appears to love the swings. I will send you a picture of him soon.
We thank you for the baby gift! You have no idea how much joy you've brought into our lives with this gift. You made our baby shower so much more remarkable.
You cannot imagine how [baby's name] glowed in those baby clothes you bought for him/her. You are such an extraordinary being. Thank you so much for the gifts.
We appreciate your support as we kick off a new chapter with [baby's name]. The gifts you sent will fit perfectly in about a year. Thank you!
I am overwhelmed with the baby gifts you blessed my family with. [Baby's name] looks radiant in the dresses.
Beyond the gift you sent during my baby shower, I appreciate your friendship and everything you stand for. Thank you so much.
Your gift came at the perfect time. It is as though you read my mind and saw what exactly I wanted. You know us so well. You are indeed special.
Thank you for the thoughtful and befitting baby gifts. When my baby finally arrives, things will be much easier for me to deal with.
Your kindness is indeed overwhelming! I am highly blessed by the gifts for [baby's name]. God bless you!
I will always appreciate the outstanding gift you sent to me when you graciously showed up for my baby shower. It's so amazing!
Your gift is an answer to my prayers for [baby's name]! Every time I use it for her, I never forget to whisper a word of prayer for you. Thank you for being exceptional.
Sincerely, I do not have enough words to express my gratitude for your care and love towards my baby. May God bless you so much.
I feel favored for having friends like you around. The gift you sent makes my baby smile always. I know that she would also value your presence. I can't thank you enough.
The beautiful blanket you sent has the perfect size for [baby's name] room. It shows you carefully made the best choice for him/her. We love it!
You are such a sweet soul [gift sender's name]. [Baby's name] is a week old now. Your gift has complemented everything we needed and has saved us so much stress. It's lovely having friends like you.
All the toys, books, and clothes you gifted our baby will be helpful to him/her for quite a long time. We thank you for your love for us.
Thank you [sender's name]. We appreciate that you carefully considered our baby's needs almost immediately after he/she was born. [insert baby's name] now has a fully equipped room for learning.
We love the bibs and bottles. [insert baby's name] looks incredibly adorable in the [baby shark] bib, and the [brand name of the bottle] was shown to be a perfect choice for [baby's name] as she enjoys drinking from them.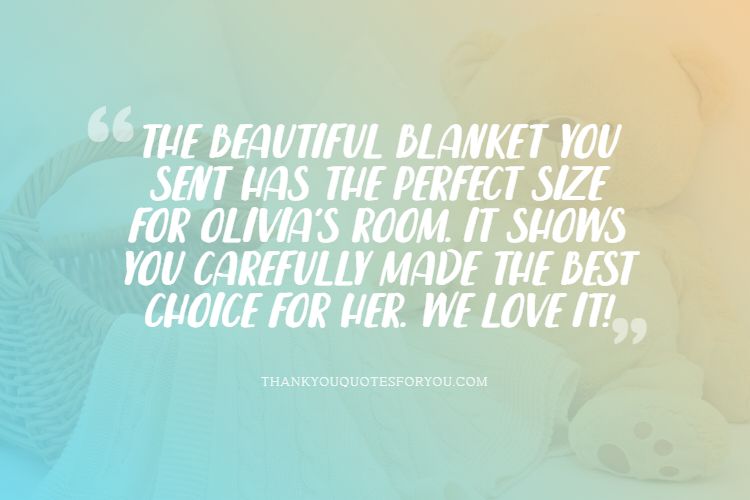 I love the wipes and diapers you sent for [baby's name]. With them, we are now stocked on diapers for one whole month! Thank you for saving us for such a cost!
A million thanks are not enough for the fantastic gift you sent for [insert baby's name]. Rest assured, we hope to put the funds to good use for her future and will forever be grateful to you for this gesture.
Thank you for gracing us with your presence at my baby shower and for the lovely gifts you brought. My baby will look adorable in those outfits.
Thanks for lighting up our lives with your presence and adding to the excitement of our bundle of joy with your thoughtful and creative gift. [insert baby's name] would look fantastic in her next photoshoot wearing it. Love, [insert your name].
Your presence at our baby shower made the occasion even more special. Thank you for coming and bringing such a lovely gift for [insert baby's name]. It will come in handy going forward.
Your friendship and bountiful goodwill for our growing family will forever be cherished. [spouse's name and I] will never forget you for this beautiful gift bestowed on the latest addition to my family.
Bonus: Thanks for a grandeur occasion and such exquisite gifts for baby [insert baby's name]. My partner and I appreciate your friendship and all that you've done for us during this exciting period in our lives. We look forward to having more celebrations with you in the future.