Award-winning is an awesome experience for all of us. Winning an award is an honor or a mark of acknowledgment bestowed for your outstanding performance or your efforts in a particular field or in your profession. When you receive an appreciation or an award, you need to give a thank you note to show your gratitude to them. It is also a chance for you to precise your feelings and gratitude to those who supported and inspired you through the journey.
 Awards are just motivational tools for everyone which keeps going. Awards and recognition really help encourage people to give their best, express empowerment, and take thoughtful risks.  Writing thank you quotes for an award may take some time and be very careful how we express it in a cordial gesture. There's a lot to consider when we write thank you notes in an award-winning event.
We should have an appreciative manner in everything because being appreciative is a part of life. If you are looking for the right words or phrases to deliver a thank you note for award and recognition,  find a list of award quotes and ideas that will help you in an award-winning event.
Thank You Messages For The Award
I was just surprised that I was considered for this award, therefore, it comes as full of astonishment. The only thing is, I humbly express my utmost gratitude to all of you. Thanks a ton.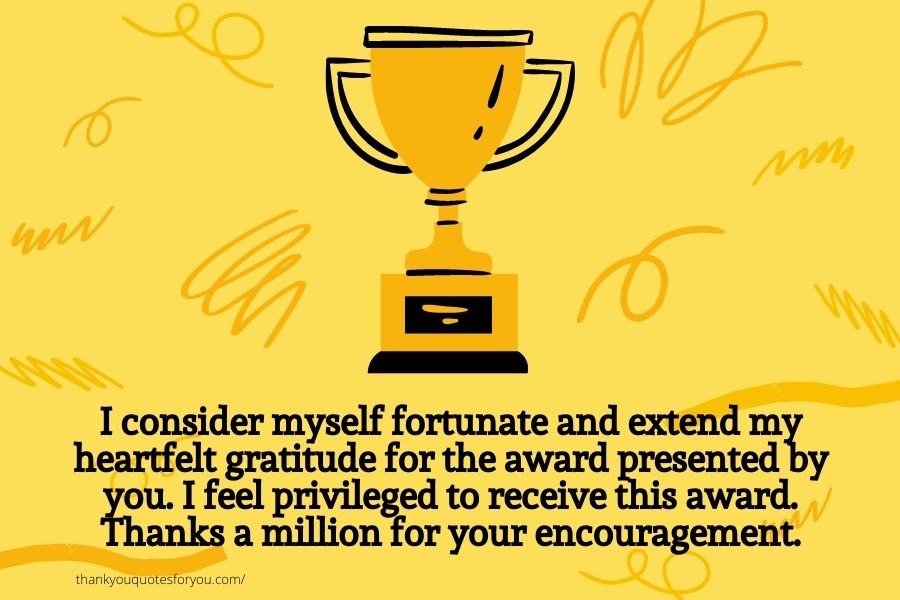 I feel privileged to you for considering me to collect this award from this conference. This is just an amazing moment and one of the most important scenes of my professional career. I am very thankful to all.
This is really a proud moment for me and my entire team. I am grateful to all for contemplating me for this award. It would never be possible for me without your support and help from my team. I sincerely express my heartiest thankfulness to all.
I feel immense pleasure to be selected to get an honor from this glorious institution. I really value and respect this honor. Please accept my heartfelt thanks for this priceless honor.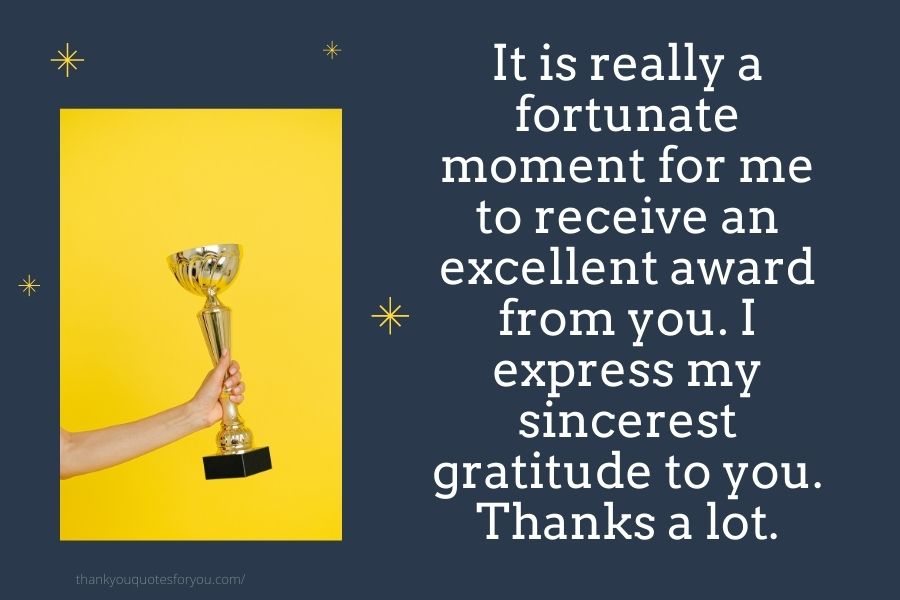 I am really surprised and delighted to be given such respect. I want to say one thing that my willpower will be improved by this award. It also gives me the inspiration to improve my work. I will try to be more dedicated to my duty. I would like to extend gratitude and thankfulness for your generosity and support.
I consider myself fortunate and extend my heartfelt gratitude for the award presented by you. I feel privileged to receive this award. Thanks a million for your encouragement.
It is really a fortunate moment for me to receive an excellent award from you. I express my sincerest gratitude to you. Thanks a lot.
It is not even enough to show my thankfulness and honor in words. I am immensely obligated for the award you have given me. This achievement will be my lifetime inspiration and help me to achieve success in the future. Thanks a bunch.
It is a very auspicious moment for me. I am speechless to show my gratitude to all present over here.  It's my privilege to be selected for this honor. I want to express my earnest thanks to all.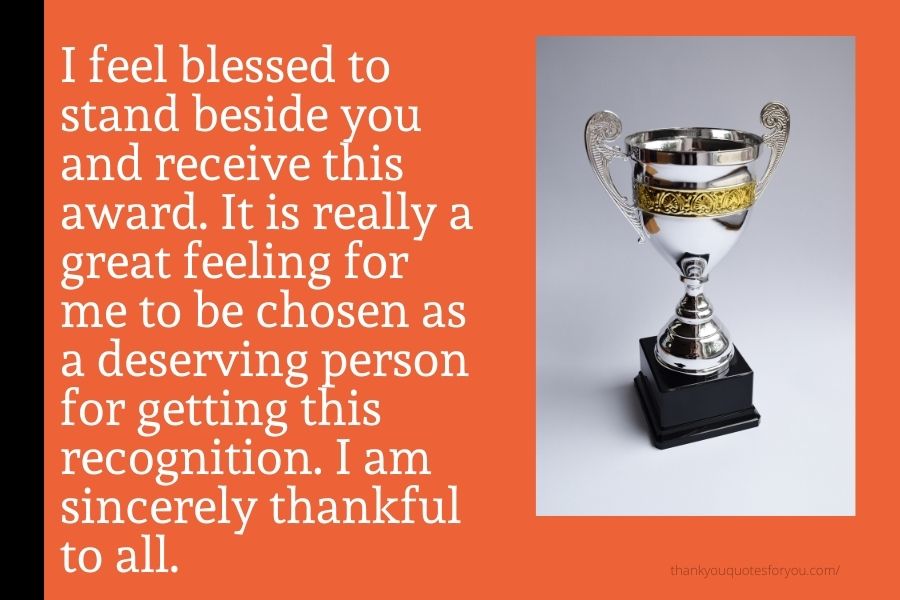 I feel esteemed to receive this award. Firstly, I would like to appreciate all the jury members for choosing me eligible for this amazing award. I want to show my huge respect to all present over here. Thank you so much for recognizing my potentiality.
It's my great pleasure to receive this award. I am unable to express in words how much I appreciate this moment. Really it brings more willingness to do my work dedicatedly. I will definitely push myself to be the better version of my work. Thank you all for this honor.
I feel blessed to stand beside you and receive this award. It is really a great feeling for me to be chosen as a deserving person for getting this recognition. I am sincerely thankful to all.
It is a very joyful and precious moment for me to receive this award. I was really astonished that you were considering me for this award. I express a million thanks to you.
This moment is really one of the most favorable moments in my life. I was surprised when I found out that my name was accepted for the award. I humbly express my thankfulness to all present over here.
This is the proud moment of my professional career. I feel really appreciated and valued to receive this award. This award will help me remain more focused and dedicated to my work. Thanks a lot for your appreciation.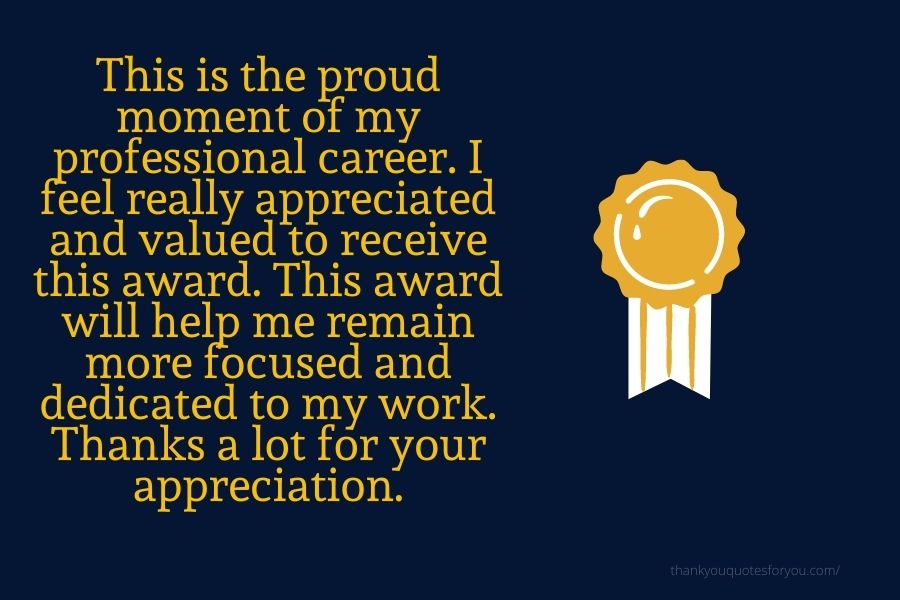 Thanks a billion for this award. I truly appreciate the attention of the management and recognizing my ability.
I feel honored and delighted to receive the award. I truly appreciate your generosity. Thank you.
It is a great honor for me to be affiliated with this award. It is just like a dream come true to me. I am very lucky to be honored by you for my small contribution to your organization. I truly appreciate and respect this award. Thank you.
I always feel that I still have to learn a lot of things. I am really appreciative of receiving this award. But it is only possible with the continued support and inspiration from this environment and from the great team. Thanks a ton for this recognition.
I feel really dignified to be affiliated with this award. This award is another example of the encouragement and support that you have given to me. I express my profound honor and thankfulness to you.
I will cherish this award forever. I truly appreciate all for supporting and helping me in my professional growth. Please accept my sincerest thankfulness.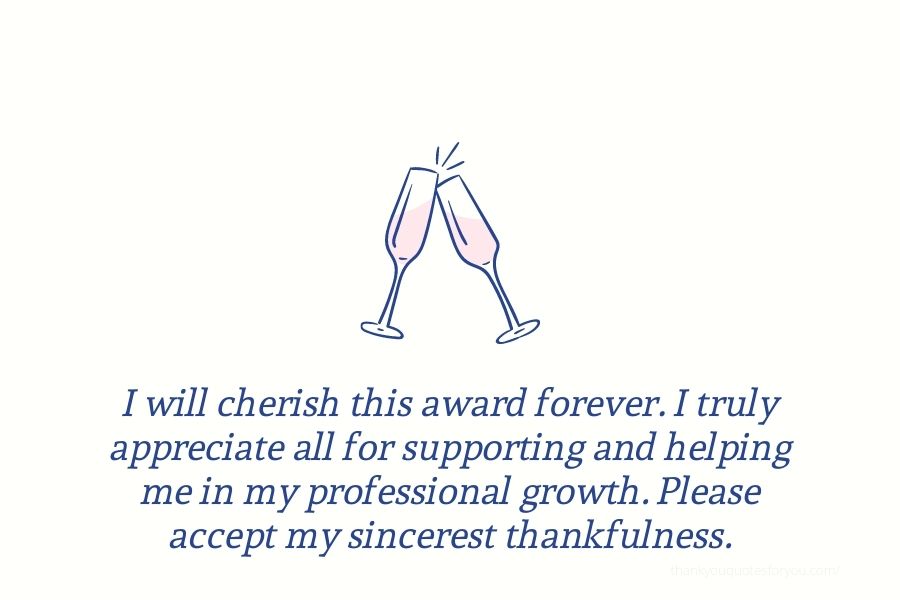 Awards are wonderful. I was astonished to know that I've been nominated for the awards. I will always treasure this award and definitely try to do my best to improve more in my career. Thanks a billion for this great honour.