To become a parent of a son is a blissful feeling. They make everything so much fun and enjoyable. They are our little superheroes who make us smile and laugh in the moments of despair and anguish. It's difficult to ever let go of them or even think about them growing apart from us. It's a great feeling to have a son, something incomparable to anything else in the entire world! No matter how many sleepless nights we spend when they get sick, it all feels worth it to us! They are the star of our eyes, making everything else seem gloomy! The first time they call us or the first day of their school, every memory of their life is well imprinted in our memory.
For an ideal son, nothing can ever be more important than the smile on their parent's face. They keep the family afloat and connected with the love and tenderness in them. Here are a few messages and quotes you can send them for their earnest and loving nature and express to them the affection you feel for them.
Normal Thank You Messages to Son
I always wanted you to be a kind and good person, and today when I look at you- I know that you became that one person! I'm so proud of you.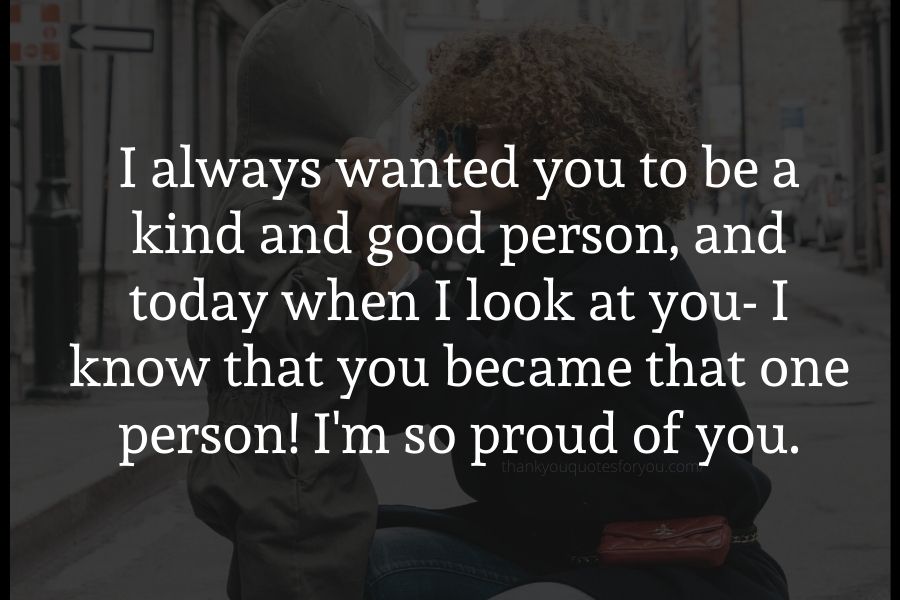 All my time is yours son! I am right here when you need me. You don't have to worry about anything. God has blessed me with you for a reason, he has given me the true expression of love and I am thankful to him.
Watching you grow wiser day by day is a blissful feeling. You have made me and your father so proud. We always look up to what's new going on with you.
You have been the son we did not imagine we can have- thank you for taking care of your younger sibling when we are far away. We feel so thankful to have you.
My dearest son, you are the sun of our lives. You have spread immense brightness to our little worlds. We are grateful to God for blessing us with you.
Not a day goes by when I don't pray for you, I feel so privileged to be your parent. You have made me proud with all the efforts you make and your thrive for excellence that you have in your vision.
I have always believed in your ideas and in your vision. It feels like you are a genius talking with us, layman sometimes. May God always guide you through all the paths of life.
You are and always will be my superhero. I know as you grow older you would like to make your own decisions in life, but for me you will always be my little baby boy and I will always be protective of you.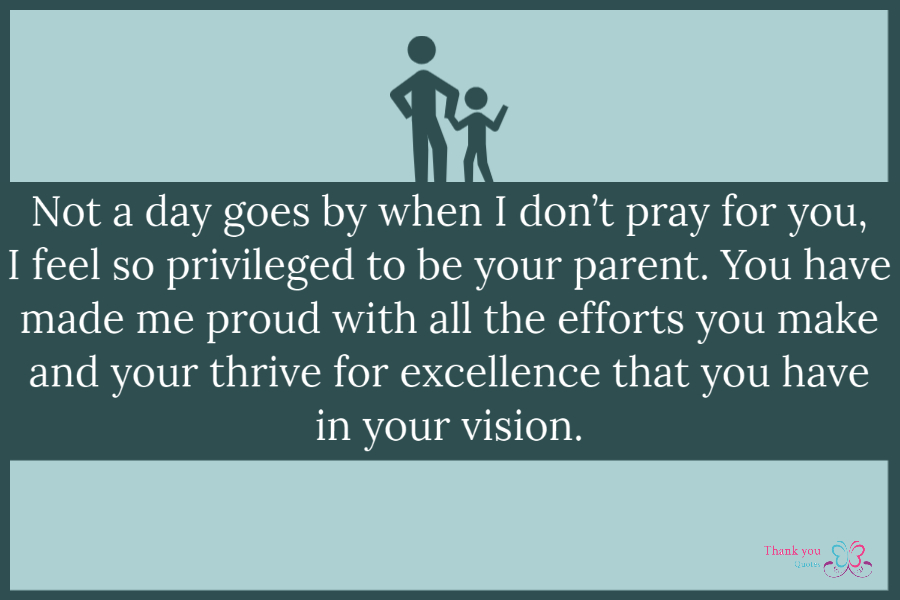 I'm the most proud parent there exists in the world, you have made me so happy and satisfied! I must have done some good deeds in my past life to have a beautiful son like you.
My dear son, you are not just handsome but also the epitome of wisdom and knowledge. I feel so grateful to have you in my life. I have seen you grow from a boy to a gentleman through all the successes and bad days of your life.
You are the glue that holds our entire family tight together.Your understanding and patience is that of an old monk, we feel so blessed to have you as our beloved son.
To the loveliest boy, thank you for blessing me with your presence. Your belief and faith has time and again taught me and your father so many lessons. Your kindness that you shower upon your siblings and your friends is cherrisable
I pray to God to give you good health and mindset. You are already full of wisdom and kindness. I can never have asked for a more moral kid than you! You have made our family proud in every situation and adversity. Thank you for being the most amazing child I could have!
Funny Thank You Quotes for Son
I know as you grow older, you have this own little world of yours with your friends, but I hope you let us in whenever we knock at the door!
I still remember how you would get scared of sleeping alone and come running to me at night, you were the most vulnerable and lovable thing God could have blessed us with!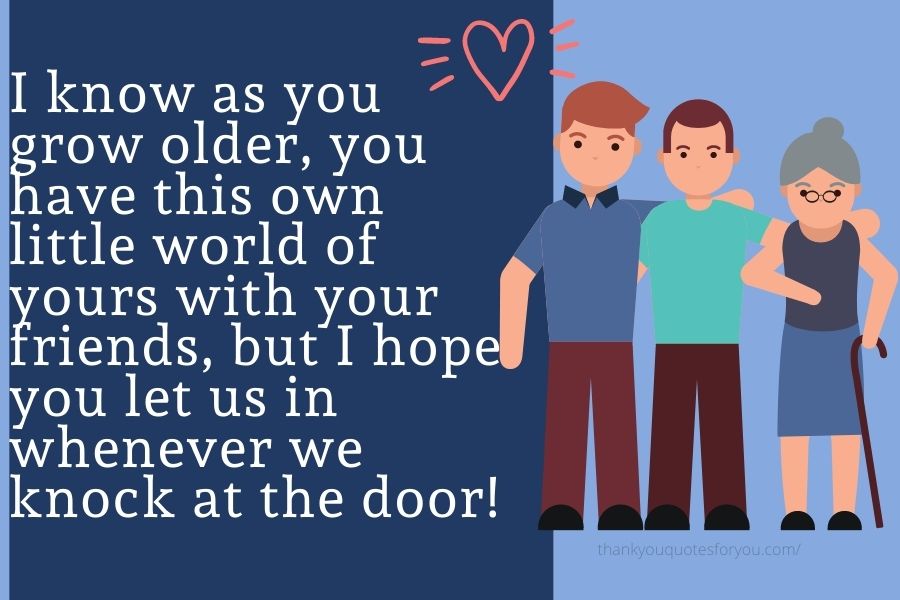 Your smile outshines every worry of my life. I still remember how you would sing and dance infront of me just to make me laugh and get out of my bad mood.
My dearest son, you have been the best stand up comedian to me. Your jokes and sense of humour are a treasure. You are a masterpiece with a handful of talents. I feel so proud of you.
To the most sarcastic and funny boy I have known, my dear son you make me laugh and smirk so much, I can never imagine an evening without you. God has given you so many talents and skills.
I still remember how you would cry for not going to school, now look at you! A scholar, my boy,what more can I say? I guess passion and discipline does change people.
Emotional Thank You Quotes for Son
You have made us the proudest parent in the entire world. Always be yourself like you are, and never care about other people!
I still remember the day you were born, your father and I, we had tears in our eyes when we first saw you, you are the purest form of love we have ever known.
As you grow older and more wiser every year, it feels a privilege to me to watch you achieve so much in your life. We feel so proud of you. Thank you for being a part of our little lives. You are irreplaceable.
I love you my handsome son! You have made my life so meaningful and worth living. I feel grateful to you for being there for me through thick and thin.
God has blessed me with his most precious creation. You are the sun of my universe. I can never imagine my life without you, not even a single day! Being your mother is the greatest treasure of my life.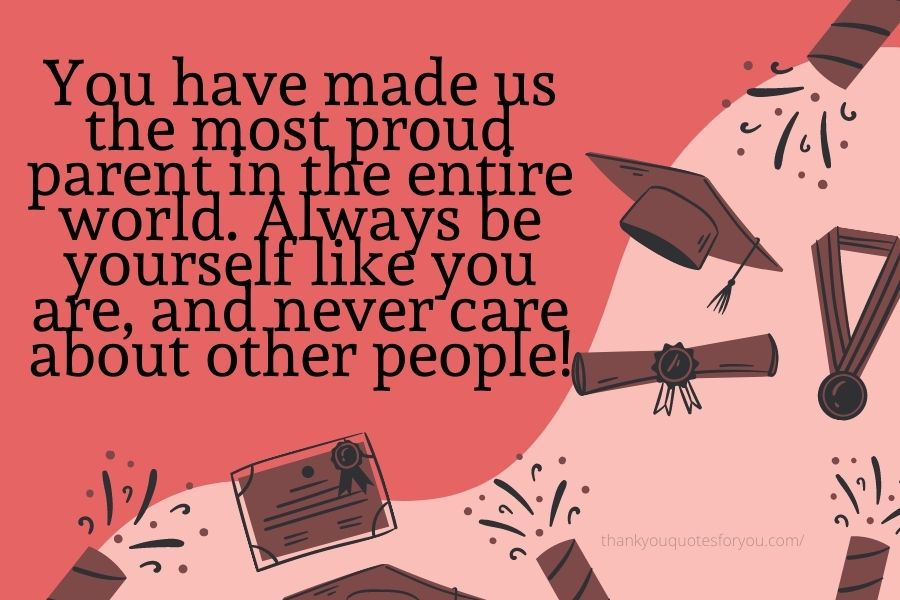 I have the most intellectual and sensible son, and I am so proud of him. You have always taken care of each and every member of this family, I feel so proud and humble to be your mother.
Time goes by so quick, it feels like yesterday when I held you in my arms. You were the cutest baby, and now the most handsome young man! I pray for your happiness and for all the success that you ever wish for.
My dearest son, you are my most beloved possession. I thank thee everyday for blessing me with a child like you. You are my handsome young man! I have seen you walk through throne and cake, and how mature you have grown to become. I feel so proud today seeing you achieve every dream of yours.
I wish you the best of health and wellness. You have been there by my side in happiness and in sorrow. You have made me feel so proud at every phase of life. I feel like the most blessed mother in the entire world.
The patience and care you show towards us and towards your younger siblings has inspired our entire family to live with love and affection. We feel blessed to be your parents. You are the most amazing son we could have asked for, the entire universe would agree on that!
I hope I live forever to see you shine in this world! Whatever you chose to do, you do it with perfection, that's the thing I really love about you my son!
My beloved child, you have been through so much but still you hold yourself so beautifully! You are my dearest of all. My handsome son I wish you the best of luck and health.