Saying thank you to those who joined us in celebrating our birthdays can be a daunting task.
Birthdays often come with much excitement. For many, it's the only time in the year they become the center of attention. Friends and family members, far and near, join in the celebration with gifts and goodwill messages. Some will turn up physically for the birthday party.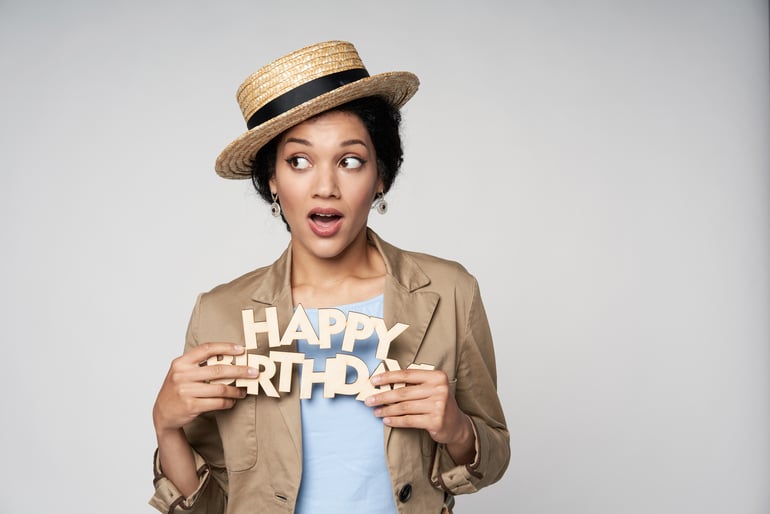 When the celebration is over, you ought to be left with a sense of gratitude. Finding unique ways to thank your friends for celebrating with you is a way to return some of the love you got from them and further cement the bond of your relationship with them.
How to Write Appreciation Messages for Birthday Wishes
Before you start writing thank you quotes for the birthday wishes you received, here are a few tips to bear in mind.
Write a general thank you message for each social media platform you received birthday wishes on. You may use one message for all the platforms, but why not spice things up by creating unique messages for each platform if you can? You should still be pumped up from the celebration, after all.
Get personal in your response to those who sent in a gift. Of course, you'd have to mention the gift and convey how valuable it is to you.
Don't get all formal, especially with your friends.
Unique Thank You Quotes for Birthday Wishes
Reading the birthday wishes you posted here on my wall made me feel like some kind of celeb, and I loved it. Thank you.
I can never thank you enough for your birthday wishes. They filled my heart with warmth and joy and added much more bliss to my day. So, thank you.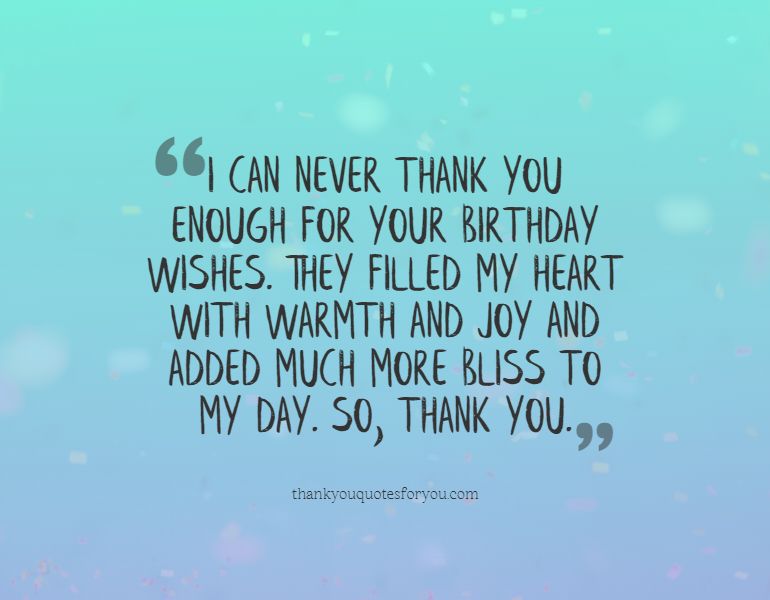 Your many birthday wishes were amazing, and they added gloss to my bright day. Thank you.
I can't thank you enough for celebrating with me on my birthday. Your kind words made me feel special, and I am grateful.
The birthday wishes I've gotten so far are a warm reminder of how richly blessed I am to share this life with you all. Thank you.
I do not take for granted your numerous kindhearted wishes for me on my birthday. They mean a lot to me. Thank you.
Guess who is thankful for receiving so many amazing birthday wishes yesterday. Me! They helped make my day pretty special. Thank you!
Very few things are more pleasurable then feeling seen and appreciated. And that's exactly how your birthday wishes made me feel yesterday. Thank you for each and every word of goodwill you sent to me.
You all wanted me to have a great birthday, and that's precisely what I had. Your kind wishes and thoughtful gifts made sure of it. Thank you.
They say the simplest things sometimes mean the most. Now I know why. The thoughtfulness that you put into your birthday wishes for me was impossible to miss, and it made me feel on top of the world. Thank you!
Thank you for the many goodwill messages you sent my way on my birthday.  They made the day a lot more enjoyable. Guys, you are the best.
I'm touched beyond words by the birthday messages I received here on my wall. Thank you all for taking time out of your busy lives to celebrate with me.
Reading your birthday wishes filled me with so much joy and happiness. Thank you for being such a wonderful part of my life.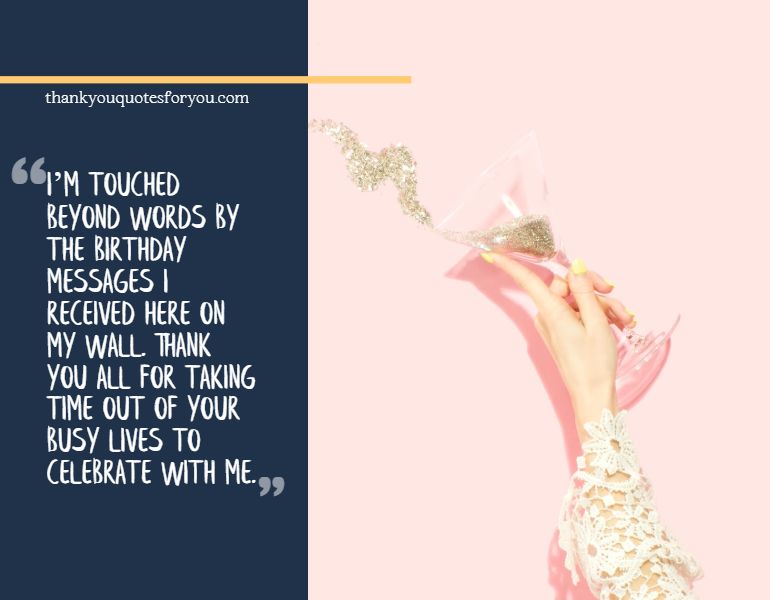 Having friends like you is such a huge blessing. Your many birthday wishes made me giggle and laugh all day long. Thanks for spicing up my day!
Wow! I am so touched by your generous birthday gift. I love how perfectly it fits my body and how the color matches my eyes. Thank you!
You're my angel, no doubt! Your gift to me for my birthday turned out to be the answer to a prayer I've prayed for months now. Thank you for being a channel of blessing to me.
Your messages and gifts to me on my birthday made me feel like a queen. I'll fondly remember every single birthday wish for a long time. Thank you.
Hello everyone! I had a fantastic birthday. That wouldn't have been possible without awesome people like you who took the time to send me birthday wishes. Thank you all!
Dear (insert name), thank you for your birthday message. It gave me so much pleasure to learn that you've benefitted much from our relationship. I have too, and I look forward to many more years of sharing life together with you.
Dear (insert name), I've always said no one knows me better than you do. Your choice of gift for my birthday only affirms this position. Thank you for being my angel.
Hey (insert name)! I'm not quite sure where to begin. Your birthday message to me was out of this world, and the accompanying gift was a worthy icing on the cake. Thank you so very much. You're the best.
Dear (insert name), thank you for the (mention gift) you sent me for my birthday. It is such a wonderful way to show how much you've come to value our relationship. I can assure you that the feeling is mutual. You're a blessing to me.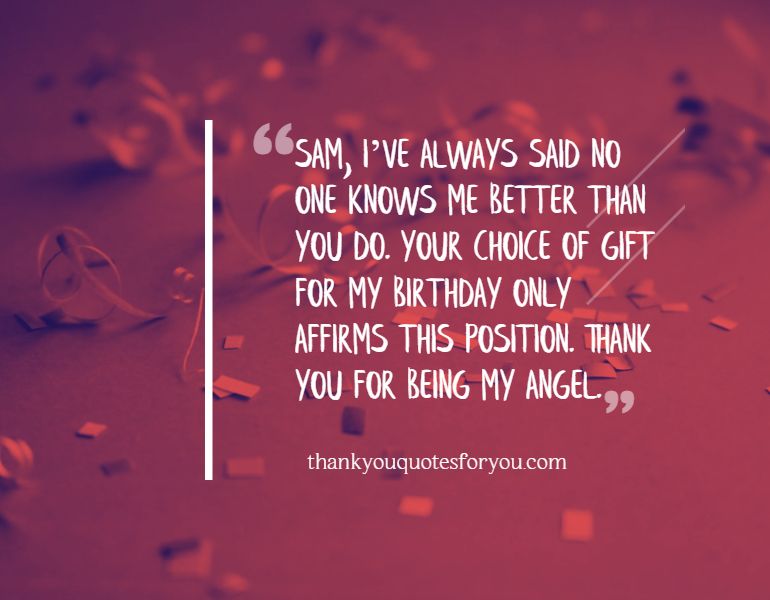 Dear (insert name), I couldn't believe my eyes when I unwrapped the gift you sent to me for my birthday. Who would have thought that you would remember a discussion we had over six months ago! The (mention gift) is amazing. And the card? It blew me away! Thank you so much. I love you to the moon and back.
Hearing from so many of you was the highlight of my birthday. Thanks for being mindful of me. It makes me feel special.
I got several gifts from many people on my birthday. But your numerous heartfelt and thoughtful wishes stand out from them all. Thank you for all those positive thoughts. I'll be banking on them for this new year.