"Thank You"-  using this phrase is one of the best ways to create a very optimistic feeling in everyone we meet. Expressing thankfulness is the greatest way to show our deepest feelings and emotions to someone. When we start to say thanks and value everyone, we attract more opportunities and blessings. It's also very significant for all of us how we can express our feelings towards a person in a beautiful and appreciative way. Because everyone needs appreciation and love.
 So when we unexpectedly receive any gift in special events or occasions from our special ones with loads of love and affection. It's our courtesy to thank the other person who tries to make us happy for the special moments. By saying thanks really helps to boost up every relationship. On special events like birthdays, anniversaries, marriage, reception, ring ceremony, You usually receive a lot of surprising gifts from your loved ones.
A thankful message should be much more effective if we add some heart-touching and sweet words. Get some amazing and great ideas that you can also include to express your deepest gratitude and thankfulness to your friends, colleagues, family members, and near and dear ones.
HOW to express your thankfulness after receiving an unexpected Gift
 I just feel immense pleasure after receiving your surprising gift. Your priceless and amazing gift was so kind, loving, and will be so cherished. I really feel joyful and overwhelmed that you invested a lot of effort and time to make me feel special. Thanks a lot for giving me a special position in your heart. I will keep this treasured gift with care and our precious relationship forever. Thank you a ton, dear.
 My heart is filled with immense pleasure after receiving the gracious gift you've given to me. There's no doubt that you must give a lot of time and consideration into selecting something that is so perfectly matched for me and I cannot express my thankfulness in words. I will keep this precious gift and memory for a lifetime.
Saying thank you is not enough to express my feelings to you how much it means to me. Your precious gift is one of the best gifts of my life I've ever seen in my life. Your boundless love and care mean a lot to me. I highly appreciate and give my sincere thankfulness for such an amazing gift.
Thanks a lot dear for putting so much thought and energy into choosing something so special and amazing gift for me. I feel really grateful that you can read me so well and choose something so cherished. Thank you dear for the unexpected surprise that I never imagined.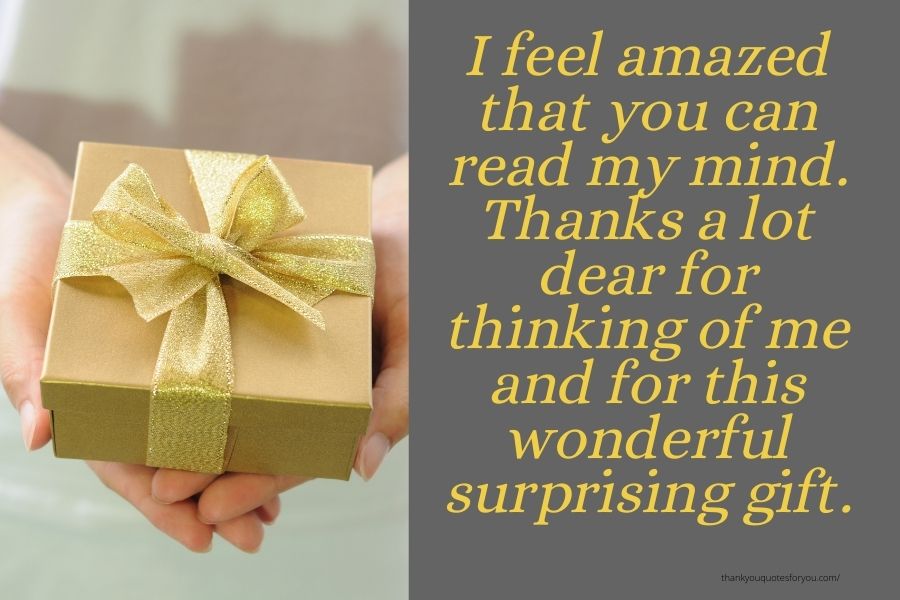 I express my sincere thankfulness to you for making me feel like a king with such a wonderful and surprising gift. It's my blessing from God to have you in my life. This surprising gift and moment will be always cherished in my life. Thanks a lot dear.
I feel amazed that you can read my mind. Thanks a lot dear for thinking of me and for this wonderful surprising gift.
Wow! This gift is so captivating!  It was just beyond my imagination! Thanks a bunch dear.
Saying thank you is even not enough. Really, I had no expectations of anything like this today! Your gift is so meaningful to me. I really appreciate your beautiful gift.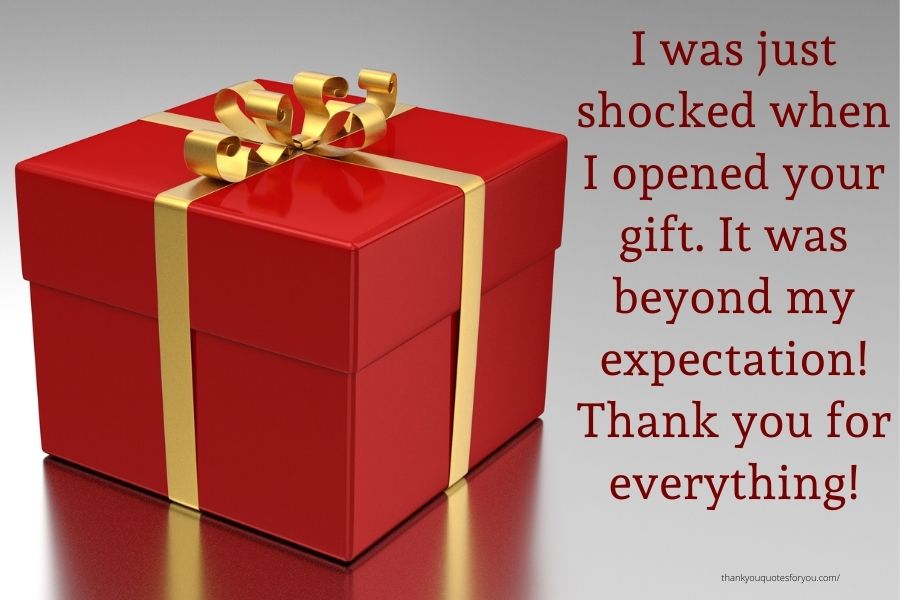 I just want to express my heartfelt thankfulness for this captivating surprising gift. I really appreciate you putting your precious time and effort into making me happy. Thanks a million.
Your surprising gift has brought immense joy and happiness into my world and I am speechless to express to you my thankfulness. It's very kind of you.
You have such a great choice! Thanks for this stunning gift!
I am really astonished that you come to know what I exactly want! A million thanks to you.
I am really grateful to you for such a beautiful gift. All I can say is Thanks!
I truly say that you made me feel so special. Your surprising gift is just heart-touching. Thank you!
I was just shocked when I opened your gift. It was beyond my expectation! Thank you for everything!
Your gift is just priceless to me. This surprising gift is blended with creativity, kindness, love and affection which means a lot to me. I express all my love and thanks to you.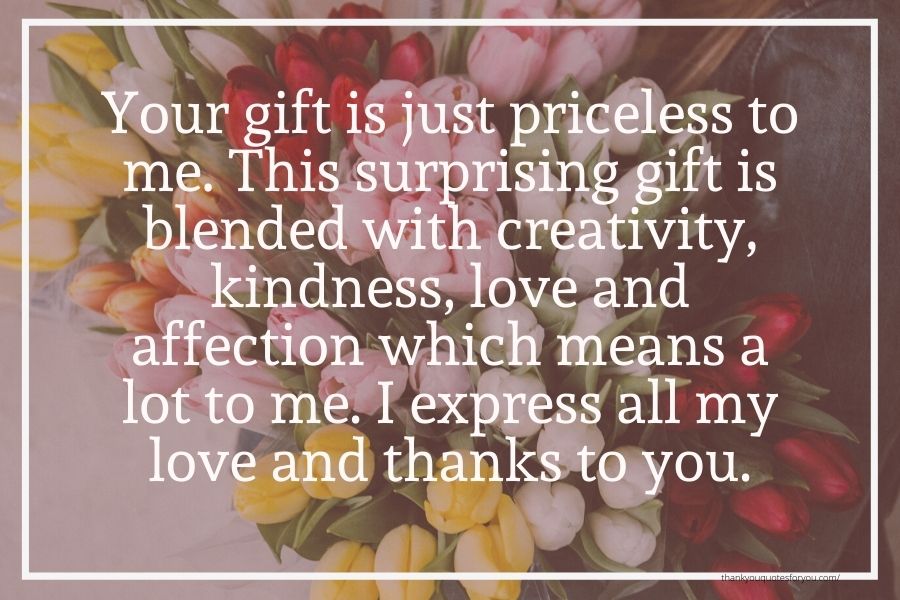 Your gift was just superb! You gave me so much warmth, love, care and affection with it. You are the most generous and compassionate person that I have ever met in my life. I am just speechless to express my feelings to you right now. Consider yourself heartily thanked.
I found your gift and was just shocked after opening it. The unbounded love and compassion behind it, just made me feel great. Through this priceless gift, I can see the infinite bond between you and me. Please accept my best thanks dear.
Your wonderful gift was not only thoughtful but also reveals my special position in your life. I feel really appreciated and special because of your infinite love and care for me. I thank you most warmly.
By saying a single thank you is not enough for the gift you gave me. I express my heartfelt thanks for the lovely design, creativity and your generosity. Your surprising gift is just the most meaningful for me, I will preserve it forever. I express my utmost thankfulness to you.
We are born to love each other. In our life some people take a special position in our heart for their boundless love and compassion towards us. It doesn't always mean that we often meet people who enrich our lives, and who give us better feelings simply by being there. I am so lucky to have found that kind of person in you. Thank you so much dear for your lovely surprise.
Thanks a ton for such an extraordinary gift. I am really fortunate to have a beautiful person like you who made me feel valued and loved. Thanks a lot for your immeasurable love for me.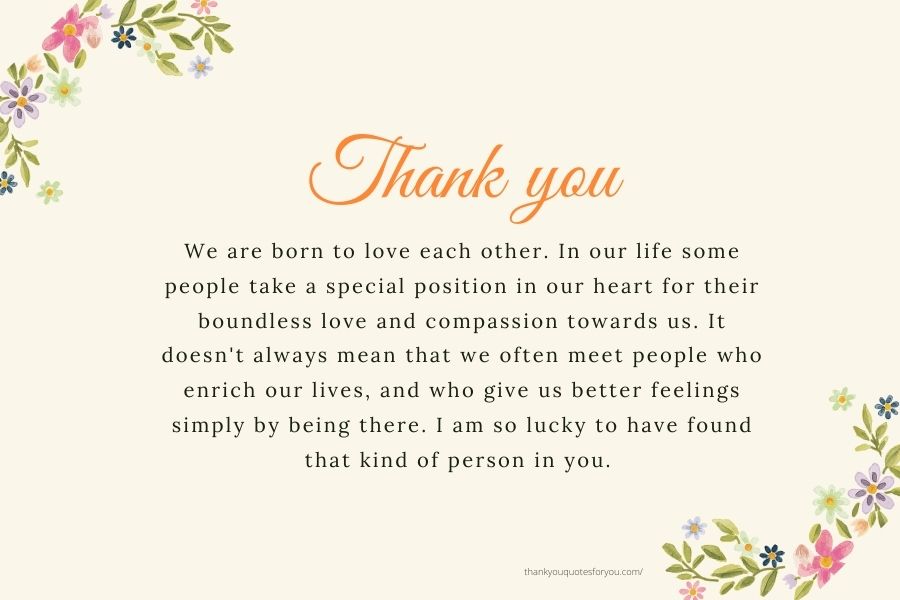 I would like to say "thank you" a million times, but it is not enough to express the boundless joy I feel in my heart when I open your gift. It is just outstanding, dear. Thanks a ton.
Dear, I just received your wonderful gift and want to express the heartiest thanks to you. You must have invested a lot of time and effort to make me feel special and valued. I cannot express how happy your gift has made me! I really appreciate it. Many thanks.
I truly appreciate your exceptionally thoughtful gift. It gave me abundant joy and you have no idea how much your gift means to me. Thank you a billion times.