Are you looking for thoughtful and meaningful ways to thank your caregiver or the caregiver for a family member? You've come to the right place.
There are no words adequate to describe how essential good health is to our experience of life.
When someone gets sick, the journey back to good health can be lengthy and tortuous. And caregivers are the angels whose tender, loving care helps us through the journey. Even when it's inevitable that some may never make it out of their sickbeds alive, caregivers make such people feel as comfortable as possible.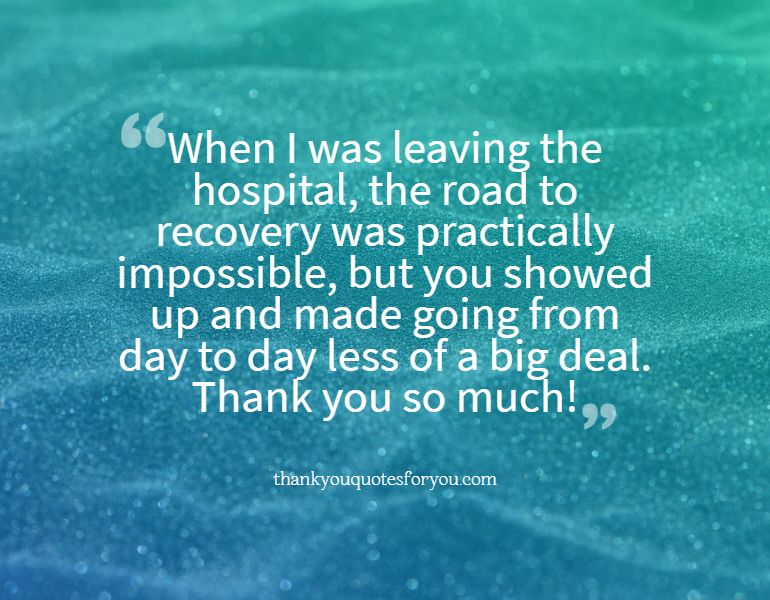 It's only natural for us who eventually get back on our feet to express our gratitude to caregivers. This article will provide you with suggestions of thank you messages for caregivers. You can either use these suggestions as they are or modify them to suit your particular situation.
Shall we get started?
Thank you notes for caregivers
Dear (insert name), words will fail to describe how thankful I am to you for acting as a caregiver during my illness. I owe it to you to make the most of my post-recovery life. And that's exactly what I'll do. Thank you for making this possible.
Dear (name), your dedication to your profession shone brightly while you cared for my mum during her illness. She told me that she might never have made it if not for your comforting presence. Thank you for all the care and for being such a thorough professional.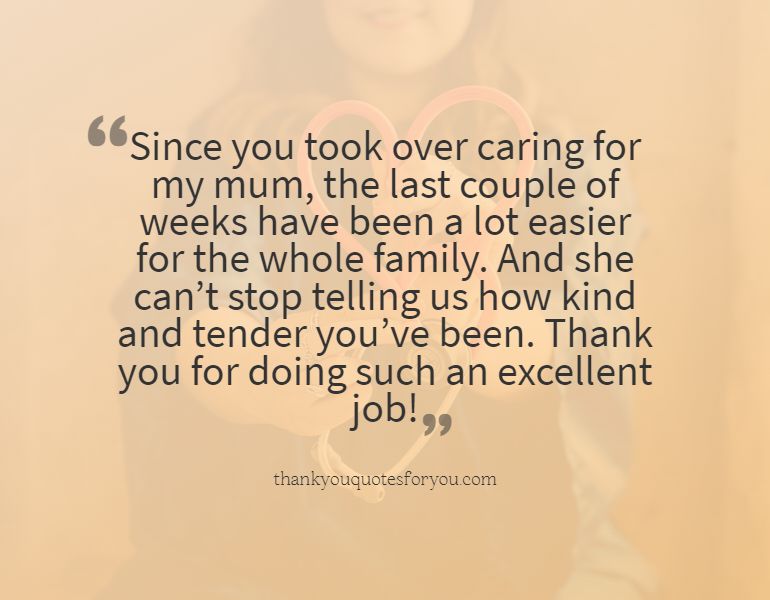 Dear (insert name), your willingness to create time out of your busy schedule to join us in caring for my dad on his sickbed is nothing but sacrificial. And I want you to know how greatly I value it. Thank you.
When I was leaving the hospital, the road to recovery was practically impossible, but you showed up and made going from day to day less of a big deal. Thank you so much!
Thank you for being a steady and unyielding presence in my life when everything seemed to be falling apart. Your dedication to nursing me back to good health was remarkable. Thanks for the care and support.
We all knew what a difficult time our dad had in his last few days. That's probably why the soothing effect your presence had on him was quite evident for all to see. Thank you for being a shining light during a difficult period for our family.
Thank you for staying with me and taking care of me during my illness. Your presence kept me from giving up the fight.
Since you took over caring for my mum, the last couple of weeks have been a lot easier for the whole family. And she can't stop telling us how kind and tender you've been. Thank you for doing such an excellent job!
Hey (insert name). I just wanted to tell you that I'll be resuming work today. Thank you for your hard work in keeping me on the road to recovery. You gave me the courage to weather those druggy days, and I'm glad you did. Thank you!
Thanks to you, we all saw how a touch, a smile, a kind word, a listening ear, honest compliments and many small acts of care could turn a life around. You made us witnesses to the transformation of our grandma's health through seemingly little acts, and it means the world to us.
Seeing how patient and caring you were with my grandpa has to be one of the most beautiful things I've seen all my life. I'm sure his soul is sending you blessings. I am grateful he shared some of his last days with someone like you. Thank you!
It's not very often that one sees a friend stand by them when they are most vulnerable. You did. Every time the drug-induced drowsiness wore off enough to let my eyes open, you were there. I'll always bless the day that I met you. You're a friend indeed.
Now that I am, thankfully, out of my sickbed, the compassion and tenderness with which you have dealt with me during that period remain etched in my memory. I'm sure I'll remember it for a very long time. Thank you so much!
What could have sped up my father's healing so significantly if not your professional and warm care? You were so amazing, and I'm forever grateful to you for that.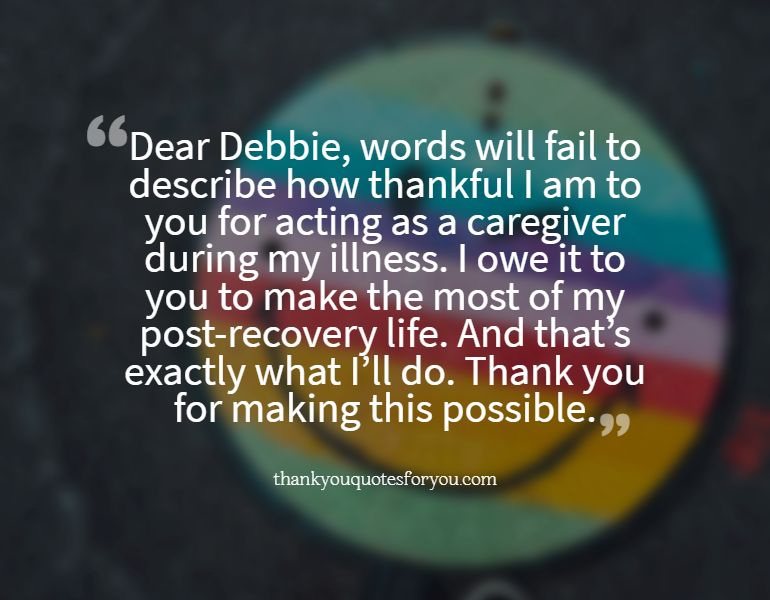 The news of my grandpa's injury filled me with worry. But since I saw how you attended to him, I felt that huge burden lifted off my shoulders. I especially appreciate your patience and sense of humor. Thank you!
Thank you for being a pillar of support to us during our son's illness. You took turns to help us care for him, and that tremendously eased the burden on us. We will never forget these acts of kindness. Thank you.
Dear (insert name), thank you for doing a perfect job of caring for my father. He tells me you're an angel. Please keep up the excellent work. You're appreciated.
The last few weeks have further convinced me that I found my soulmate in you. Even in my most vulnerable moments, you remained the kind, patient, and loving damsel that I fell in love with. I want you to know that I'm grateful for having you and that our love will last forever. XOXO.
We always worried about our ability to fulfil my mum's wish to die in the home she lived in for more than 50 years of her life. But with you, we were able to make this dream come true for her with minor hassles. Words are not enough to convey how much that means to us. Thank you.
Dear (insert name), I want to thank you for playing such a tremendous role in ensuring I recuperated well after my surgery. You not only gave me the best medical care but also offered a listening ear and lively conversations that injected life into those long days. Thanks for the excellent work.