While Doctors get the limelight, many people may overlook the hardworking nurses that are always right beside them. At some point in a person's life, they will require the help of a nurse. This profession is for those who inherently want to help others, and have an ingrained need to make others around them feel better. A nurse will help you with your every need, and it is only right that you take time out of your day to thank them.
Here are some messages that you can write to your nurse to show them how much you appreciate their work: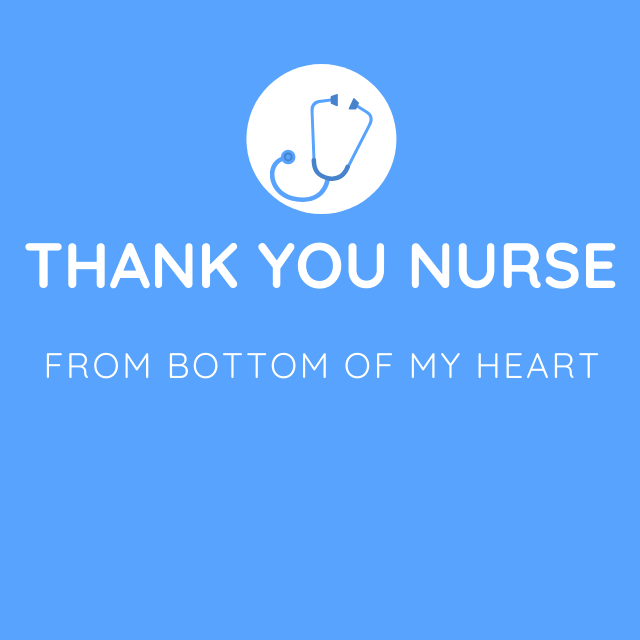 Thank You Quotes & Messages For Nurse
Thank you for treating me like a family member while I was under your care. From ensuring that I take my medicines at the right time to keeping me entertained, you took care of my every need. I will forever be grateful for your attention and your care.
I know that most people may overlook the care that you provide, but I wanted to take the time to tell you that I am as grateful to you as I am to my doctor. You ensured that I was comfortable and did not feel any pain. I felt comforted whenever you were around, and I am grateful for that.
I hope you get as much joy in your life as you bring to others around you! You take care of people and expect nothing in return! For your help and your comfort, I will always be grateful to you!
When I was not able to take care of myself, you took care of me. You tended to my wounds and looked after my needs. You were like an angel who had come to help me through a challenging time in my life. No words will be enough for me to thank you, but I still wanted to let you know how much I appreciate your presence.
Whether I talked your ear off or was cranky when you were trying to care for me, you took it all in stride. You always had a smile on your face, which managed to cheer me up. For everything that you have done for me, I wanted to take some time out and say thank you.
I finally understood why the profession is called nursing, after watching you nurse me back to good health. Staying bed sick all day was not fun, but you always managed to make me smile, and I thank you for that.
Thanks to your amazing skills, I am back on my feet! I never thought I would feel better again, but you helped me through all my discomfort, and I will never be able to tank you enough for that.
Although you are always on your feet during your long shifts, you never let your tiredness show on your face. No matter whether the patient is nice or cranky, you always treat them with the same amount of care. I wish I could express my appreciation for you with more than words. 
It is easy to see how much you love your profession form the way you take care of everyone. No matter how long of a shift you have had, you take the time to talk to everyone and remember little details about their life. Thank you for your compassion and care.
I know I wasn't a patient of yours, but I wanted to take some time to thank you for the care you showed to my family member/friend. Because of you, they can leave with a smile on their face instead of a grimace.
You take care of everyone around you, and never let your tiredness or frustration show. You are a remarkable human being, and I am so glad I had you to comfort me during my difficult times.
I just learned today that it is Nurse's Appreciation Week, but a week is not enough time to appreciate all that you do for your patients. You should be thanked every day of the year, and I will begin today by thanking you for your care.
What a remarkable person you are! You are not afraid of looking at gaping wounds or nasty cuts, because you want to take care of others. Were it not for you, I would not have felt comforted and cared for, and I am grateful for that.
How can I say thank you for all that you have done? These words do not feel enough to show the extent of my gratitude; you did not treat me as a stranger, but rather as a friend. You ensured I had everything that I needed during my stay and cheered me up.
Not only did you ensure that I was comfortable, but you always updated my family members regarding my health. No matter how many questions we had, you were patient and carefully answered them all. Thank you for caring so much about your patients.
Whenever I was feeling down about my health and had a bleak outlook on my recovery, you were always there with your encouraging words and supportive smile. If it was not for your faith in me, I probably would not have been able to have a positive outlook on my health.
I am filled with gratitude for everything that you have done for me. You knew just how to take care of me when I was scared about needles poking me, or when I didn't want to take any more bitter medicines. I do not know what I would have done without you.
You always made sure to ask me how my day was going and how I was feeling. You never made it seem like you were only doing your job; it was obvious that you wanted to ensure that all your patients were comfortable. You were meant for this profession because I am sure that no one else would be able to bestow as much care upon their patients as you do.
Without nurses, the world would not be a comforting place. Every day you make sure that your patients are comfortable and cared for. Because of you, I can walk out of here in perfect health.
It is not easy being a nurse, but you accomplish the task effortlessly. Thank you for always keeping a smile on your face, even when I was frustrated with all the medicines that I had to take.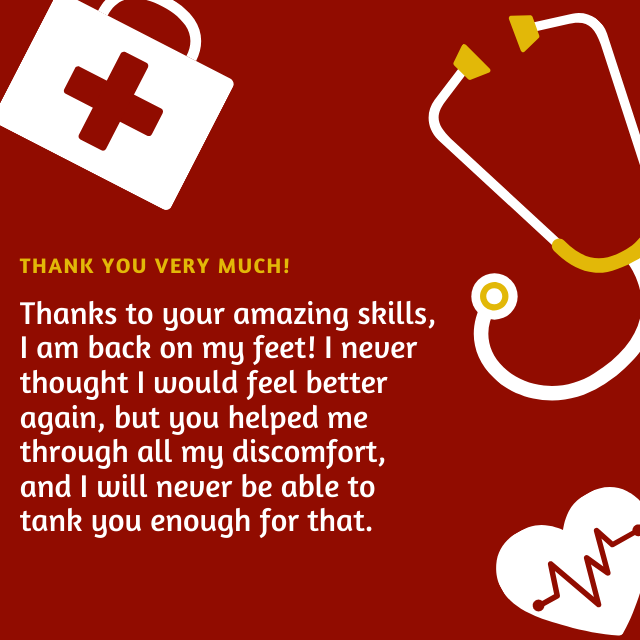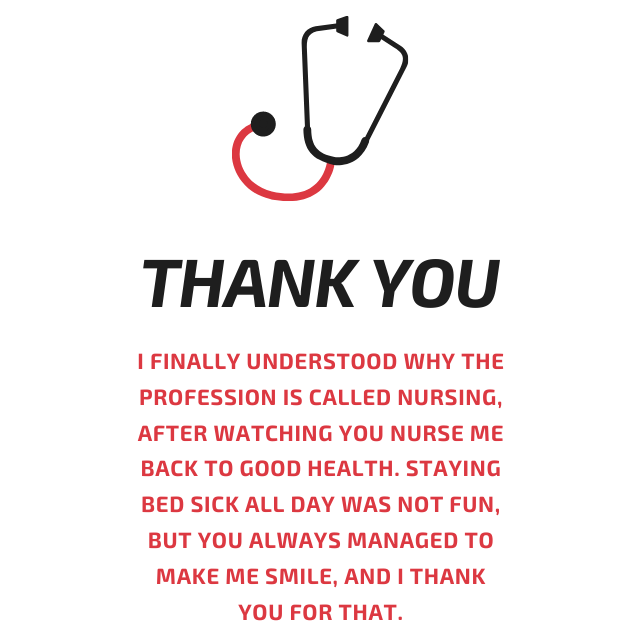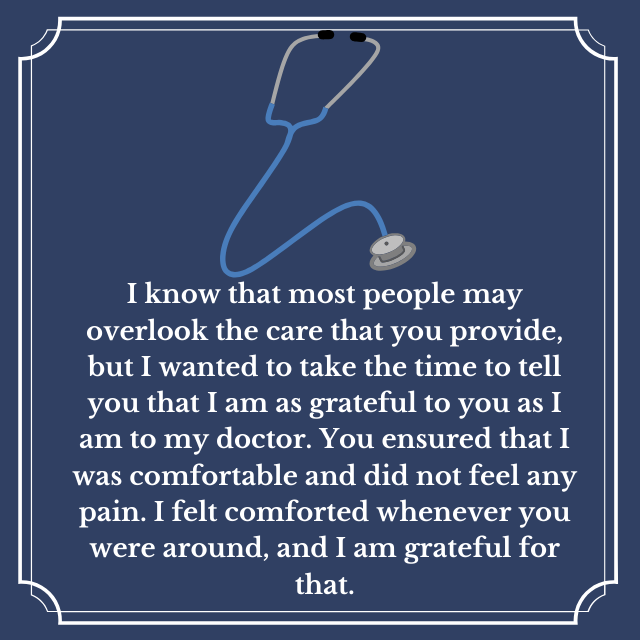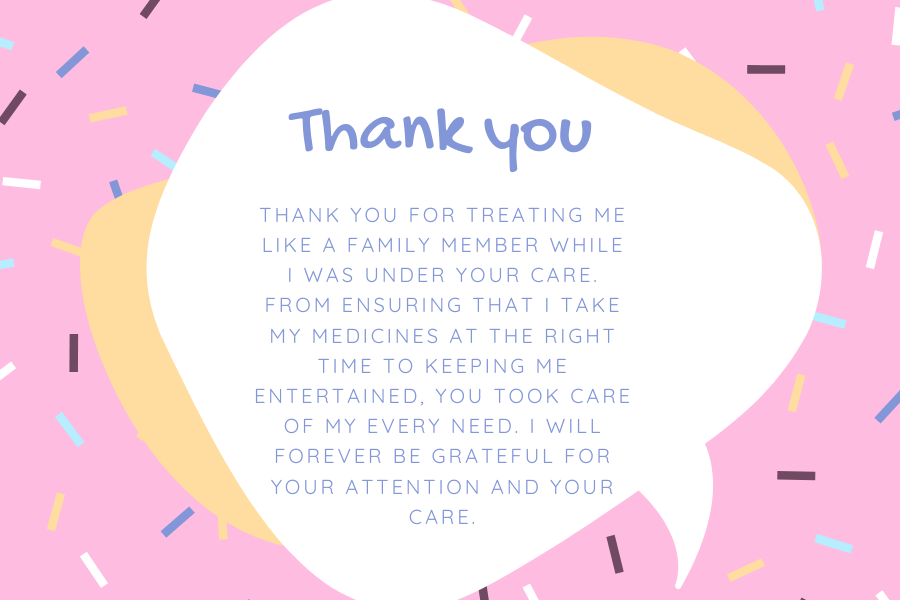 With these sweet messages, you will be able to express your gratitude for your nurse. While words may not be enough to express your appreciation for the hard work that nurses do, you can ensure that you at least brighten up their day a little by reminding them that they are noticed.