The world is a better place with healthcare workers around. It was one of those things the COVID-19 pandemic and many other health crises have taught us. These workers put a lot on the line to meet the health needs of their patients.
The medical staff includes doctors, nurses, and other licensed professionals. They are responsible for a variety of tasks, from monitoring our health and administering treatments to answering our questions and providing emotional support. Healthcare professionals are the ones who make sure we are getting the care we need and help us to cope with our illness or injury. They work tirelessly around the clock to ensure that we recover as quickly as possible and return to our everyday lives.
We should take the time to thank the medical staff for all they do for us. A simple "thank you" can go a long way in making them feel appreciated and valued. Let's make them know how much we appreciate their dedication and hard work. We may not repay them for all they have done, but we can definitely show our gratitude with a short, thoughtful note.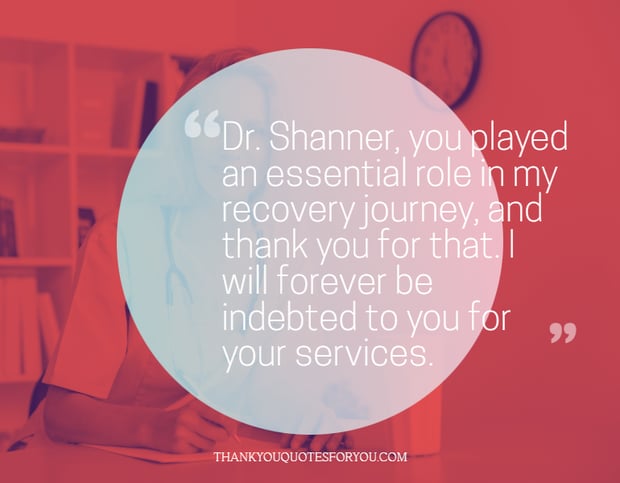 Messages of Gratitude to Healthcare Workers
I have come across many healthcare practitioners in my quest for proper treatment. The truth is that no one has done a better job than you have. Thanks a lot.
(Name of recipient), you played an essential role in my recovery journey, and thank you for that. I will forever be indebted to you for your services.
Kindly let me take this time out to thank the wonderful staff at the hospital. I came in with a lot of pain, and you were able to help relieve it quickly. Thank you for the chance to feel better!
I feel a lot better than when I first met you. My health has improved, but I am also beaming with life. Professionals like you are the reason for this. Thank you very much!
It takes a lot to be a healthcare worker — more than what you learn during training. You are one of the very few that have it all, and I am glad to have met you.
Your expertise in your medical field is breathtaking. But more than this, your show of compassion towards your patients is one of the best things about you. Thank you for being a compassionate medical practitioner.
I am grateful for the times you attended to me with a smile. Always appreciated the times you came to my aid with medical help. I am grateful to you for giving me reasons to keep fighting for my life.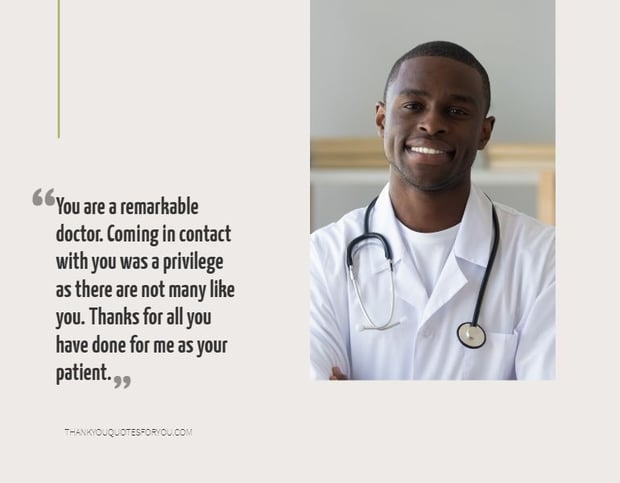 I beat this chronic medical condition to its game, and I feel on top of the world. However, I will never forget that people like you put me in this great state. Thank you very much (name of recipient).
There were times I was close to giving up as your patient. Your smiles, soothing words, and expertise in your medical field kept me going. I am very glad I met you and appreciate all you have done.
You are a remarkable doctor. Coming in contact with you was a privilege as there are not many like you. Thanks for all you have done for me as your patient.
I always looked forward to having you attend to my medical needs while at the clinic. It is not just about how good you are at what you do, but how kind you are as a person. Thank you for everything you have done for your patients.
You have a remarkable record as a healthcare worker, and I have been asking myself why it is so. The reason is that you feel the pain of every one of your patients, and that is why you can come to our aid. Thank you for being a great medical practitioner.
I combed the length and width of this country, seeking answers to my medical condition. I have seen many professionals as a result, but you are the best of them all. While I am not fully recovered yet, I am hopeful because of people like you. Thank you (name of recipient).
Many patients do not recognize the sacrifices you make as a healthcare professional — those emergencies that disrupt family time, how you stretch yourself for your patient, and many more. I do not know it all, but I know you are a fantastic practitioner. Thank you very much, Dr. (name of recipient).
Your clinic is one of a kind. You all are amazing healthcare workers, from your receptionist to the medical practitioners. I thank you all for putting in that extra effort for the sake of your patients.
There are lapses in the healthcare system. Many patients and players in the health industry are aware of this. However, if there is anything good about the system, it is the fact that we have professionals like you. Thanks for giving your best to the medical profession.
I bless the day that I met you. The reason is that my recovery journey kicked off that very day. Thank you for the treatments and unrelenting support towards all your patients and me.
My appreciation to every medical staff member of (name of health service provider) knows no bound. You are the best at what you do, and I am the living proof of this. Once again, accept my sincerest gratitude.
To every medical frontline worker that has helped curb the spread of this disease, you all have our deepest gratitude. Your acts are legendary and heartfelt, and we are not unaware of this.
There are so many reasons to appreciate healthcare workers for their services to the general public. These appreciative messages should especially be sent out by people that have benefited from their services in one way or the other.