Every class and batch in college has got an appointed person by majority or by a higher supervisor to take care of all the schedules and normal functioning of the batch. Class representatives really give in a lot of work and dedication to providing us with the right time table and in bridging the gap between the batch and the lecturers and the professors. They give their time and effort in bringing up the best schedules that do not block any lecturer and professors time, they take adequate participation in building up a nice and social community for all kind of arts and social welfare.
We should always be thankful for people who make our life simpler and better and worthwhile, they never mind giving their time for people and for their batchmates, and it's truly rare to find a person in this fast-paced competitive world.
Here are a few thoughtful messages and quotes you can send to your class representative in order to remind them how thankful and grateful you are for all the efforts they put in to make our classes run smoothly and effectively.
Thank You Messages For Class Representative
Thank you for all the pain you take to keep our classes afloat and to not let us succumb ourselves with tedious long hours of lab and class periods. Your organization skills and communication skills are truly commendable.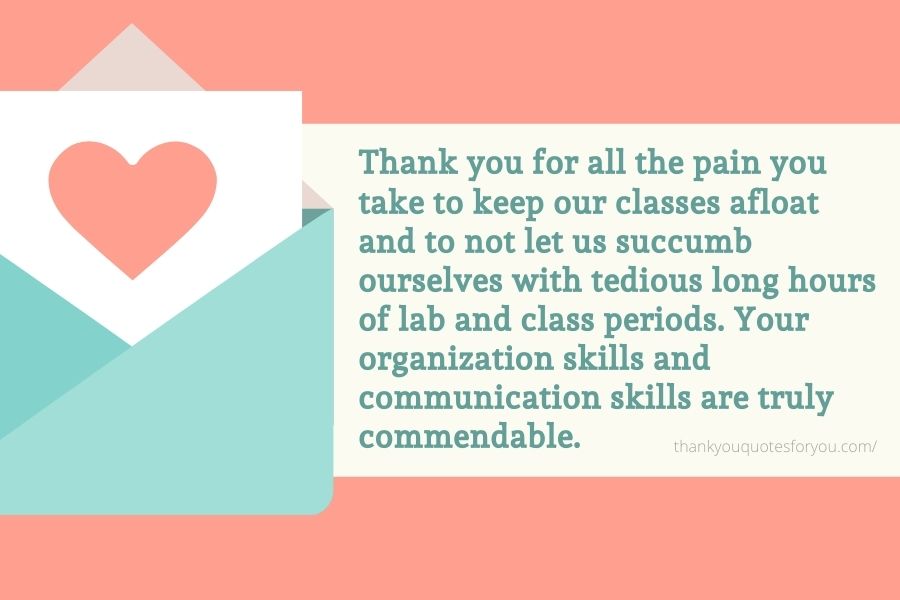 Your work ethics and your gracefulness are truly alluring. I aspire to be as sincere and devotional as you are in your craft. Thank you for being kind enough to take the responsibility of being the class representative without gaining any credit for it.
Thank you for helping us with the schedules and the timetables, we feel sincerely thankful and rejoiced for having you as our class representative.
This new arts and social society are really working beautifully. I am so impressed and inspired with your work ethics. Thank you for taking this huge responsibility on your shoulders and for taking out the time and effort to conduct this event.
This semester has really been like a roller coaster. Thank you for helping us with the lecture schedules and for sharing important contact information with lecturers and teachers. It really helped us in being more efficient with classes.
I really appreciate all the efforts you put in to maintain and organise all the scheduled classes and for bridging the gap between us, batchmates and our dear professors. Thank you for all the compromise and support you provide to keep the batch afloat.
Thank you for being so comfortable and confident around our supervisors and professors, you have really helped in preventing any misunderstandings that could possibly have happened between our batch and professors.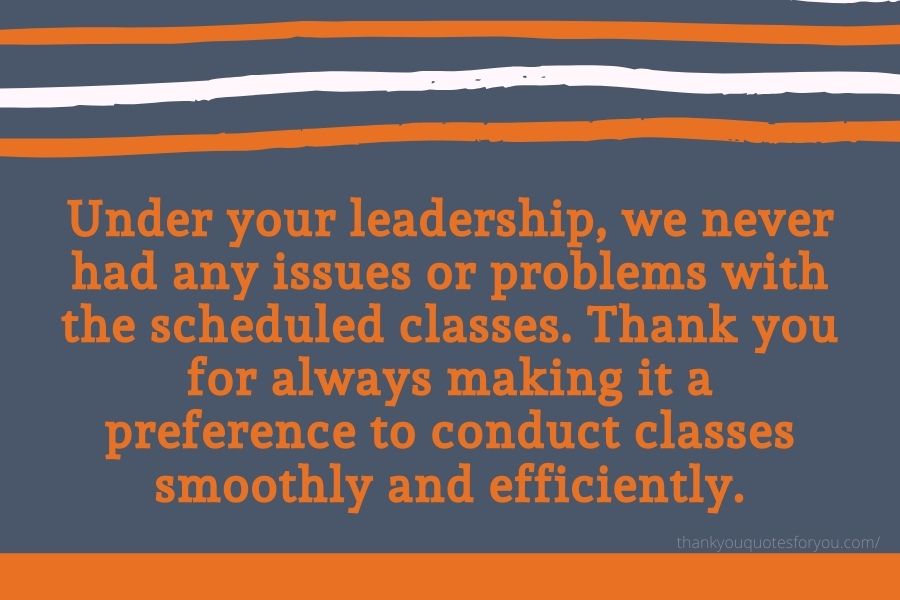 You have really participated with full diligence in our college fest. You have truly made a change, thank you for helping us in organising and in assembling data and funds.
Your categorisation and love for systematising have really helped us in keeping up with organising and tabulating all the funds and lists of participants. You have really turned out to be an asset by being our class representative.
Thank you for making all the classes work on time and for helping us with all the resources and notes of our subject matter. We feel grateful to you for being our class representative and the monitor of our batch.
Thank you for helping in organising this fantastic event, we feel so grateful to you for being our class representative. It was truly dreamy and fantastic to see the whole event turn out.
Thank you for bridging the gap between our teachers and us. We feel blessed that we have an unbiased and sincere class representative like you. You have really helped us in getting so much done.
Under your leadership, we never had any issues or problems with the scheduled classes. Thank you for always making it a preference to conduct classes smoothly and efficiently.
Thank you for being so patient and diligent with your work, we are really very thankful to you for all the work and sacrifices you make to keep our classes afloat. It really can be very tedious. To manage schedules and organising events.
We as a batch understand the amount of responsibility and work that is always laid down on your shoulders and we feel grateful to you that you are our class representative, your work is really commendable.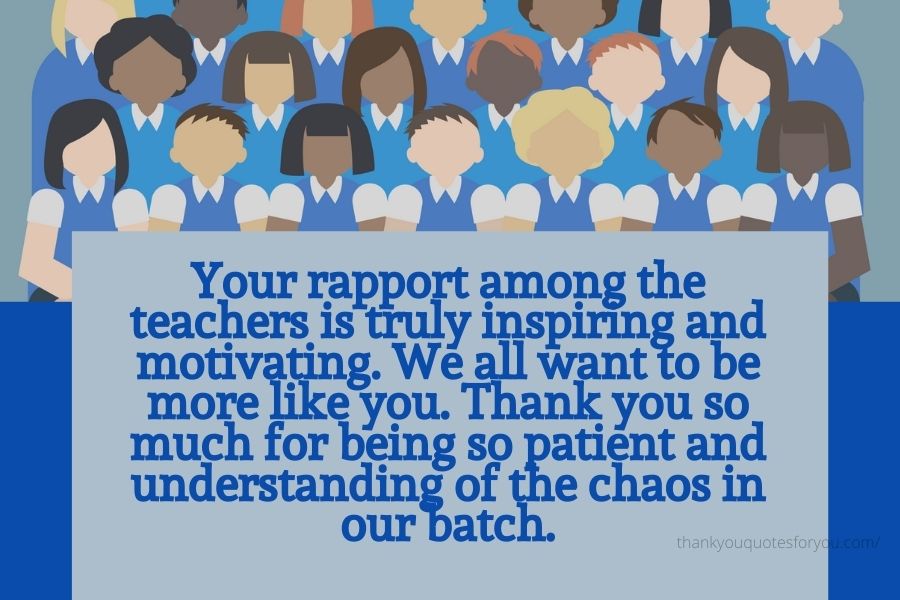 Your rapport among the teachers is truly inspiring and motivating. We all want to be more like you. Thank you so much for being so patient and understanding of the chaos in our batch.
I hope you keep making early announcements and schedules about events like the last one. We would love to help you out as sometimes it might get a lot to handle with all the pressure and distraction around.
This year has truly been very organised and inspiring for all social societies. Thank you're being sanguine about the funding for the test after party and for our professional needs. You truly inspire us to be more grounded.
You have always been very dedicated to your work as a class representative, I truly love the way you make everything seem so easy and organised. You have really sorted all the class hours and free period schedules.
Thank you for organising the social event last month, it was fantastic and truly successful. I honestly feel so confident and assured that next year we will have something even more major and more successful.
Thank you for shifting the class hours, this semester had truly been hectic and tedious on us. You have really helped in keeping our batch out of any problem and issues.
Thank you for all the effort you put in to keep the classes at pace and to not let us topple with tedious schedule hours and lab periods. It truly is a bliss to have you around as our class representative.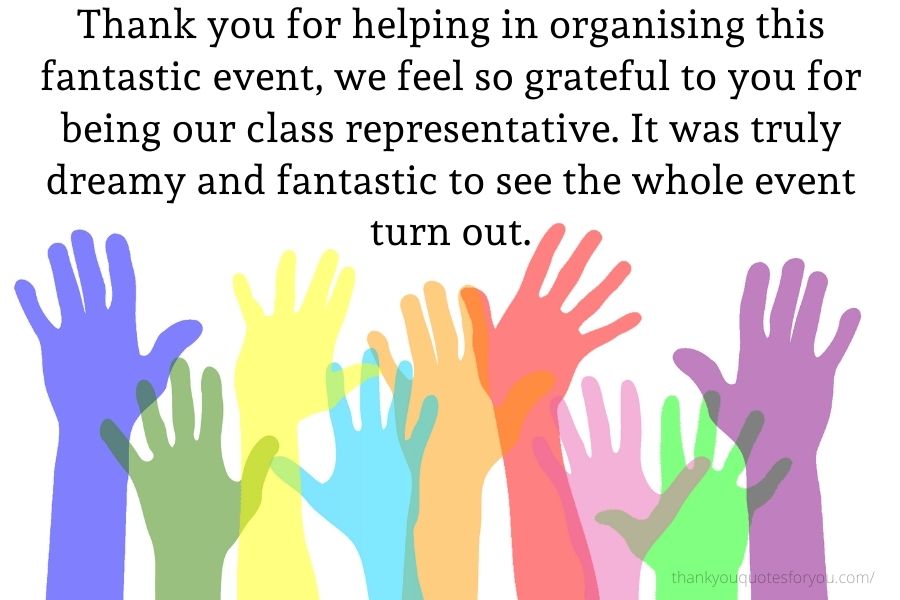 You have helped us a lot with all the scheduling of the classes and in keeping up with our syllabus. You have been the best class representative we have had to date.
Thank you for being so thorough with all the work and responsibilities of yours, it's truly a blessing to have a responsible and understanding class representative like yours. You have really helped us with a lot of classes and schedules.
We acknowledge all the time and extra effort you put in managing a good rapport with our college officials and in maintaining all the statistical data and funds relating to fests and social groups.
I'm so thankful to you, you have really helped me save up so much of time. Thank you for always providing me with the right information beforehand for each of the classes and lectures. It really feels great to have an efficient and dedicated class representative like you.