Dancing is one of the best forms of art. Every dancer has once in their life had the privilege to be taught by their idols and by teachers who are the best of the best, dance teachers who never leave their memory, whose teachings and preachings are still very well encrypted in each one of ours minds. They help shape the career and the vocation of a dancer in the field of their interest. They help the performer and the artist inside of us blossom. A good performer is someone who doesn't let the audience's attention get distracted. They help us build confidence and the discipline that is required to become a great dancer. Every dance form has its own beauty and captivity.
If you are feeling nostalgic about that one dance teacher or the academy of which you were a small part of, here are a few thoughtful and genuine thank you messages and quotes you can send to your dance teachers to remind them how grateful and indebted you feel because of the virtues and lessons of dancing that they have taught you.
Thank You Quotes And Messages For Dance Teachers
Thank you for believing in my passion and seeing the potential in me. I have always enjoyed dancing but with your constant guidance and preaching, I feel like I'm getting better and better.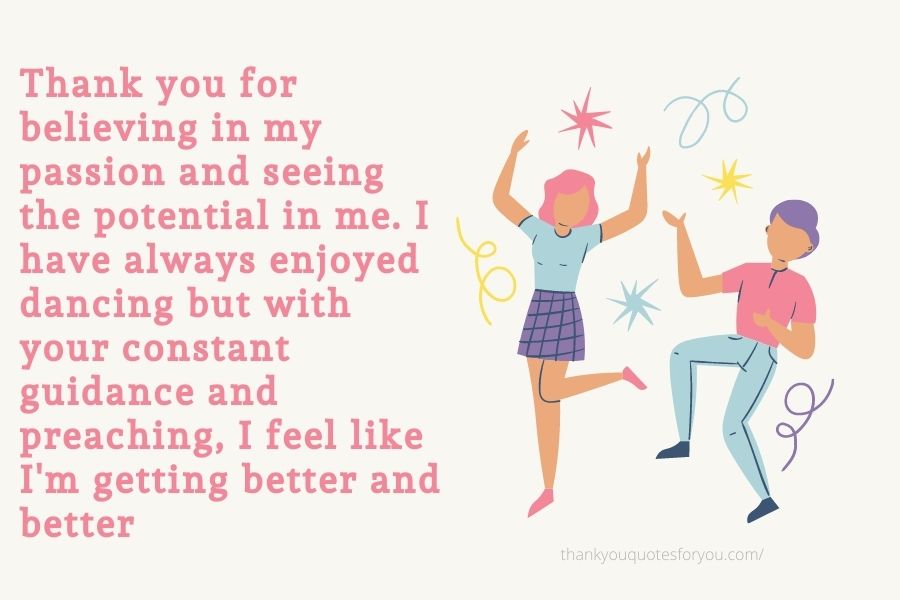 Thank you for making me fall in love with dancing. I never knew that I have the talent and the capacity to do something in the field of dancings and art. You have really made me believe that everything is possible with determination and will.
You always have the best moves and the best of performances and acts. Learning dancing under your guidance is truly a bliss. Thank you for making every dance class so memorable and mesmerising. I am very grateful to you for taking out the time and resources to help beginners like me to learn dance.
I never knew I could dance in front of the masses or participate in a stage performance. You have really helped me with my stage fright and my social anxiety problems. Dance is truly the best mode to express gratitude and grace. Every dance form is a beauty in its own form and I intend on mastering all of them.
The journey of my dancing career has begun with your dance classes. 8 am so grateful to you for being patient and compassionate towards me during my beginning years when I was true of no good. Thank you for making me feel so accepted and we'll understand. I feel like I'm a much better dancer now and I trust every move and step that I learn.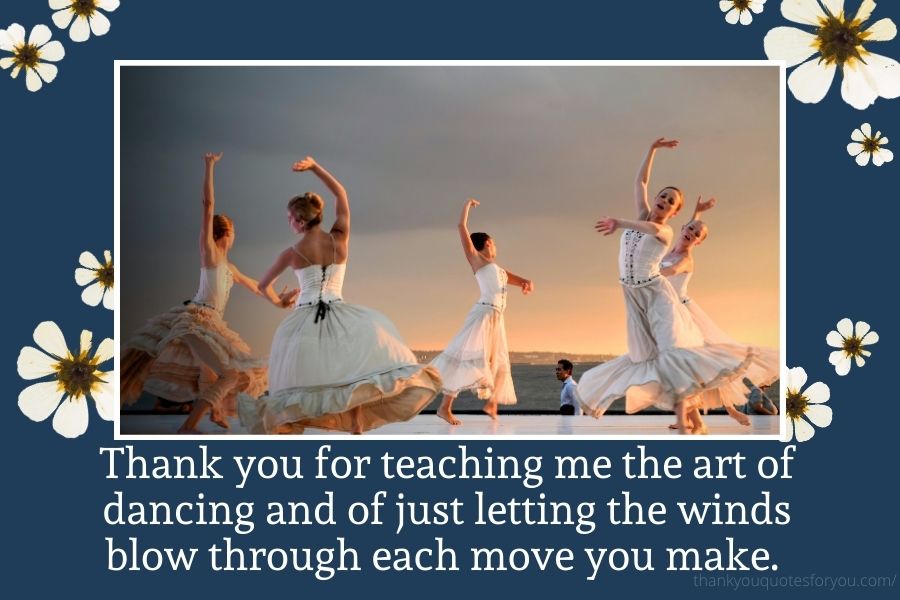 You have never for one day given up on me. I remember I started off as a beginner and now I really trust all my moves. Thank you for building the confidence and calmness in me that is necessary to keep the audience consumed and captivated.
Thank you for believing in my dreams. Your vision of making dance and dancers great again totally and truly aligns with my dreams and ambitions. I'm grateful to God that I finally found the best dance teacher that I could have ever asked for.
I'm so happy with my dance classes. There's not a day when I do not look forward to dancing. Thank you for teaching me the importance of perseverance and discipline. My dancing career looks secure and adventurous all because of your guidance and teaching. Your support has really helped me get through a lot of hard days.
It is an honour to shave under your guidance and supervision. Thank you for helping me out with my posture problems and with every new move. I feel like I'm getting better and better with every passing scheduled dance class.
I have learnt so much from you. I still remember the day when I joined your dance academy as a beginner and now I feel like I have truly made something out of myself. I truly believe that dancing is the best art form to express oneself.
You have stood beside me in the toughest moments of my dance career. I feel so blessed and loved for everything you have done for me. From taking extra dance classes for me.
It's truly an honour to be your student. I have learned so many new moves and steps from you. I aspire to be like you someday, your moves are flawless and mesmerising. Every time you perform, I feel like you own the stage for yourself. Everyone in the audience is always left mesmerized by your aura and your moves.
Thank you for teaching me the art of dancing and of just letting the winds blow through each move you make. You have taught me to always give everything that I have to the things which matter to me. My dancing career looks fruitful and flourishing because of you.
You have always been the most trustworthy and graceful person I have ever had the honour to meet. It's a privilege of mine to be your student. Your dancing skills can leave anyone awe and wonder. There is no doubt that your artwork is so well received everywhere we go for performance and acts.
Thank you for teaching me one of the most beautiful dance forms in the entire world. I feel grateful and blessed for having the best dance teacher anyone can ever ask for. You have made me believe in my dreams and in my potential, I will forever be indebted to you for providing me with an ocean of opportunities and possibilities.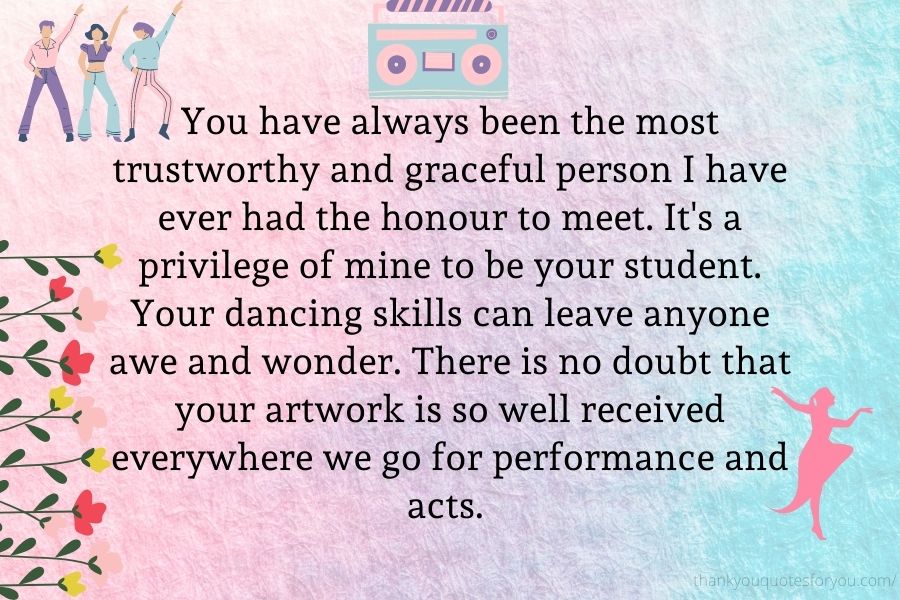 I hope you are in good health and wellness. I hope you are happy to know about my flourishing Career in the field of art and dance. It would all have been impossible without your guidance and support. Thank you for paying extra attention and care towards me and for seeing the true potential in me.
Thank you for helping us understand the importance of expressing human emotions through dances the medium of dance and arts.you have preached us greatest virtues anyone can possibly learn in the field of dancing and performing.
Thank you for teaching me the importance of extra co-curricular. I have never felt so consumed and taken aback by any other mode of learning. Dancing has truly become my passion.
You haven't just been a teacher to me, you have helped me in every up and down of my life. Thank you for being a genuine listener and for helping me out and giving me extra attention to each dance class.
You bring out the magic in me. Every dance class feels incomplete without receiving a littles scolding from you for having a bad posture or for not being able to grasp a move well. We all know that it's your dedication towards your craft and art that drives you to look for perfection inside of us.
You have the purest of heart that I have ever seen in anyone. Thank you for being so genuine with your dance classes and teachings. You have never let us feel lesser or unprofessional dancers. Thank you for always having your faith in us.
Thank you for always believing in my potential. You have always helped me and encouraged me to work on myself and do what I believe in.