Daughter in-laws are the most precious gift God gives us. They are not born into our family, but they become a part of us with time and effort. Their magnanimous personalities never fail to astonish us, they blend into our families and blossom in between us like a sunflower. They care for their in-laws the most and treat them like their own parents. Sometimes it can get a little difficult for them to adjust into their new lives, but they never leave no stone unturned to fill their families life with love and tenderness. It's always beautiful to acknowledge their efforts and to accept them as who they really are.
Here are a few heartwarming messages and quotes you can send them on special occasions to remind them how beautiful their souls are and how important their role is in our family.
Thank You Quotes And Messages For Daughter in law
We love you for being the person who you really are. Your personality blooms every day and we are becoming more and more fond of you with time. We thank God every day for blessing us with a daughter like you.
Thank you dearest daughter in law for blessing us with your gracious presence in our lives. We feel highly blessed for having you in our lives and seek to make more and more memorable memories with you.
These are one of the rarest moments of our lives when we feel highly proud of our son's choice since he has gifted us with the most beautiful and virtuous daughter in law. You never fail to astonish us with your grace and virtue.
We feel blessed by God for giving us a daughter in law like you! You have made each day of our life so much special and mesmerising. Every evening spent talking to you is a bliss!
Dearest daughter in law, your empathy and compassion have set new standards for our entire family! We feel inspired by how well you maintain excellent work and life balance. Every day spent talking to you feels like a bliss.
Thank you for being a part of our small family. I must thank my dearest son to for blessing us with an angel like you. We never knew you are so content and compassionate as a person.
Your values are unmatchable, the understanding you hold for family conflicts and teamwork is remarkable. We feel highly obliged to you for being a part of our lives. You make every occasion and every holiday extra special and interesting.
You have held our family tight from the first day that our boy brought you to our house. We have only been astonished and flabbergasted by your virtues and excellence since that day!
On this special occasion, I must thank you for all the compromises you have made in your life for us, your joyous truly doesn't reflect it but each one of us agrees that you have come a long way in building this home and we are proud of you!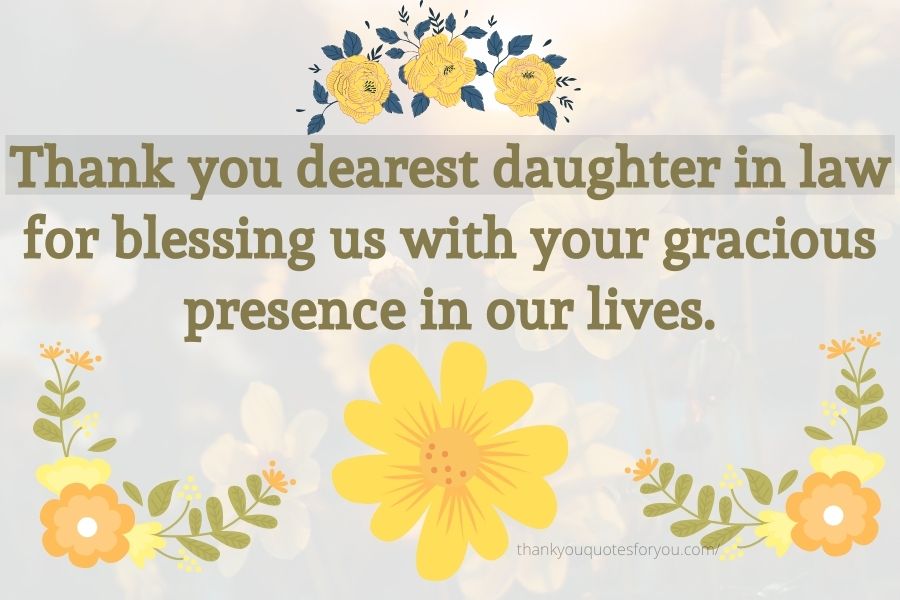 We have shared beautiful memories with you, you are the best daughter in law we could have ever asked for! We have seen you make progress each day of your life and to be bluntly true, we have never seen a flower bloom as beautifully as you have with time!
Thank you for treating you as your own parent. I deeply regret to not be your biological father, but I hope that I provide you with all the love and affection that he could ever give to you.
We cherish your presence in our life, it must be very hard for you to form a new family of your own, I deeply understand how difficult it can become! Thank you for always being the bigger person and for letting go of grudges and anger.
I have so many fun and joyous memory with you, your soul really sparkles every time you smile! You have got the biggest heart I have ever seen in a human being, I hope you keep shining like a star through all ages of your life.
You are the most innocent and loving creature that God has ever created. Your beauty and purity always leave us mesmerised and awestruck. Thank you for being so kind to me and to our entire family.
To all the sacrifices and compromises you have made for us, we will forever be indebted to you for being so generous and forgiving towards us. I pray for your good health and wellness.
Thank You Emotional Quotes And Messages For Daughter in law
My mind always travels back in time to the day you first came into our lives, since then you have only brought more and more love and prosperity into our lives. Thank you for all the sacrifices you have made to keep us all glued together under the same roof.
We feel like we are the luckiest in-laws since there hasn't been a single day when we have not felt like your birth parents. You are the most sincere and loving wife and daughter in our family. We feel obliged to you for bearing with us at times.
Every occasion spent with you is so much more memorable. Thank you for being a part of our family, we can be a mess at times, but trust me we are very loving people! Thank you to my dearest daughter in law, because you have never failed in proving to be the only daughter of my life. I have never felt like I'm not your father, that's the greatest feeling a father in law can have!
We feel so proud of you, for all the success of your life and the never-ending virtuous of yours.
My wish for you is a trillion of success. Your never-ending virtues have never failed to astonish me, I have got high hopes in you. I have always seen the potential in you to build something great! May God bless you and guide you in every phase of life.
Thank you for being so generous and understanding. Our family can act a little dis-functional at times but ever since you have joined the picture, we have only felt warmth and love under this roof.
You are the miracle we were in dire need for over years. Your presence has brought a never-ending joy to our little family. We feel thankful to our son for finding a better half in you! Each one of us feels grateful to you for being there for us at times of need.
We have never seen our son so happy and joyous at moments of dismay and trouble. You have really gifted us with a changed man, he has never been this involved in household and in building connections!
We have never witnessed perfection quite like yours. You have unmatchable talents and wisdom. We wonder how has God blessed us with a soul like yours. We have learnt so much from you, your grace and faith have built our roots stronger and longer. You have taught us compassion and the power of understanding and empathy. We feel blessed by God every day for seeing your beautiful soul!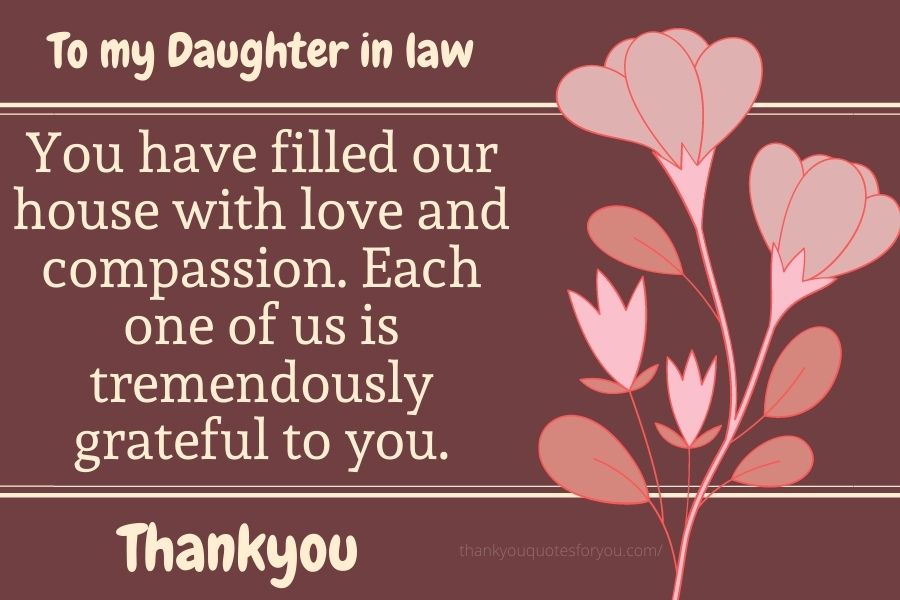 Thank you for being so kind to us in moments of agony and anguish. We will never know what seeds we had shown for a daughter in law as virtuous as you. Your positive vibe and warmth really transform any and every moment of dismay and problem to an opportunity and a challenge.
The empathy and compassion you hold in your heart are splendid and remarkably astonishing! I feel highly inspired by you, how you always listen to us patiently. You are like the daughter I never had! Not a day goes by when I don't feel like you are my own daughter!
Your lenience and tenderness have astonished me since the day I met you, we are glad that you gave us an opportunity to be your family! Not a single day has passed when I don't feel blessed by God for giving you to me as my daughter in law.
As I think about you, it makes me deeply emotional and sentimental to even imagine my life without you. You have filled my life with infinite colours of joy and happiness.
You are the most mindful person I have ever have the privilege of knowing, I feel blessed to have you in my family. Your virtues and intelligence deserve greater recognition and admiration.
Our home has become an epitome of goodness a day ever since it has been blessed by your mesmerising presence. You have filled our house with love and compassion. Each one of us is tremendously grateful to you.