Do you know anything about "magic words"?
Well, there are a few of them, and they include words like sorry, please, may I, excuse me, and thank you. We all must learn to use these "magic words" appropriately without hesitation; these are more powerful than some of us know.
Speaking of using the magical words "thank you", many people are deserving of it. Friends, teachers, employees, employers, service providers, and many others deserve to get a "thank you" at various times.
How to Write a Thank You Card for your Dentist
A dentist's peculiar way of being appreciated differs from how a teacher would be appreciated. To do a good job thanking people who need to be appreciated, here are a few things you might have to take into consideration:
Appreciating the uniqueness of the profession (if it is a goods/service provider involved)
Highlighting specific details that are worthy of appreciation. These could be encouraging words when it was needed the most, amongst other things
Send a gift to the concerned party and accompany it with words of appreciation. Never substitute words for gifts as appreciate words are irreplaceable.
A referral with nice and appreciative words backing up your recommendation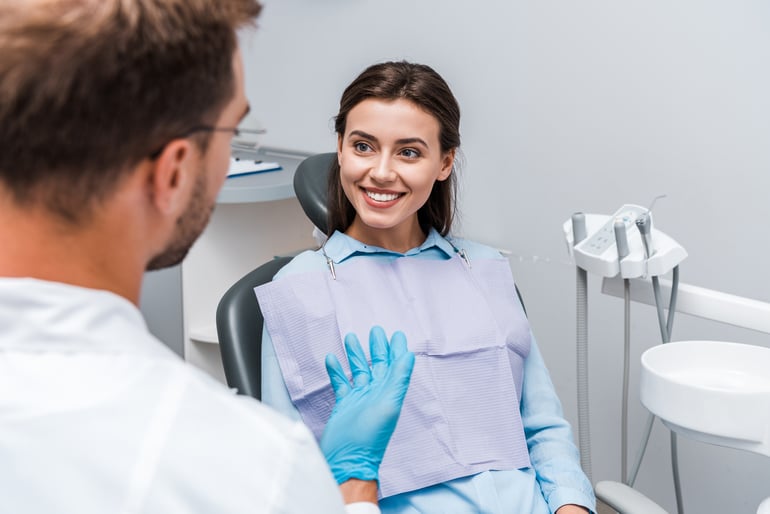 The next part will spoil you with options for saying a proper "thank you" to your dentist. So, you can scan through and pick any that ticks all the boxes for you.
Samples of "Thank You" Quotes for Your Dentist
I cannot thank you enough for your oral health advice and services. There have been remarkable improvements, and I am grateful for this. Thanks a lot for what you do!
Before meeting you, my confidence was at an all-time low because of the state of my dentition. Weeks and months down the line, there has been a massive improvement, and this is all thanks to you. You are indeed a good dentist. Thanks a lot.
Hello, Dr. (name of recipient), enclosed is (the content of your gift) as a little something to appreciate you for your services. I must add that this does not come close in value to what you have done. A very big thank you to you!
Without a reasonable doubt, I can emphatically say that people like you make the dental profession a noble one. This was my experience from the first consultation till the last meeting. I could never stop owing you a big thank you to you.
I dreaded visits to the dental clinic as a kid, which is the same experience for many others. But with dental professionals like you, the narrative is fast changing. Thank you for making the environment as conducive and warm as possible.
I have had encounters with several other dentists, and I can say you are one of a kind. I could only wish every other dentist out there is as patient-friendly and committed as you are. You are one of a kind, and I am taking this time out to say a heartfelt THANK YOU.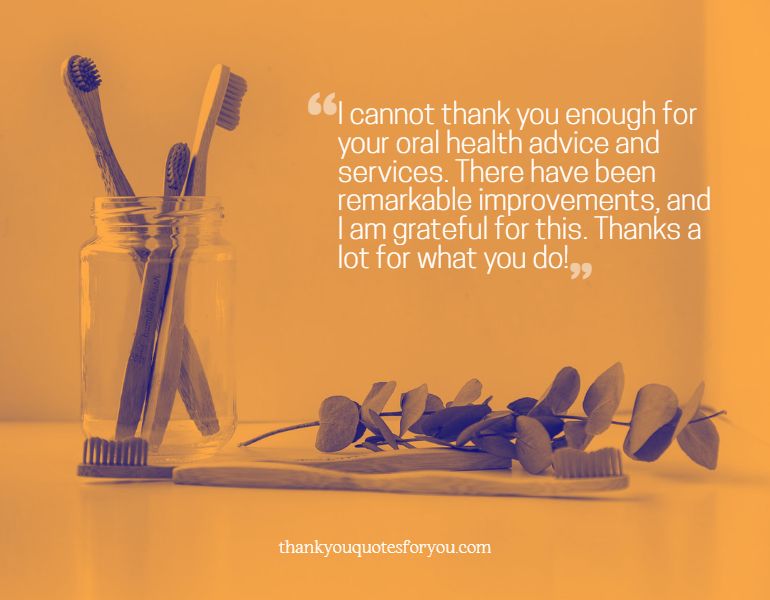 Hello, Dr. (name of recipient), lots of dentists offer pretty much the same services, but if I had to go through the ordeal again, I would choose you over and over again. This is because of your commitment to making the oral health state of your clients the best it can be, and I would forever be indebted to you for your services. Thank you very much!
There is a clear-cut difference between how my oral health state was before and after meeting you. The biggest difference is YOU, as I feel pain-free and full of life. Thank you for your services, and you can be sure I will keep referring you.
I was referred to you by a colleague, and after my time with you, I can say my colleague was not very detailed about how great you are. You are one of the best things that have ever happened to the dental profession, and I am a beneficiary. Thank you very much!
Do I have regrets about spending time with you? The only regret is having doubts about what you could offer early on. Well, that ended during the first consultation, and that says a lot about how good you are. Thank you for being the very best at what you do.
I noticed many patients were waiting to see you on my first visit. I thought about why this was the case back then, but I now have a good answer. Everyone wants the best dentist, and that is what you are – the best. Thanks for the top-notch service you constantly offer.
I needed a bit more than a regular dentist to overcome my oral health challenges, and you were just the right fit. I am fully recovered, and I owe you many thanks for that.
Before you, I have had terrible experiences with dentists, but meeting you was a game-changer. You came in at the right time and as the right dentist. Thanks for all that you do to help your patients.
Other than these words of appreciation, I am sending something that cannot equal what you offer as a gift. I just want you to know I am very grateful and that I cannot thank you enough.
You and your team make it seem like overcoming oral health challenges is a stroll in the park. This is about how good you guys are, and I am very grateful that I had a pleasant experience with you and your team.
Dr. (name of recipient), you are the true definition of the ideal dental health practitioner. I can say this first hand given my experience with you. Thanks for being the very best.
Frankly, you are not only a good dentist but a good person. For me, that makes all the difference in the world, and thank you for this.
You deliver results and not excuses. This is clearly why you come highly recommended. Thank you for performing an excellent job on me.
It is that commitment toward helping your patients that is most thrilling about you. I had a substantial experience of that with you. A "thank you" is not sufficient but has to be said all the same – Thanks to you, Dr. (name of recipient).
The only reason I showed up for the extraction was that it was my only option. That was how terrified I was. Well, you did the very best a dentist could do to help out, and I am grateful. Thank you, Dr. (name of recipient).
Some of these thank-you messages will be more relevant for you than others. This is why you should read through and make the right choice.