Focusing on gratitude can negate feelings of anger and entitlement and foster feelings of positivity. Studies show that even months after writing a simple appreciation message or journaling feelings of gratitude, people's brains are still wired to feel especially thankful.
The person who stood with you at a time when you felt all alone and needed someone by your side, it's our responsibility to show our gratitude and thankfulness to them. They may be your friends, relatives, colleagues, or any close person. You should say thank you to them for being a great part of your life. This will demonstrate your gratitude to them for the part that they play in your life.
Expressing emotional thank you messages may not be your thing, or you can't know exactly what to tell them. It doesn't matter the kind of person you want to show appreciation to; we need you to be taken care of. This collection of messages will help you to write your feelings and get you on track to showing people the proper amount of gratitude, without sounding very good.
Emotional Thank You Messages
You have such a pure heart. You are so compassionate and kind-hearted, and I don't know what would have happened in my life without your support and encouragement. I pray to God that what you selflessly gave to me may be repaid a hundred times. Thank you so much.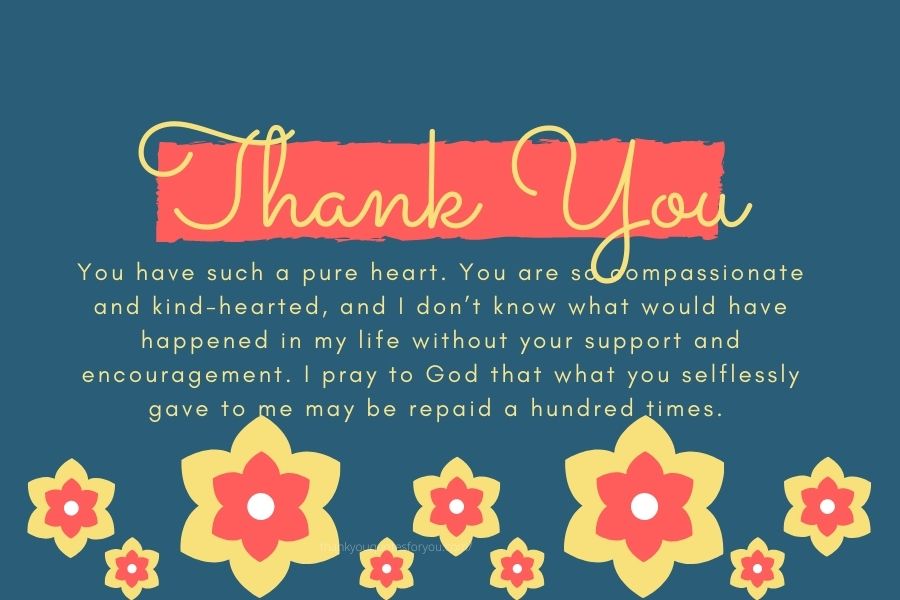 The way you stood with me every difficult time shows that it is true that you are such angels who live amongst us. I pray for your long life and well-being. Thank you so much, my dear friend.
Your open-heartedness is just priceless, and what you have done for me genuinely makes me know that you are an angel sent by God. You will always remain in my heart. Thanks a lot, dear.
I pray to the Almighty that your blessings multiply many times more. You just contributed and did a lot for me and showed me the right path to conduct my life beautifully. Thanks a million, dear.
Before I met you, my perspective was the only thing someone can give is material help but knowing you, you open my eyes and your words and actions matter a lot. Thanks a lot.
What matters in life is that I have someone who truly loves and cares for me. That is why I am thankful to God, I found you as a part of my life. Thank you so much.
I have encountered many people in my life but you're different from me. I always treasure your contributions because I have never found such a kind-hearted and caring friend like you. Thank you for being with me.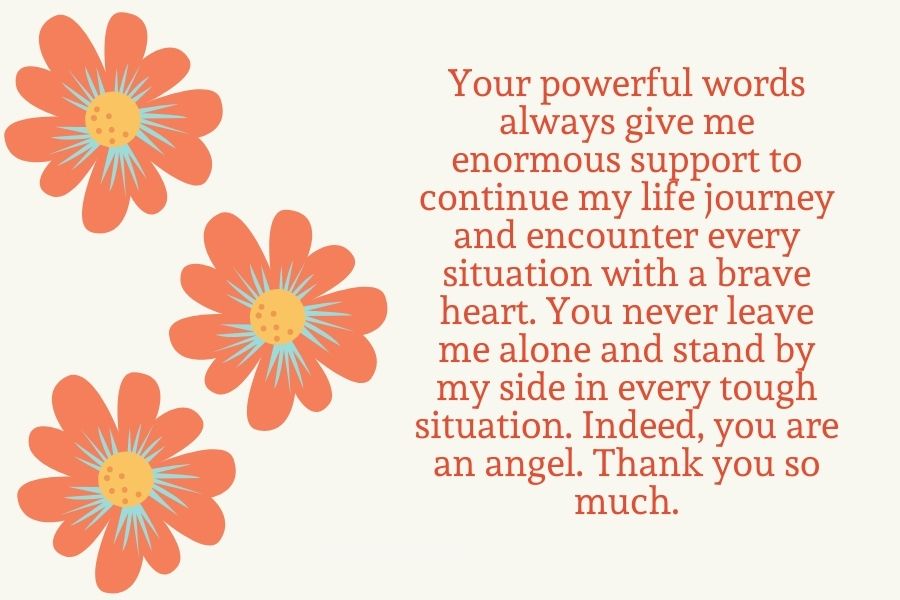 As I made a beautiful relationship with you, I was looking for someone who loved the things I loved. You came into my life being so different from me I thought we wouldn't click but you taught me that a relationship is not about being similar but respecting our differences and embracing variety. Thanks a ton.
Every time I see you, tears come through my eyes when I remember you saved my home. You sacrifice a lot for me. The best part is that you didn't want any return of it. Thanks a million.
You helped me in my hard times and gave me enormous support to face every obstacle in my life. I am just speechless to express my gratitude towards you. Thank you so much, dear.
Thank you so much for being an important and influential person in my life. I want to express to you that I am really grateful and appreciate you being a part of my life.
I know I am not strong-headed every time, but you always stood by me and supported me. Really you are very special to me and I respect you so much. Thanks a lot.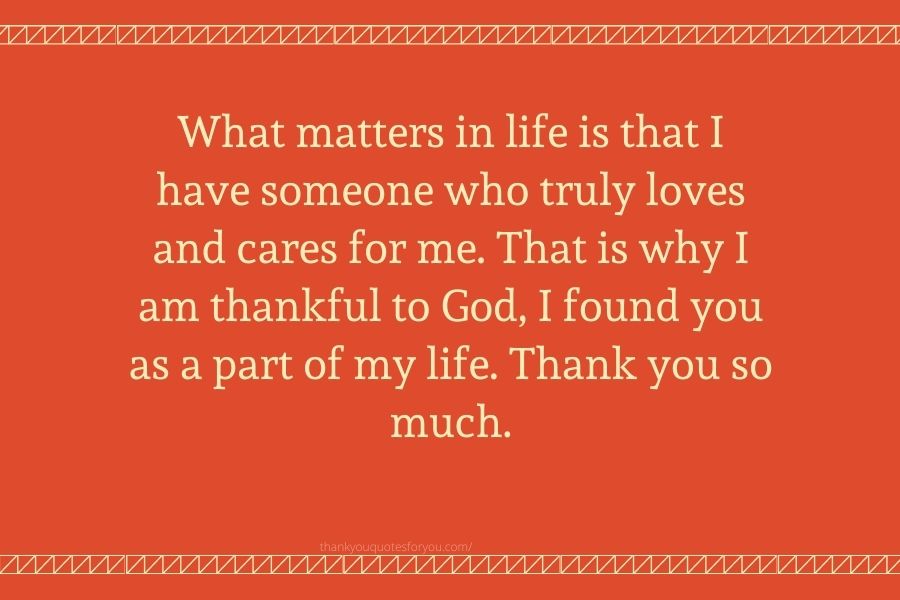 You can laugh with me when things are funny, cry with me when things get thick, and strategize on what to do when things get worse. You have played all these roles greatly. Thank you so much.
Yes, we don't share our feelings much often, but by your actions, I know you value me a lot. I just want to express to you that I would do the same for you and we are so fortunate that we have such a beautiful relationship. Thank you
Thanks a lot for encouraging me all the time. You are a very rare one who has a pure heart to accept the way I am. You never feel me devalue. You always tried to see my positive side instead of knowing my faults. Thanks for your generosity.
I feel really lucky that you are a part of my life. You are the person who always pushes me to do better in my life. Your countless support and boundless love are just priceless for me. I express my gratitude to you for your contribution in my life. Thank you so much.
I really feel proud and have huge respect towards you every time I think about all you have done for me without expecting anything in return. Your heart is so pure and you are something different from others. Many many thanks to you.
After my parents, I have huge respect and love towards your fr your countless support and encouragement which kept me going to face every obstacle in my life. You have a special position in my heart. I want to keep you in my heart till my last breath. Thanks a lot. 
You are a very special person in my life who laughs and cries with me in every ups and downs of my life. Thanks for standing by me in every stage of life.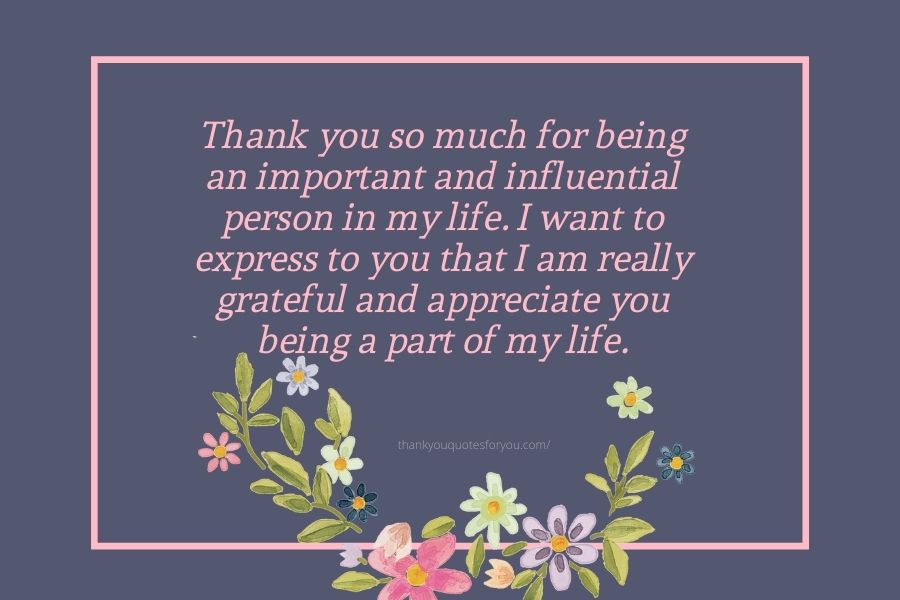 Your powerful words always give me enormous support to continue my life journey and encounter every situation with a brave heart. You never leave me alone and stand by my side in every tough situation. Indeed, you are an angel. Thank you so much.