Our fathers are our first real superheroes! They have been our role models from a very young age. Their love is unconditional for us and they never fail to make any kind of sacrifices required for our happiness and future. Dads are the most selfless being God can give us, they provide for the entire family without ever thinking for themselves. They keep the family afloat, financially as well emotionally. In childhood, they teach us unforgettable lessons of courage and bravery, they play around with us and make us feel loved. With time, we might drift apart from them since our lives become more complicated and complex. But there's always time to look back and rejoice in those happy memories we made with our fathers! How they would always bring us our favourite ice cream when we would be upset and how they would always be ready to save us from our mom's scoldings.
Lest being grateful to our dads, for instilling our life with valuable lessons, countless laughs and happiness. The sacrifices they have made for us will always stay unheard and unsung, and that is how they will like it to be! Here are a few messages and wishes we can send them on special occasions to remind them how grateful we feel to name them in our lives and how amazing they make everything for us!
Thank you messages and quotes for father
Dear Dad, you were and will always stay my superhero!  Thank you for all the compromises and sacrifices you have ever made to keep our family afloat and happy.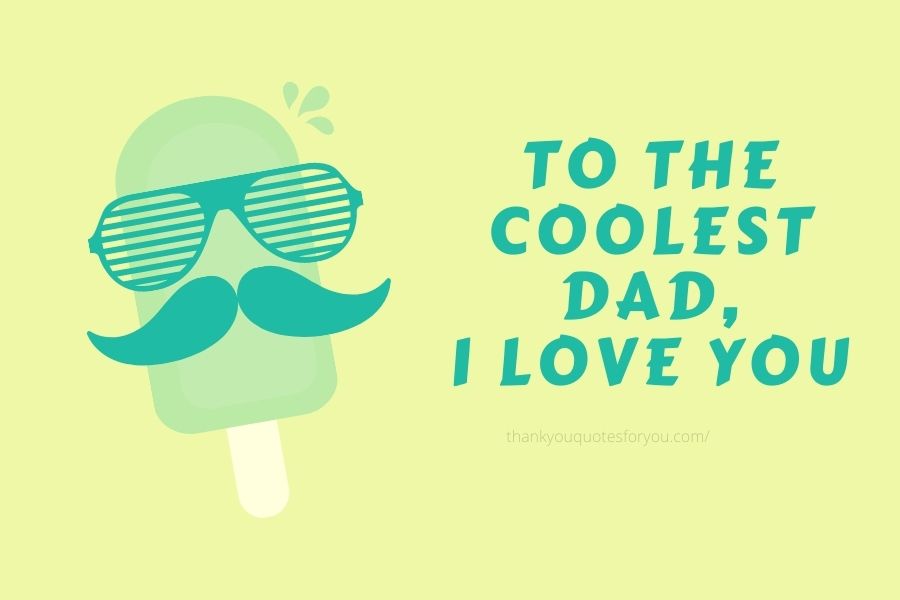 Thank you, dad, I have made the best memories with you. You have never failed to keep me comfortable and joyous. My childhood was bliss because of your presence in it.
Dear Dad, I have always confided in you my insecurities and doubts. Thank you for teaching me some important lessons in life so early on. I am very thankful to God for blessing me with a father like you.
Thank you, dad, you will always be the first person I look up to in distress. I feel highly obliged to you for all the love and support you have shown me through thick and thin.
I feel like I'm the luckiest person to have a father as cool as you! Thank you for making me independent. The gift of freedom is the best gift a father can give to his daughter.
Thank you, Dad, for teaching me sports! You have been my best friend, a mentor and a guiding light for me. I have learnt so much from you and I still keep learning, every day! Thank you for making out time for me on busy days, I can now understand how hard work can get!
Thank you, dad, for showering me with your love and tenderness. Your smile is the most beautiful smile I have ever seen. You make me happy on days of struggle and dismay.
Thank you, Dad, for being my Santa every Christmas. You are my saviour and I feel blessed by God to be your child. I have learnt so much from you.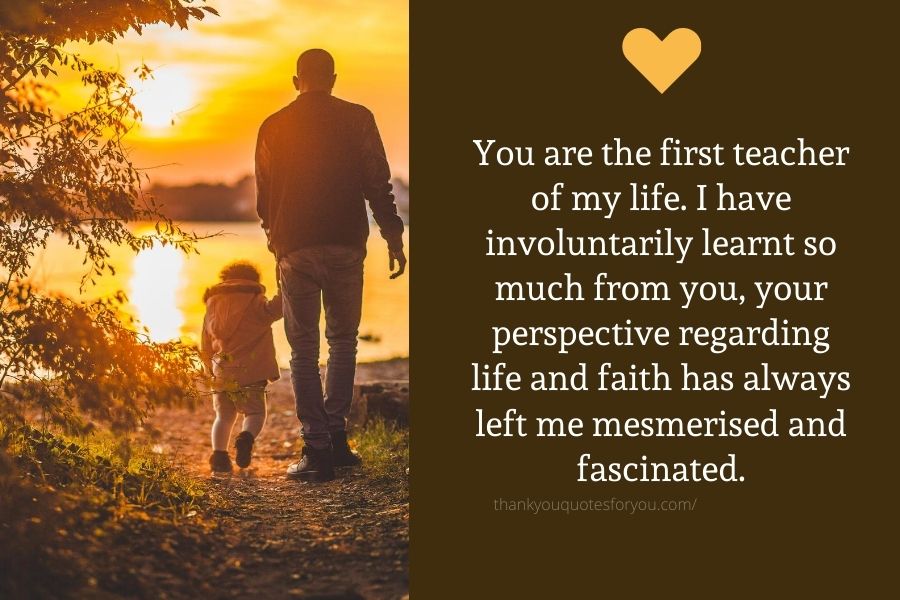 Thank you, Dad, for always teaching me to be fearless and brave. I have never in my life succumbed to my fears, and that is because of your teachings and lessons.
Dear dad, thank you for everything! Your hard work is the reason why we can all enjoy delightful and satisfactory resources and hobbies. I will always feel indebted to you for all the love and sacrifices you make to keep our family afloat.
To the coolest person in the world, I have had immense fun with you! The memories I have made with you are mesmerising and blissful. All the matches I have won and tests I have passed, it was all because of your teachings and lessons you have taught me.
You are the first teacher of my life. I have involuntarily learnt so much from you, your perspective regarding life and faith has always left me mesmerised and fascinated.
 I feel privileged to be your child, for you have never failed in providing me with everything that I have ever asked for. You are always ready to listen to me blabbering about even the tiniest of inconvenience. Thank you, Dad, for being my best friend!
Emotional thank you messages and quotes for father
Thank you, dad, for all the love and tenderness you have shown towards me. Every evening I get to spend with you, every dining table conversation we have, it's a blessing for me! Thank you for never failing to provide me with wisdom and knowledge.
Dad, you have been the most inspiring person in my life! I am extremely fond of spending time with you and in knowing more about how you were in my age! It's always inspiring to listen to you talk about your old tales. I see a mentor in you and you have never disappointed in guiding me.
Thank you, dad, for all the sleepless nights you have spent in my sickness, you have always believed in my dreams and in my ideas. I have absolutely no idea how I would have turned out without you.
Your smile is the best smile I have ever seen. My only ambition in life is to make you feel proud of myself, I would do anything and everything to protect your happiness and your dignity.
Thank you for providing me with the finest of resources. I feel privileged to be your son. You have provided me with opportunities and wisdom that a lot of people fail to receive. I can never be grateful enough to you.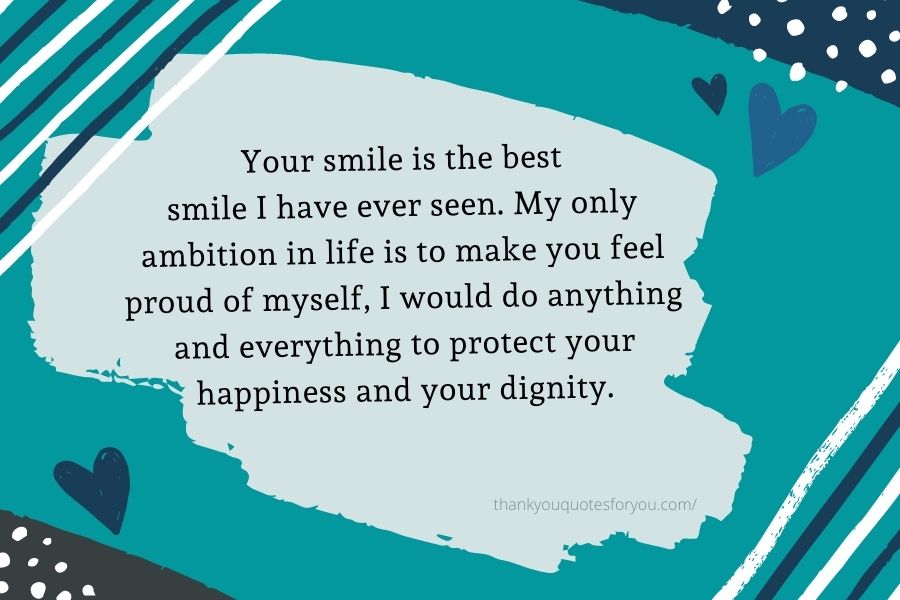 Thank you, Dad, for always having my back! You make every trouble and problem accomplishable. I have seen you in days of distress, you have never for one day projected your sufferings on someone else, and I feel so proud about that. You are a man without infinite virtues and I feel nothing but blessed by God to be your child.
I have never seen you succumb to failure. You have always thrived for the next big thing and accomplish every task that brings you closer to your dreams. You have always made time for us, even in days of heavy work and stress. Thank you for always making every attempt possible to keep our family afloat and providing us with more than what we ask for.
Dear dad, on this special day I feel deeply sentimental and nostalgic! All the evenings you have spent with me playing in the park and all the dinner nights when you would watch with me my favourite cartoon, I feel so blessed today to have these beautiful memories with you!
Thank you, dad, for all the unsung and anonymous sacrifices that you have made for us, the ones we will never even hear about from you! You are the shield that protects our loving family from all misfortunes dismay. Every night we sleep safely and peacefully because of your strength and firmness.
I know our family can never sink, at least not until you are with us to shield us from all the negativity and hate in the world. You have taught me tolerance and the difference between right and wrong.
Funny thank you messages and quotes for father
All our sleepless nights when we played PlayStation and you lost all the time, I still remember the baby faces you would make! Next time we have a match, I promise I will let you win.
Thank you, dad, for saving me from mom's scolding even though it was you who ate the last bucket of ice cream at midnight! This reminds me of all those joyous memories in childhood when you would bring me ice creams whenever I would get upset! You are truly a gem, dad!
Dear Dad, you never fail to win my heart with that heartwarming smile! The way you smirk when mom snores, you are just a sweetheart dad! I love you from the bottom of my heart, you make everything joyous and lovable!
Thank you, dad, all the weekends I have spent with you are the most fun weekends of my life! Watching television from morning till evening and betting on our favourite team-those days were the days of my life.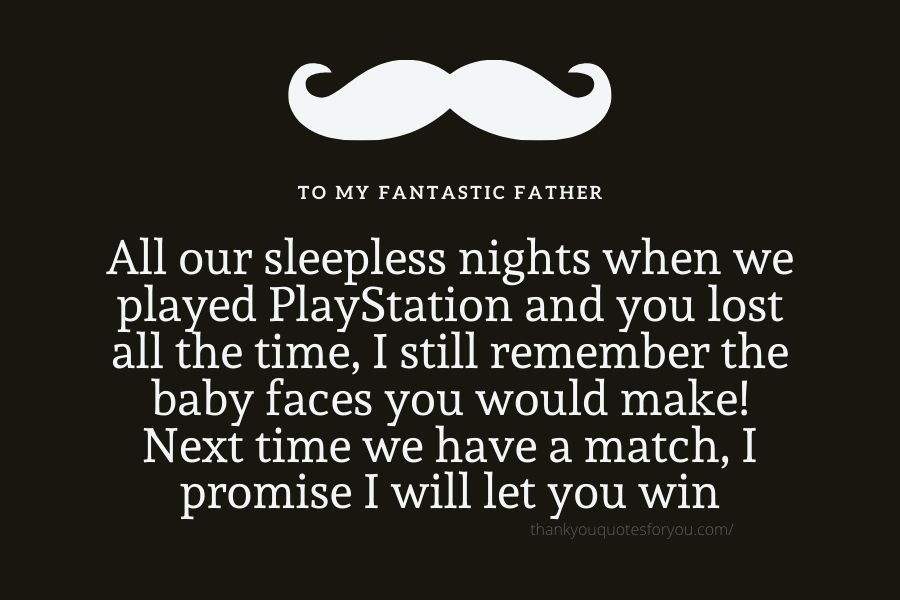 Thank you, Dad, for giving the best presents every year! I know we always fight among each other regarding who is your favourite child, while we know you don't like any of us!
I still laugh uncontrollably when you tell me about your childhood tales and how you were so rebellious in school and college. I wonder how you made me so disciplined and well mannered!
Thanks, Dad for all the late-night cravings, mom would have never been my partner in mischief in stealing food from the refrigerator! You are one of a kind to me! A pure gem!
Thank you, Dad, for teaching me how to respect elders and the ones we love, also, thank you for letting me know about the consequences when we don't respect people. The latter part has helped me more, trust me!
I know you will always be disappointed in us for being too well mannered and gracious! We really wish we were as cool and chill as you were at our age! The rebellious stories of yours always leave us astonished and flabbergasted!
Thank you, dad, for understanding that my grades do not define my future, also thank you for the threats of removing PlayStation, it has been a constant motivation for me to study harder!