Having a boyfriend is the most beautiful feeling in the world. They never fail to make us feel special for being just ourselves! Every occasion, even the tiniest of our achievements can not pass by without celebrating it with them. They are the most loving and affectionate beings God could have given us. Their partnership and togetherness make life thousand times more beautiful and exciting. With time we realise the softness in their heart is the most adorable disposition of theirs. Their handsome face and beautiful heart are what makes the sky shine for us each night!

It's always amazing to wish our beloved boyfriends and remind them how beautiful they make each day of our lives and no matter how many hurdles come up, nothing can ever drive you both apart! Here are a few messages and quotes that you can choose from to make your boyfriend feel special on a special occasion or even just as a reminder of how grateful you are for them!
Sentimental Thank You Messages And Quotes For Boyfriend
Thank you for being so patient and understanding with me at times, I never knew that someone would shower me with so much love and affection, thank you for being so special to me!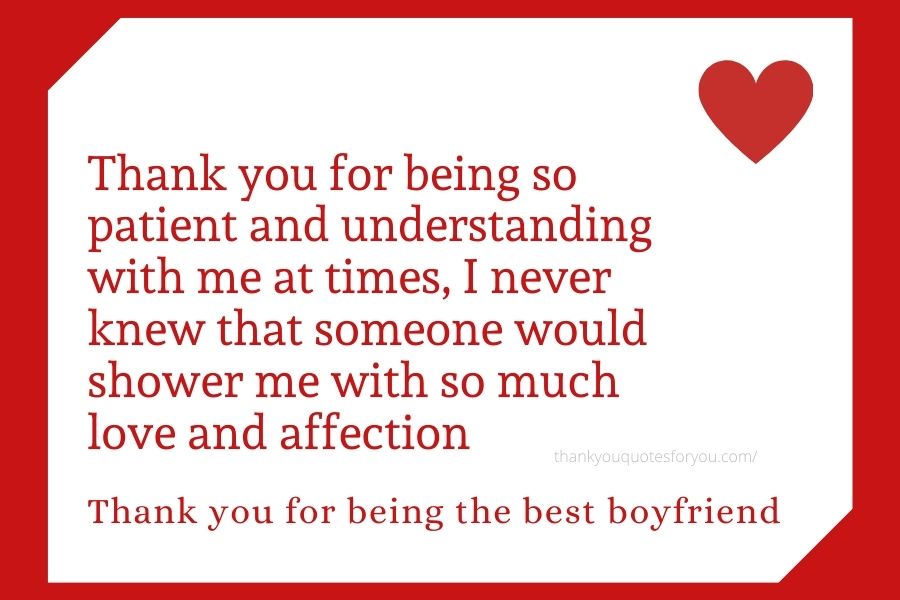 I hope the best of successes and happiness for you! You have shown me the true meaning of living and togetherness. I thank God every day for blessing me with a man like you!
I hope you are happy and I hope you succeed in all and every venture of yours. I am your biggest fan and the greatest well wishes you can ask for. Thank you for blessing me with your mesmerising presence.
I have never met a man quite like you! You have always been the most supportive and loving person in my life. You have understood me in moments of dismay and anguish.
I love the fact that I can talk to you about anything and everything without the fear of being judged. You are my only ally and my greatest strength.
I don't understand why I always feared relationships and affection, knowing you have changed my life forever! Being with you has made me happier than I could have ever been without you, thank you for hanging around even in my moments of anguish.
You have seen me unkempt as still loved me the same if not more. You are the prince charming I have always been looking for. Your smile is the brightest one I have ever seen.
I have never felt so deeply and strongly in love with anyone else. You have shown me the true definition of togetherness and commitment. I am deeply fond of you and all your interests never fail to astonish me.
You're the most beloved person in my life. I have never felt so secure and safe with another person than you. Thank you for being my guiding light at nights of dismay and fear.
Thank you, my dessert sweetheart, for all the faith you have shown in me in moments of fear and misery. You have never failed to inspire me with your bewildering humour at moments of dismay and angst.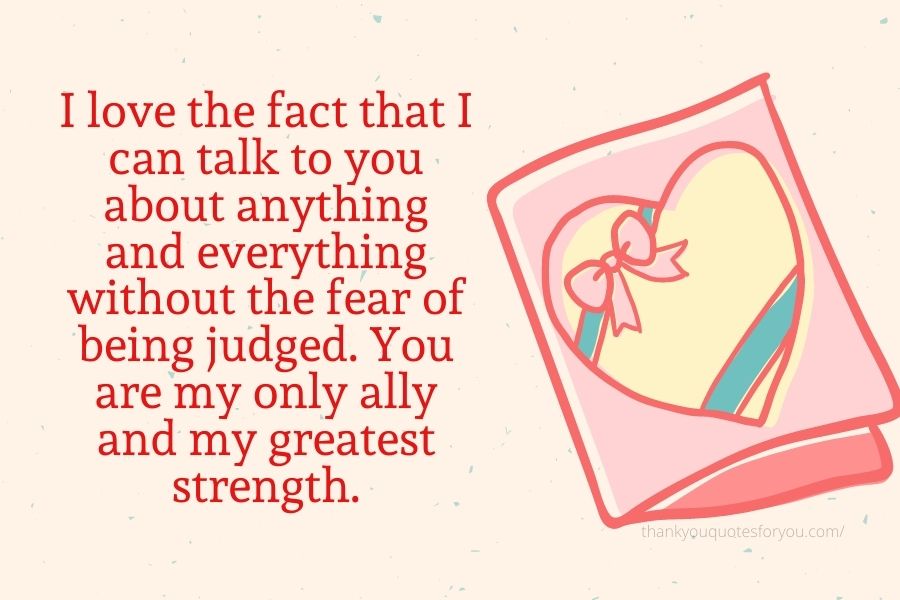 I hope God blesses you with all the happiness and success that you wish for! I have never seen a man quite like you! Your virtues and talents are magnanimous than any one of your age, I hope you always keep moving forward in life and enjoy every phase of it.
Thank you, my beloved partner, for always supporting me with your tenderness and love. I would have never realised how much more capable I'm if it weren't for you. Your love has made me conquer battles that I never planned on fighting.
In this lifetime and in the ones to come, I pray to God to make me your beloved partner. Your companionship is all I wish to be safe and happy.
You are the most precious person in my life. Thank you for being by my side when I stumbled through life. Your faith and belief in me have never failed to leave me flabbergasted.
I wake up everyday feeling grateful to God for giving me a life where I have you as my soulmate. I hope you realise how much I love you. Each day my fondness and affection for you only increase.
I want us to never change and always be this way, how we can be so comfortable around each other and talk for days and nights about how we actually feel instead of making our real personality!
Thank you for being honest to me about every feeling of yours. I feel so comfortable and secure when I am with you.
Nothing in this world can make us fall apart! I assure you the companionship of a lifetime and the love for a billion years. I have been the happiest in the past few years all because of your care and affection, I'm so thankful to you for loving me the way you do.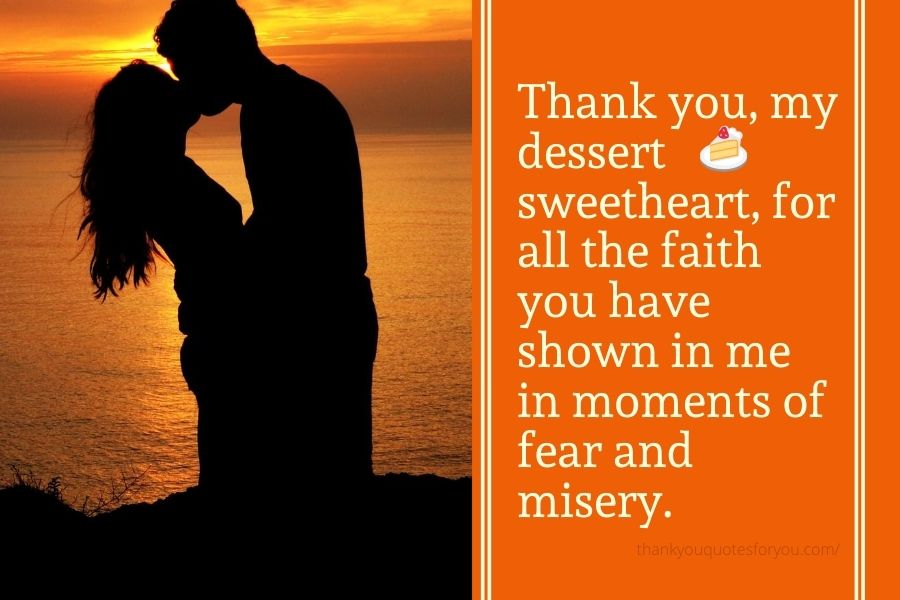 All my bad memories and fears fade away when I'm with you. You have made me the happiest person, I feel like a flower that you have only blossomed under your tenderness and affection!
You have an arrest on the frame of my mind, all I can think about when I am with you are happy thoughts, you have made me feel so empowered at times of dismay!
I hope you know I would do anything for you, the enthralling effect you have on me is like magic! I always want to be your girl, in this life and the ones to come, no amount of stress or distance can drive us apart.
Funny Thank You Quotes And Messages For Boyfriend
I have never seen a man more unkempt than you, I seriously do not understand what's the issue with you and tidiness, you should try to go on a date with it, maybe you will fall for her too!
It's funny how you are just turning into a person like me with each and every passing year! I feel like the world has got two of the same souls!
I still remember how you would cry on watching every animation movie, you are my little cry baby! Watching you cry over fictional characters is still the most adorable scene of my life.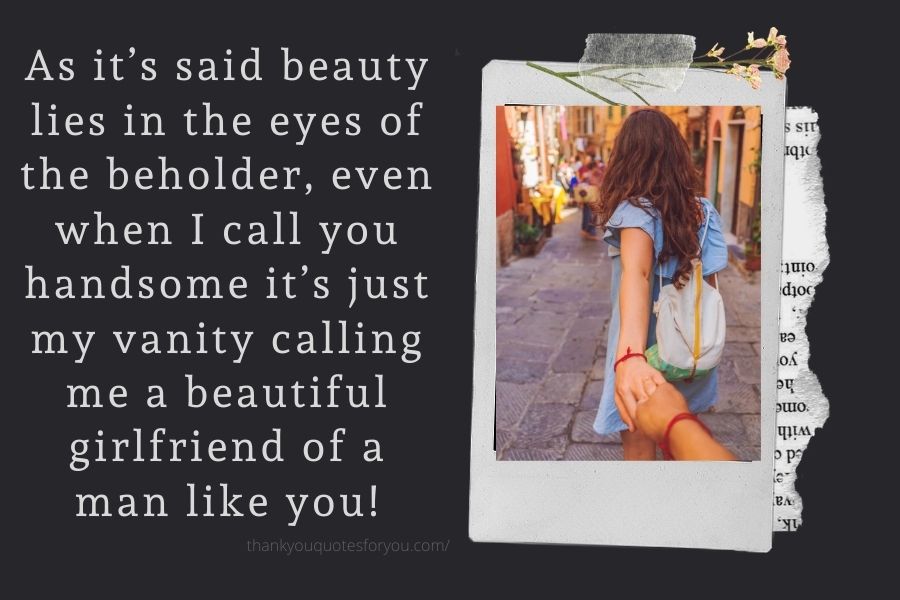 A man as strong as you can be scared of tiny reptiles is what amuses and baffles me every time! I hope next time you realise there's a lizard on the roof, you don't get a heart attack!
I remember how nervous you were on the first dinner gathering with my family, that shyness and precious fuzziness still never fails to win my heart. My mother still calls you the best guy she has ever seen me with!
I never knew I would ever find a guy just as crazy as me! You have got the same zeal for venture and amazement as me, I feel like we both can conquer the whole damn world just by being beside each other.
All the fun I have had with you in the past months is much more than what I have had with most people in years! You have shown me multi colours of joy and happiness and I will always be more than grateful to you for that.
Your humour is your best disposition. You have made me laugh in moments of tears and agony. Thank you for being the most beloved person of my life, your joyous face caps every trouble.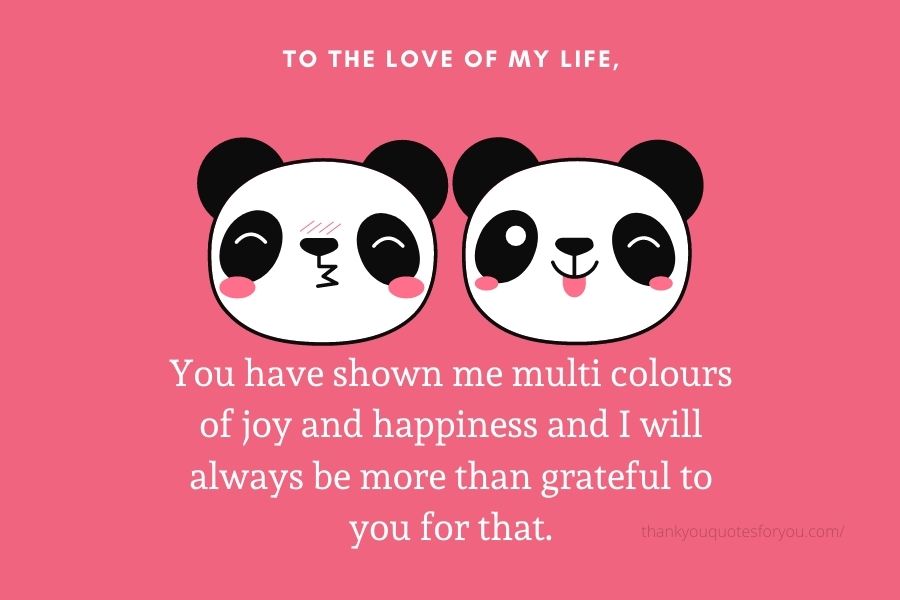 I should congratulate you for having the most beautiful and virtuous girlfriend there exists! I think you should buy her something to show her your gratitude, maybe flowers or a diamond ring!
As it's said beauty lies in the eyes of the beholder, even when I call you handsome it's just my vanity calling me a beautiful girlfriend of a man like you!