Marriage is such a beautiful moment in every woman's life. This is a wonderful social gathering where everyone gets a chance to meet their near and dear ones. But arranging such a great event is also a stressful job. Bridesmaids accompany the bride in a wedding ceremony.
At weddings, bridesmaids are often close friends or relatives. They attend to the bride on the day of a marriage ceremony. Firstly it's vital to be there for the bride in those moments of tension. In weddings a pretty important role is as a bridesmaid. Nowadays the number of bridesmaids in a wedding party is dependent on a bride's preferences, the number of attendants, the size of her family, and what her partner would like to have as well.
Bridesmaid's presence gives great support and confidence to the bride. You need to understand, value her effort, love and not to mention the complete support she has shown on your wedding day. You ought to take some time for your bridesmaid who has been very supportive throughout your wedding. The role of a bridesmaid is a tough task. So right after your wedding day, it's very important to take time and send a card, text to email with a loving and thoughtful thank you message to your bridesmaid.
Choose some excellent collection of thank you messages for bridesmaids. Express them some beautiful thank you messages in a nice lovely thank you card, along with a thoughtful thank you token or gift of appreciation for your Bridesmaids. Read and take some amazing thank you message notes for your bridesmaid.
Thank You Messages For Bridesmaids
Dear, I want to express my love and honor to you. Standing by my side on my marriage day makes me feel relaxed and comfortable. Thank you, my friend!
 I feel really proud and grateful that you played a major role on my wedding day. I heartily appreciate your support and the encouragement you have shown from the start until the end of my wedding day. Thank you very much, dear.
Hello dear friend! I express my deepest thanks to you for performing a very integral part on my wedding day. My husband and I appreciate all your coordination and help. You did incredible things, my friend. Stay cheerful always. Thanks a ton, dear,
Hi, dear friend. I personally want to say a lot of thanks to you for being my bridesmaid and taking care of me and my family members. With your presence, I felt good and comfortable. Thank you my dear friend for standing by my side at my special event.
Many many thanks dear for helping and supporting me on my wedding day. Your presence was so valuable and important to me. Stay cheers!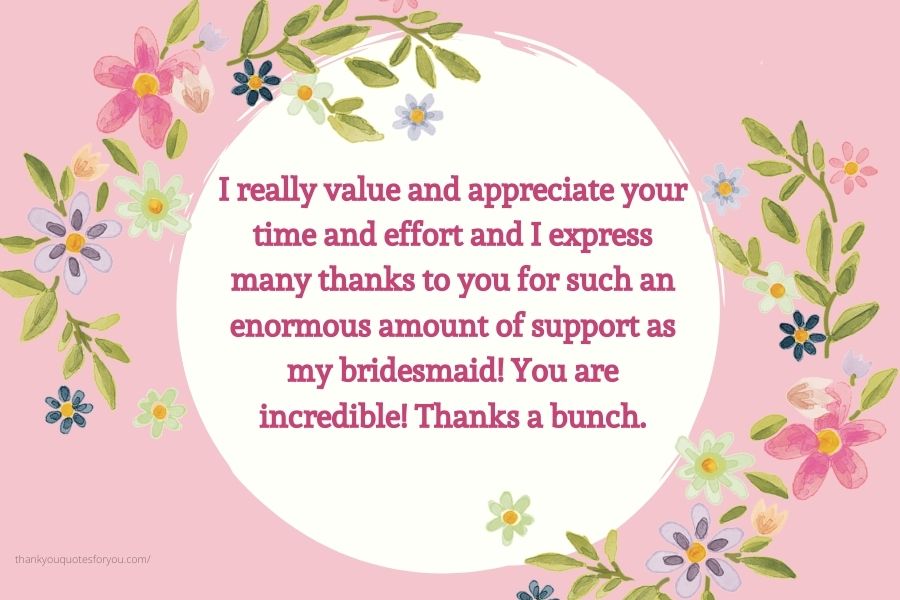 With loads of love and greetings, I want to say thank you for performing the hard task so smoothly and beautifully. Honestly, I will remain so grateful for your corporation dear. You are the best. Thank you.
I was so nervous and stressed about my wedding day. But your help and support made me feel so comfortable and joyful. You did everything go smoothly. You are such a wonderful bridesmaid. Thank you for everything dear!
I will always cherish all your efforts and time with us arranging for our wedding day. You did your job so beautifully and perfectly. Many many thanks for your boundless support dear. Thank you so much!
I really value and appreciate your time and effort and I express many thanks to you for such an enormous amount of support as my bridesmaid! You are incredible! Thanks a bunch.
You have done so wonderfully as my true bridesmaid. You planned, instructed, and decorated my wedding arrangement so wonderfully. Thanks a lot, my guardian angel.
I am grateful to you for being my best bridesmaid. I simply want to make you realize that your countless support and help are priceless. I cannot express in words how much  I appreciate and value you. I'm in your debt.
I feel very fortunate ever for having a wonderful bridesmaid like you! Tons of thanks for your blouseless support and encouragement. Thanks a million.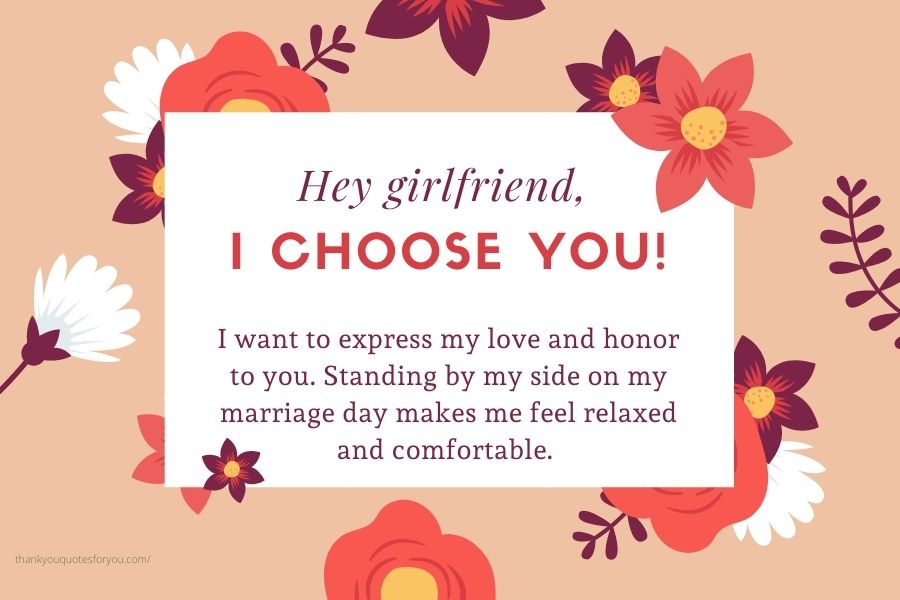 A million thanks to you as my best bridesmaid! You were incredibly dear. You managed everything so beautifully and made me feel so loved and comfortable.
I sincerely want to thank you for having such an enormous impact on our wedding. I really appreciate all your help and for being present there for us on our special day. Thank You!
Much thanks to you for remaining close by my side on my special day. Without your support and help it wouldn't be managed so wonderfully. Your presence was very precious to me. Thanks a ton, dear!
You managed everything so wonderfully and enchanted all the visitors with your beautiful manner. I am really so lucky to have you as my bridesmaid. My wedding day was a cheerful one with your presence by my side throughout the wedding. Much thanks, dear! 
I feel highly grateful for getting a bridesmaid like you! I truly value your immense love and support! I am obliged for your assistance. Thanks a lot. 
Thanks a billion, dear! You did an excellent job on my big day! I honestly appreciate your great support and cooperation. I am very thankful to you.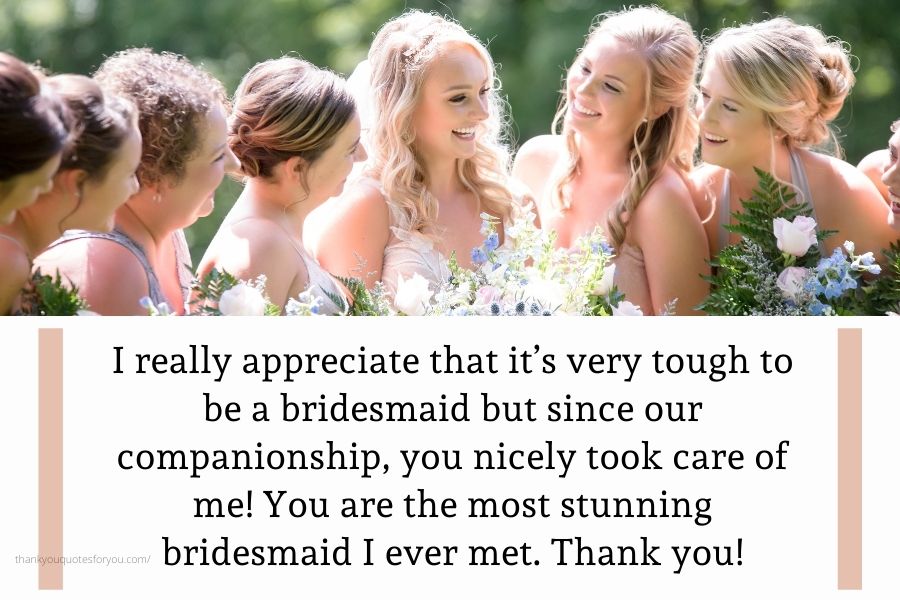 You are excellent and made me realize you love me as your companion. Your affection, love, and support mean a lot to me. I will cherish your presence forever. Thank you, dear.
I feel really delighted to have a girl to be my best bridesmaid! Much thanks, my dear friend!  I highly appreciate your enormous effort in helping me to achieve my sweet dream wedding day.
I really appreciate that it's very tough to be a bridesmaid but since our companionship, you nicely took care of me! You are the most stunning bridesmaid I ever met. Thank you!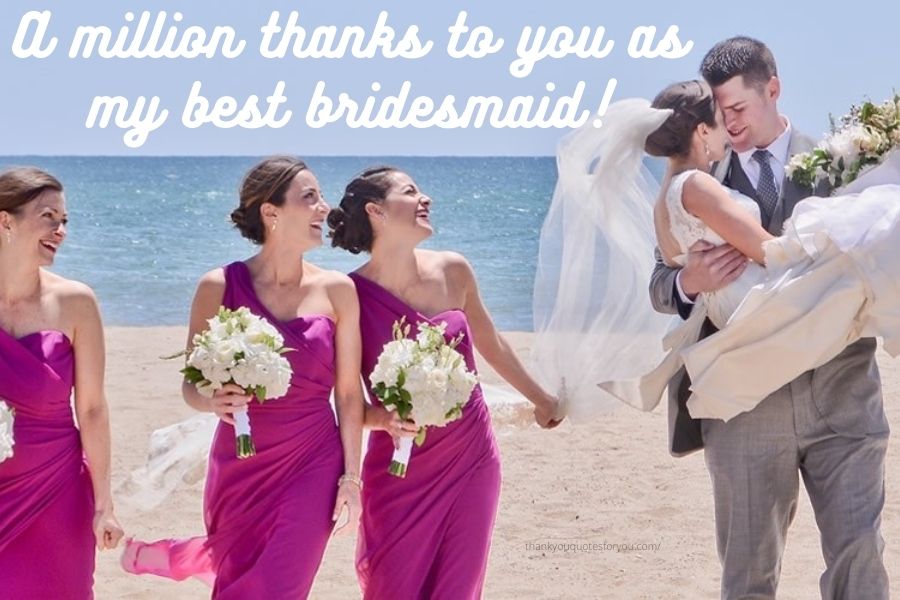 Your gracious presence on my wedding day made me feel good and loose. I just express my heartiest thanks to you for every little thing you have done just to make me happy and my dream day a perfect one. Thanks a ton, dear!