Every college going student at once in their academic year encounters a professor who is well revived and well educated in their subject matter. A good professor truly changes the dimension of a subject. A professor can make even a boring subject an interesting one. It truly is a blessing to have a professor and supervision who can not only teach you well a subject but also guide you through the entire course. Intellectuals like them always make you challenge yourself and bring out the best in you. Your potential really shines around them, they make you believe in yourself more than you ever did. A good professor encourages you to be well-read and to have a well-framed mind.
In their lectures, everyone is extra aware, even the tedious topics seem fun and interesting when taught by them. Honestly, they prove to us all how complex subjects and courses can be made simpler and sophisticated with understanding and concept building. Here are a few messages and quotes you can send to your favourite professor to remind them how lucky and special you feel to be their student. An acknowledgement is sometimes all that an intellectual and selfless person craves for.
Thank You Quotes And Messages For College Professors
Dear sir, your teaching style and your decades of experience have really proved to be a boon for our advanced classes. Thank you so much for being so thorough with all the facts and figures.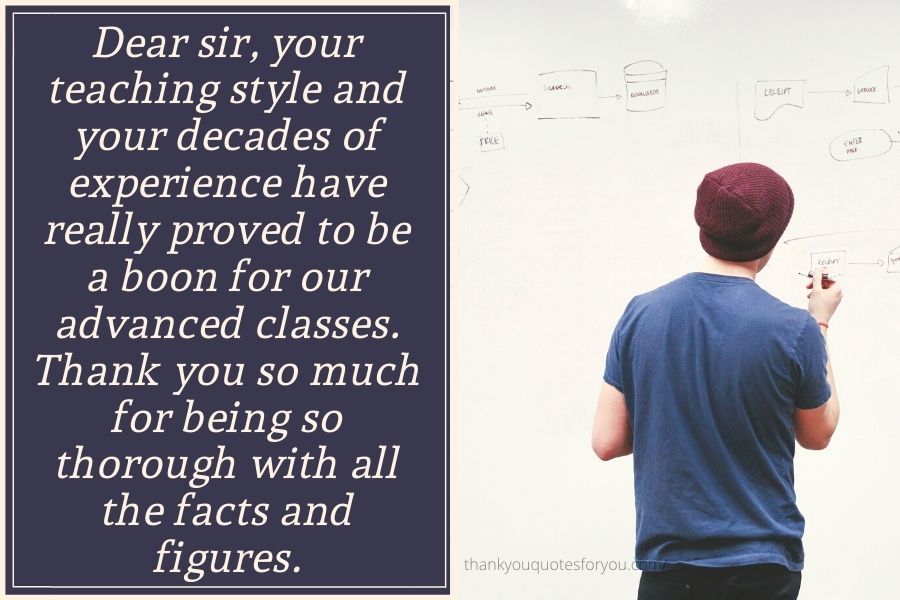 You have inspired me the most in this college. Your teaching skills and dedication towards your job really shows in your work and lecturing techniques. I am so glad that you are my professor for this semester too.
Thank you for helping me with the advanced courses of this semester, I cannot be grateful enough to you for being there with me, I never thought I would be able to get through this course on my own.
Thank you for supervising me and helping me out all over the past years. I feel deeply grateful to you and to your dedication towards students like me, who need a helping hand like you.
Every lecture of yours has truly left me flabbergasted. I feel so moved and inspired by your knowledge and wisdom, your teaching skills add the cherry on the cake. I can never be thankful enough for all the dedication and sincerity you show towards your job.
You have been a personal mentor to me. Thank you for supervising me all through the years, your dedication and input up towards my career really play a huge hp deal in shaping my personality and in shaping my future.
Thank you for taking all the extra classes that we needed for the last semesters. It really helped us in building concepts and skills required for the upcoming project's tests.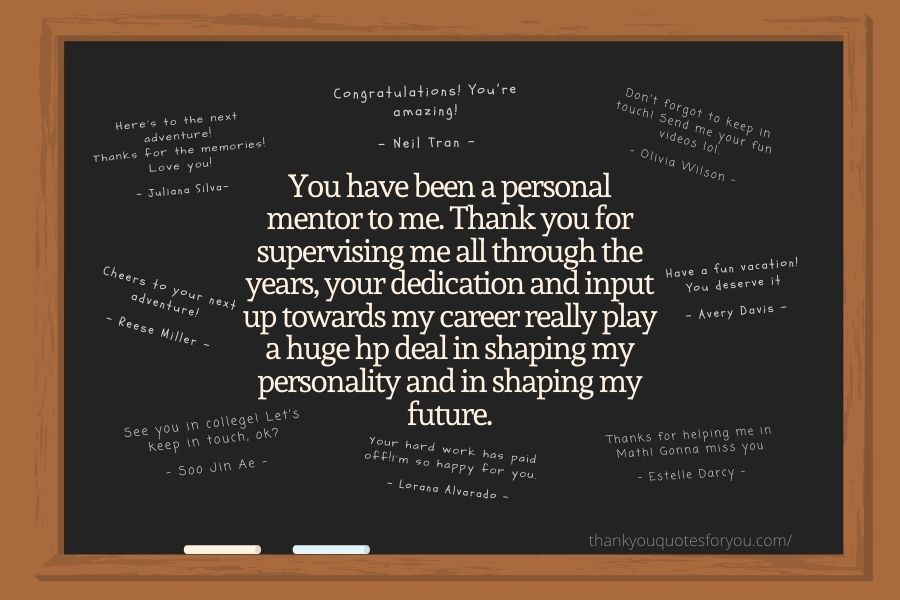 It truly feels the honour to be taught by a profession like you. Your practical and lab skills are truly fantastic and flabbergasting. I hope to make projects under your supervision this semester. Thank you so much for helping me out with the academics.
Your passion for preaching and making us understand stuff is very highly commendable. I admire the way you can teach us even the toughest and problematic subjects and topics with an easy mind.
You are the most creative professor I know by now. Your methods and techniques are very helpful and prolific. You make learning so much fun and productive. Everything you have ever taught us can be practically implemented.
Thank you for caring so much about your students and staff members. I have never seen a more selfless professor than you. Thank you for all the dedicated hours you have spent on shaping our future. We will forever be grateful to you for being an inspiring professor.
Dear professor, as this semester is at the verge of end, I would like to take a moment to thank you for all the countless hours you have spent on us, so we may understand better and gain more practical knowledge. No other professor would have done so much for us.
Thank you for being so considerate and empathetic towards all the deadlines of this semester. It really helped us a lot to make a more productive and efficient project for our core subject. Thank you for exposing us to so much practical knowledge.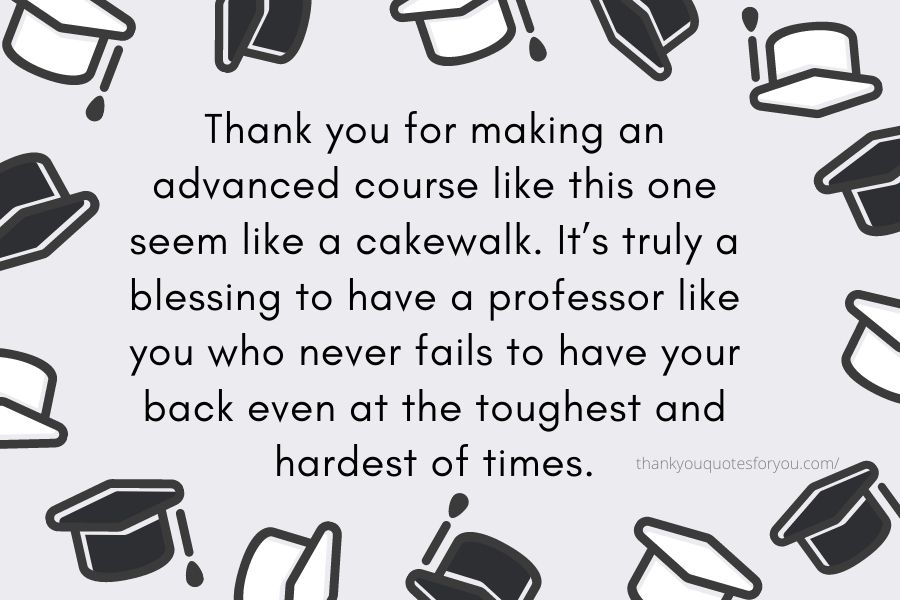 I feel out of words when I think of expressing how thankful I am to you, for all the support and tenderness you have shown towards each and every one of your students. We feel deeply moved and grateful to you. We don't ever wanna lose a kind and intellectual professor like you.
You kicked off this course with so much zeal and enthusiasm. We feel so blessed that we found a professor like you. We want to acknowledge the freedom and liberty you gave us with our project topics and major selection. We feel deeply grateful to you for all the hard work and dedication you have towards your job.
Thank you for making an advanced course like this one seem like a cakewalk. I hope to learn from you in the next semester as well. It's truly a blessing to have a professor like you who never fails to have your back even at the toughest and hardest of times.
Thank you for all the books you recommended me for this semester, they really turned out to be very helpful for me, I am extremely grateful to you for all the patience and under you put in me. I have felt motivated by you every day.
Someday I wish I become as content and virtuous as you are. Thank you for being so kind to me and in helping me with all the advanced topics of this course. It has truly been a blessing for me to have you as my supervisor.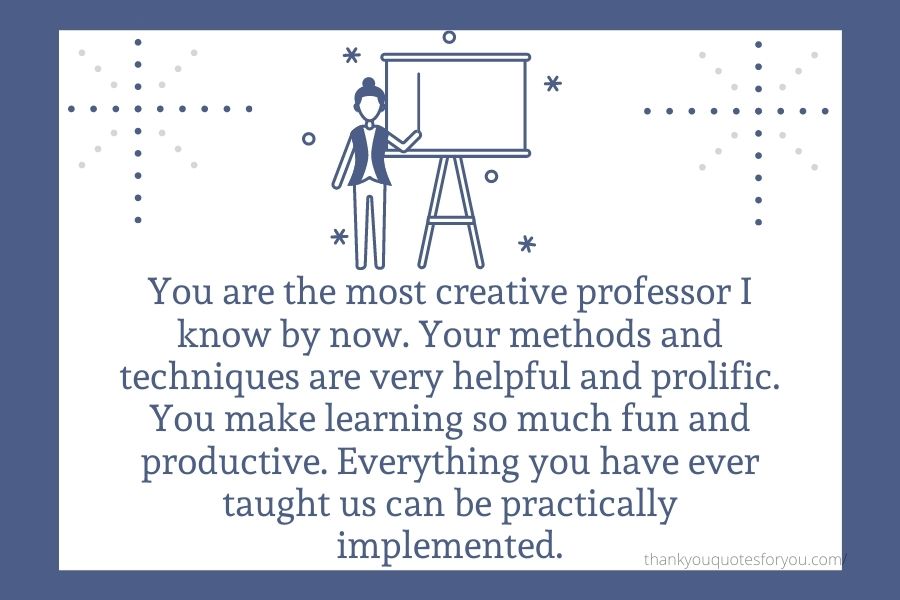 Thank you for all the extra hours you put in to complete all the advanced level topics of this subject. It was really fun and joyous to be learning from you. The experience of teaching you have and the skill sets you have earned in the past years of lectureship truly adds to your value.
It has been a truly fantastic year for learning and getting to meet intellectuals like you. I feel truly blessed and honoured to have been taught by a professor like you. You really are the charm of this college, and of this entire university. We all root for you, I'm glad that you are my professor and my supervisor.
I hope this message finds you in good health and wellness. I feel so blessed and grateful to you for all the help you have provided me in the past months. You are the best professor I could have asked for, my concepts and practical skills have really improved this semester.