Customers are the biggest asset of a company. They are the best part of our success stories and the real heroes who turn a normal shelf product to a revolutionary one! Their faith in our company and their constant support keeps us motivated and inspired to serve them better with more vigour and dedication. Their reactions and feedback are humongously important to us for improving our further new goods and to understand the psychology of consumers and investors. It's always better to celebrate customers who never fail to have our back and never lose their trust in us.
On occasions of anniversaries or even in festival season, it can be a huge advantage for a company to celebrate its customers and to remind them how helpful their contribution has been and how grateful we are forgetting the opportunity to serve them.
Here are a few messages and quotes that you can slip in their cart or in their inbox, reminding them how grateful you are for the opportunity to serve them.
Thank You Messages For Customers
Thank you for having trust in our shop! We feel highly obliged to have served you. People like you who support small business are a real gem. In these tough times its main customers like you we rely on.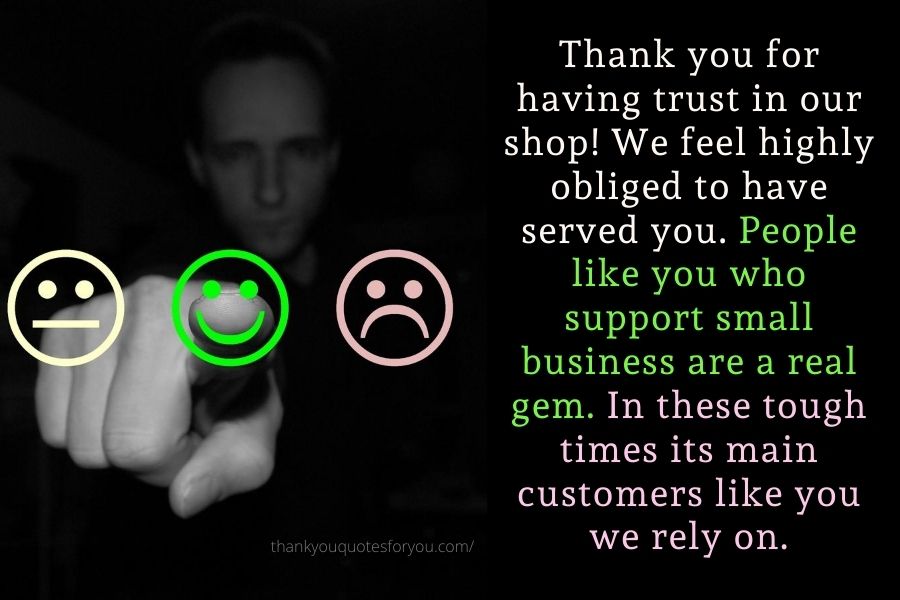 We hope you found everything that you wanted. You have been our regular customer since the past few months, we would like to gift you to with our special voucher for never losing trust in us and for helping us serve you better.
Thank you for being so kind to us, we hope you got everything you were looking for. It is always a pleasure to see old customers like you coming back!
Thank you for never failing in believing in us. Customers like you keep our small business afloat. We expect to serve you better with our next order. We assure you with quality products and resources.
Thank you for being so kind to us in these tough times, most people these days rely on other easier resources to shop, thank you for still believing in our traditional style and business approach. We feel grateful to have dedicated customers like you.
We are highly obliged to you for shopping with us for over a year. On this special occasion, we would like to give you our special customisable gift hamper. We hope you enjoy the holidays and keep coming back to us for any kind of help!
Thank you for investing in us, your business strategies have always left us mesmerised and inspired. We hope to learn a lot from you and to gain a wider knowledge regarding strategies and resources.
We hope we served you well if there comes up any issues with the products, you were always welcome to visit us! We are always more than happy to serve our devoted customers.
Thank you for believing in our vision. We feel tremendously grateful to have customers like you who never fail to astonish us with their investment and trust.
We hope you had a good experience with our new customisable range of products, we know it's not perfect yet but your honest feedback would really help us in improving our performance in serving you.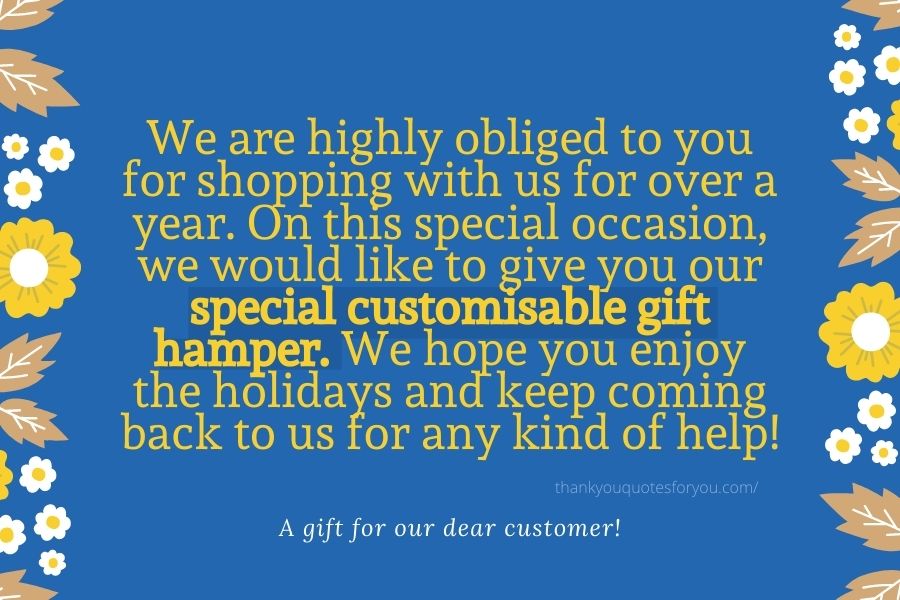 We hope we may serve you better in future. At [company name] we believe to be better than we were yesterday. Customers like you help us keep moving on our vision without doubting on our loyal shopper.
Thank you the client for believing in [company name]. We at [company name] give our hundred per cent to serve our loyal consumers with the best of resources and supplies.
We feel terrifically grateful to you for showing your trust in us. We look forward to serving you with the best possible supplies and assure you to provide you with great comfort and absolutely zero inconveniences.
Thank you for your understanding and your constant support, we feel grateful for having customers like you who never doubt our vision and believe in our ideologies and principles.
Thank you for being our valued customer, you have partnered with our company for over a year now and we feel nothing but blessed to have a partnership with a company as efficient as yours. Thank you for the guidance and support you have provided us on our path together.
In these times of difficult and dismay, it is the customers like you who restore the faith in ourselves and keep our brand value at number one! Thank you for never losing belief in us and for trusting our customisable products.
Thank you for giving us an opportunity to improve better by proving us with your honest review regarding our new customisable product. We hope to get back to you soon in a couple of days.
Thank you for partnering with us. Our marketing team feel highly obliged to you for all the help and support you have provided us throughout our journey together. We hope to partner more often with you.
Thank you for making the first purchase of our new range of products. We have opened several new outlets in the town and we really encourage you to check them out and even motivate your friends and family to do so.
Thank you for shopping at our place, we have made a lot of efforts to make it consumer-friendly and a comfortable environment. That being said, if you find anything inconvenient or wrong, you can always contact us with our feedback portal on our website.
We at [comapny name] hope for your good health and wellness. We are highly obliged to you for making your first purchase in us. We hope you realise that you are investing in the future generation as well since our products are cruelty-free and non-fabricated.
We at [comapny name] feel highly obliged for your investment in us. We assure you to serve you well with our best and most efficient team and skills. We are very excited about our partnership together and look forward to learning a lot from you.
Thank you for putting your money into [comapny name]. We at [comapny name] reassure you for providing you with the best possible services and assistance. We also expect from you weekly feedback which may help us to serve you better and also prevent us from having any blind spot.
Thank you for building partnership with us, we feel deeply obliged for your trust and confidence in [comapny name]. The guidance and assistance you have provided with us are proving to be very effective and efficient for our company.
Thank you for investing in our company. At [comapny name], we believing in serving our customers with the best possible means. For any inconvenience or any minor falter, we request you to have a word with us or write our feedback form as it would be of really great help to us.