Daughters are the greatest gift God can give to a family. They are the life of the family. Their happiness and livelihood keep the whole family grounded and together. They are the apple of everyone's eye, they keep the family connected and bridged. The brightness in their personality never fails to baffle all of us. They bring hope to our lives.  Their sweet disposition lightens up the mood and illuminates the vibe of the entire room. At times, parenting can get difficult but having a daughter by your side is still the greatest happiness of our life. With time, they grow up to be wise and beautiful women, and we can never feel proud enough of them!
They are the most loved member of the family and they love and care for others the most too. Their lives are entwined with that of everyones in the family.
It would be so special for them if we send them a few messages and quotes just to remind them how beautiful and lively they make our lives.
Thank You Quotes And Messages For Daughter
Thank you, my lovely daughter, you have always been the most disciplined child that we both could have asked for. You have taken responsibility for your future and your life like we would want you to. I feel so proud of you.
I would like to take a moment to tell you how grateful I am to God for giving me a girl like you, your smile outshines all the worries and troubles of my life. I pray for your good health and wellness.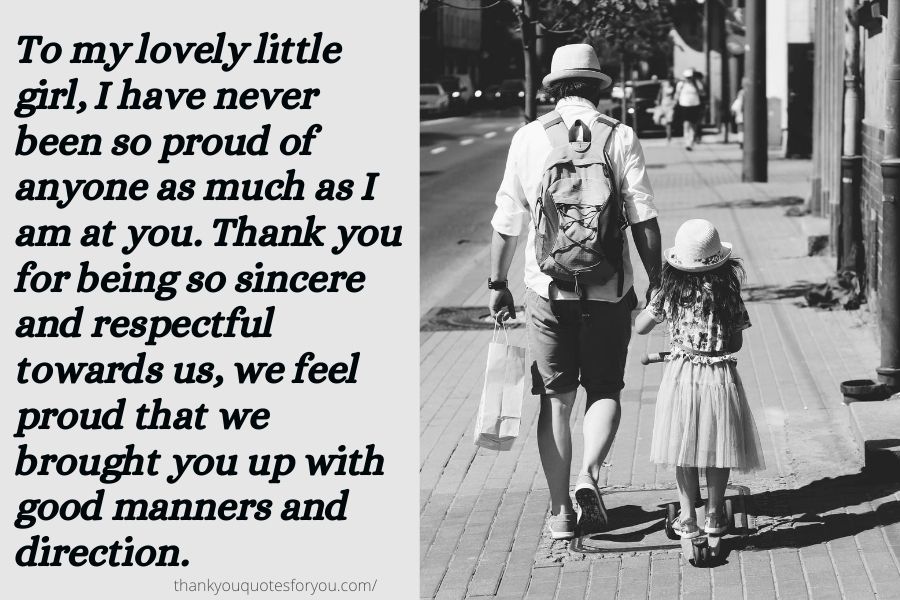 You are my flesh and blood, I see myself in you, your happiness matters the most to me, I hope you keep succeeding in your life as you do now. All my blessings are forever with you, keep shining as you do!
You have grown up to be so beautiful and mature with time. I feel so proud of hearing about your success and virtues from our loved ones. You have really proved your metal in your career and in life.
You have always been my most beloved. All that you have gone through is not easy. I hope you are happy with your life and venture every rainstorm with pride and courage.
You are the most incredible person I have ever seen in my life. Watching you up close, advent a new venture every day is an honour and pride for both me and your father. We hope you succeed in everything you put your mind to.
I cannot imagine my life without you, you have always been so forgiving and loving to me and our entire family. The comparison and tenderness set new benchmarks for each one of us in the family.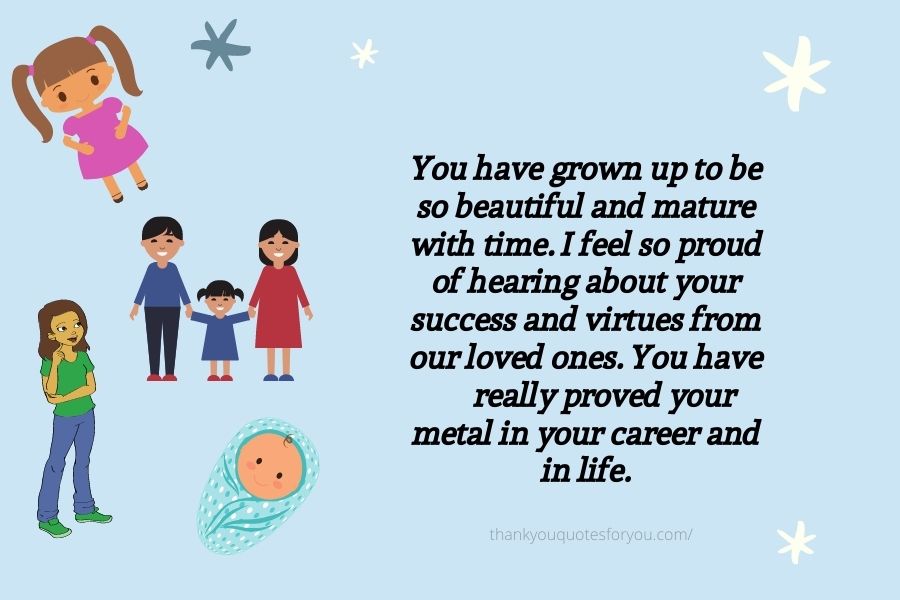 To my lovely little girl, I have never been so proud of anyone as much as I am at you. Thank you for being so sincere and respectful towards us, we feel proud that we brought you up with good manners and direction.
I feel so lucky for having you in my life, you make everything better and sweeter. Your charm and charisma are worth acknowledgement and applause.
Me and your father, we feel so grateful to God for gifting us with an angel like you. You have made our lives nothing but better and more beautiful. Everything you do to make us cheerful and energetic is not left unnoticed. We pray to God each day to give you all the happiness in the world that you deserve.
Your joyous face is the only thing that can relieve my stress and worries. You make everything so memorable and mesmerising, be it a family gathering or a holiday.
I miss your childhood days so much when you would just cuddle me up every night and forget about all the bad dreams and nightmares. I will not deny, watching you grow up to be this beautiful woman has been a delight.
You are the biggest sweetheart I have ever had the privilege to meet. Your devotion and fidelity towards studies and towards your career is breathtaking. We feel so proud of you for all your achievements and accomplishments.
To my dearest daughter, you are gifted with extraordinary talents and virtues, I hope you use them wisely and loyally. We feel so thankful to God for. Gifting us with a beautiful child like you. We admire your perseverance and resilience every day.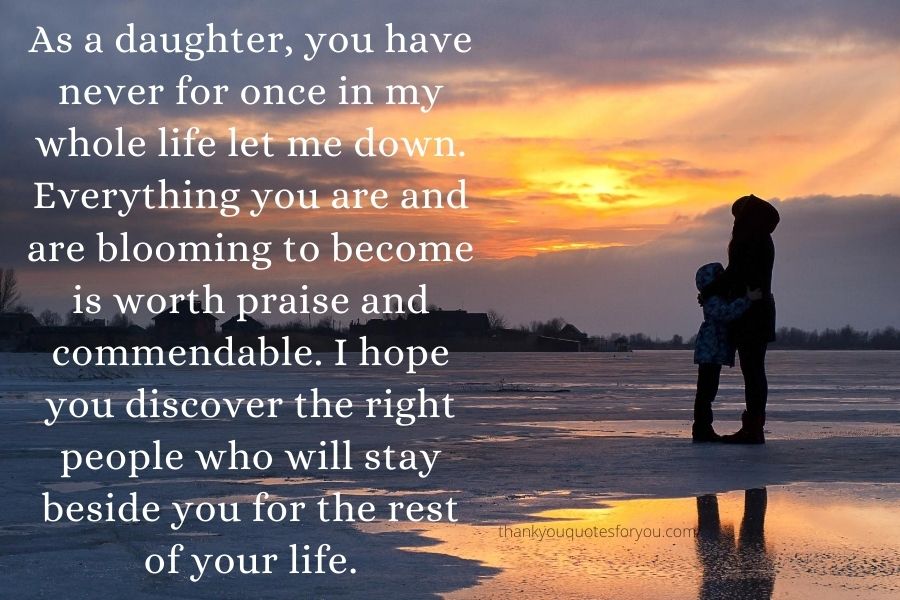 You are the apple of our eyes. You have made our life worth living, every day spent with you is a blessing by God. I hope you enjoy all the happiness and joys in the world and live a long and beautiful life ahead.
We feel blessed by the almighty to be gifted with a daughter like you. You are the glue of our family, you make each one of us happy and joyous, even in the moments of dismay and agony, your smile is everything that we need!
I hope you keep succeeding in your life and keep meeting new people and be on new ventures to understand the beauty of this life. Everything you do for us is applaudable and worth acknowledging.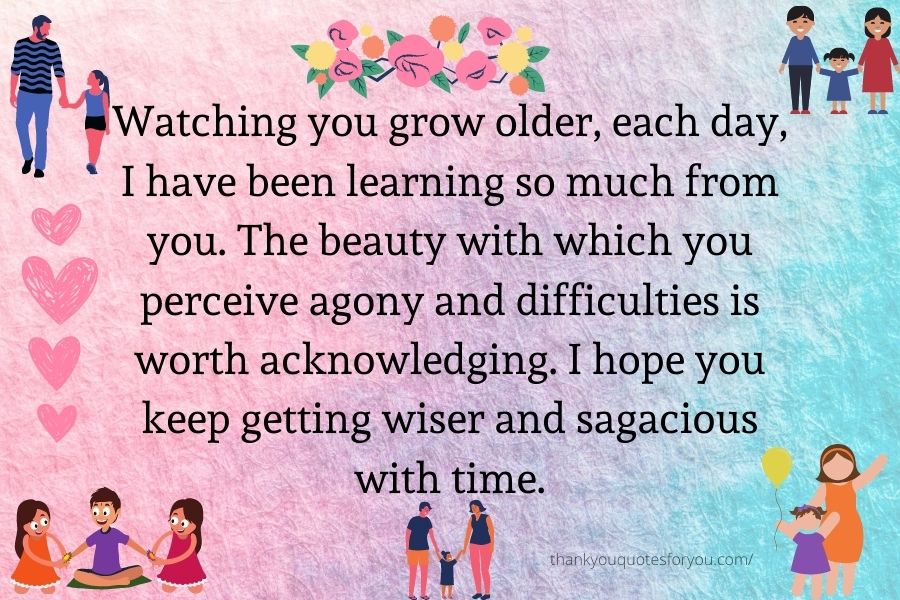 As a daughter, you have never for once in my whole life let me down. Everything you are and are blooming to become is worth praise and commendable. I hope you discover the right people who will stay beside you for the rest of your life.
You have the biggest heart and the brightest soul. You're too smart for your age and I see nothing but more and more potential in you, whatever you set your mind at, you achieve it! I feel so proud of being your mother.
This is the most beautiful day of my life, as I get to celebrate the love of my life's presence in my life. Thank you dearest daughter, you have brought so much happiness in my life, I wish I could express it in words to you how much I love you.
As you grow older, you will realise that the working of the world might not always be aligned with your perception of it. I hope you learn from all the mistakes you make and always remember that we are right here, holding your back.
We feel so insecure and protective for you at times, but trust us, we want you to be independent and make a life for yourself. Being your parent is the greatest liberty to watch you grow older each day.
To my lovely princess, may your virtues and wisdom keep multiplying with each passing day. May you enjoy all the joys of the world and stay healthy and well.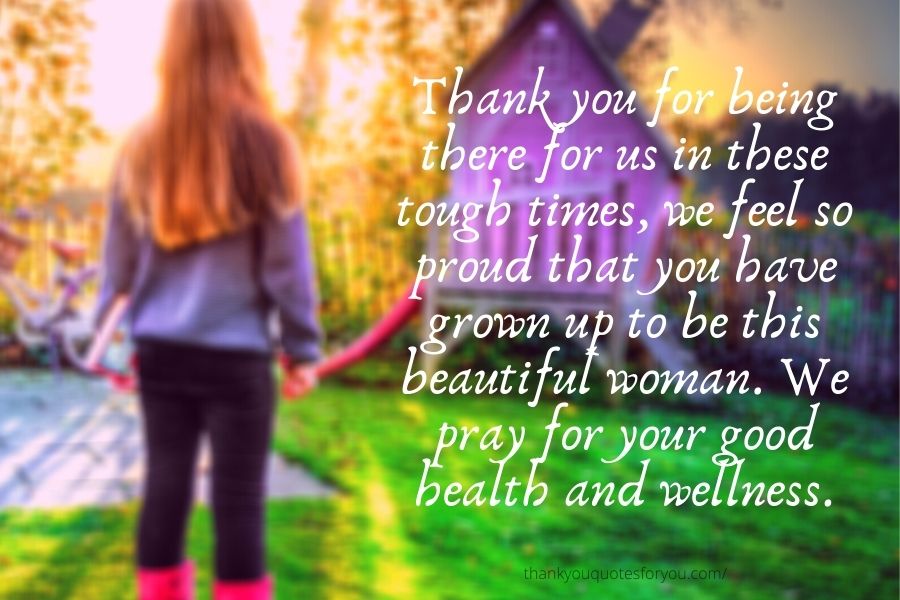 To the most charming lady I know, your smile is brighter than the stars, like a supernova, you outshine all my troubles and dismay. I hope you know how much more I love you than I can ever write down in words.
Watching you grow older, each day, I have been learning so much from you. The beauty with which you perceive agony and difficulties is worth acknowledging. I hope you keep getting wiser and sagacious with time.
Thank you for being there for us in these tough times, we feel so proud that you have grown up to be this beautiful woman.  We pray for your good health and wellness.