No matter how gifted you are, you would need the assistance of some people at some point. When they come through for you, they deserve words of appreciation.
When writing a thank-you note, it's important to take your time and put thought into it. You want to make sure that you express your gratitude in a way that is genuine and heartfelt.
Here are a few tips for writing the perfect thank-you note:
1. Write the opening of your note, i.e:
Dear _____, Thank you so much for _____ and for _____! You were so helpful and kind and I really appreciate it.
2. Write out what they helped you with:
Even though I didn't ask for help, you went out of your way to assist with ____. That meant a lot to me and I will always be grateful for that moment of kindness that you showed me (talk about how it impacted you).
3. Wrap up your letter by telling them how meaningful their gesture was to you, and thanking them again:
I cannot tell you how much your help meant to me and how grateful I am that you were there for me when I needed it. Thank you, from the bottom of my heart!

Sincerely, _____
When someone goes out of their way to help you, the least you can do is send them a thank-you note. It doesn't have to be anything long or elaborate – just a few sentences expressing your gratitude will suffice. Take the time to put thought into what you are writing, and focus on the act of kindness that you received.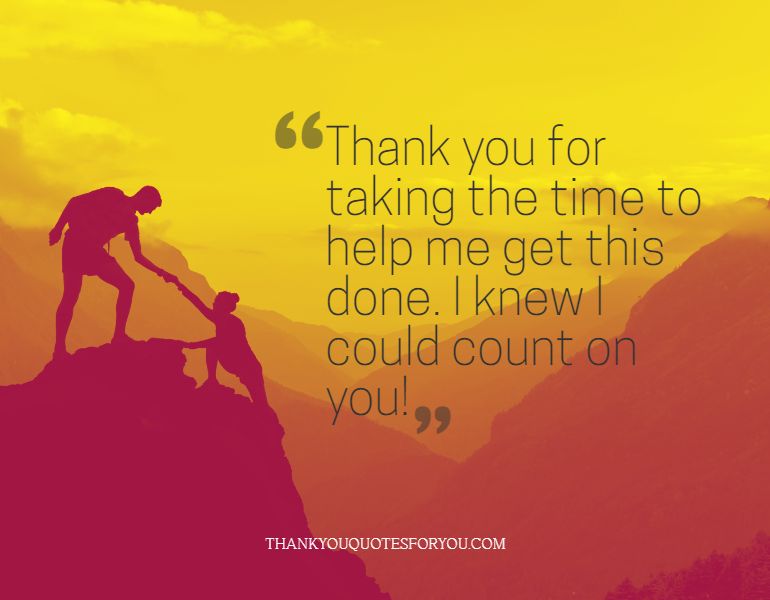 Thank You Messages for Help
From the bottom of my heart, thank-you very much for all of your time and effort on this project. The massive success would certainly not have been possible without your help and support! Keep up the good work – we need more people like yourself in this world!
I can't tell you how appreciative I am to have a teammate who was always by my side through thick and thin – a true hero through and through. It's no wonder why we've always been successful! Let's keep up the good work – I know we can do it!
I can never thank you enough for all of your efforts and hard work. You did a really good job, friend! Keep up the awesome work – we make a great team!
You have not only helped me by offering your support in this time of need. You have done a lot more by enlightening me on the importance of being helpful. Thank you so much!
If you had decided not to help, you would not have been considered a bad person. But going all the way to help out has put you in the league of great men. I appreciate you for this.
What you did for us was extraordinary. It takes a lot more than being a regular person to have offered that much needed support. I am very grateful.
The truth is that I owe you so much for this act of yours. I certainly cannot pay back, but I would continue to express my gratitude with and without you around.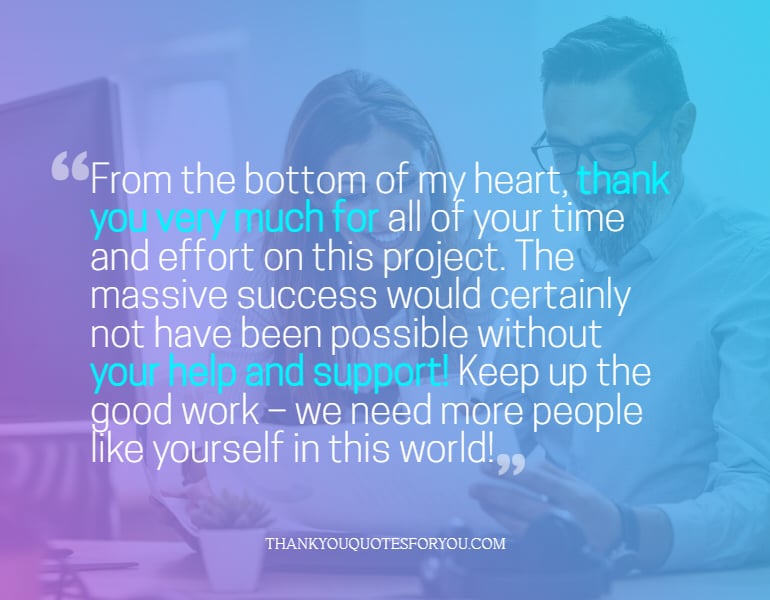 There is a subtle difference between gratitude and thanksgiving. Gratitude is FELT, but thanksgiving is SAID. It is not enough for me to feel grateful for what you have done. I am taking out the time to offer my thanks.
I understand with every passing day why things are working out for you. You are such a kindhearted person, and you deserve a lot more than the good things that have come to you. Thank you so much for being so helpful.
I have come across some amazing people throughout life's journey till this point. You are one of those people, and it is not hard to figure out why. Thank you very much for all you have done!
Offering my appreciation is not close to enough when you are involved. I owe you so much for what you have done for my family and me. Saying thanks is the least I can do, so here I am, big thank you (name of recipient).
I have been thinking aloud about how life would have turned out without you involved. I have done the maths, and the results did not surprise me. My chances of progressing would have been very slim or impossible. I appreciate your support all these years.
There is a calm that comes with having you around or involved. Your record of rising to the occasion with your support is just impressive. Thank you so much for being so supportive in the past, now, and always.
Undoubtedly, I am a visionary person, and many people have realized this. But just a few realize that I have an unrelenting support system. Thanks for being the brain behind my support system all these years.
I have realized that "doing good" does not always translate to "doing right." Consoling in the time of need is doing good, but offering the needed help (if you can) is doing right. Thank you for not only being a good-doer. Thank you for being a right-doer!
This vision would have fallen apart without your constant help. We owe you a lot for this project's success, and we are taking the time to say a big thank you as a team.
Some people only offer their help when the spotlight is on them. They want to appear as good people to everyone. Well, you are not this kind of guy. You do the things you do, even behind the scene. Thank you for being positively different.
You are a God-sent, you are a life-saver, you are a blessing beyond words can describe. Our "thank you" is not enough, but it comes from the sincerest of hearts. Thank you for your assistance (name of recipient).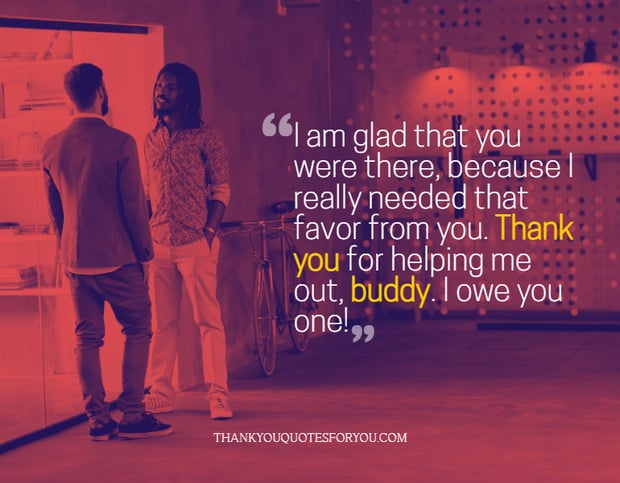 We had given up hope. We were already consoling ourselves because we gave it our best. You showed up and turned the narrative around. Thanks to you, this dream lives on. We sincerely appreciate you (name of recipient).
I grew up hearing tales about angels. I had my reservations, but they are all vanished thanks to you. You are indeed an angel, and I appreciate you for your countless generous acts.
Short Thank You Notes for Help Received From a Friend
I am glad that you were there, because I really needed that favor from you. Thank you for helping me out, buddy. I owe you one!
Thank you for taking the time to help me get this done. I knew I could count on you!
I couldn't have made it through without your incredible support – thank you so much!
I don't know what I would have done without your help – you are my hero!
I truly appreciate all of your support. You truly went above and beyond to help me, which is why I am sending you the biggest "thank-you" possible!
I cannot wrap my head around any other person that would have come through for us at that time. You are an amazing person, as you have proven time and time again. Thank you (name of recipient).
Thank you for all the things you did to help us out with this project. You were far more helpful than you realize!
You're fantastic! I couldn't have done it without your tremendous help, and I owe my success all to you!
Hey my friend, there is just one thing I would like you to know with this note. It is that you have your name boldly written in my heart with gold. You do not deserve any less than this for what you have done.
Thank You Messages for Fundraising Campaign Support
The key for a successful fundraising campaign is to have a large network of people willing to share it with their followers. This includes family members, friends, and even strangers who have shown interest in your project.
When this happens, send the backer or supporter a personalized thank-you message thanking them for taking the time to show you support. Even better, create an individualized message specific to the backer's level of engagement so they know how much you appreciate their help.
Here are 5 personalized messages you can use in your fundraising campaign:
Thank you for donating! We're so grateful for your support, and we're confident that with your help, we'll reach our goal!
Thank you for supporting our cause! We truly appreciate what you've done, and without people like you, the world would be a much different place.
Thanks for choosing to back us on our journey! You don't know how much this means to us – please know that every penny counts.
Thank YOU again for backing us on Kickstarter – YOU are helping change the world!
Thank you so much for backing my campaign! It means so much to me that you believe in this project and want to see it succeed as much as I do.
We have reeled out several well-constructed thank you notes for help received and hope you will make the most out of them. You might also consider customizing them or merging two of them into one if you see fit.