The housekeeping staff does the best job. They do hard work to keep your house clean and hygienic. They are the most important persons in our lives, who support us by providing services that are most needed. They do the work you put into making somebody's life and home a position of cleanliness and harmony. So it's our first and foremost duty to make our housekeepers feel special to make them loved and wanted.
We are all human. So we need to be supportive and appreciative of each other.  We can express our thanks to the housekeeping staff, to lift their spirits or let them know that you value their support. A touchy message can go a long way to let someone know that you really care, and it also has more powerful long-lasting benefits and relation to sending a message to the housekeeping staff. 
Here are some awesome lines you can use to uplift the spirit of housekeeping staff. They really deserve appreciative words because they do a priceless job for our well-being. By saying a small thank you, we can express our humility, and understanding to them for their huge contribution.
Thank You Messages For Housekeeping Staff
We express our deep gratitude to you for all the hard work and sacrifices that you have done to keep our house clean. You are doing such a wonderful job. Thank you so much.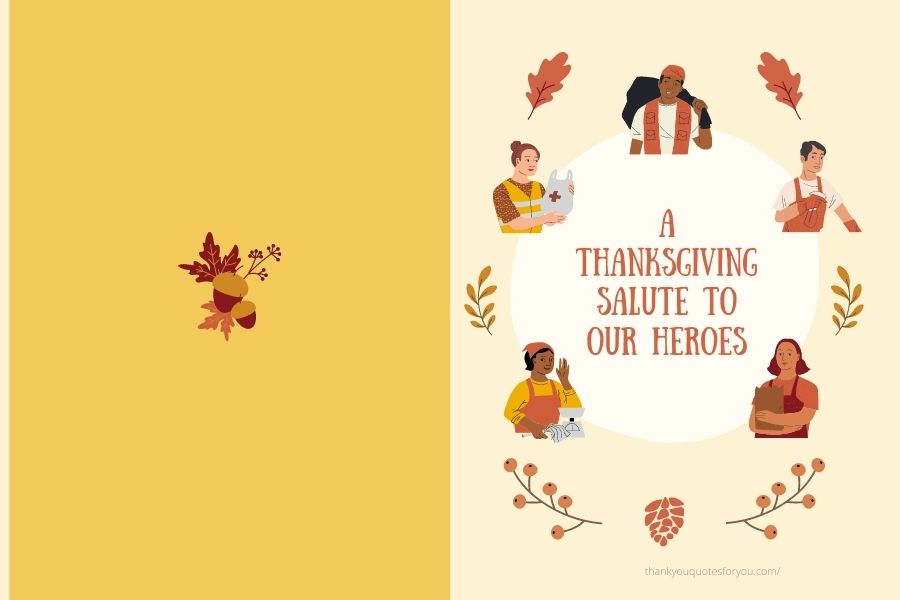 Thank you a lot, Dear. It is not easy to say thanks in words for your strength, dedication, and punctuality. Your job is priceless, we cannot compare it with money. Thanks a ton.
We are greatly indebted to you for keeping everything spotless and clean, for doing your work properly, cleaning the bathroom, washing all the clothes, and so on. Thanks a lot.
We are much obliged to you for doing such a great job and keeping everything clean, for serving our suppers, welcoming visitors, cleaning shoes,  noting telephones,  washing our garments, and so on. We truly appreciate your huge contribution to our family. Many Thanks.
You are doing everything with a good heart, preparing tasty food, keeping our house so spotless and clean. I appreciate your commitment and dedication to duty. Thanks.
We are truly grateful to you for doing your work so perfectly and sincerely. You are doing a lot of things like getting our baggage, keeping the vehicle perfect and kept up, driving for a considerable length of time all day, and so on. Thanks, dear for your immense contribution to us.
We are very pleased with your endless effort and cleaning work. You just manage everything so beautifully. Thanks a million.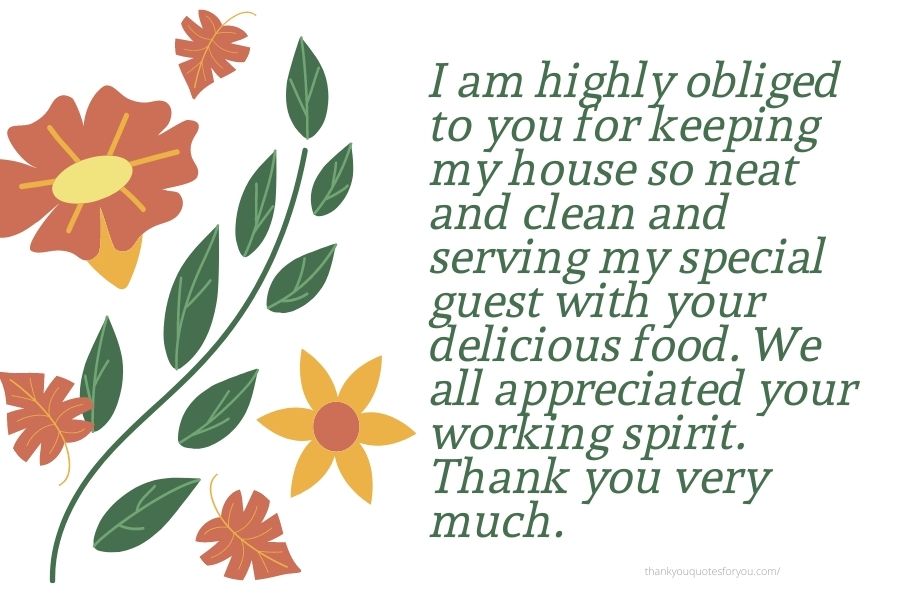 I am pleased with your boundless work effort and how patiently you do everything so neatly and in an organized manner. Thank you so much!
You are really awesome. I like your work and the spirit that you have the potentiality to do every work so smoothly. You made the house look so beautiful which was very messy before. Accept much love and thanks.
I am highly obliged to you for keeping my house so neat and clean and serving my special guest with your delicious food. We all appreciated your working spirit. Thank you very much. 
It gives me pleasure that you work and love the way you look after the house as your own. You are a really very special and honest person I have ever met in my life. Thank you so much for your tremendous contribution to us.
You work in such a way that everything looks so perfect in the house. Everything you do for us is highly appreciated. We express much thanks to you for putting enormous effort into keeping our house so clean.
The entire house looks just stunning with your creative cleaning ideas. We are highly satisfied with your commitment and sincere duty.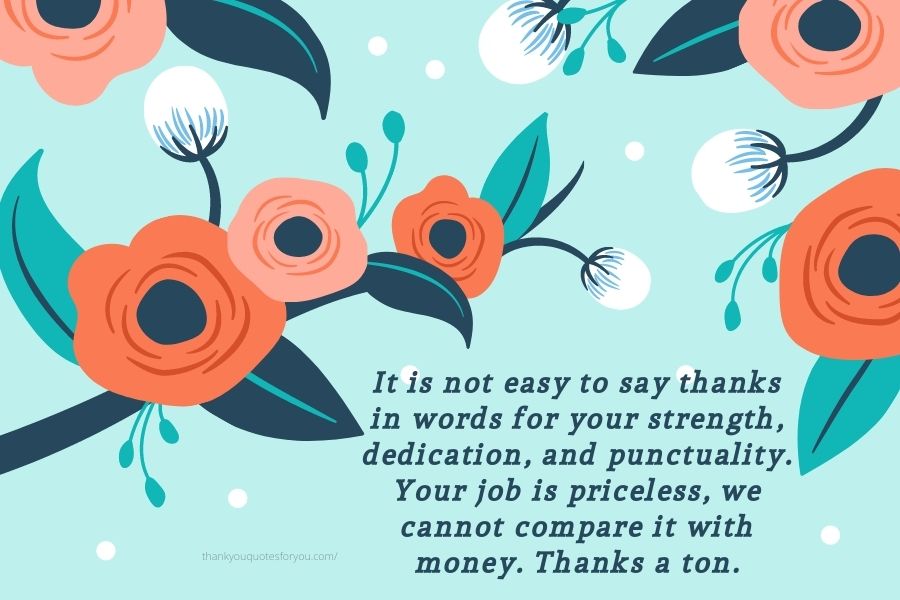 In these few years you have already proved yourself as a loyal and honest person for our family. We truly appreciate all the service you have provided to us.
You are such a sincere and hard-working person. Even at the time of your illness, you have always given your efforts to keep the house clean and sorted in your best will and potential. Thank you very much.
I especially want to give you much thanks for looking after my house, my kids, my needs, and everything before I say anything. I am truly appreciative of your work and support.
You always work so calmly for us so that we can live a joyful comfortable life. I want to express my thankfulness and try to bring happiness and a smile to your life. I express my heartfelt thanks to you for your constant effort and support to our family.
I am really obliged to you for playing an important key role at my home.  I especially give you thanks for everything you have done for our family. You are doing such amazing work and the real hero of my house. Thanks a billion.
I have much respect for you because you won my heart with all calmness. I have no words to say thank you for your great effort to this house. Thanks a lot for keeping this house clean and beautiful.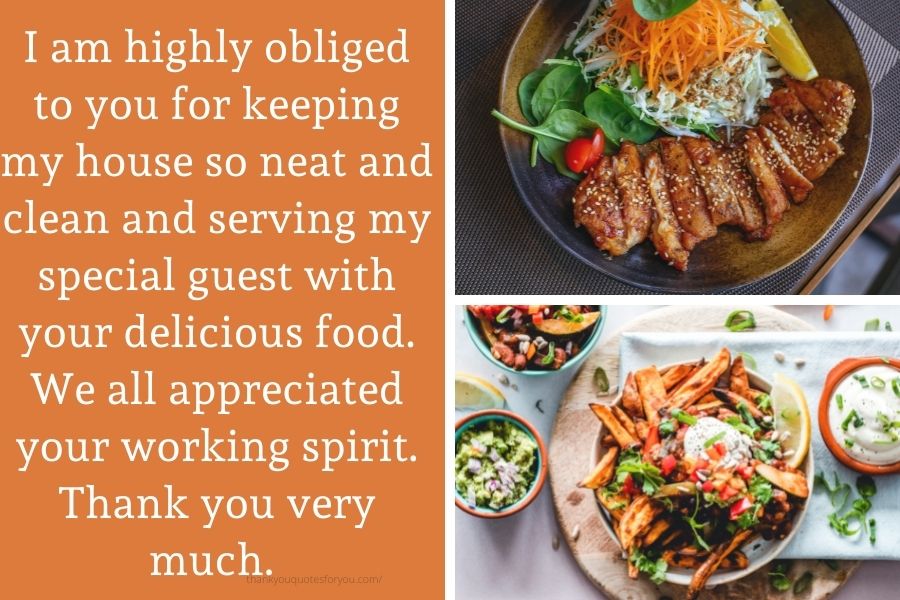 I feel really appreciative that you have done a lot for this house. You took care of this house as your own. I honestly say till now I have not ever met a staff like you. Thanks a ton for your dedication and great effort.