Juniors leave us with the best and greatest of memories of our life in university and in college. They never fail to show their interest and their appreciation for our craft and design since the days of their freshman years. It's frankly a blissful feeling to see your juniors hustle and make the effort to be just like their seniors. Some of us still have a very strong connection with our most favourite juniors who never leave rooting for us and for our work.
They are the ones we truly wish to help and guide them on their career paths and in their lives. Watching them grow and become more and more appreciated and acknowledged in their field of interest is actually like watching your most favourite plant in your garden blossom beautiful flowers and fruits.
Here are a few messages and quotes you can send to your favourite juniors to remind them of the wonderful experience and magical memories they have provided you with with the end of your academic year.
General Thank You Messages And Quotes For Juniors
Thank you for being so respectful and understanding towards us, we couldn't have asked for more devoted and compassionate juniors.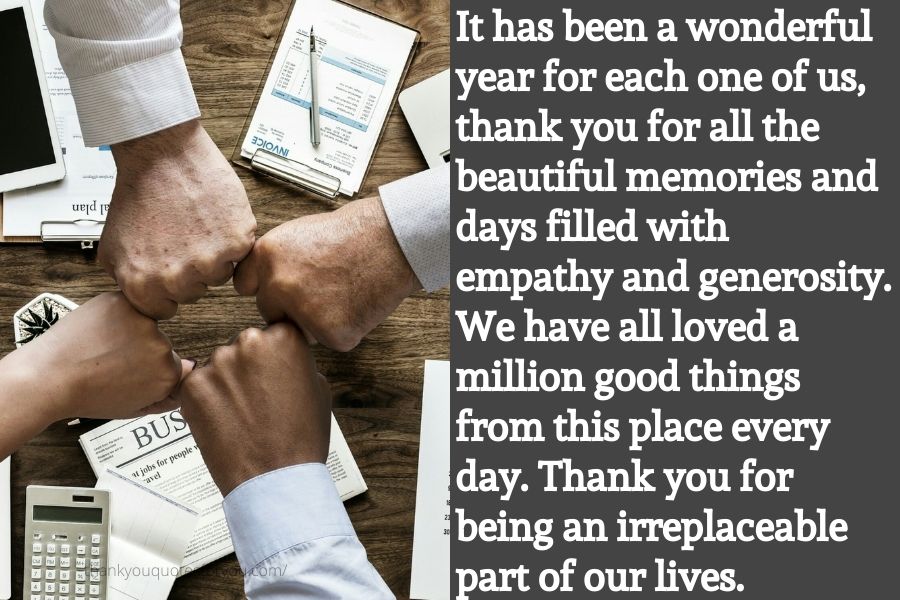 It has been a wonderful year for each one of us, thank you for all the beautiful memories and days filled with empathy and generosity. We have all loved a million good things from this place every day. Thank you for being an irreplaceable part of our lives.
You have been the best junior we could have asked for since the days of your freshman years. I have always revived more and more respect and admiration from each of my juniors. It truly is bliss and ecstasy to be a senior of such talented and creative juniors.
Thank you for taking the responsibility forward this year's fest. We feel deeply sorry that the urgent work took over our time and schedule. We hope you all will make a breathtaking arrangement.
Thank you for all the understanding and support you have shown towards me. I never thought I would have a personal favourite junior, but you truly have earned my respect and my attention. I will always be there to guide you and help you with whatever you need.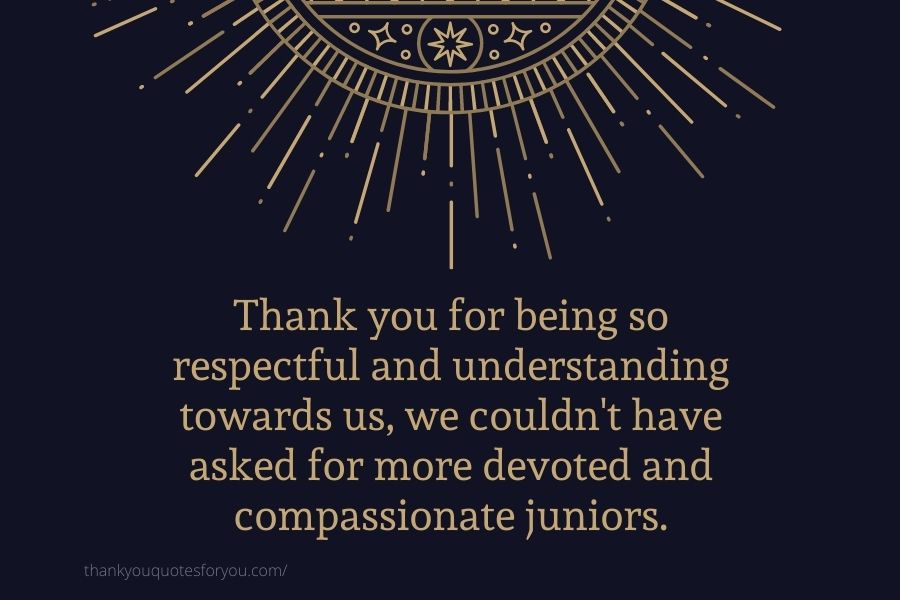 I hope you understand the strictness and discipline we mention is great for your own benefit. We have never had any complaints from any of you and it truly is a great feeling to have such great juniors who are so sincere and honest towards their seniors.
Thank you for always acknowledging our efforts and attempts to make any event or fest more fun and joyous for you all. You have never failed to appreciate even the smallest of our successes. It is a blessing to have juniors as supportive as you all.
I have absolute faith in each and every one of you all. None of our juniors has ever made us feel anything less than appreciated and acknowledged.
Thank You Messages To Junior After The Farewell Party
Thank you for arranging and organising this sensational and joyous farewell party. It was the perfect blend of nostalgia and remembrance of all the beautiful memories we have made in this campus with our fellow batch mates and with amazing juniors like you.
It is truly fascinating to think about starting life out of university and college. We will truly miss you all and everything you have done for us. It takes a lot of compassionate and tenderness to be so devoted and sincere towards your seniors. You guys have never let us down.
I feel so proud to say that our juniors have never let us down or left us in doubt in any scenario or situations. Thank you for always being so sincere and faithful towards us and for listening to every command and wish of our like a bigger sibling.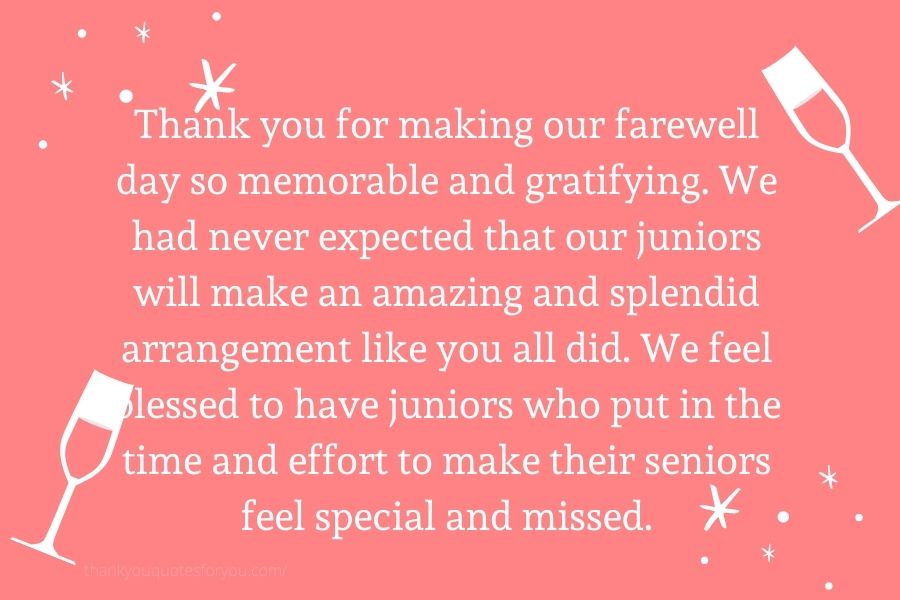 All these miraculous years of college would not have been so good if it weren't for you guys. Thank you juniors for all the love and support you have shown towards us and towards our entire department. You have shown your faith and sincerity towards us since the day you walked into this university.
We are leaving this university with great expectations from all of our juniors.  We frankly feel that you all have learnt a lot from us in these past years and we hope that you will all do great things in your journey ahead. We will keep rooting for alumni summits and gatherings to get back with you all.
 Thank you for taking out the time and effort to make such a splendidly and marvellous arrangement. I was awestruck on seeing the declarations and the personalized gifts you guys are giving out. It truly feels nostalgic and extremely emotional to leave this college and our loving juniors.
It must be worth weeks of organization and planning to make such great party arrangement. I am thankful from the deepest corner of my heart to each and every one of you, thank you for being so considerate and understanding towards your seniors, it truly means a lot to each and every one of us.
We will always be there to guide you in life and in your careers even if you do not find us around in university and on the campus. It is a blessing to be a senior of such great juniors. Thank you for being faithful towards us and for understanding and mentioning the decorum of our department and of this university.
This surprise goodbye party was truly nostalgic and extremely emotional for each and every one of us. We never expected to be treated with so much love and affection that you guys have shown towards us since the days of your freshman's year.
Thank you for making our farewell day so memorable and gratifying. We had never expected that our juniors will make an amazing and splendid arrangement like you all did. We feel blessed to have juniors who put in the time and effort to make their seniors feel special and missed.
Personalized Thank You Quotes And Messages For Juniors
You have the most dedicated and hardworking nature I have ever seen in anyone else around here. I hope you go a long way and get want you are rooting for. It was truly an honour to be your senior. You have never disappointed or let me down by any means.
Thank you for being my assignment partner in the last semester. It was great working with you. I am aware you hold a lot more potential than that you give yourself credit for. I look forward to hearing more good things about you and your work.
You have got a really rare and unique skillset. I hope you take up the opportunities that come in your way in time. I hope to see you soon and I will always be rooting to hear and read more of your papers and work.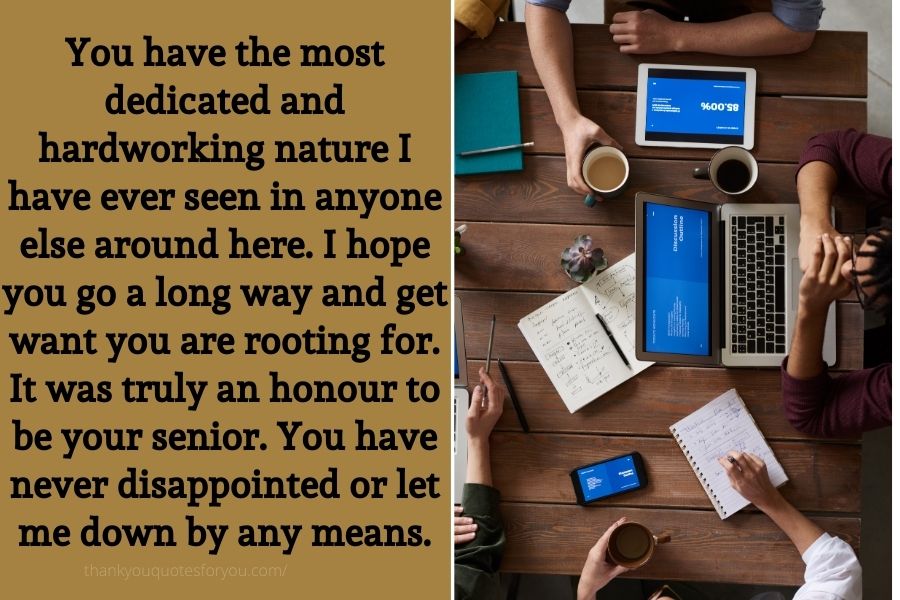 It is a blessing to have a junior like you. In all these past years you have been the best junior we all could have asked for. Thank you for being so sincere and honest towards all the fest arrangement and for keeping all the society works afloat.
You have always listened to all our instructions and injunction that we have provided to you for your own good career and work experience. Thank you for being faithful and true towards us and for making us happy with all your success stories. It is a great feeling to watch a junior get better with time in his craft.
You have the purest and kind heart around here. I pray for your good health and wellness and I hope to see you very soon in next year's alumni meet, till then I hope you focus on your careers and stay directed towards your goals and dreams.
Thank you for all the attention and generous recognition you have always given us all through your years in college. It is a bliss to be around juniors who know when to appreciate and acknowledge good craft and work.