Living in a new city, away from our natural habitat can be challenging at times, but having a loving and caring neighborhood and home can really prove to be a boon in adjusting to the new world. In this case, a good and understanding landlord can help with the day to day troubles and issues we might encounter. A good landlord should not be taken for granted. If you find one that is helpful, supportive and provides a budget-friendly place, you should think of a way to thank them for that.
How to Write Thank You Messages to Landlords?
If you want to thank your landlord with a personal note, we can help you with that. All you have to do is pick a message that works for you and put your words out there.
Step 1
Start with how thankful you are to have him/her as your landlord. Tell them that you appreciate all they have done for you.
Step 2
Mention things that you are the most appreciative of. It can be anything from providing you with a warm shelter or helping you with your shifting.
Step 3
Don't make it look fake. Keep it short and simple. You don't have to write the landlord a whole letter. A few simple sentences that you mean are enough.
Step 4
Assure the landlord that you will pay all your rent on time and never cause any trouble. This will make the landlord feel they have spent their efforts and time on the right person.
Step 5
End the message with a warm wish.
Here are some beautiful, well-thought messages and quotes that you can send to your landlord to remind them that you acknowledge their efforts and their patience, and you are thankful for all the things they do for you.
List of Thank You Messages and Quotes for Landlord
Thank you for being so understanding to me in the past few months, your tenderness and care towards me really reminds me of my home and of my family. May God always be on your side.
Hello (Landlord's Name), I just wanted to let you know how thankful I am for having a landlord like you. It has been a hassle to shift from my previous city to this one and in that hassle, you have helped me find the best apartment/place/shop/house. Your helpful support has made the shifting process so much easier for me. I will never forget it and take it for granted. I assure you that I will never be any trouble for you. Thanks again.
Hope you are doing good. I just wanted to let you know that I appreciate your kindness, support, and help a lot. You have been here for me ever since I shifted to this new place. Your tenderness makes me feel I have a family of my own here. Thanks a lot for this. May God bless you with the best of things!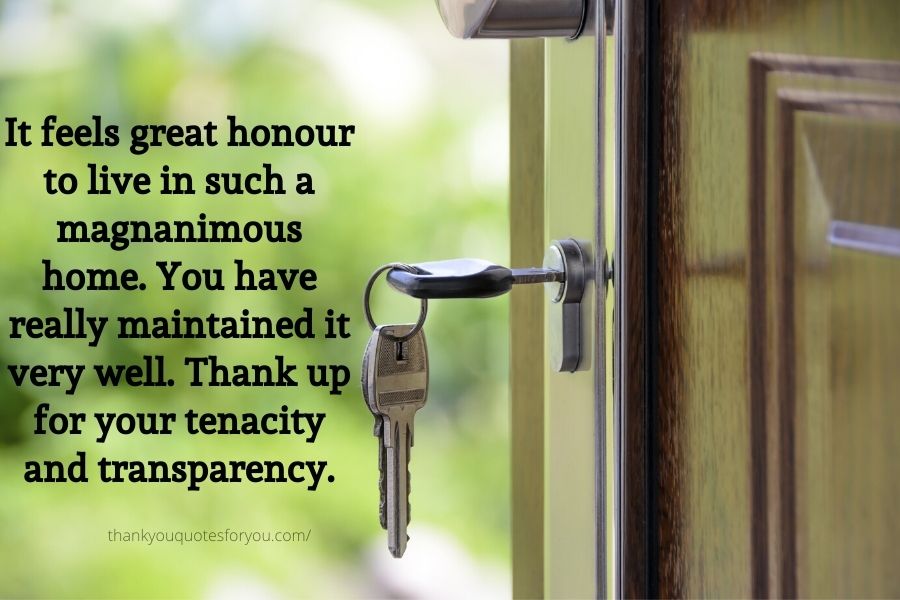 I love how warm, cozy and beautiful this place you have provided me with is. On top of that, the budget-friendly rent has fixed half of my problems. Now, I can focus on my work/studies better thanks to your assistance and kindliness. Stay blessed!
I am so thankful that you are my landlord. I appreciate how you have found me the most amazing place in this city/town. It couldn't have been better than this one. The view, environment, people, site everything is simply perfect. Thanks a lot!
Thank you so much for getting me the perfect place, helping me with the shifting process and guiding me about everything in this city. It would have been really hard for me to settle down here if you weren't here for me. Thanks for making me feel at home. God bless you!
Your concession in my rent has given me so much relief. I hope it doesn't cause you any loss. I assure you to be as helpful as possible if you ever need anything. Moreover, you can rely on me to be the best renter, keep this place trouble-free, and pay the rent on time. Take care and have a good day!
Thank you for the guidance and advice. My family and I are grateful for your tenderness towards us all. You have been a great landlord and a great friend to help us so much with everything. This beautiful place you have provided us with, makes us feel at home. Thanks again!
The place you have provided me with is gorgeous and super comfortable. Everything here is totally according to my demands and I feel blessed to be living in this place. So, thank you so much!
You have done so much for me that I no longer feel I am away from home now. Your affectionate behavior, helpful guidance, and advice have made this shift a piece of cake for me. I hope I can be the best tenant for you too and never cause any problems.
You have helped me find all the places I would ever need to know in this new town. I will always be appreciative of this. It would have taken me so much time to adjust without your help. Thank you!
Thank you so much for finding me such a mesmerizing place to live. All my family members love the environment and coziness around. You have all the things maintained exceptionally well here.
Thanks for introducing me to such amazing people. If you weren't here, it would have been complicated to make new friends and adjust here. You are an amazing landlord and a gem of a person too. Thank you!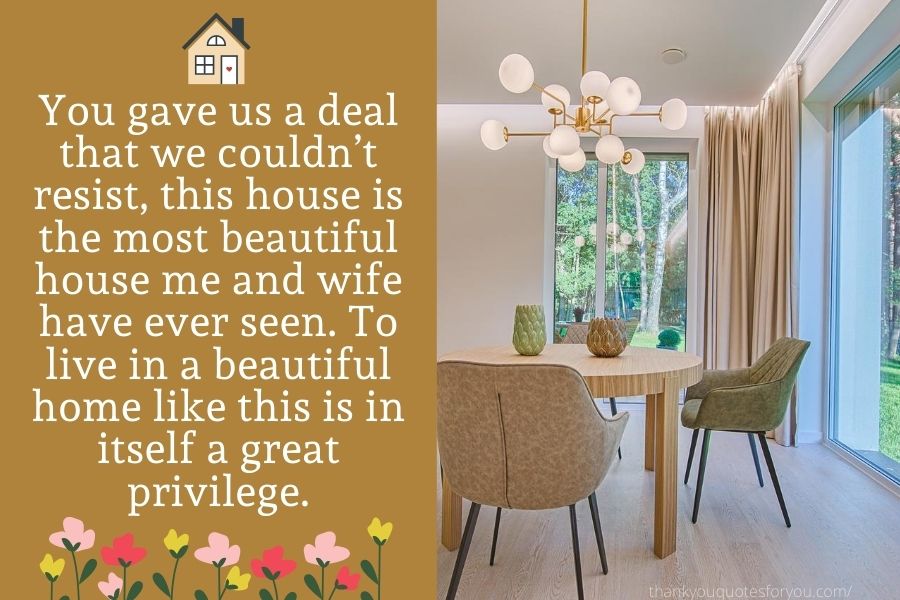 I can not tell you how perfect this place is turning out to be for me, the view outside is so beautiful and natural, I feel in a Zen mode every morning when I wake up. The season has brought so many new flowers and fruits outside, it's a blessing to live in a home-like this!
Thank you for all the hard work you have put into repairing and renovating this beautiful apartment, living in it is truly a blissful feeling.
Your highly professional attitude and friendliness in helping me settle down here quickly have been a lifesaver for me. Your efforts, kindness, and professionalism deserve all the appreciation in the world. Thank you so much for all of this!
Really appreciate how you considered our low budget for your property. We could never find such a charming and warm place without your help. Thank you so much for all of this!
Thank you so much for considering the issues I was having with this place. You have repaired all of them on such short notice. Now, it looks like my dream home, and we have no issues at all. You will always find me there for your help whenever you need as you have always been here for me. Thank you for your professional behavior and kindness.
Being your tenant has been a blissful experience for my wife and me. We both are grateful for this home. In such a short amount of time, we have adjusted here so well only thanks to you. May God bless you!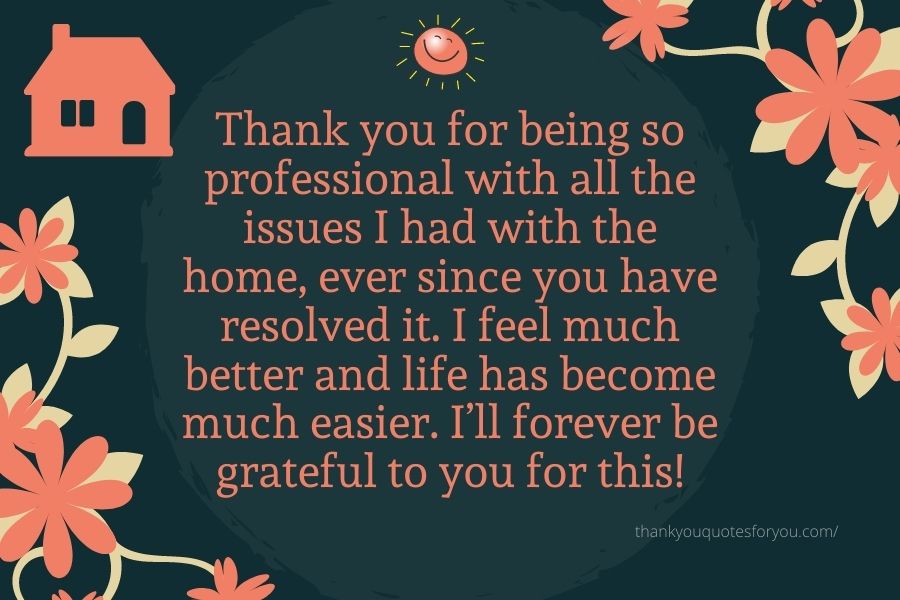 I hope this message finds you in prosperity and in good health. I wanted to invite you for a dinner party since you have been so nice and kind towards me since the moment I moved into your home. Finding a landlord like you is truly a blessing.
Short Thank You Notes to Landlord
You don't need to write a paragraph to be thankful. Sometimes, just a sentence or two can express more than enough. Below are some examples of short thank you messages for your landlord!
Thank you for being the best landlord I have ever had.
Really appreciate how you have maintained this place. It has been an extremely comfortable and cozy experience here.
Ever since I have moved here, you have been nothing but bliss for my family and me. Thank you for all the help!
Thank you so much for providing me with this budget-friendly place. Really appreciate all your efforts.
I pray that everybody gets a landlord like you. I hope I have never caused you any trouble as a tenant.
Your transparency, professional behavior, and kindness towards me have always made me feel at home. Thank you so much!
You are the best landlord I have ever gotten. Thanks for providing me with my dream home at such a budget-friendly price.
Everything you have done for me in these past few months has been really helpful. Thank you for being the best landlord.
Thank you for introducing me to the best people around and guiding me through my shifting experience. You are a true gem.