Life can be tough at times and it's not easy to always have everything figured out for ourselves, in such cases, being the disciple of a mentor really helps us get by the difficult part of life in ease. It's not much that is needed if you have someone who has an eye on you. A mentor is someone who always has your back, everything you do is under his guidance and vision. It's true bliss to be guided by someone with experience and wisdom and we should never fail to acknowledge their passion and efforts towards making us better at our skills.
Here is a collection of messages and quotes that you can send your mentor on any special occasion or just on a regular day to remind them how grateful you are for all their efforts and dedication in making you a better and worthwhile person.
Thank You Quotes And Messages For Mentor
You have been the most inspiring person in my life, thank you for all the countless hours you spent on me to improve my focus and my score, I will forever be indignant to you for all your efforts and time.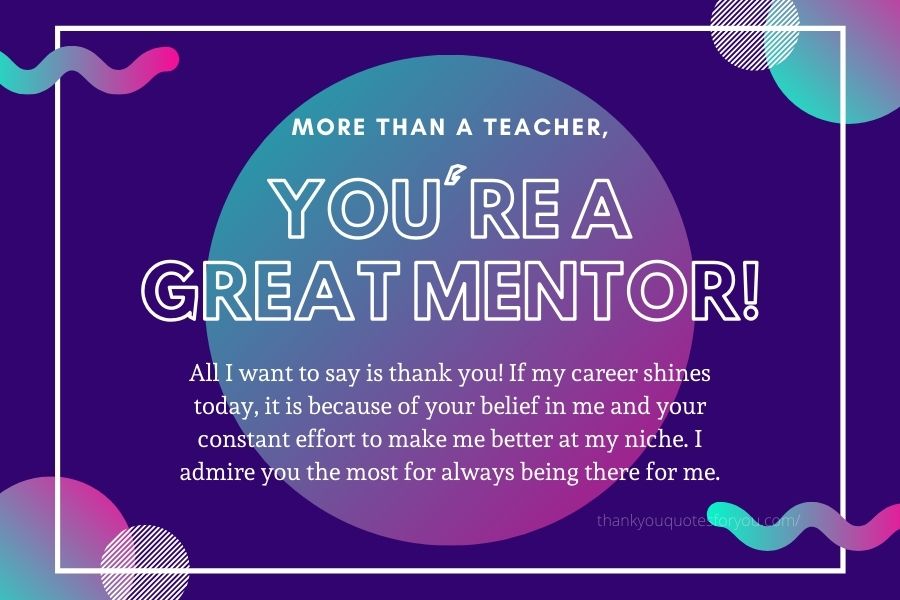 This day is all about you. Everything that I have achieved would have been impossible if it were not for you. Thank you for never giving up on me. You have made me this valuable person I'm today.
This victory would have been impossible without you. You have guided me in every phase of life, I will always be indebted to you for all the wisdom and skills that you taught me.
I hope God enriches your life with all kinds of happiness and joy. Thank you for seeing my true potential and for always motivating me to be better than what I was yesterday. This all feels unreal and unacceptable has not it been your constant effort.
You have been the best coach I could have asked for, all through the journal, you did not give up on me, not even for a single minute. Thank you for everything that you have done for me, your position in my eyes is next to that of gods.
I am so grateful to you, it's all because of your efforts and beliefs that I am going good in my journey towards my dream. You have showered my path with immense opportunities and chances.
Thank you for making me realise that I have wings, and all I had to do was fly. I had been underestimating myself until you walked in. You have taught me an immense amount of important life lessons and I will forever be indebted to you for being my mentor.
Respected sir, all I want to say is thank you! If my career shines today, it is because of your belief in me and your constant effort to make me better at my niche. I admire you the most for always being there for me.
This success is all because of you. All the endeavour we have made together have come to worth now. You have done your best to keep me motivated and hung up to my dreams.
Without your constant assessment and check on my progress, I would have not progressed so subtly like I have done today. All your efforts have brought this multicolour to my life.
I hope you understand your importance in my life, I am so thankful to you for everything you have done for me, and I look forward to being enlightened by your wisdom every day.
Your leadership skills and understanding of a students psychology is unmatched and extraordinary. This success would not have come easy without your wisdom and knowledge.
I have no words for you, to express how grateful I am to everything you have ever done for me and all the hours of effort you have put in training me. I hope I make you prouder one day.
Thank you for taking your chance on me, I look forward to being trained by you.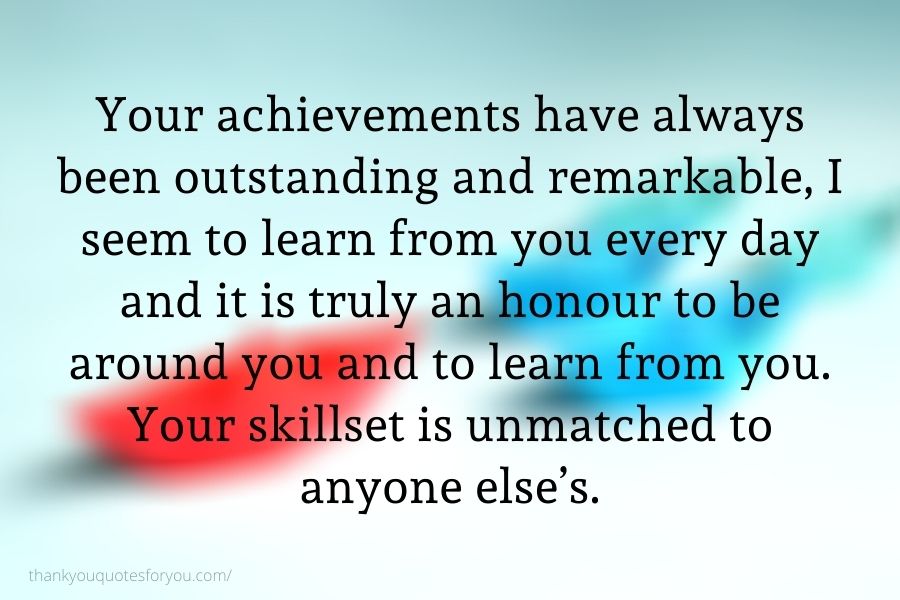 Your mentorship has really helped me get better at my career. The integrity and passion with which you take your job are worth an applause.
I hope you are in good health and prosperity. I'm sending this thank you note to you to remind you what greatness you are in my life, with your mentorship and dedication, my career outshines today from all other worries.
Your achievements have always been outstanding and remarkable, I seem to learn from you every day and it is truly an honour to be around you and to learn from you. Your skillset is unmatched to anyone else's.
Thank you for helping me out with all the complex skills and difficulties. It would have been really difficult for me without your guidance. I will a stand by you forever, since you have embarked your talents on my mind.
You have deeply touched my life. I see you as my guardian now. Your belief in me has made me believe in myself. I work harder every day because I feel deeply inspired by you to keep doing what I am good at.
Thank you for being the saviour of my life, your integrity and perseverance is what makes you so well respected in society. Every word that comes out of your mouth is true wisdom and sagacity in every form.
You have been the guiding light of my life, all that you have done for me is worth appreciation and applause. I hope someday I become a person like you and make you proud.
I cherish every lesson you have taught me. Your preaching skills and techniques are admirable. Finding you was the greatest achievement of my life because, since the moment you have walked into my life, it has only become better and better.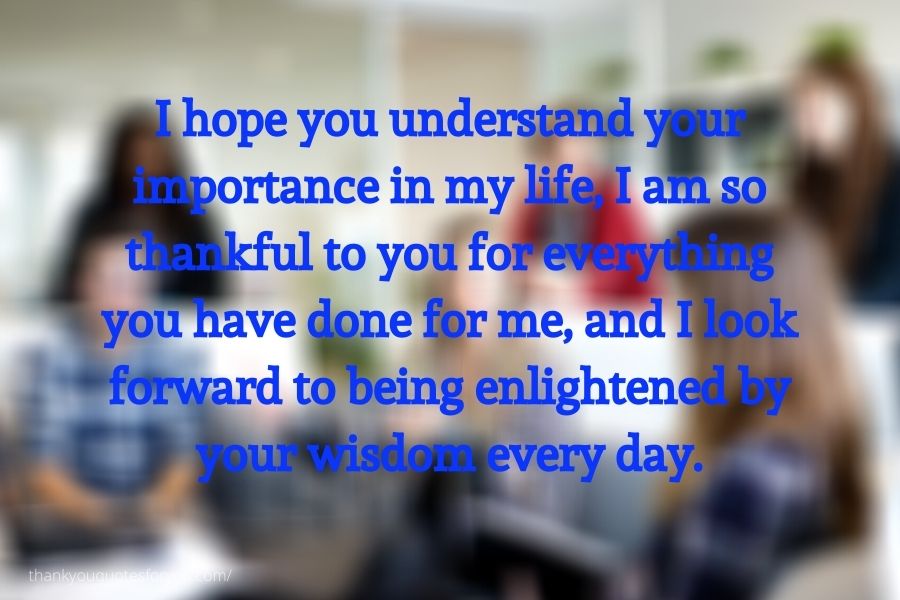 I feel honoured to be your disciple. You have been there for me through thick and thin, you have understood me in my moments of failure and anguish. Everything that you have done for me will always be remembered and cherished by me.
You have always put me first, before every other thing. Thank you for making me a priority in your life. I feel honoured to be your student, you have never ever disappointed me in any way possible.
I hope you are happy and in prosperity. I pray for your good health and that you receive all the successes that you deserve and all the happiness in the world.
Your intelligent insights have really helped me with all my projects and assessments. I am forever thankful to you for being my guiding light and for being so patient and compassionate towards me.
This day is a celebration of all your efforts and dedication towards your job and my dream. Your vision has really helped me to stay focused and to not get distracted by my materialistic possessions.