Thank you notes are simple gestures, by giving a thank you note to someone, we leave a lasting impression on everyone. A heartfelt thank you note to a nanny (babysitter) shows your gratitude for their demanding dedication, contribution, work, and responsibility when taking care of your children. Thank you quotes and messages for a nanny value the services that they are doing and give emotional support to them for their huge contribution to your child. 
 Use some heart-touching words and inspiring words to show your nanny that you value the arduous work they do for you. Here are some thank you notes for the nanny. Have a look at these quotes which show appreciative words for them which have a great impact on your child.
Thank You Quotes & messages For Nanny
Thank you for being the most caring and lovable nanny! My kid has changed so much. Your affection has helped him make progress both in his personal and classroom activities. Thanks a lot for your huge contribution to my child.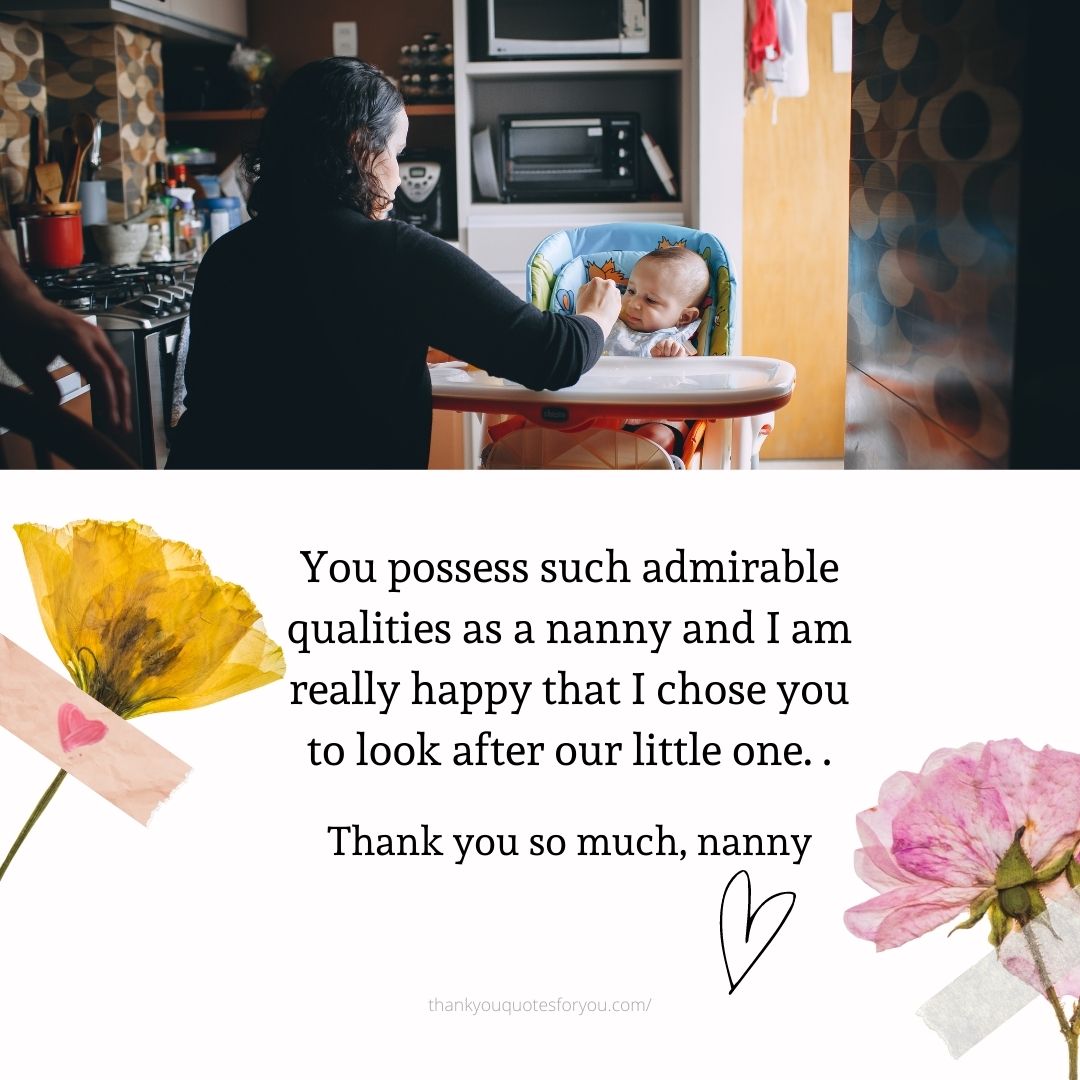 You have brought such a positive impact on my child. He is now more enthusiastic and happy and has become a brighter ray of light in our lives, thanks a billion to you.
You have made such a tremendous contribution to change his personality trait. You made magic in his life. You taught him self-love and spread love to all. The stories you tell him and the games you play at times, so he is looking forward to more and smarter.
You are such an amazing nanny. I have never met such an affectionate and lovable person like you. You have a great contribution to building my child's character. I express my heartfelt thanks and gratitude to you for your great sacrifices and contribution.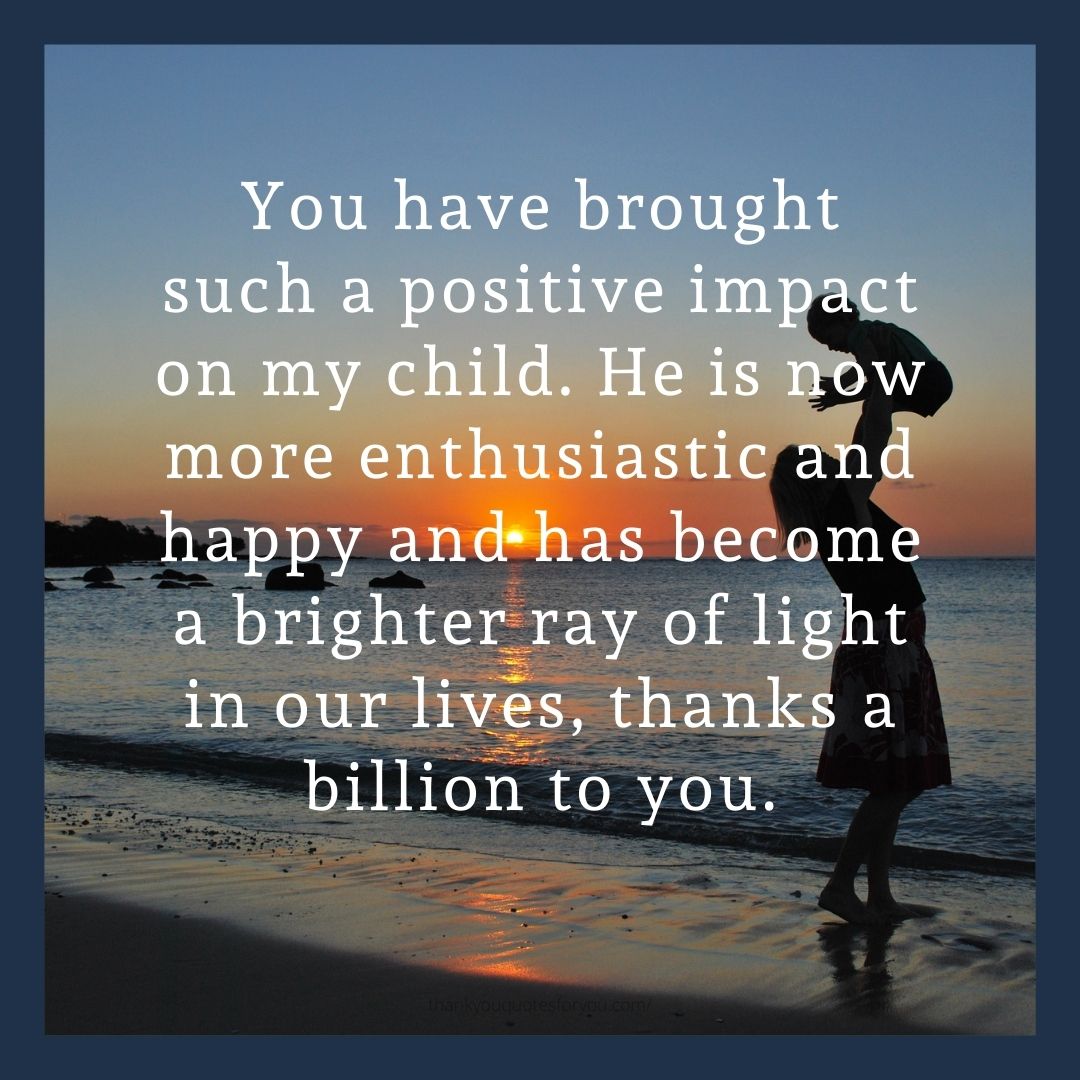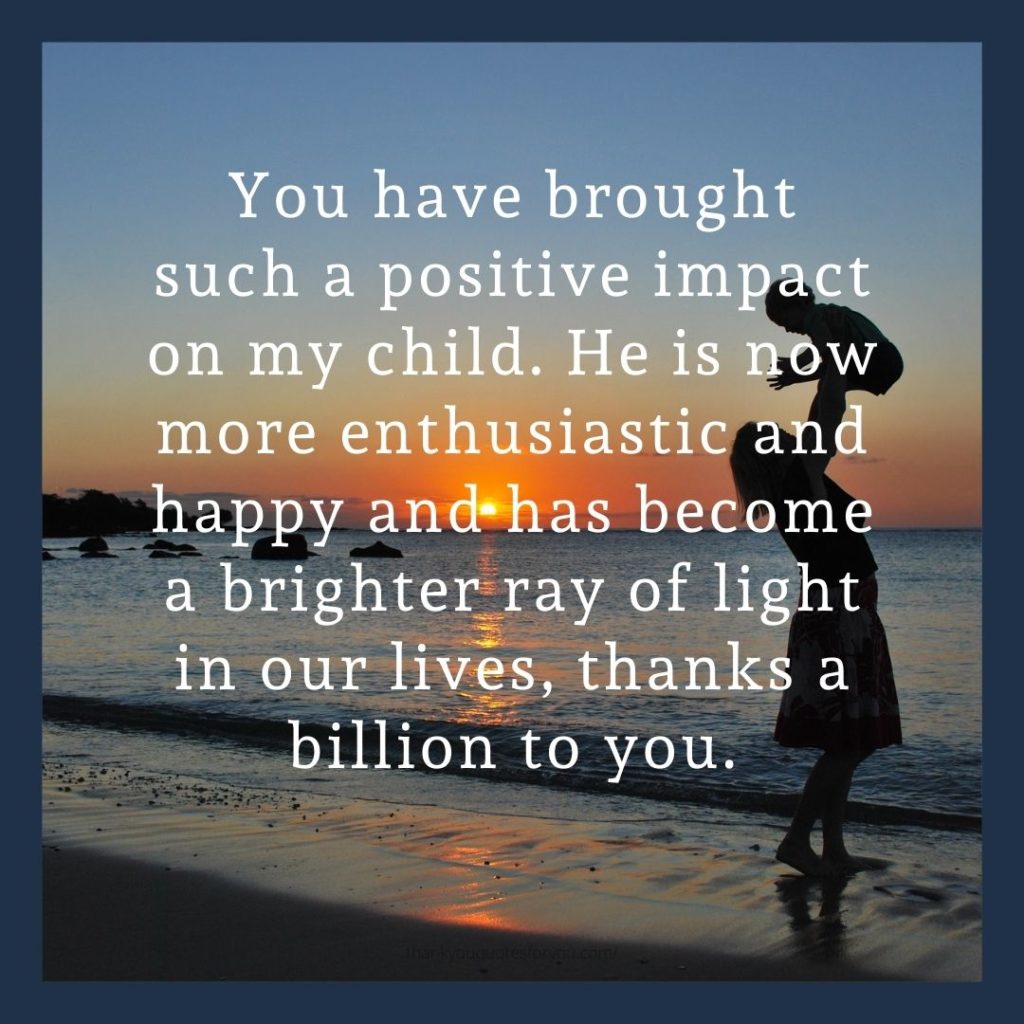 Thanks a million to you nanny. You are the most affectionate woman. Your techniques work so well! He started to value everyone around him and became so humble. You made it possible. What you have done for my child is just priceless. 
I am so obliged for your huge contribution and work you put into taking care of my child. I really appreciate your way of handling it and how you are so sincere about your duties. Thanks a ton, nanny.
You have made a tremendous improvement since you started taking care of him. And he feels immense pleasure when you come and look after him, he says he has just found a new best friend. A million thanks to your nanny for your selfless love toward him.
You possess such admirable qualities as a nanny and I am really happy that I chose you to look after our little one. Thank you so much, nanny.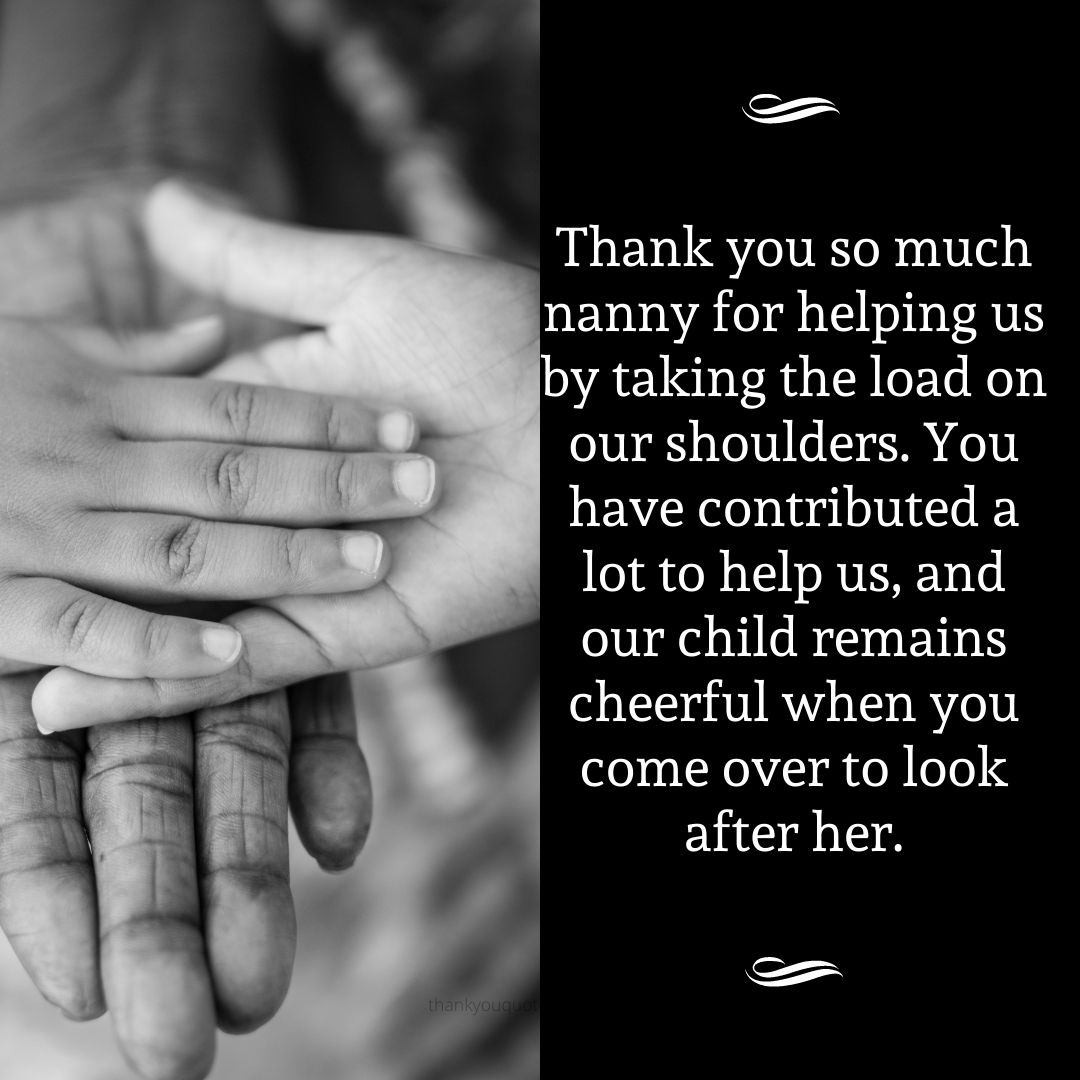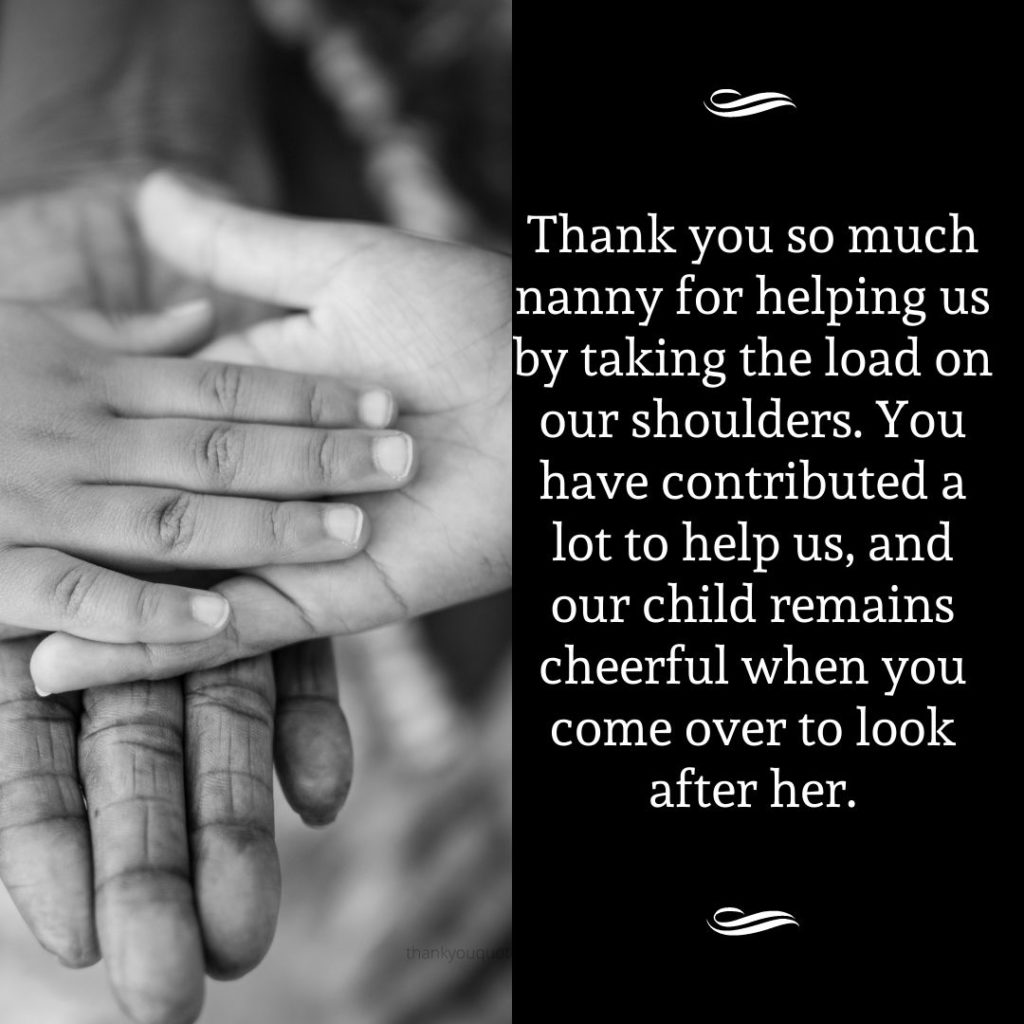 Your care and love help my child become such a bright person and be more responsible, I really admire your contributions to my child. Thanks a lot.
The love and affection you have provided to my child are just priceless for us. You are doing such a great job. You really deserve a letter of appreciation and respect. Thanks a lot, nanny.
Thank you so much nanny for helping us by taking the load on our shoulders. You have contributed a lot to help us, and our child remains cheerful when you come over to look after her.
You are so sincere and honest. We are really lucky to have a nanny like you to care for our child. You did many things for our child's well-being. It is really priceless for us. Thanks a lot nanny.
It is really a blessing for me to have you as my child's nanny. You are doing a lot of things for our children with care and affection. Your sacrifices and contributions are just precious for us. I express my thankfulness and gratitude to you nanny.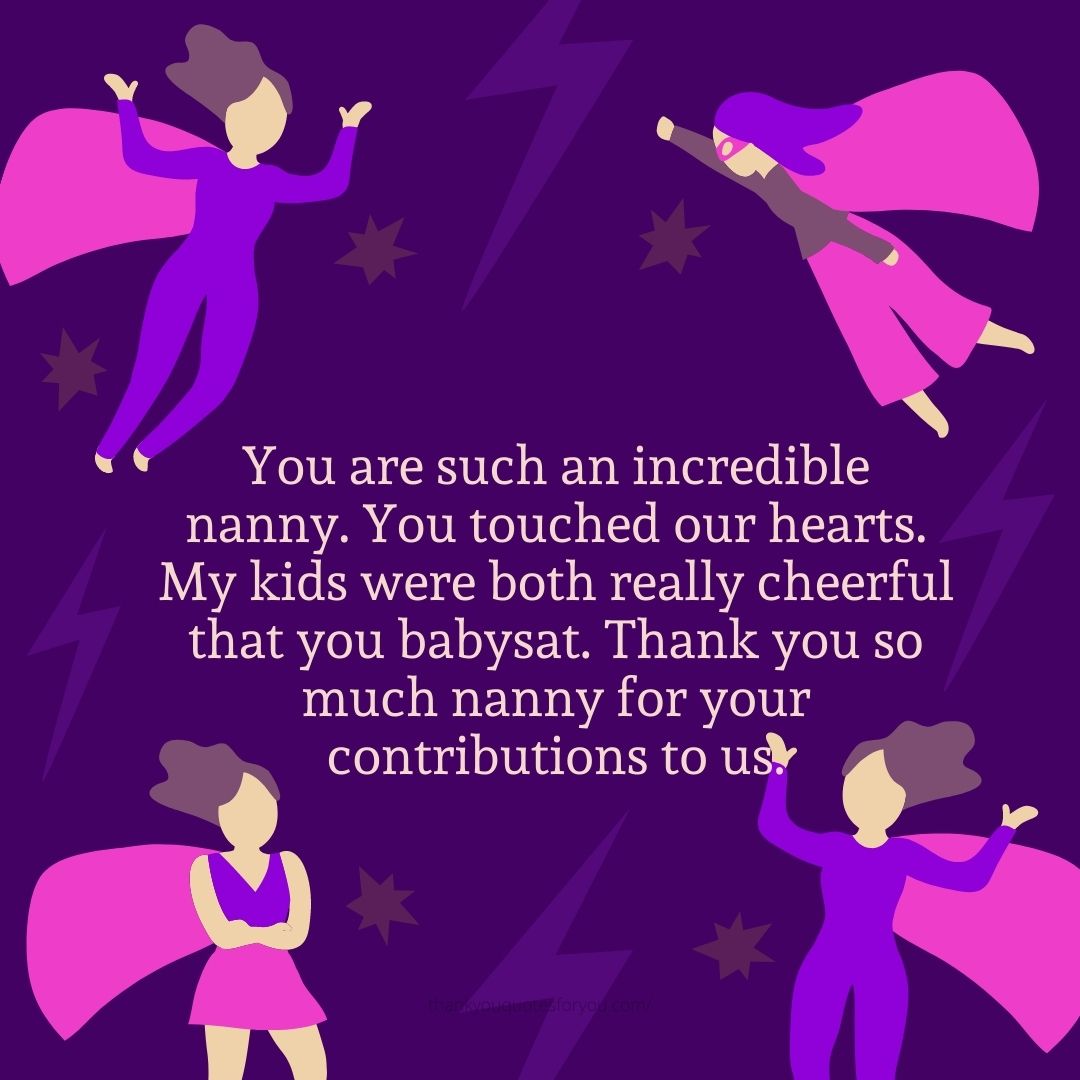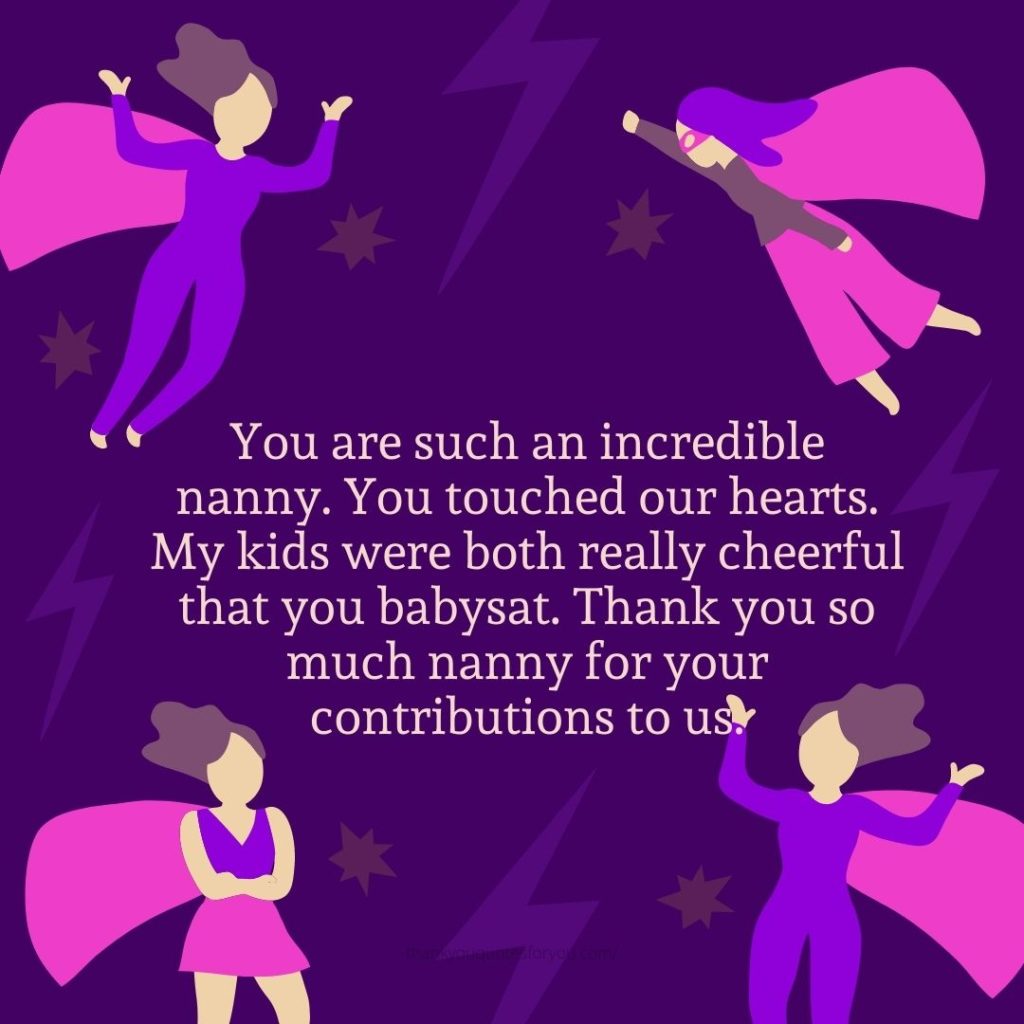 Thanks a ton for helping my child with his school work as it is really a difficult task to get him to focus. But you managed so beautifully and helped my child to be disciplined and sober. 
My child has made a drastic change in my child's attitude since you started to babysit for us. You are really an amazing babysitter for my child and I am lucky that we chose you to babysit him. Thanks a ton, nanny for your care for my child.
I feel really grateful to you that you gave my child a chance, he remained really joyful when we talked about your time together. I admire that you are an amazing person to babysit my child. A billion thanks to you nanny.
I was really not feeling good to leave my children with a stranger. But you are something different and very affectionate. Now I feel really secure to leave my child with you. Thanks a lot, nanny for all that you have done for my child. 
You are such an incredible nanny. You touched our hearts. My kids were both really cheerful that you babysat. Thank you so much nanny for your contributions to us.
I will remain grateful to you nanny for taking care of my child. Thank you so much for looking after our child all these years. We really appreciate all your work, effort, and dedication.
He has changed a lot and became a more charming and outgoing person than he used to be and I am really happy with what I am seeing from him. It became possible only for you. Thanks a lot, nanny.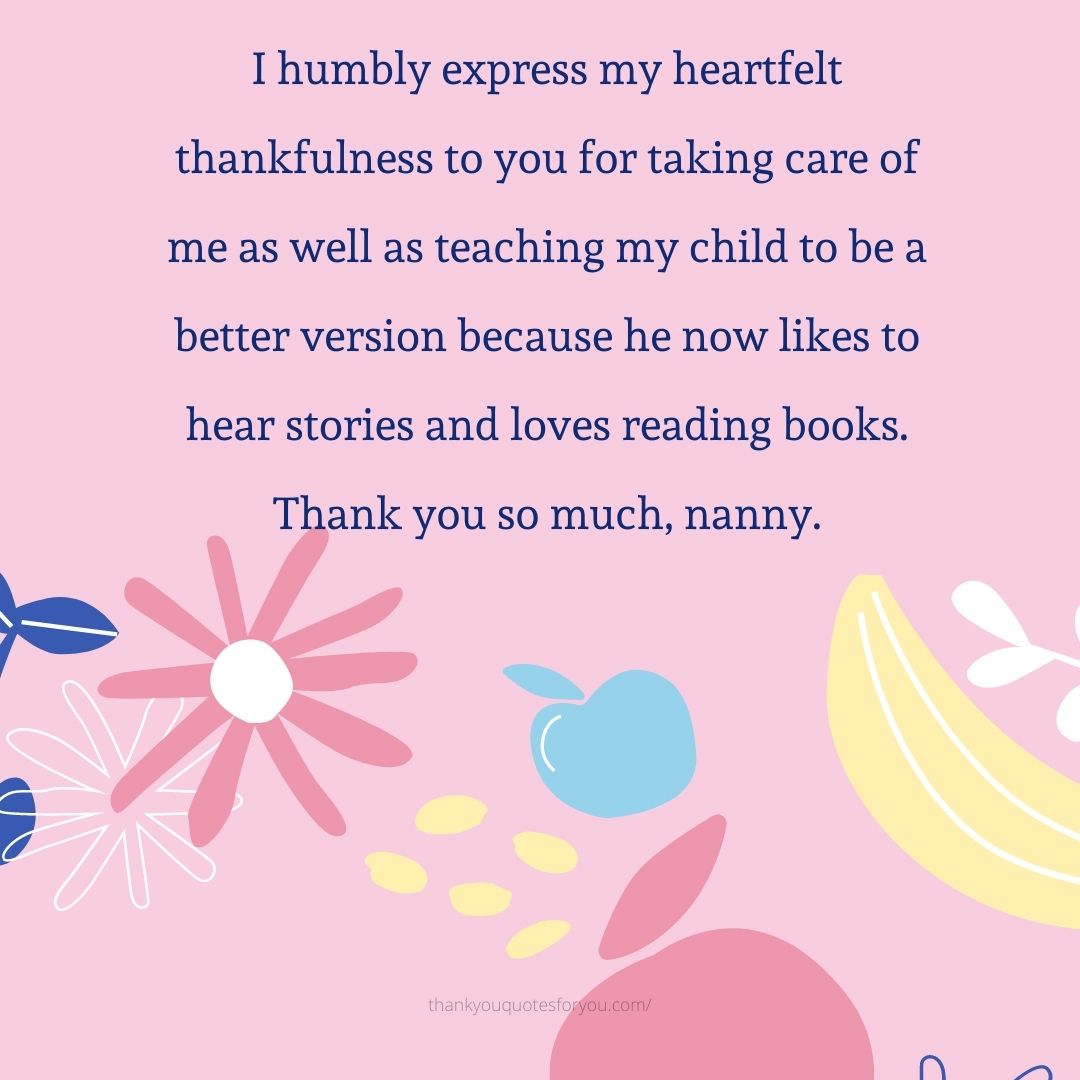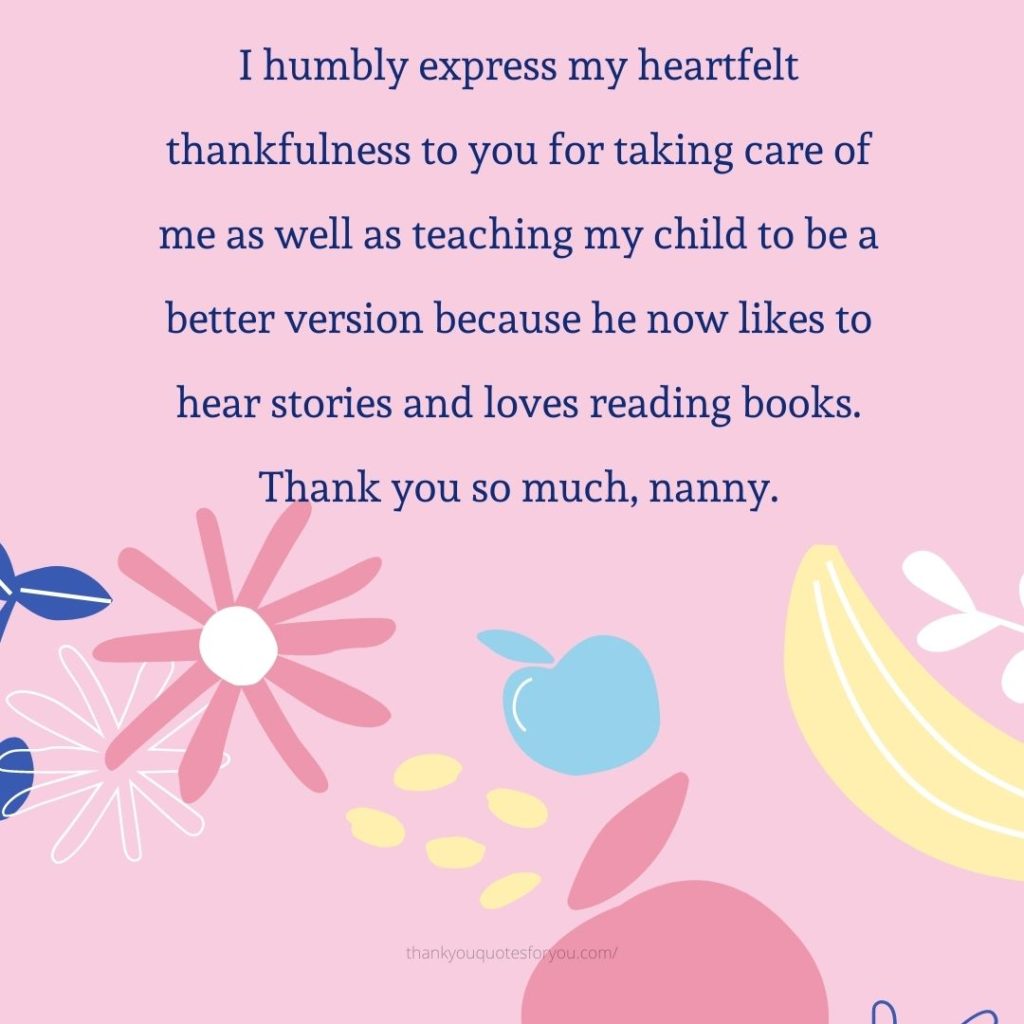 I humbly express my heartfelt thankfulness to you for taking care of me as well as teaching my child to be a better version because he now likes to hear stories and loves reading books. Thank you so much, nanny.
You have such an impressive personality and I am really lucky to have you as my child's nanny. You are such a great role model for my child. I really admire the help that you have been able to give us over the years. Thanks a ton.
Your care and hard work have really shown through as my child has changed into a more cheerful and affectionate person. I would like to express my heartiest gratitude for helping to babysit my child and treating him with such love and care. You treat him with such amazing love and tenderness. Thank you so much, nanny.
I express my thankfulness for contributing to my child's physical and mental well-being. I have never seen him so joyful to do his homework like the way he is doing it with a lot of enthusiasm now. Thank you a lot nanny for teaching my child the significance of getting their work done.