A receptionist does an enormous amount of work starting from greeting people, appointments to filing and maintaining records in an organization. You should take a while to appreciate all the hard work and dedication done by your receptionists on a daily basis. Receptionists play the most important role in any company or organization.
They have a spirit to manage everything with a smile on their face and work hard to run the operations smoothly. Although their job may seem boring, they have a great role to help run a business successfully. These people really deserve to be thanked for providing such wonderful services.
Receptionists are the front face of your organization or business and are one of the hardest working people.  They are the first people to represent your company to the people who first enter our office on a daily basis. Here is a compilation of some simple ideas and thoughts for thank you messages for them. Please find some thoughtful messages to show thanks to your receptionist.
Thank You Messages for Receptionist
The role of a receptionist is so difficult sometimes but you do it so easily just with a smiling face and cheerful personality and most importantly no complaints. Keep up your good vibes. Thank you!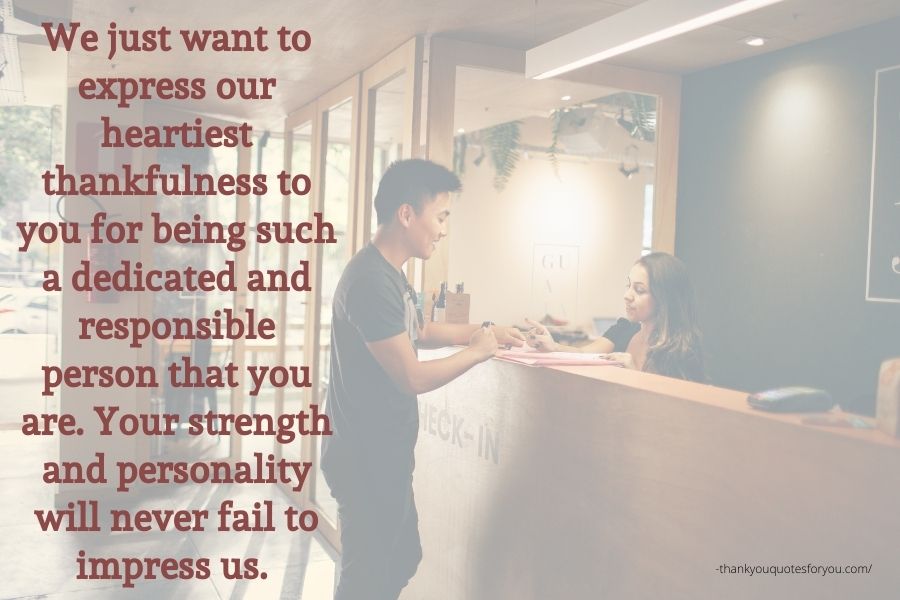 You gave a huge contribution to our company with your dynamic personality and imparting skills. We honestly show our thanks to you.
We are really fortunate to have such a sincere and cheerful receptionist with us. Thanks a ton for all your hard work and efforts.
We just want to express our heartiest thankfulness to you for being such a dedicated and responsible person that you are. Your strength and personality will never fail to impress us.
Thanking you is not enough to show how much we appreciate your work. The way you handle the obstacles that come your way is just amazing. The dedication and effort that you put in the work are tremendous.
Thanks a lot for the massive amount of effort that you put into our organization. It is not an easy task to confront different people who first enter our office. You always greet them with a smile even if you feel uncomfortable. You are really doing a great job. Thank you.
We are really impressed by your potentiality and willpower. Yet again we are so thankful to you for this.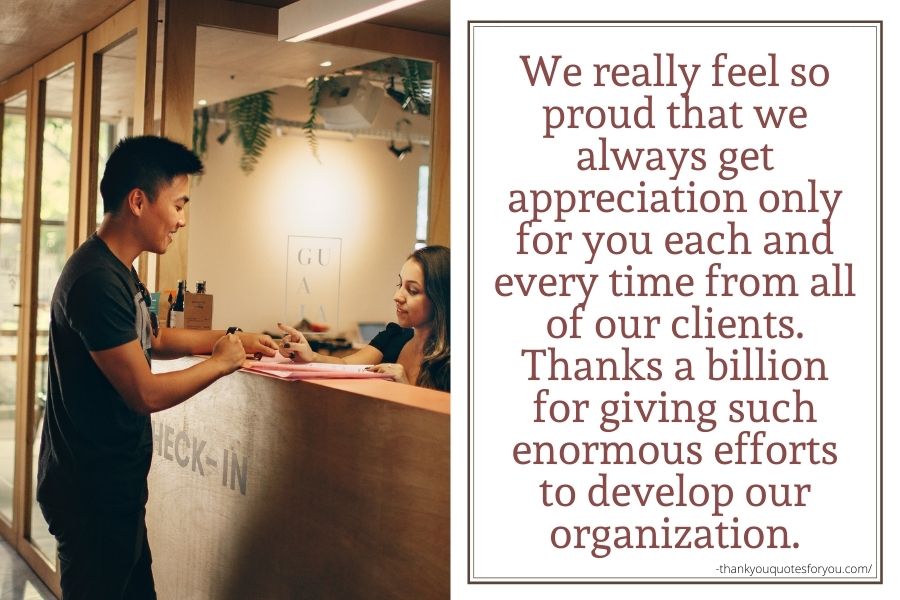 Sometimes words are not sufficient to express how thankful we are to you for your outstanding work ethic and commitment. Thanks a bunch for your dedication.
Thanks a million for the outstanding job that you are actually doing because you are the one who really makes that very first impression over the customer each as well as every time. Thanks again for your endless effort.
We really feel so proud that we always get appreciation only for you each and every time from all of our clients. Thanks a billion for giving such enormous efforts to develop our organization.
 We feel really lucky that you are a part of our office team because the very appreciable gesture with which you actually treat all our clients each and every time is absolutely amazing. Thank you so much for your loyalty and geiuness.
Tons of thanks and a lot of appreciation for you. And also for all your work, the way you always receive with a beautiful approach and polite behavior to our clients is just mind-blowing.
Our organization is running so well and we are really very lucky to have such an amazing receptionist like you who actually performs all duties as well as all responsibilities so beautifully. Thanks a lot  for being a part of this office.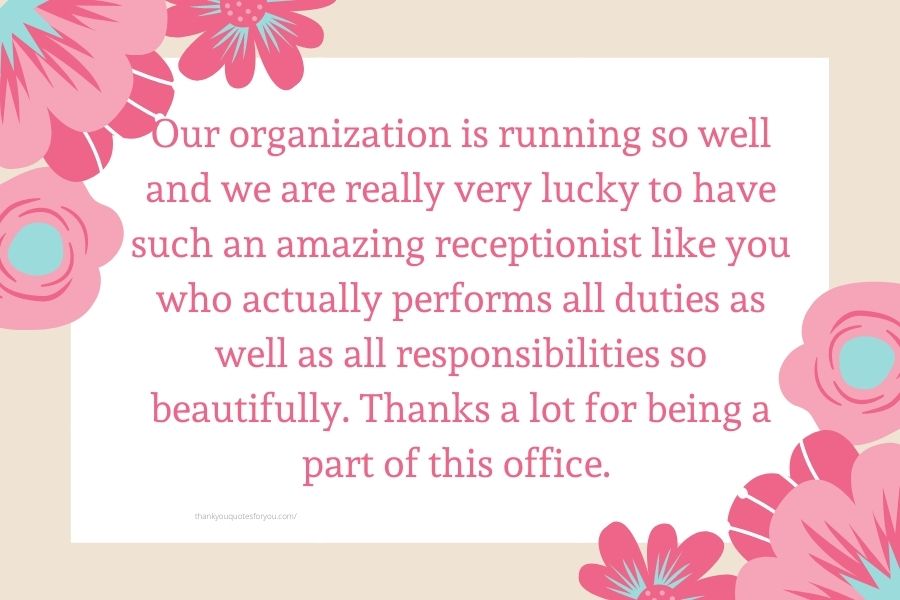 You are really a devoted receptionist who has a lot of potential and only focuses on your work without even wasting any of her minutes in useless gossip. We like your great contribution and efforts to our organization. Thank you so much.
I am unable to express the exact words right now which I actually need to thank my most wonderful as well as the most hard-working receptionist who is always committed to her work. Thank you very much for your outstanding performance.
Problem-solving is the best skill that is within you. Sometimes you may get overstuffed but a smile never leaves on your face. That's your greatness. Thank you so much.
You manage every difficult situation and keep things moving on a busy day. That's your spirit and makes a different persona. Accept our thankfulness.
We proudly say that our company's first impression is on your hands. Because you are managing things so smoothly and wonderfully. Thanks a bunch from us.
You are always gentle, kind, and friendly to all. The power of organizing in a hard time on a daily basis is your special quality. A million thanks from us for your generosity to our organization.
No one can be as amazing and outstanding as you. You have such a dynamic and energetic personality. We are really impressed by your genuine and polite behavior. Thank you.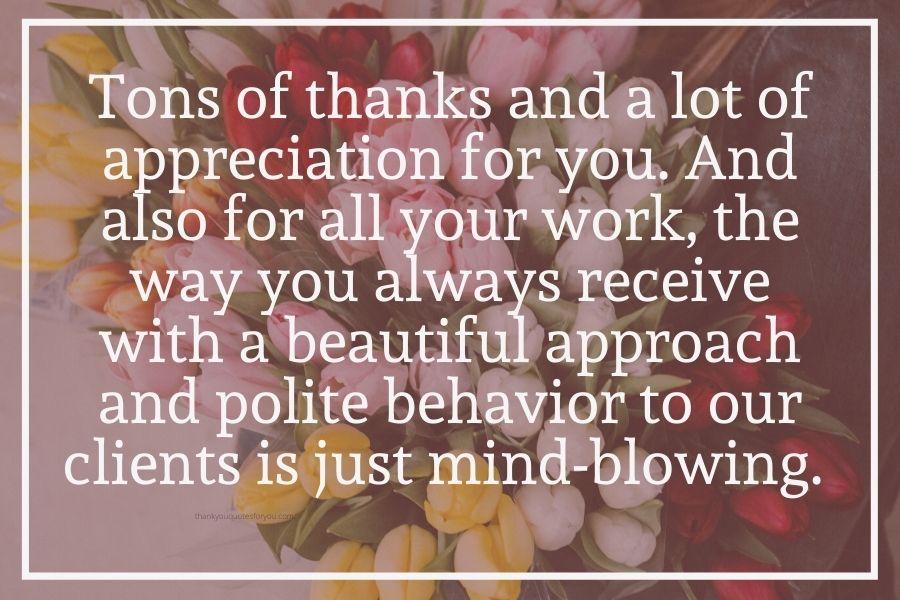 Our organization is running so smoothly because of your effort and devotion to your work. Your tremendous personality and behavior are very appreciated by our clients. We feel really proud to have employees like you in our organization. Thanks a ton from us.
We are very satisfied with your hard work and commitment. You made tremendous benefit for us by impressing our clients with your cool and polite behavior. Keep progressing in your profession and thank you.
Your role is really great because you have to maintain your smile even if you are having a bad day. Keep smiling always and make others smile. We express our many many thanks for your outstanding work principles.
In our office, everything gets easier for getting such professional receptionists like you. We extend our warm thankfulness to you.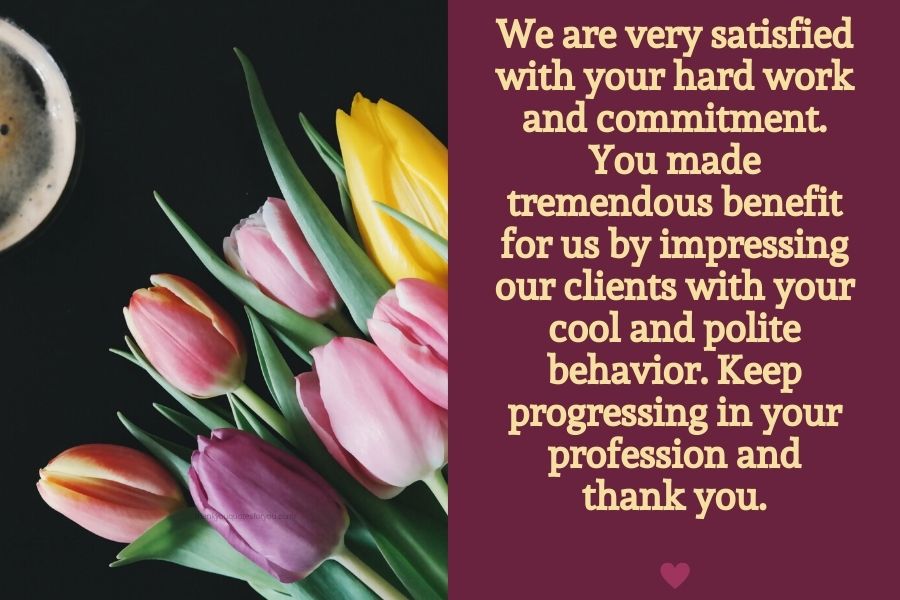 Really you have the unique power of empathy because of handling people on a daily basis. It's really a tough job but you conduct it so smoothly. Thank you for your great deed.