In life, we become a part of numerous organisations, which help us in building our career, our personality and our skill sets. In all these organizations and corporations and in administration, we always find a senior, who knows a lot more than we do, who understands the ordering and working of the community and who always has our back. No matter how bad we mess it up, they are always there for us to help us retract and review all our mishaps and mistakes. The fact that someone has always got our back is truly a blissful feeling.
Seniors are one of the most important and necessary bridges we must have to reach our greatest and biggest ambitions, they are always there to build our network and our connection among influential and important people. We all always remember that one senior from our college who greatly influenced our perspective towards everything. Seniors like them are the ones who leave their legacy wherever they go.
Here are messages and quotes you can send to your favourite senior to remind them how grateful you are to them for all the kindness and support they show towards their juniors and towards their disciples. This will truly bring a huge smile on their face and even might leave them nostalgic and astonished.
Thank You Messages And Quotes For Administration And Organization Seniors
Thank you for always having my back.if it wasn't for you, I would have never found my dream job! I am so glad I made a connection with you. All these years, you have never left my side.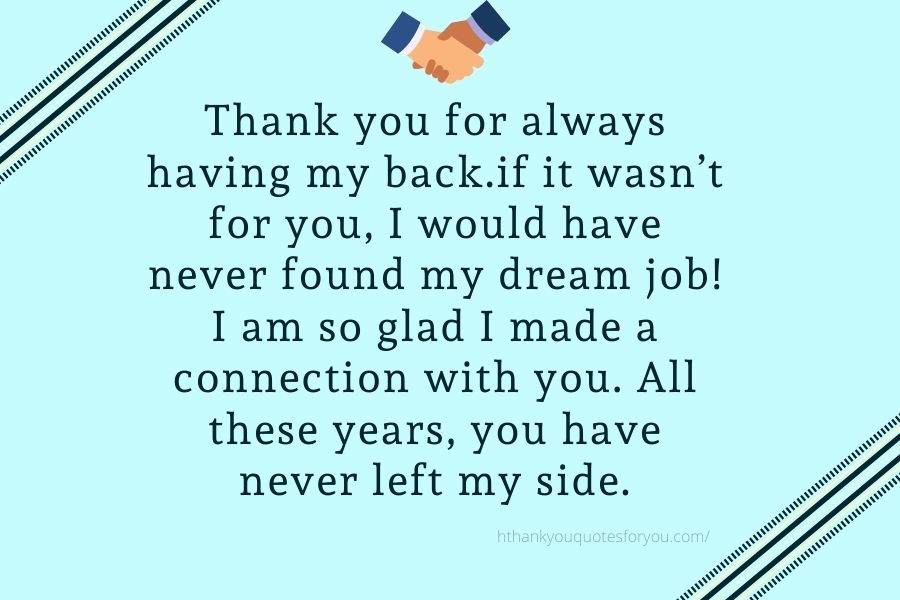 Thank you for guiding me in getting my dream college, you have always been so kind and devoted to me. I feel deeply obliged and grateful to all the support and love you have shown me all these years.
I hope you are doing well in your life. I am writing this to remind you how important you are to me, you have greatly influenced my life. Thank you for shaping my career and for being my mentor.
You have taken good care of all my necessities and my comfort since the day I entered this organization. I feel so grateful to you for being so kind and generous towards me.
Thank you for being so generous and kind towards me in all my moments of anguish and dismay. I feel deeply beholden and indebted to you for all the support and understanding you have shown towards me.
I am your sincere follower. I admire your work and your work ethics. You have inspired me since the day I met you. Thank you for teaching me how to be a perfectionist and how to work even in dismay and doubt.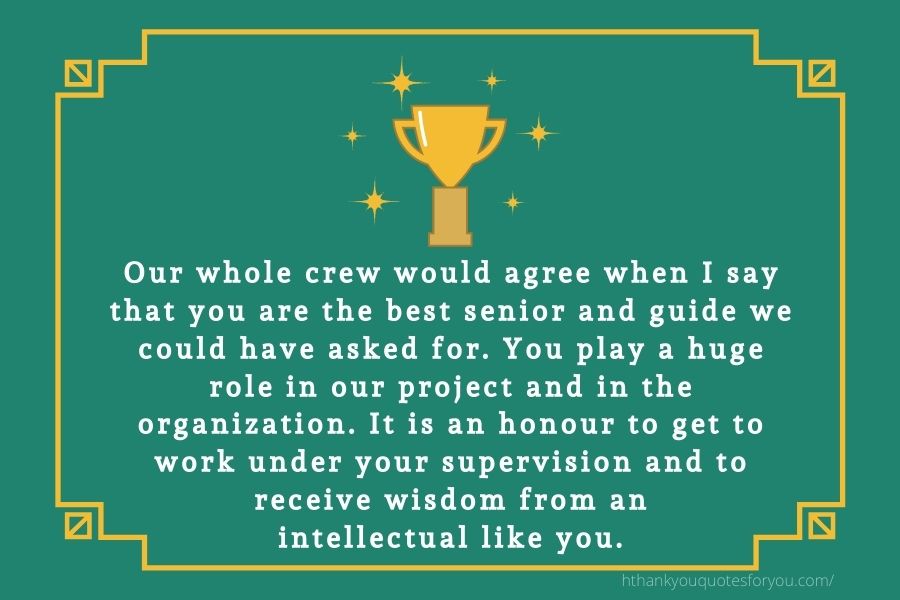 I and my whole squad feel deeply indebted towards you. You have guided us throughout
Thank you for being so thoughtful and generous towards bombarding ideation ideas towards our new project. Your skills at and your experience is a huge asset to us. I hope you keep guiding us this way, we feel greatly thankful and indebted toward you.
‌ Our whole crew would agree when I say that you are the best senior and guide we could have asked for. You play a huge role in our project and in the organization. It is an honour to get to work under your supervision and to receive wisdom from an intellectual like you.
‌I hope you are doing well and good in these tough times. I'm writing this to remind you how Influential you will always be for these organizations and for our administration. Your experience and your understanding of the market is a huge boon for us. We hope that you get back with us very soon.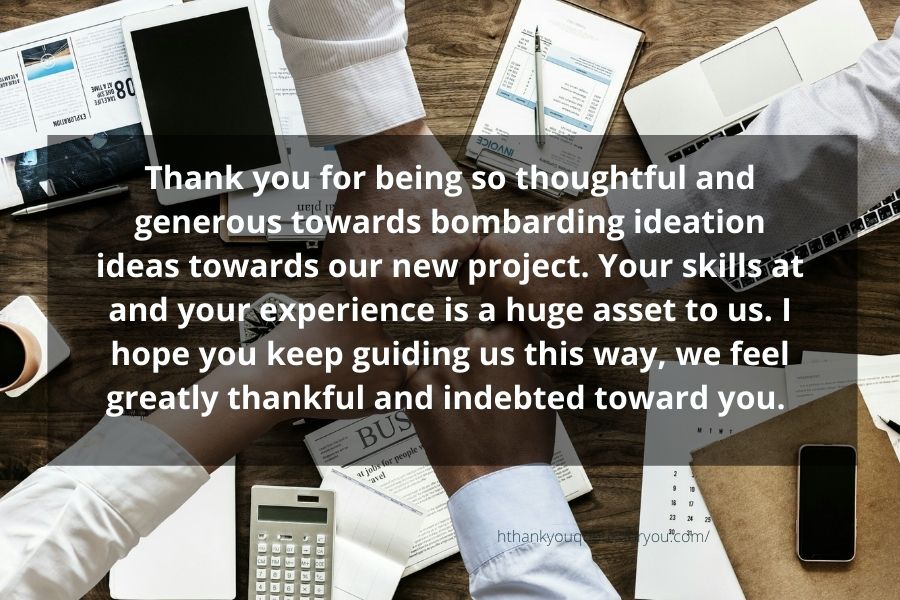 I understand how hard it must be to balance out of many important and crucial responsibilities. I hope someday I could even be half as effective and productive as you are. You have inspired me every hour of my working day. I have never seen you settle for anything but perfect.
You are the epitome of perfection and greatness. Your work ethics and skillsets are exceptional and admirable. I hope I get to learn a lot more from you in the coming years. Thank you for all the lessons and wisdom you have showered upon me in all these years. Working with you is truly a bliss.
Thank You Messages And Quotes For College Seniors
You were my favourite senior in college. You never failed in giving me the best of laughs in moments of anguish and a shoulder to cry on when in dismay. Thank you for being my guardian in this unknown town, I always root for you.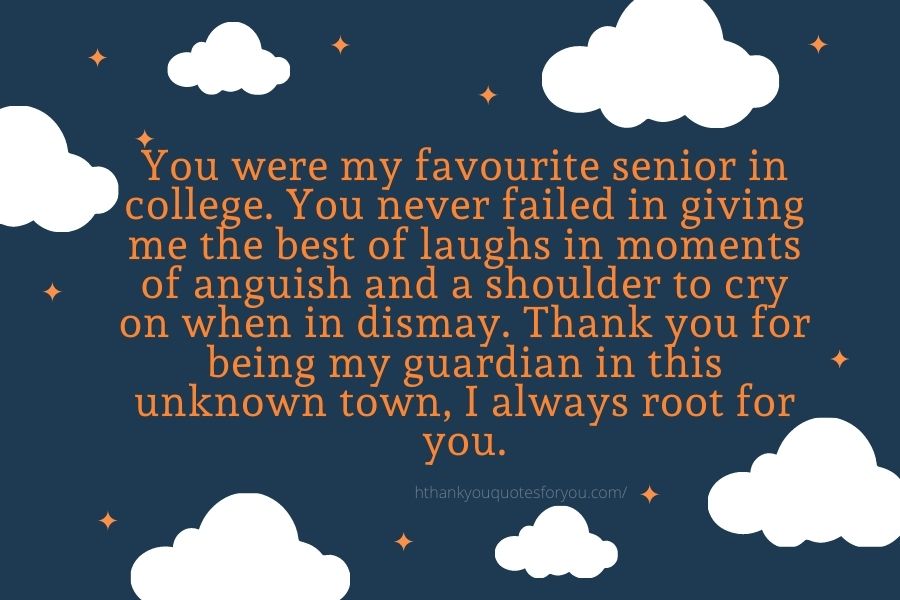 I hope this message finds you in good health and wellness. I hope you know I'm always thinking about you. You gave me the best years of my life, I will always admire your work ethics and your skillset. Your concentration and devotion towards your work have deeply inspired me.
Thank you for being there for me in all the rainstorms and rainbows. You have always been like a guardian to me. The influence you have had on my state of mind and in shaping my personality is beyond what I can express in words.
Thank you for mentoring me all these years, your perspective towards career and towards life has always made me feel baffled and flabbergasted. I aspire to be, as you someday.
Thank you for providing me with the best of all resources and information, I was always ahead of my mates because of your constant guidance and support. I feel highly indebted and blessed for having you in my life.
You are a great inspiration for me and for all my fellow mates. You have motivated us to be strong in moments of doubt and anguish. There you are for all the support and effort you put in us. I hope we make you proud someday.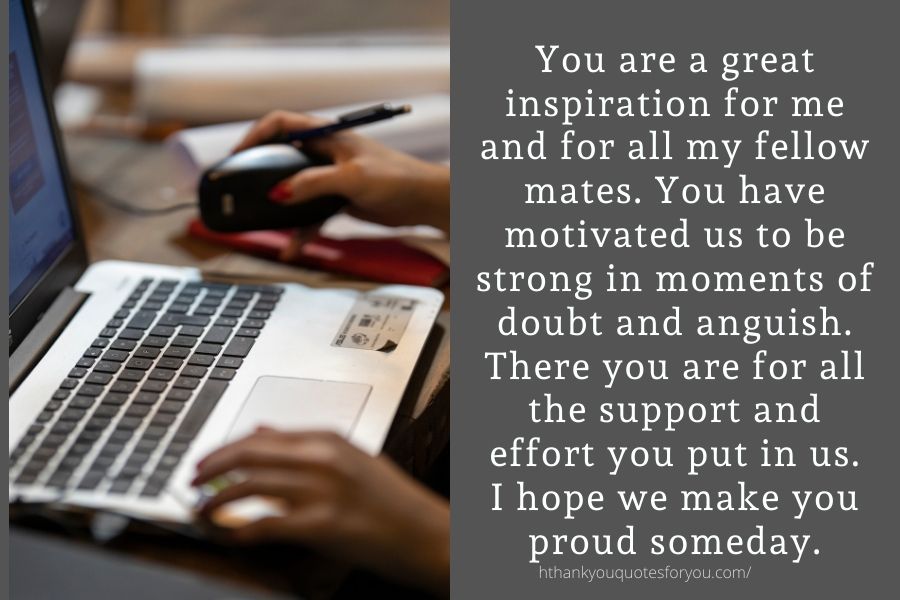 This truly feels like a dream to me, had you not been in my life, the life I have today would only have been a dream. Thank you for all the time and mind you gave in helping me get through all the tuff times of my life and in helping me develop better skills.
Thank you for elucidating all the resources and information. It really helped me get through a lot of tests and challenges in these past few days. I feel deeply blessed to have a senior and a mentor like you. You will always play a huge role in my life and in my career.
I feel out of words even trying to express how I feel about you. You have greatly influenced my life and my thought process. Everything I am today is because of you. I hope to see you more often and I pray for your good health and wellness.