Life of a soldier is never easy, much pride and prestige it brings, it also takes away a lot of things, including family security, time for loved ones and most importantly, the safety of one's life. Nevertheless, there are superhero souls in our country who do not fear anything or anyone in order to save our nation from the border enemies. They travel. To different nations and fight for us because they know their responsibility and their capability. A soldier's family is the one that is the strongest of all families.
It should be in our blood to never forget these people who put up a brave fight against terror and anguish. To always remind them that their sacrifice and devotion will ever go neglected is the duty of every citizen.
Here are a few messages and quotes we can send to them to remind them that there are nationals like us who feel proud and secure because of the military and the bravery they have in their blood for our nation and our people.
I feel so proud that I have got this opportunity to write this letter to my superhero, thank you for spending sleepless nights just for protecting millions of strangers like me. I pray for your family and for your safety.
Thank you for protecting me and my family. You have never cared to know who we are but you have protected us like a God, we will forever be grateful to you for being so selfless and brave.
No amount of words can express the amount of gratitude and compassion I have for the service you provide to me and our country. Thank you for being so fearless and courageous , thank you for protecting the lives of millions of strangers.
In support of all the military personnel and to their brave family, I would like to say thank you for being so courageous in moments of distress and anguish. Your lives matter to us, we pray for your good health and wellbeing.
I hope you reach great heights of excellence. I understand that your service requires a huge amount of dedication and bravery, and I will always be indebted to you for being so courageous and fearless for us and for our country.
Thank you for being the shield of our country, your service and duty is the highest praised and respected. I aspire to be like you someday. I feel indebted to you for your pluckiness and intrepidness.
Thank you for my dearest serviceman, you have always made me feel more and more proud of my country, your success stories give me immense pride and security.
I pray that every mission of yours becomes a massive success and that your family does extremely well. I will forever be indebted to you for all the strength and mettle you show towards nation's pride.
The military provided us, citizens, with security, safety and freedom. Each night we sleep with comfort knowing that you are standing here at the border, fighting off each of our breaths. You are the reason for our independence and for our freedom.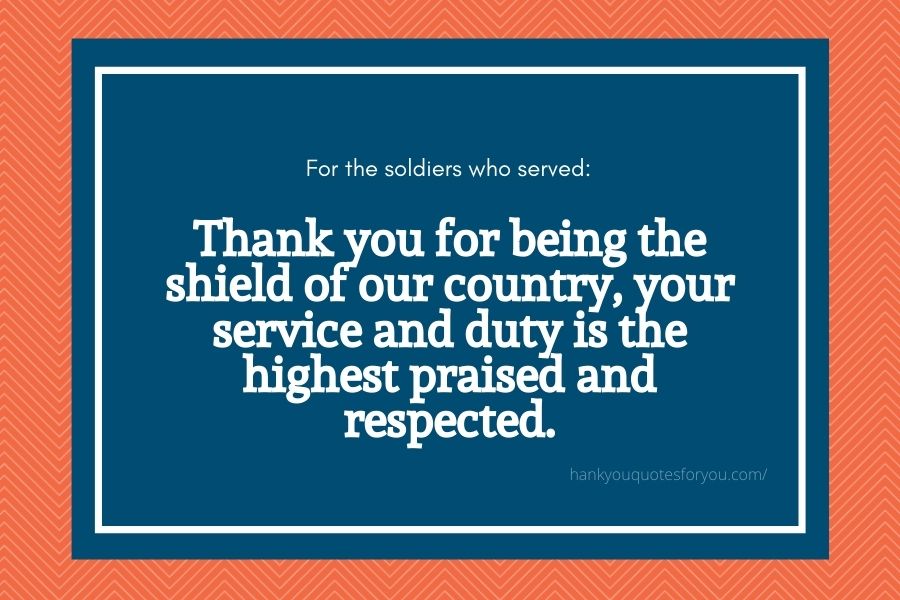 Thank you for being the bravest on the earth. This independence would have been only a dream if it were not for your bravery and courage. Thank you for building this nation into a stronger one.
The leadership, the teamwork and the bravery you hold for our nation are commendable. Thank you for staying strong for us and for bringing down the people who cause terror and anguish in our lovely country.
From the bottom of my heart, I pray for the week being of your family and your loved ones. The sacrifices you make are that of a superhuman. The patience you have and the courage your family members have is distinguishable and applauded.
Thank you for being the shield of our nation, because of you I sleep in peace every night. Each achievement of yours makes my heart feel prouder and my chest grows wider.
I now realise how important violence can be in some situations. My heart goes out to everyone in your family and to all your loved ones, may all their dreams come true and they live a long and happy life.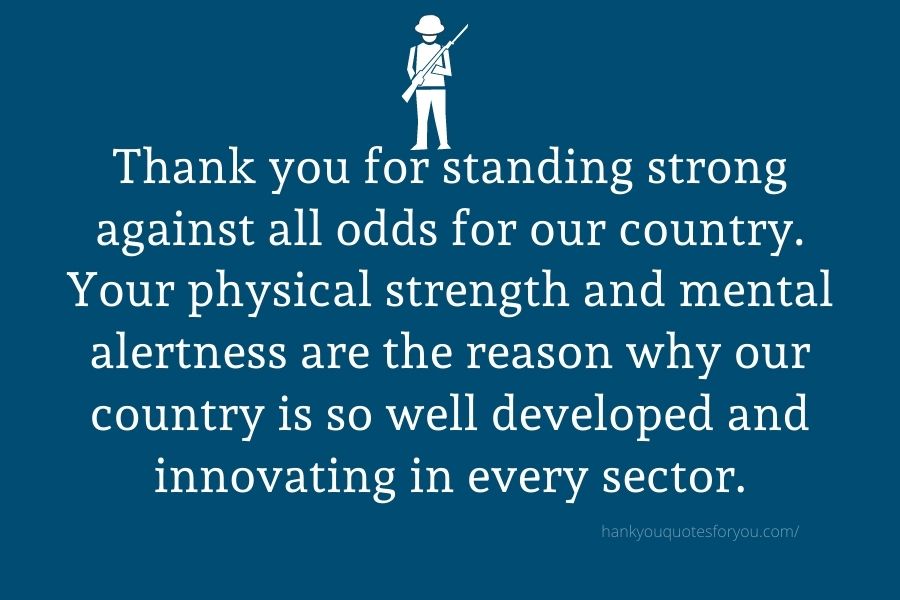 I admire you and the service you provide to me and my nationals. Thank you for being so selfless and brave to us. I would love to hear someday stories of your accomplishment and your bravery. It would be a privilege for me to know more about the heroes that stay awake and alert just so I may sleep in peace and comfort.
I fall short of words when I try to describe the hardship you must go through, all the pain and hard work it must require to be strong and alert in moments of anguish and attack. Thank you for investing your youth in protecting our nation and it's pride.
Your job is the most selfless and brave job of all. The hardship you go through, the pain of being away from your family and your loved ones must feel devastating, but yet to give a strong fight to the enemies and make our nation proud, I admire you in all way possible.
I hope you know that there are millions of nationals like me who support you in all the way possible. Every breath of yours is precious to us and we pray for your safety and security.
To my dearest serviceman, thank you for all the sleepless nights you give to our nation, all the brave fights you put against terrors and enmity. I pray for your safety and security because I care for your well-being just as much as you care for mine.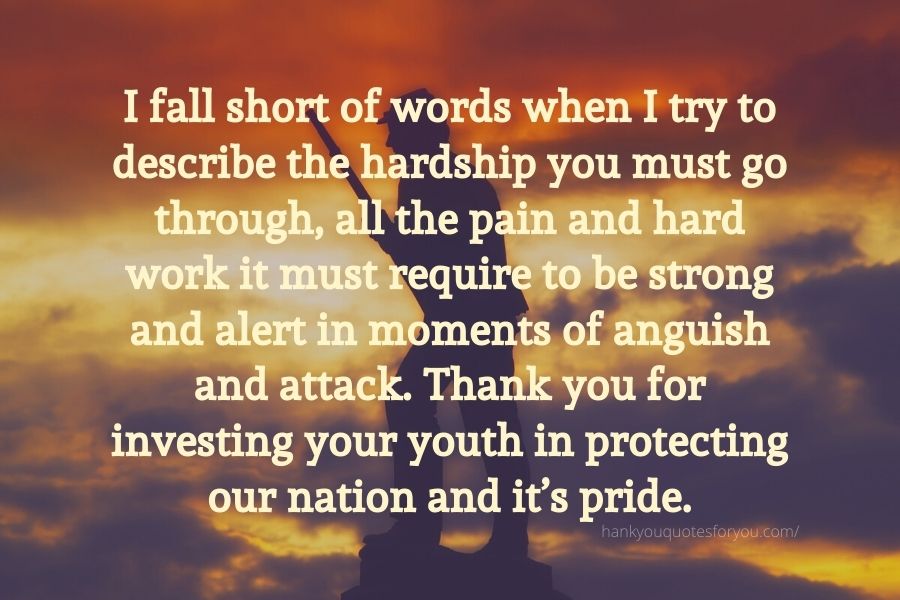 I would like to thank you for all your efforts and all your bravery that you put in to protect me and my brothers from terror and fear. We believe in you and we hope that you live a happy and distress free life.
Each year we celebrate your dedication and perseverance that you show towards our nation's security. Everything you do is worth standing applause and appreciation, my heart goes out to every family who has ever lost their loved ones on the scene of war or terror.
Thank you for standing strong against all odds for our country. Your physical strength and mental alertness are the reason why our country is so well developed and innovating in every sector. If it weren't for your sacrifices and bravery, we would still be living in the dark times of dismay.
For my country, I want you to live a very long and healthy life, your bravery and courage is the reason why I can live freely in my country. You have touched mine and my brothers live-in ways you are not even aware of.
I hope you get all the happiness you are looking for in your life. May your family stay happy and content. All the sacrifices you make for me and my family will never go in vain.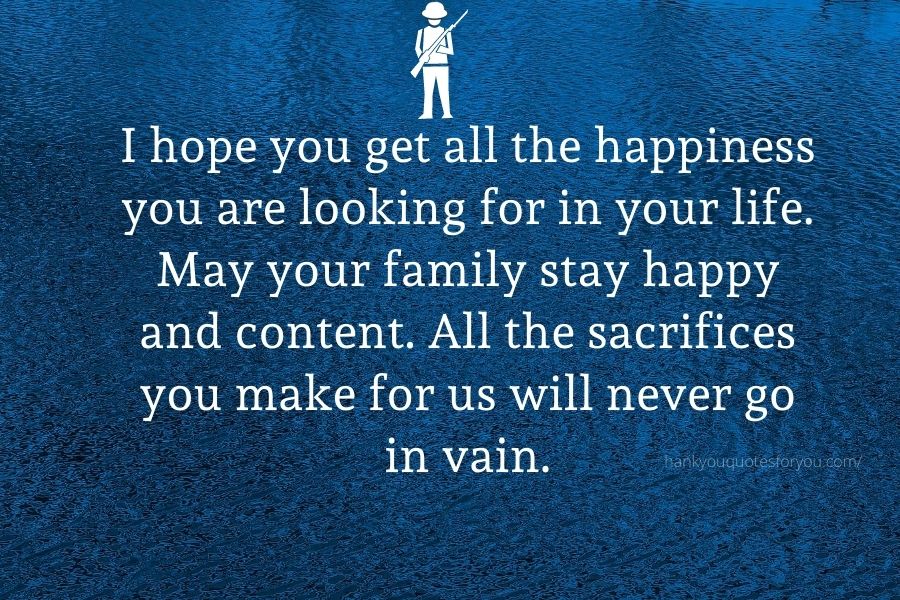 Thank you for investing the prime years of your life in protecting me and my loved ones from danger, I hope nothing but the best for you and your family. May lord provide you with all the happiness and strength there is.