The happiness of having a stepmother is delightful. Not all stories are like Cinderella. Stepmoms are precious. They leave no stone unturned to give us the happiness and joy of our lives. The joy of being loved by a woman just as much a biological mother can, is a blessing and a blissful feeling. Being a stepmom brings its own highs and lows, the dynamics of a functional family is very complex and managing everything can be difficult for a new family member, loving a family alongside loving your partner can be difficult at times.
Having a person who loves your father the way he deserves and always wants is a blessing for us. Stepmoms are not just a mother like a figure but also our friend, our guiding light and someone who understands us in moments we don't understand ourselves.
For celebrating the presence of such relationships and the people who make these relationships so beautiful, here are a few messages and quotes you can send them, so they always remember how precious they are to us!
Thank You Quotes And Messages For Stepmother
I would like to take this moment to acknowledge everything that you do and have very done for me and my happiness. Thank you stepmom for all the multicolour of joy you have brought into my life.
I can not imagine a life without you, you have always supported my dreams and vision. My father is a lucky man to have you by your side. It's a privilege for both of us to have a loving woman like you in our lives.
It never really matters to me that you are not my biological mother, the relationship we both share together is much more sacred and hallowed to me.
Thank you for everything you do for me and my father, you have loved us both equally and without any prejudice. Thank you for blessing both of our lives with your magnanimous presence.
You have bestowed love upon our entire family. You are too special to us and we never intend to let you go, no matter what comes in front of us. I hope you attain all the happiness and joy that you seek.
You have never ever made me feel like you are not my mother. If anything, you have always served me with tenderness and vulnerability. Thank you for understanding the dynamics of our family.
Thank you for all the countless adjustments and sacrifices you had to make to be a part of our family. We can never be grateful enough to you for bestowing our lives with so much care and tenderness.
I would like to take this moment to remind you that you are too special and important to me. Anything that affects you will affect me because I have found a mother in you which I never had.
All my prayers and wishes are for you, I want nothing but the best for you. You have made my father the happiest I have ever seen him.
You have made a bond with me which can never be broken, it keeps getting stronger every day, thank you for never treating me anything less than your own child. I guess relationships are made from love and care and not necessarily form genetics.
You are the most amazing and strongest woman I know, your smile is the prettiest of all and I really pray that your hard work really pays off for you, stepmom!
I know it must not be easy for you to parent children who weren't born in your womb, but let me tell you, you're doing a great job, we all love you immensely and we are very grateful to you.
I feel like the luckiest person in the whole wide world for having you as my mother. I think I don't need to add steps anymore because you truly are my mother, you have never made me feel bad about anything.
Thank you for always showing me the right direction. Your vision and compassion have really helped shape my disposition and personality. You have the most attractive temperament and the compassion you shower upon me and my family is beyond any compare.
You have always gone out of your way to keep us happy and content. I feel lucky to have a stepmother like you. You have never failed to understand the dynamics of our family and every sacrifice made by you for our comfort and happiness is not unnoticed.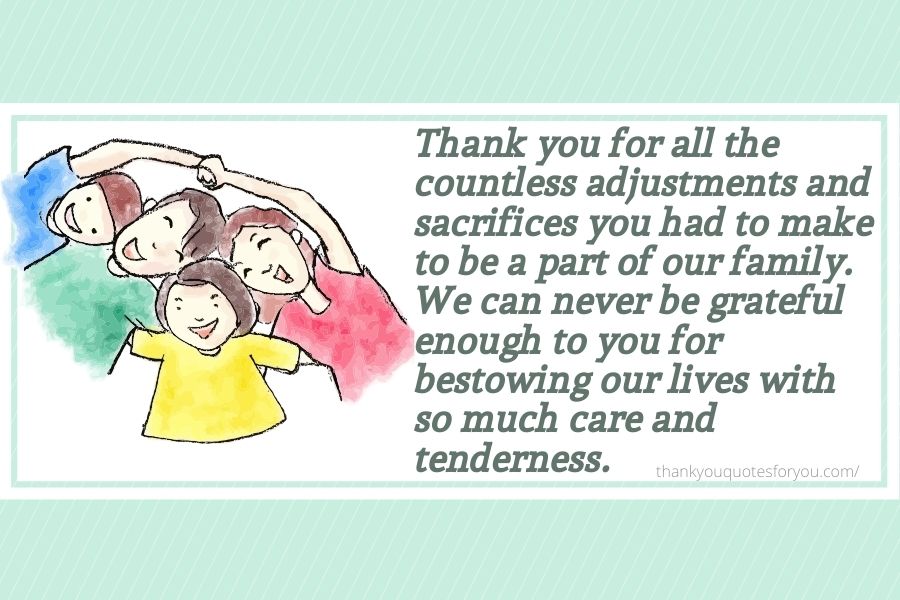 I really don't think blood relations play any worthwhile value if there is no love. The bond I share with you is sacred to me, and you are the most important person of my life.
I'm grateful for having a stepmother like you. You have never left my side, not even in the worst of days, thank you for all the love and support you shower upon me. 
Your unconditional love for me has never decreased by even an inch. You are the best stepmother I could have asked for, thank you for making my life so much better and beautiful.
Thank you for always guiding me, your advice and guidance has really helped me get through life and in doing better in my career. Thank you for listening to all my problems patiently and for giving me the best support you could.
You have given my dad the greatest joy he could ever ask for. I am so grateful to God for bringing you into our lives. You make everything so much more joyous and beautiful.
I am so grateful that you are in my life, you have helped my dad get through so much anguish and trouble. He is a changed man only because of your care and support. I really hope you both last for a lifetime.
Thank you for always having my father's back, he has never loved anyone so unconditionally. I am glad you are a part of our family now, as you make each one of us so much happier and better.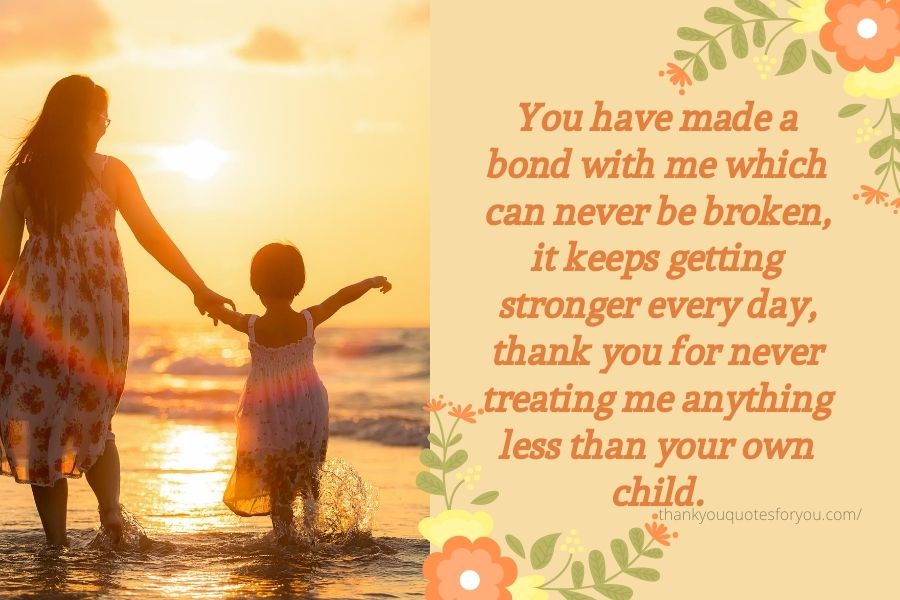 You are the most inspiring person I know, everything you have gone through is not easy, thank you for considering us as your own kid. It's the greatest gift you could have ever given us.
Whatever you have done for me and my entire family is plausible. We will forever be indebted to you, for we never expected to receive this amount of unconditional love from our stepmother.
Thank you for adjusting with me and my family, I understand that the dynamics can sometimes take a toll on you, but you have really proved all your responsibilities very gracefully.
I know I never give you enough credit for all the things you do for me and my dad, but today, I would really like to make this day special for you, because everything you do for us is godly and graceful.