Teachers are the biggest guiding lights of any one's life. When we are young, they are the first humans who see the potential in us and make us thrive to learn new things and ideas. They sit them by our sides until we understand every concept and every theory in detail. They show us the true meaning of learning and understanding. Being a teacher can be a very hard job in these times because the responsibility never ever goes off their shoulders and every day can be a battle to enhance the way of better learning for their students.
We all will always remember those teachers who have touched our minds and souls, they never leave our memory and we always respect them even if we are no more their students anymore. Let's be thankful to these teachers who put in their crucial time and effort in order to make our future bright and our personalities shine.
Here are a few creative and expressive messages and quotes you can say or write to your inspiring and motivating teachers and remind them how important their work is to you and how much they have shaped your personality and influenced your mind.
Thank You Messages And Quotes For Teachers
Thank you, sir, for always seeing the potential in me that I could never see, you are always my guiding light, not just in the academic and career line but also in my personal life. You have helped me get through a lot of things with your perspective and ideologies
Thank you, ma'am, for listening to me, I know you understand me very well and you are always just a call away to help me out with any question I get stuck at. Your teaching techniques and your passion for tutoring are unmatched to any one else's.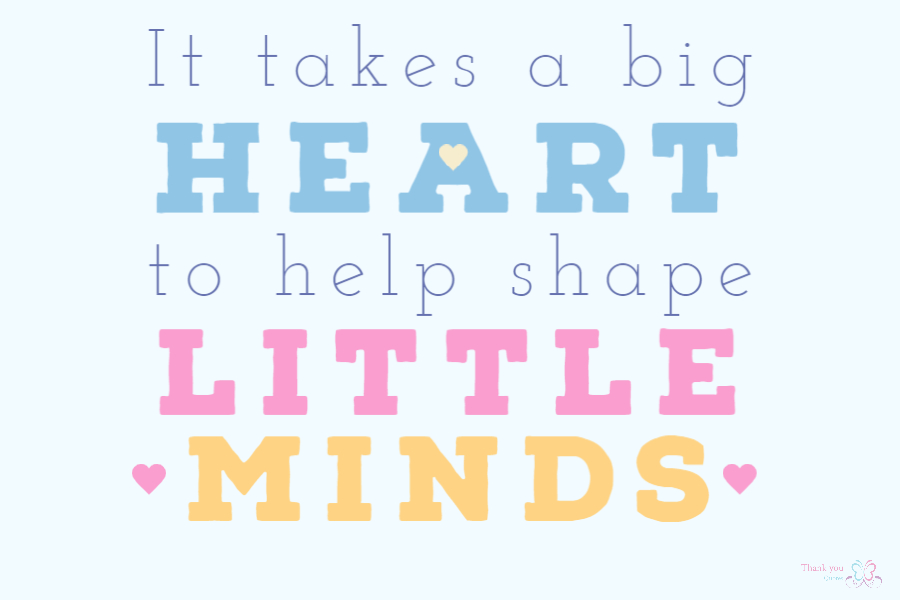 I feel highly indebted to you ma'am, because of your belief and constant guidance I was able to achieve my target grades, my scores in this year have improved drastically because of you!
Dear ma'am, I feel out of words to tell you that you are the best teacher I have ever got the privilege to be tutored. Your skill sets are the finest and you break every topic to its nano concepts, which makes learning easier and more fun.
Thank you, sir, for helping me learn things on my own, and for not spoon-feeding me as other teachers do. I feel baffled by your experience and your talents. Your virtues are far greater than any other faculty's I have known.
Thank you, ma'am, for being there to guide us all through the year. You have left an impression on each of our lives. We pray for your good health and success.
We feel indebted to you for all the compassion and understanding you have shown towards us while teaching. Thank you for guiding us and teaching us the importance of truthfulness and discipline.
We hope you find great success and happiness in your life. You have inspired us so much this year, your classes have been very motivating and fruitful for us. We bid adieu to you hoping to see you very soon.
I hope you find great success and achievements in your future ventures, we have had a beautiful experience learning from you. Your guidance and tutoring will always be missed by us.
I hope I get to learn from you again, your preachings and ideologies are embedded in my memory for a lifetime. You are the most intellectual person I have ever met.
It's rightly said that a student is as good as his teacher. I feel blessed by God that I got to be your student. Being your disciple has always been an honour for me.
The leadership you have shown in teaching us team spirit and hard work is worth an applause. As a student, I know it can be hard sometimes to control us, but you have never failed to make us understand our true potential, thank you for all your kindness and guidance.
To begin with, I never even imagined that someday I would have to bid adieu to you. You have been a blessing to me, learning from you has been my privilege. I would do anything to turn back time and be your student again.
Thank you, sir, for helping me rise above my threshold. Your belief and faith in me have helped me to get better every day and get back up at studying.
You have had our back in the last few months, learning from anyone but you won't come easy to us! Your skillset and your understanding of the subjects is applaudable, we wish the best for your future and hope to see you soon!
Emotional Thank You Quotes And Messages For Teachers From Students
Thank you for teaching me how to believe in myself, without you and your faith in me, I wouldn't have been able to do so much better than I did in my finals.
Thank you, sir, for all the last-minute suggestions and tips, your year-long investment of time and effort in me has finally paid off well. My grades for this year have drastically improved, all this would have been impossible without your guidance and support.
Thank you for seeing the potential in me to improve and be better than what I think of myself. Your counselling and teachings have really helped me get through a lot of hard days.
Thank you, sir, you will be remembered by our entire batch, your methodologies teaching skills are exceptional and mesmerising, thank you for paying equal attention to our entire batch.
This year has been a blessing for me, as I got to learn so much form you! You have been an exceptional preacher to me. Your skillset and tutoring skills are beyond comparison to anyone else.
Thank you for perfecting me in my weak subjects, I never thought the subject I have been running away from all these years will now become my favourite subject. Your teaching skills have worked wonders for me.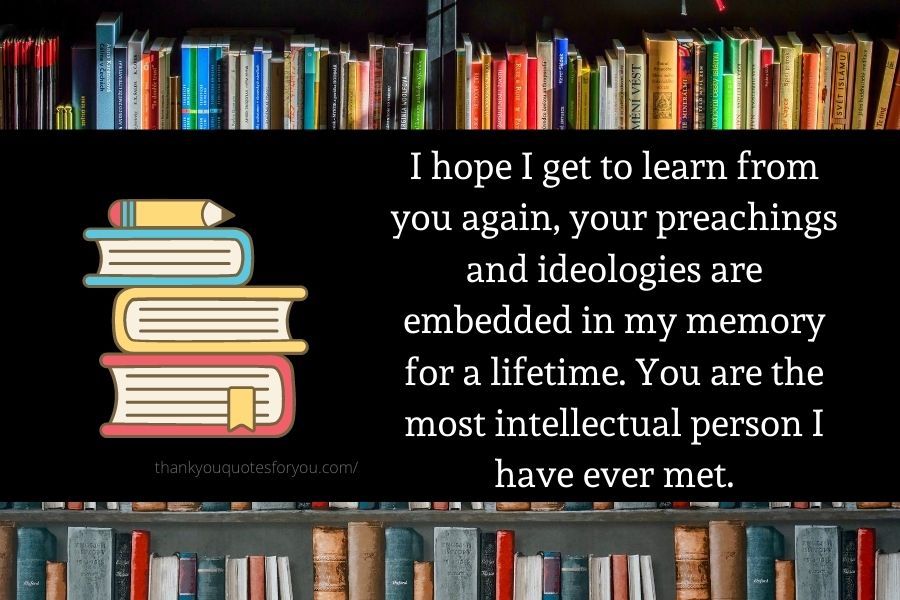 A teacher is someone who builds the future of young minds. You have shaped each and every one of our mind and ideologies. We will always remember you for the guidance and wisdom you have given us.
Thank you ma'am for teaching us the lesson of discipline and hard work. We have learnt so many lessons from you, you have inspired us through thick and thin this year.
I hope you teach us in our next year too, your teaching skills and tutoring methodology have really proved to be beneficial for me. I hope to see you soon and I pray for your good health and wellness.
I always thought I was a lost cause until I met you. You have shown what learning really is, thank you for guiding me through all this time and for believing in my dreams and ambitions.
Your supervision has really helped me get back on track in my academic career. You have helped me through a lot of subjects and never failed in making me believe that nothing is unachievable.
We hope to see you soon ma'am, it almost feels like a nightmare that we have to bid adieu to you, your teaching skills have really helped us with this tough year.
I pray for you and your family! A soul like you deserves all the happiness in the world. Every one of us would agree when I say that you are the best teacher that we ever had and you will always be the best for us!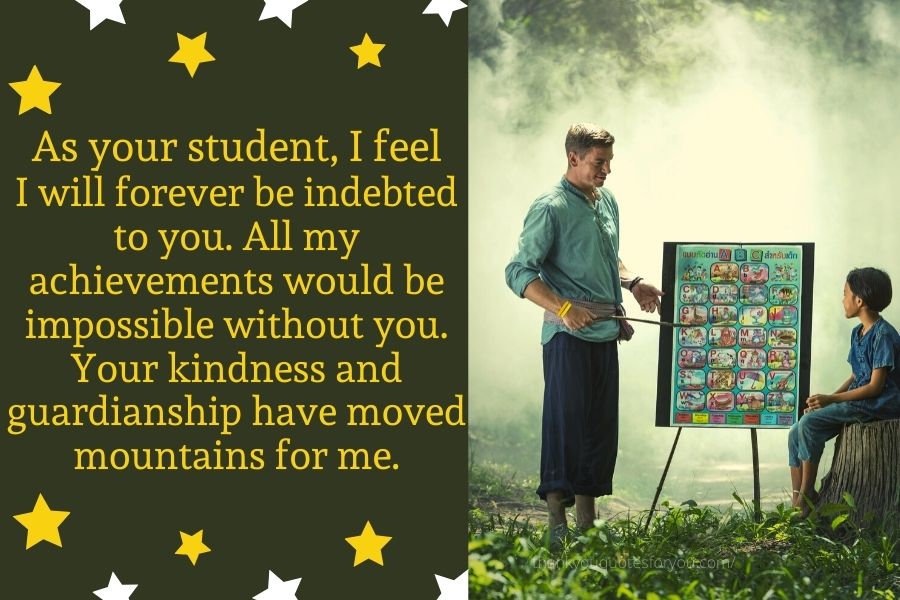 As your student, I feel I will forever be indebted to you. All my achievements would be impossible without you. Your kindness and guardianship have moved mountains for me.
I really wish we had more classes with you, there are so many things I wish I had learnt from you. You have really left an impression on me about how a good teacher looks like. Your efforts to make us understand and conceptualise topics is mesmerising and worth appreciating.