The fact that our better half is right there beside us, ready to support us and care for us in the toughest of times is the greatest feeling of security and love. A wife is someone who holds the whole family together, through thick and thin, in rainstorms and rainbows, she is always there beside us and we could not have asked for more from them.
With time, relationships only grow deeper and better, being thankful to your better half for being there for you is the best feeling we can give to them.
Here are a few options for messages and quotes you can share with your loving one.
Thank You Quotes And Messages For Wife
Thank you for all that you do for me, you're the most beautiful women in my life and I can not imagine my life without you, for even a single day.
Thank you, my beloved, for all the love you have showered upon me. I always fail to recognise the good in everything, but with your perspective, I feel like a changed man.
A few years ago, I asked for a lovely ladies hand, and today I would like to take this moment to be grateful to her for all the love she has shown me, for all the multicolour of happiness she has poured into my life.
My life will be incomplete without you. Your happiness and compassion have never failed to baffle me. I hope you a lifetime of happiness and I hope we keep on being there for each other like we are now.
Every time I look at you, time stops and everything in the world fades. You have always been the woman of my life. Your eyes hold the deepest of mystery and your smile is the most beautiful of all.
Thank you, honey, for all that you have gone through with me, I couldn't have asked for more! Your companionship has got me through the toughest times of my life. I feel greatly privileged to be your husband.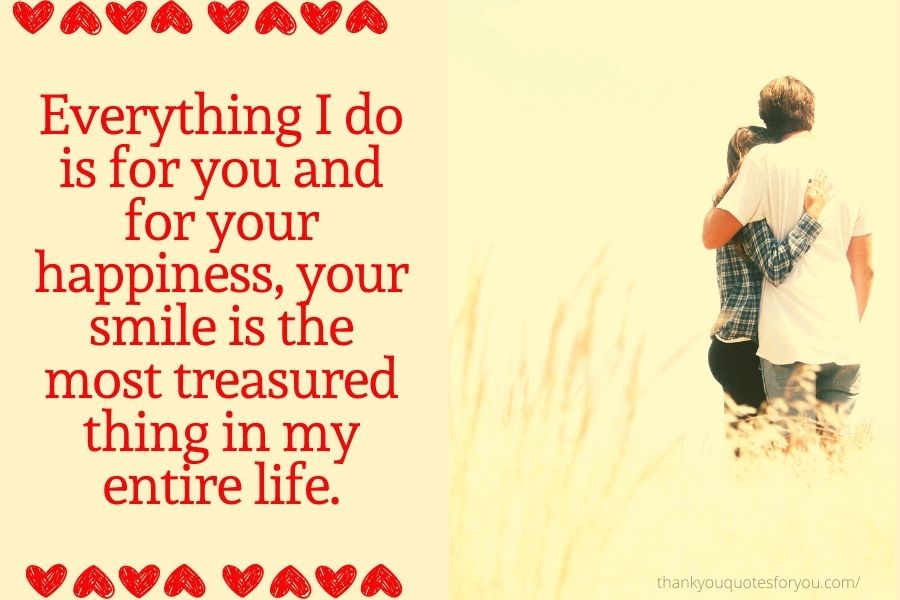 Dearest beloved, I intend on giving you the greatest happiness of the interesting world. Being your husband is the greatest happiness of my life. I love taking care of you and being there with you each day.
It's the greatest privilege of my life to be your husband, you have given me the greatest happiness of my life. Each day I get to spend with you is bliss. I hope to keep loving you this way,
Each day I feel like I'm still learning more and more about you. Your happiness matters the most to me, I can move mountains and burn bridges for you.
Seeing you smile is my favourite part-time job, all your freckles and dimples just add more to your beauty. You sweetheart never grails to baffle me, the love and compassion you hold for everyone are distinguishable.
I love you from the deepest corner of my heart. All that you do for me and my family is worth an applause. I'm grateful to God that I found you in this lifetime.
Everything I do is for you and for your happiness, your smile is the most treasured thing in my entire life. Our lives are twined together, and no matter what happens or what comes for us, I am never leaving your side.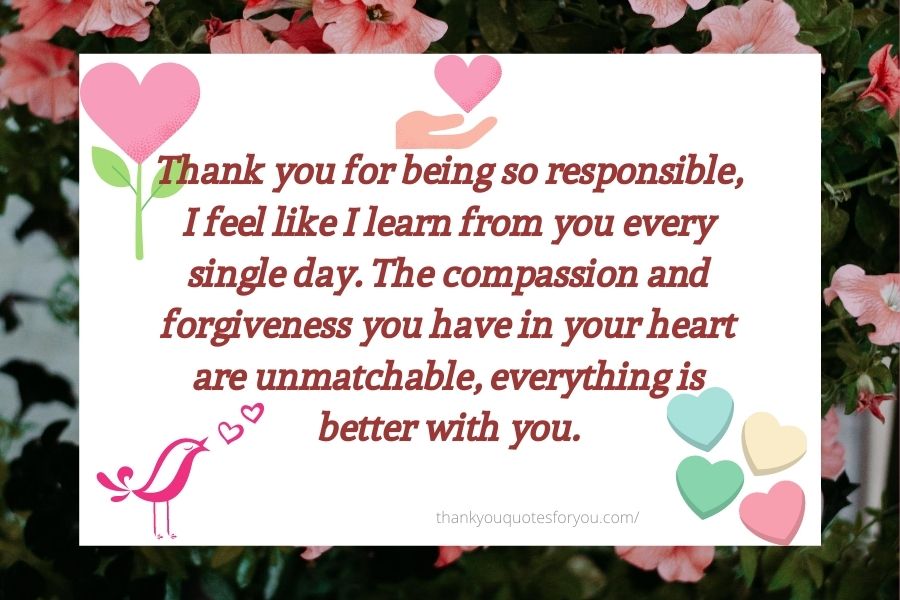 You have seen me in my darkest days, and I can not thank you enough for being there by my side. All my life I thought nothing could change me, but you came and turned the whole picture around. You have given me a completely different perspective on living.
Just so you know, the way I feel about you only gets stronger with every day. I am enchanted just by your presence, every word you ever say is a holy script for me. My beloved, I pray for all the happiness and success you wish for.
Time travels so fast, it's been so many years and I didn't even realise it that they have passed, being with you has made my life so much easier, thank you for being so kind to me at times and for bearing the pain of living with me.
I want to bring the stars to you and give you all the happiness you wish for. My whole life is complete only if you are thereby me. I was a wreck before I met you but you have held on to me as nobody else would.
Thank you for being so responsible, I feel like I learn from you every single day. The compassion and forgiveness you have in your heart are unmatchable, everything is better with you.
I intend on giving you all the happiness that you ever seek for, whatever you do for me and my family deserve a lot more appreciation and attention than we can ever give to you. Thank you for being by me through all these years.
I hope I have been a good husband to you for all these years. You have made me the happiest man in the world. Your face outshines all the problems and troubles of my life.
I look forward to spending a lifetime with you. Every day with you is so special and loving, I hope to give you all the happiness of life. You have made my family so peaceful and happy.
This love we share is too sacred for me. To my beloved wife, you have made my life so special and meaningful. Thank you for building a home with me.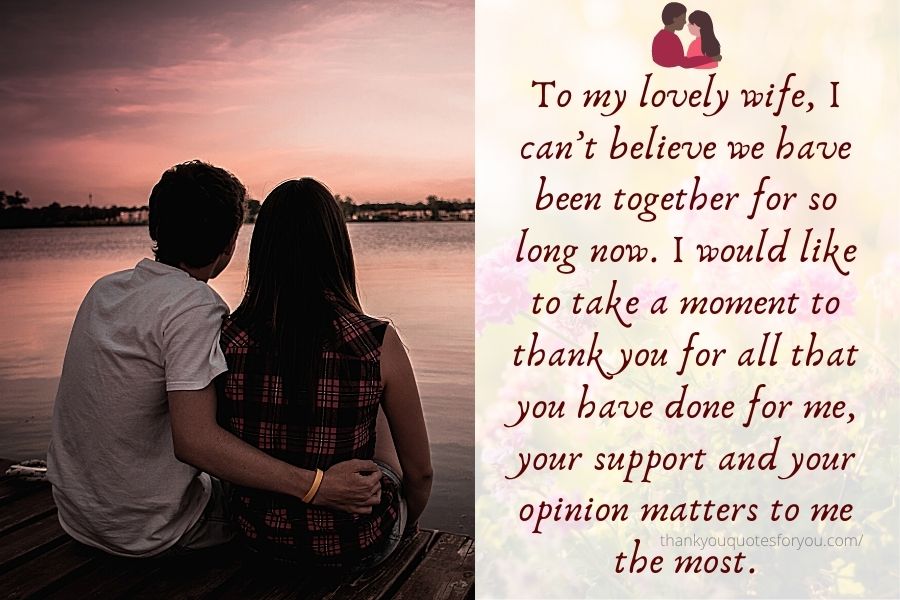 Our marriage is the biggest asset of my life. Every moment with you feels like a lifetime. I look forward to all the countless memories we are gonna make in this journey of togetherness and companionship.
All that you have done for my family, no one would have been this compassionate and loving!  Thank you for all the support you show and for being so forgiving towards me.
To my dearest wife, I love you the most. Marrying the love of my life has been the best decision of my life. You have been nothing but caring and compassionate to me and my family.
To my lovely wife, I can't believe we have been together for so long now. I would like to take a moment to thank you for all that you have done for me, your support and your opinion matters to me the most.
Thank you for always being so understanding towards me. Even a letter would not be enough for me to sum up everything that you do for me. I love you, my beloved.