Finding a person who truly loves you and who manages to stick around you, even on days when you are not yourself, is truly a blessing. A girlfriend is someone who loves you unconditionally and truly. They make our life better and more meaningful. A healthy romantic relationship only adds more and more strength to each of the partners.
Finding someone who can take your mess and make them their own is hard to find. It's rightly said that love comes easy but it is very hard to keep. Maintaining a healthy relationship, taking out the time to show each other the affection and love we have for each other is certainly the most crucial and necessary part of a relationship. To celebrate the other person's smallest successes and wins should be a priority, and letting them know that we are never gonna slip away, and every test of time can be passed with togetherness and love.
Here are a few thoughtful messages and wishes you can send to your girlfriend to remind her how special and important they are to you.
Thank You Messages For Girlfriend
Thank you for being in my life, my dearest girlfriend! Your existence has really brought multicolour of joy in my life. Thank you for always being by my side, you have really made me happier than I ever thought I could be.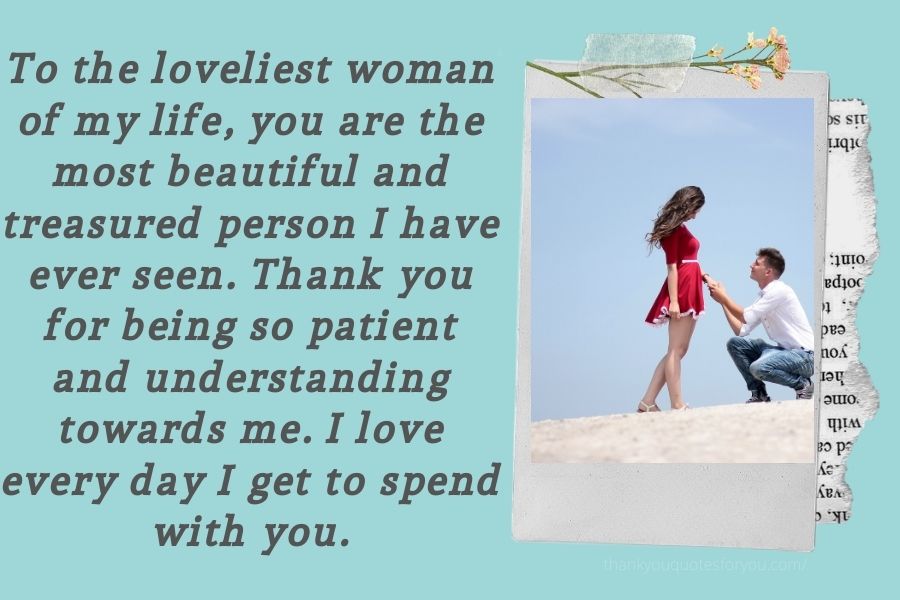 To the loveliest woman of my life, you are the most beautiful and treasured person I have ever seen. Thank you for being so patient and understanding towards me. I love every day I get to spend with you.
Each day with you feels like a new venture and I can't wait to embark on this beautiful adventure with you. My life feels so beautiful from the moment you stepped in it.
You have appreciated each and every attempt of mine to make you happier and content. I feel so blessed and grateful to have you in my life. Thank you for showering my whole life with love and affection.
Everything you do for me, even the little fights and quarrels we have from day to day, they all feel like affection to me. Staying away from you is something I can even imagine about. Please always stay beside me.
I never thought I would find a woman who could love me this much, you have made me believe in myself. I can now see myself the way you see me, and I feel nothing but liberated, knowing that you are always there to have my back.
Even the thought of not spending a day with you feels miserable and torturous to me. Please don't ever leave my side, bae! I really love watching you grow every day, you are the woman of my dreams and I feel nothing but blessed that I finally found the love of my life!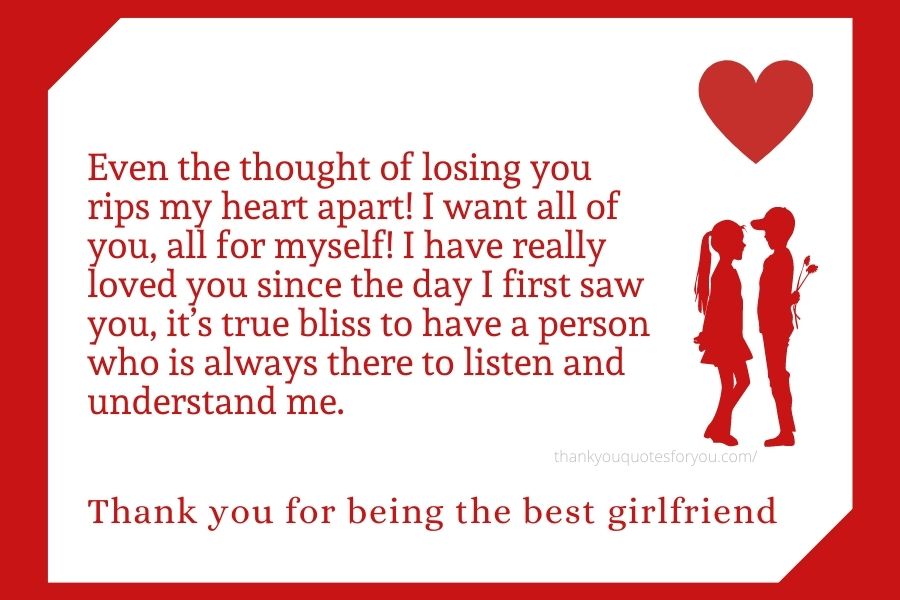 I think I can very confidently say that I love you and you are the most important person in my life. I feel nothing but proud of all the successes and experiences you have. Your hard work really reflects in your personality, bae! I pray for a lifetime of success for you.
I wish I knew you before, I wasted so much time on people who didn't celebrate my presence as much as you do! Thank you for everything you do for me, you have been very patient and thoughtful in all the phases of our relationship. You are the best girlfriend anyone can ask for.
Even the thought of losing you rips my heart apart! I want all of you, all for myself! I have really loved you since the day I first saw you, it's true bliss to have a person who is always there to listen and understand me.
Dating you was the best decision of my life. I never thought I would find a best friend, the best guiding light in the love of my life. You really drive me crazy with your charm and attractiveness. It's alluring to watch you get better and grow in your life and career.
Y dearest baby, you are the greatest creation of god! I feel so blessed that the Lord gave you in my life. I could not imagine a life without you, you are my knight in shining armour.
Dear love, I plan on giving you all the happiness and love you look for in this life. I truly admire your soul and your good heart. I wish I could be more like you because you truly are greatness. I never thought I would meet the love of my life at this strange time of my life.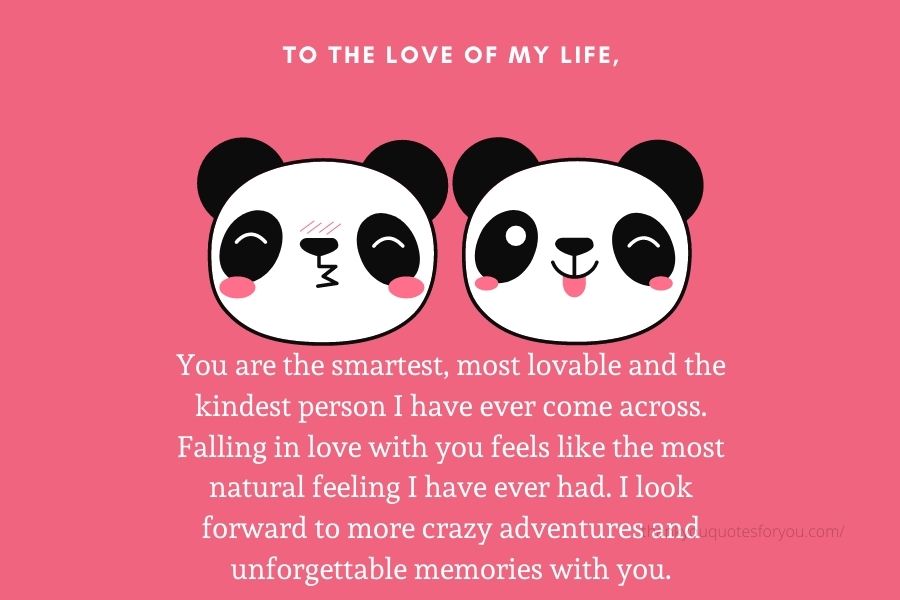 Bae, you are truly a reflection of myself. Everything you do truly makes me feel like you are a clone of mine! It's such a great feeling to finally have a person who truly understands me. You are my soulmate and I do not intent on losing the love of my life for any reason at all.
Your words are music to my ears. Everything you say is spoken to me feels like poetry to me. I love being around you, each day I am learning something new about you and it's a beautiful experience to grow older with you.
You are the smartest, most lovable and the kindest person I have ever come across. Falling in love with you feels like the most natural feeling I have ever had. Every day with you is truly a bliss. I look forward to more crazy adventures and unforgettable memories with you.
Loving you has made me the strongest man in this world. I feel like I can do anything for you. You are the most precious person in my life. Finding you is like finding a treasure and never intend on losing you.
You are truly perfect. Everything you do reflects nothing but greatness. I never knew a person who knew how to care for and love people as perfectly as you do. You truly make me the happiest man in this world.
I learn from you every single day. The compassion and gratitude you hold in your heart are truly hard to find in this paced world. I truly don't know if I deserve perfection like you in my life, but it is my responsibility to give you all kinds of happiness you look for in this world.
It's truly said that love doesn't come easy to people. Finding you in this world full of fools gold, I feel like I have found the real treasure. You make me really happy, your attention is all that I crave for.
You make me a better person. You make everything so much easier for me, your love and affection is all that I ever need to be happy and contentful in my life. Thank you for doing everything that you do for me, I feel truly blessed by God to find a perfection like you.
To all the beautiful memories we have made together and the once we are yet to make, I can not wait to spend the rest of my life with you, you are the most perfect girl for me. I feel inspired just by even looking at you.
You make me a better and worthwhile person. Everything you have done for me, from dealing with my tantrums to being there for me when I need you, you have never failed me as a girlfriend or as my best friend. I can always confide in you all my deepest fears and worries and this feels truly like a blessing.
I am so much in love with you, I could never imagine myself falling for someone this hard! You are all that I think about. I want to spend each day of my life with you, you are the reason why I want to be the best at everything.
You are the love of my life, bae! I have just found you, I do not intend on losing any day! I want all of you for the rest of my life. No matter what happens I will never leave your side. I will always be there to keep you happy and safe from all the bad and evil in the world.
I never knew I would find the love of my life in the form of my best friend. Thank you for all the support and guidance you have shown me in the past years. I really can never imagine even a single day of my life without you.
Thank you for always being there for me, you are the only person I can turn to in dismay and agony. You have truly built high standards for me, I was always settling for lesser and undeserving people. Now that I have found you, I know now what I truly deserve.
Thank you for being the supernova of my life. You have made me forget about all my fear and anguish, thank you so much for being the person whom I love the most in the world. I don't know how God can be so grateful and blessing towards me to send me to your life.