Guest speakers are usually the final piece of the puzzle in making various programs a success. These programs may include topics like professional development, religion, weddings, academia, or any other field.
Four Tips to Write the Perfect Thank You Message for Your Guest Speaker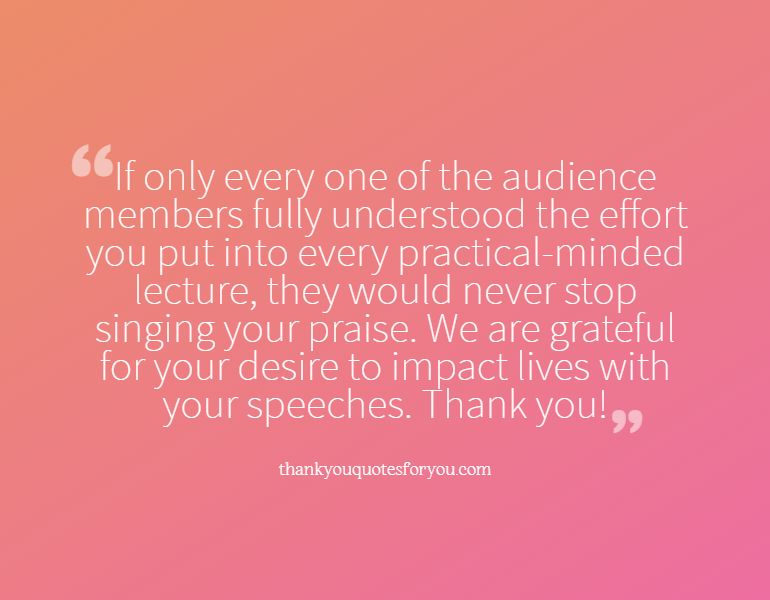 Considering the impressive roles guest speakers play in the success of these programs, don't just thank them for their time and efforts in delivering an excellent presentation, but let them know how much their information meant to you. Find the four tips below for crafting the perfect thank you note.
1) Greet them with a warm introduction. Make sure to include the date and time of the event in the note.
2) Thank them for coming and sharing their expertise with your audience.
3) Mention one thing they said during their presentation that really touched or inspired you. Be specific!
4) Send a reminder of what they should expect at your next event, like knowing who will be there or if lunch will be served (even if it was previously discussed).
If you need to send well-thought-of appreciative messages to your guest speaker, here are some interesting options to get you started right below:
Some Valuable Thank You Notes for Guest Speakers
Your lectures are just awesome. They're thought-provoking & well delivered, so thank you for being so generous with your time.
Speaking is an art and requires that the artist is good at what they do. Well, you are one of the best at what you do, and we appreciate you for all you do to make it this way. Gracias!
If only every one of the audience members fully understood the effort you put into every practical-minded lecture, they would never stop singing your praise. We are grateful for your desire to impact lives with your speeches. Thank you!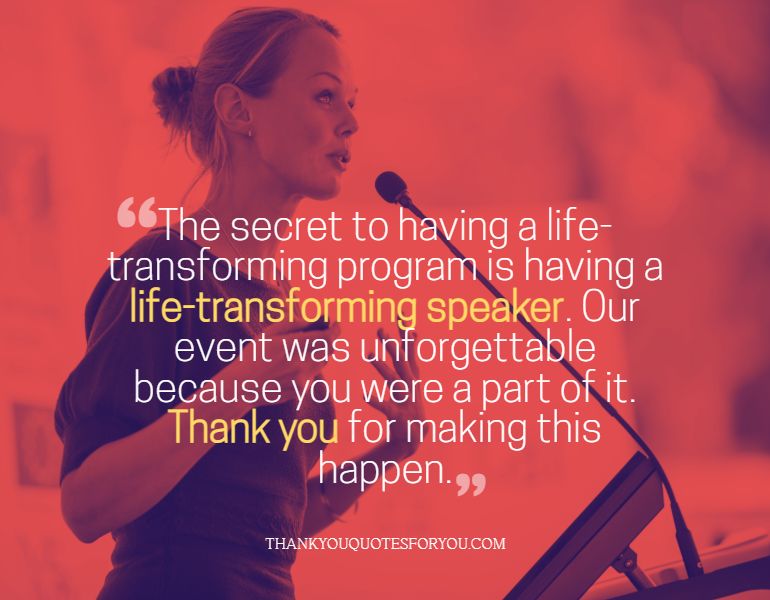 We should thank our lucky stars we have people like you to help make this field comprehensible and easy to understand. Not everyone has acquired such elegance and insightfulness in their presentations; we should all be grateful we have great speakers like you at the forefront of today's technology. Thank you (name of recipient).
This is not the first time and probably not the last we will be having speakers on our platform, but you are remarkable by every reasonable standard, and you get a big thumbs up from our team.
You have been a great part of this program and we are so happy to have you here. Thanks for being such a great speaker and for always putting your entire self into all that you do.
You did a great job speaking at this event and we're so grateful that you gave it your all. You've proven to be a reliable speaker who knows how to captivate a crowd with their expertise. We hope you will consider our events again in the future!
The best thing is you always keep improving. You were amazing last time, but somehow you managed to outdo even that with your recent presentation. Thank you so much for your dedication!
We were honored to have you as a speaker, but no money can really compensate for the value of your time. So it is only right that we all say thanks for your valuable contributions.
Your resume was impressive and a big part of why you were chosen to speak at our event. But we'll be honest, it doesn't really tell us much about your abilities. But you did a great job and know how to captivate an audience. Your professionalism and knowledge has been an invaluable source of inspiration for our listeners!
We rarely get feedback from our audience or see that they're appreciative about past events. This time was different, we know that stems from the amount of effort you put into the program and we want to show our gratitude for your commitment to this team.
Thank you for being so kind. I really do believe that there are other speakers out there who are both eloquent and empowering, but they lack the humility and generosity while sharing their knowledge, so thank you for being you!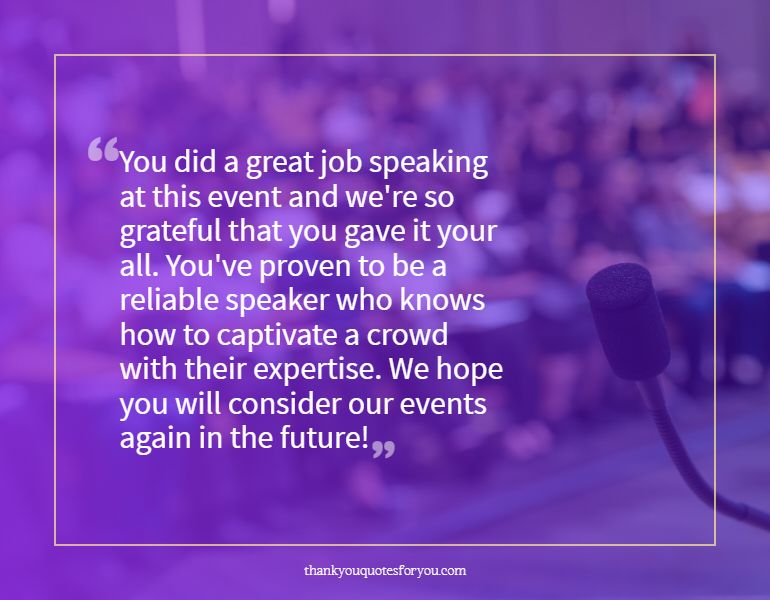 You're a fantastic speaker and an incredible person as well. This is the secret of yours, being exceptional and one of a kind. Thanks for all that you do to make lives better.
The secret to having a life-transforming program is having a life-transforming speaker. Our event was unforgettable because you were a part of it. Thank you for making this happen.
Here is a little secret some people do not know. There were times we ended up with the wrong speaker, and a lot went down the drain. This did not happen this time, and it is all thanks to you. Thanks for your profound effort.
You have a way of driving your audience to take the right step even long after you are off the podium. We do not know how you manage to do this, but it is impressive, and thank you for that.
Thank you for investing so much of your time and energy in impactful content. Your commitment to the community is very evident and it really is an honor to see you motivating others. We are honored you joined us on this journey.
We do not say this just to every speaker we invite, but you deserve to hear it from us. (name of recipient), we could not have asked for a better speaker at our program. And so, thanks for honoring the invite and giving your very best.
The best way to show appreciation for your speaker is to offer feedback. Try to find the best quote they said in their presentation and share it with them on social media or in person. You can also ask questions about something they mentioned in their talk.