Employees are not just a number. They are the backbone of the company. A thank you note with a genuine appreciation for their hard work can go a long way in making them feel valued and motivate them to keep up their excellent work.
A thank you letter is a great tool for showing appreciation for an employee or colleague's hard work, especially when they have gone above and beyond to help the company succeed. Employees want to know that they are appreciated. Providing them with this feeling will ensure that they will keep working hard for your organization.
Thank You Message Samples for Hard Work
You're on the right track, and you've already made progress. Keep up the good work, and I'm confident this will be just the first of many achievements to come.
Most people see your astonishing accomplishments, but I am one of the fortunate ones who knows what goes into it. This is why I also know that you deserve a lot more, and so you have my sincerest congratulations.
I am thrilled by the way you have picked yourself back up despite the many setbacks. Most of them were big enough to put an end to this dream, but you always rose to the occasion. Well done (name of recipient).
Well done on achieving your goal! You've worked hard for this, so take pride in all your accomplishments.
You are unique and incredible! You have professionally accomplished so much projects and deserve to be congratulated for all your hard work. I'm proud of you and inspired by your dedication.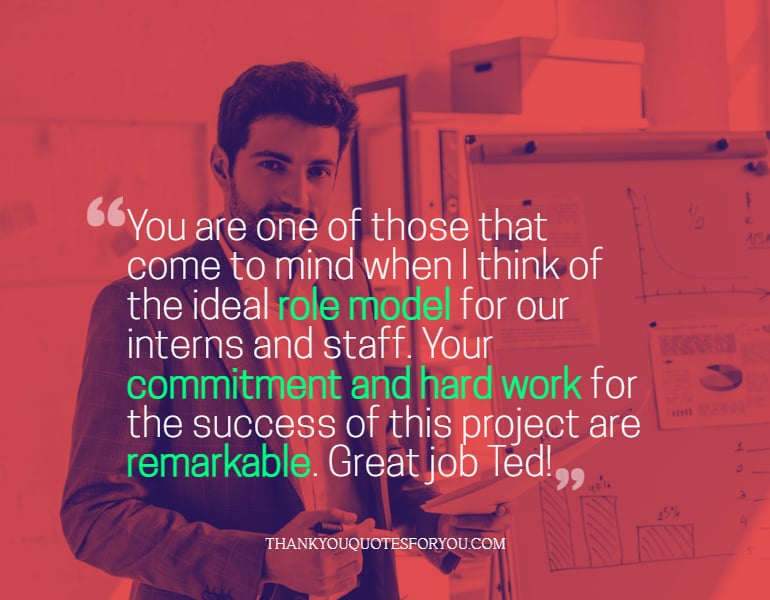 It is common practice to celebrate people that achieve such feats. But more than this, I congratulate your accomplishments because I know how much you have given to this. Well done, keep up the excellent work!
Your efforts are the driving force of this organization. We are grateful for all you have done and look forward to seeing your continued success.
I am well aware of your dedication to this course. Your level of commitment is inspiring and has helped shape what we have accomplished so far. Thank you for all your hard work!
Let me tell you a little secret, not many people know. You have come far in life because of the hard work and dedication you put into your work. I commend you for all your hard work. May it continue to yield success.
Your sacrifices, passion, commitment, and most of all, your outstanding level of hard work are what we celebrate you for on this occasion. We trust that we will continue to see you accomplish remarkable feats. Great job (name of recipient)!
So happy about your achievement! And not just because others here at work all feel the same way. It's because you're such an independent and hard-working spirit. You are inspiring and we know that things will only get better for you too! 
It appears as though you were fortunate enough to have a little bit of success, but I'm here to tell you it's mostly because of your hard work and determination. You deserve the accolades for all the work you have done thus far.
Many started brilliantly just as you did but lost their heads when the path became tougher. You have remained principled, and this is why you have accomplished these extraordinary feats—great job (name of recipient).
Great job (name of recipient)! You had this long coming considering all the great effort you put into this.
We see all you do to make this dream a reality, and even though we have not said it enough, we appreciate your commitment to this course. Thank you for all you do!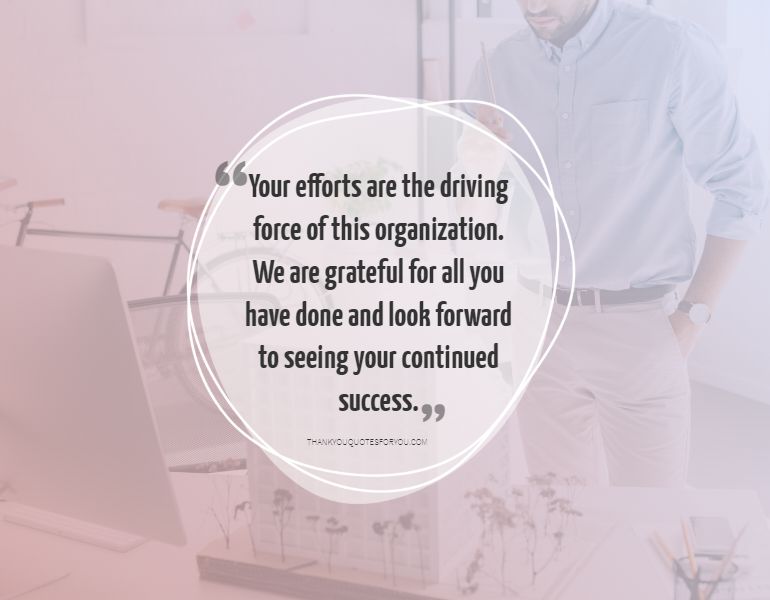 You did everything needed to take this project to the next level and even more. It's amazing how consistently you have done this. Well done (employee's name), keep up the excellent work.
The team will always be indebted to you for playing a huge part in this. You have gone out of your way several times to make this happen, and this has not gone unnoticed. We appreciate and celebrate you.
There is no doubt that you are a pacesetter in this team. This is mostly down to your remarkable efforts, always going the extra mile. A big thumbs-up from us all for your sacrifices, commitment, and everything you do for the team's success.
You are one of those that come to mind when I think of the ideal role model for our interns and staff. Your commitment and hard work for the success of this project are remarkable. Great job (name of recipient)!
Here you have it, loads of well-crafted thank you notes for hard workers. Feel free to use what you consider the most appropriate.