Teachers are like second parents to children. A kindergarten teacher may be defined in the following way:
K – kind
I – Innovative
N – Noble
D – Disciplined
E – Extremely Patient
R – Rewarding Children with Good values
G – Good
A – Admirable
R – Reasonable
T – Teaching Rhymes
E- Enthusiastic
N – Never say die attitude.
Kids learn so much from their kindergarten teachers. These teachers do a commendable job in handling little kids. Only parents can understand the pain of teachers. A little thank you note you can go a long way in boosting the morale of a teacher.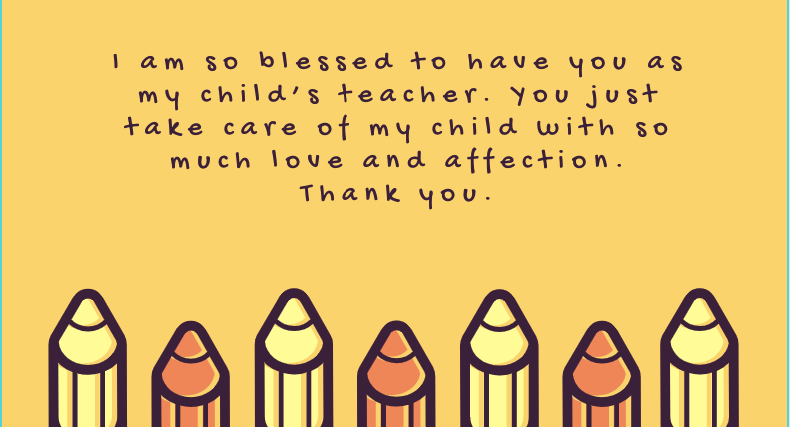 Thank you messages For kindergarten Teachers
I am so blessed to have you as my child's teacher. You just take care of my child with so much love and affection. Thank you.
My child has started taking an interest in his studies, thanks to your innovative method of teaching.
You are doing an incredible job in handling these children so well. I appreciate your efforts and hard work in bringing the best out of these children. Thank you teacher.
Thank you for taking care of my children, better than me. I am grateful and thankful to you.
You have instilled a sense of passion in my child for her studies at such a young age. Thanks for preparing my child for a bright future.
Thank you, teacher, for your immense patience in taking care of my naughty child. Only you could make him learn with so much sincerity and passion.
Your dedication towards teaching young children is incredible. As a mother, I can understand how difficult it is to tackle young children. Thanks and I highly appreciate your efforts.
I want to convey my special thanks to you dear, teacher. It is only because of you that my child is taking a keen interest in his studies. He used to hate studies earlier but after you taught him in a funny and lively way, he regularly studies and does his homework.
I can't believe!!! My child wants to go to school now. He has changed from a shy child to an enthusiastic and energetic child. Thank you teacher for the good values that you instilled in him. We are grateful to you.
Thanks for teaching my child, all the beautiful rhymes and quotes. He has become fluent in English and speaks with confidence wherever he goes. You have taught him with patience and dedication. we are blessed to have a good teacher like you.
Your kindness and dedication in teaching young children is incredible. Your never say die attitude is a boon for kids. It is really difficult to find a good teacher like you. I highly appreciate your efforts. Thanks for everything.
Dear teacher, please keep up the good work of teaching children in an innovative manner and preparing them like a genius for their higher studies. I am very happy and thankful to you.
You are an excellent teacher. You have set an example for other teachers as how to conduct yourself in front of kids. You always stay away from physical violence and at the same time make the children understand your subject so well. Thanks!! And best wishes to you.
You take so much pain and go out of your way to teach kids. Every kindergarten should have a thoughtful and kind teacher like you. Thanks for your efforts.
I thank God every day for blessing my child with such a talented teacher. The paintings, that he is doing are remarkable. It gives me immense joy as a mother to see my child happy and successful. Thank you, teacher, for instilling positive values in him.
Dear teacher, you have been a great pillar of strength during my child's crucial and initial years. He is successful today, only because of your guidance. I will be forever grateful to you.
You are not only a teacher to my child, but also a friend, mentor, and guide to my kids. My kids get up early and get ready for their school. I have never seen such enthusiasm in them. Thank you, teacher, for making them so positive about their school.
Thanks, to you that my kids are not only taking an interest in their studies but also in their extracurricular activities. Your playful method of teaching arts and crafts is just extraordinary
Thanks to you that my child came first in his elocution competition. The speech that you made for him was just mind-blowing. I can't thank you enough for giving us this happiness in our lives.
You are the best teacher we could have ever asked for. You have made my kids an all-rounder. From studies to sports to paintings, they are excelling in everything. Thanks, teacher, I could not have asked anything better than this.