In-laws are the next closest people in our lives after marriage. They are there to take the places being our new family members. They keep us happy and are always welcoming towards us in the family. Living with your inlaws is truly a heavenly feeling, as the lessons of togetherness and compassion start to run in our bones. Every day spent with them is truly a privilege as they have so many stories to share of your better half, and all the wisdom they have gained from all these years of experience and patience. They are just our family me every now, but also at times our loving guardian, who shows us the light and the most righteous direction.
We should always take any opportunity we get to remind them how beautiful they make our lives and how much they shape our personalities with all their wisdom and knowledge.
Here are a few quotes and messages we can send to remind them how special and important they are in our lives.
Thank You Quotes For Mother In Law
Thank you for filling my life with so much hope and happiness. You have never failed to make me feel like a part of your family, I hope you live a long and healthy life, mother in law!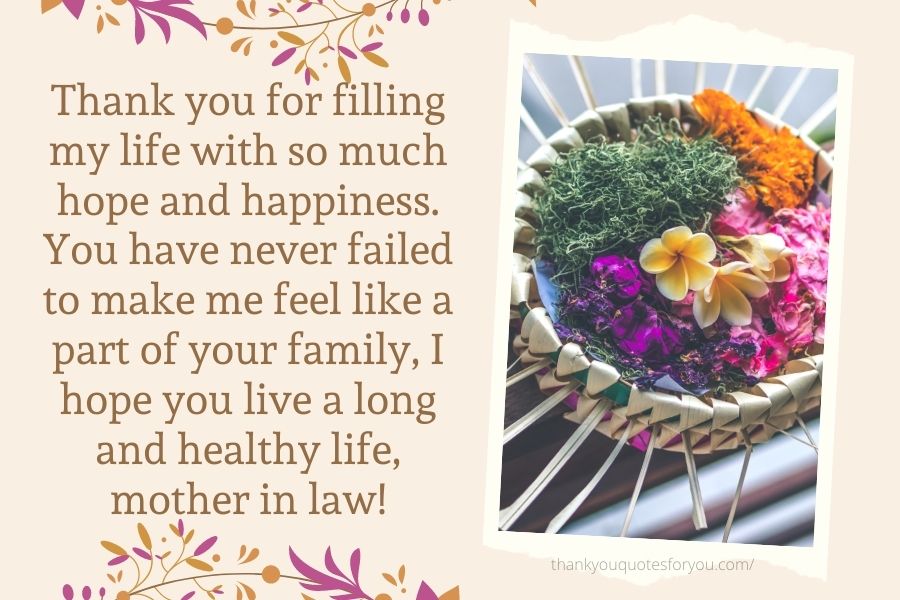 I love you from the deepest corner of my heart, you have made me feel so homely and loved in your household. Everything that you have done for me is heavenly and I can never repay you for the love you have given to us.
Thank you for giving me your son, I have never been happier with anyone else. He is terrifically well behaved and respects everyone in the room, I have never felt more needed and loved.
I hope you always stay healthy and jolly like you are right now! You have never been anything less than my mother to me. I am so thankful to God for giving me a mother in the name of a named her in law.
Thank you for raising your son so well, I feel so blessed to be your daughter in law, and your son's wife. It's. a privilege to be a part of your loving family.
You have always been there for me in moments of trouble and in moments of joy, thank you for being so caring and generous towards me. You inspire me to be a good wife.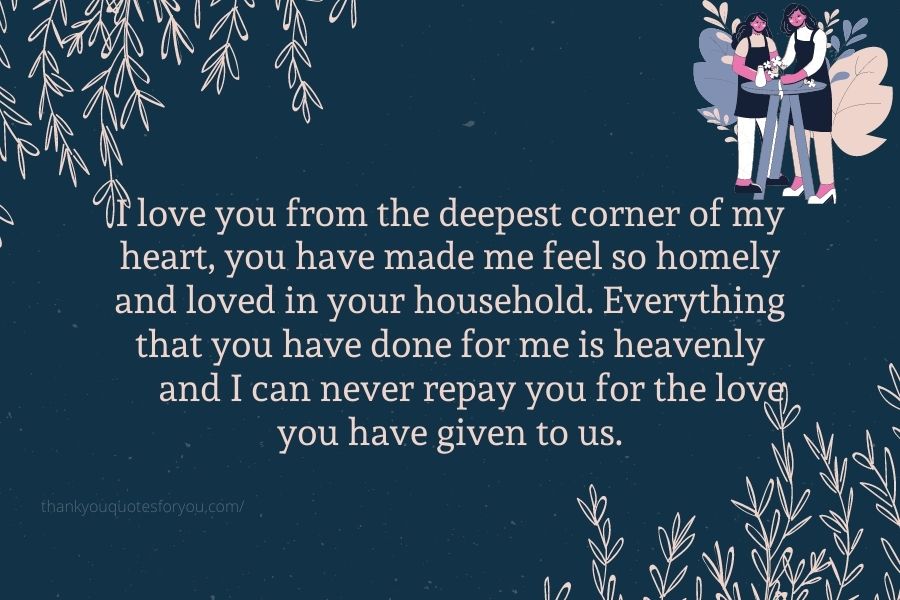 I always take notes from you, on how to keep a family happy! You are the perfect epitome of balance between family and career. The way you maintain everything is truly motivating.
I hope you are doing fine in your life. I and your son really miss you. We really wish to see you very soon and spend our holidays with you. We pray for your good health and wellness.
You are the best thing that has happened to me after marriage, spending each day with you, knowing that you are always there for me is true bliss. I can not thank my stars enough for bringing you in my life.
Your son has really given me all kinds of happiness I have ever looked for, thank you for shaping his personality so beautifully. He never stops talking about you, we feel so blessed that you are a part of our family!
It's a truly blissful feeling, living in your miraculously beautiful house. You have never failed in providing us with the best of homemade food.
You can be miles away from us, but we still love you the same. Our heart and souls are entwined to yours. No day passes when we are not praying for your good health and wellness.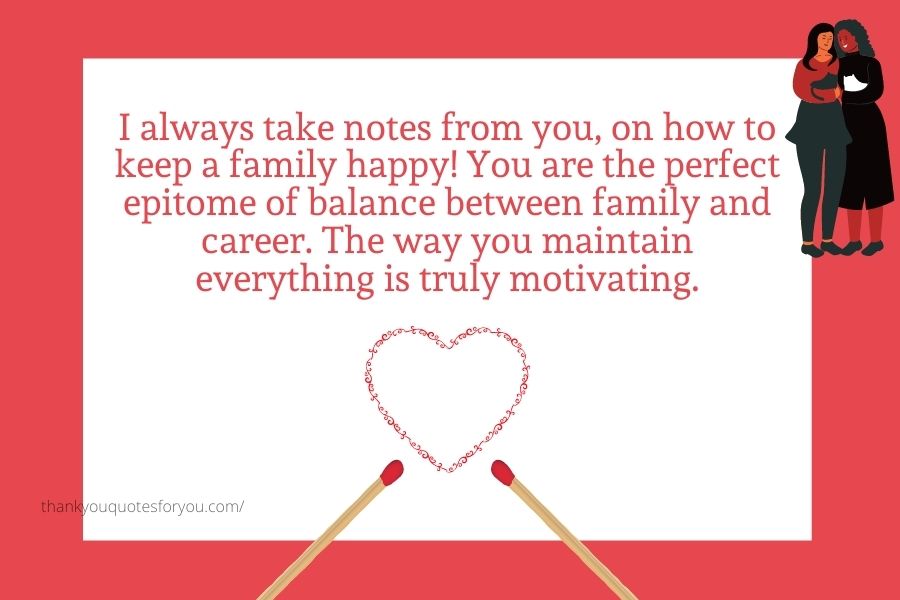 Thank you, my beautiful mother in law, you created the man I am deeply and truly in love with. I am so indebted to you for giving me the greatest joy of my life. He has got all your qualities.
Thank you, mother, in law, you have made a lot of compromise and sacrifices to make me feel comfortable in your beautiful home. I feel like a part of your family now, every dining table conversation seems more fun and joyous every day.
You both are the best things that have happened to me after marriage, I have never felt more cared for and supported in my life. Thank you for believing in me and my dreams.
You are true to the form of greatness. I hope I never fail in standing up to your expectations. Our family feels so blessed to have you in our lives.
You are the most amazing person I have ever had the privilege to meet. No one has ever been this kind and caring towards me. Your compassion and love have really left me deeply touched.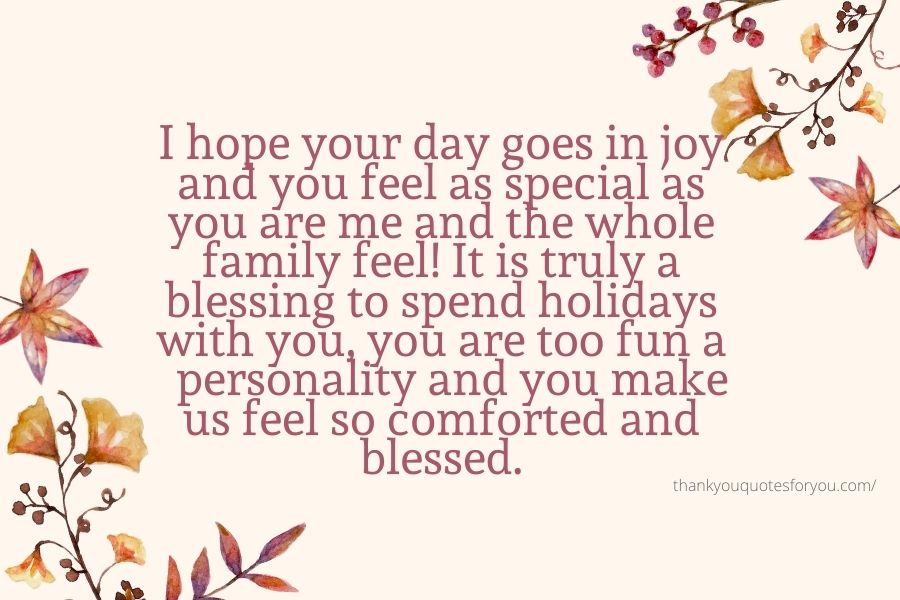 I can never be grateful enough to you for being so accepting and welcoming towards me in the family. I always feared I might not be good enough for you, but you have proved me wrong in every way possible. It's a privilege to me that you are my loving mother in law.
Everything you do for me, and for this entire family is worth praising and appreciation. This day is for celebrating all the sacrifices you have made for us and for your dedication towards keeping us all together, in love.
Thank you for teaching me how important love and companionship is. The true meaning of life lies in building a happy family. You never fail to make me feel fascinated by your beliefs and compassion.
I hope your day goes in joy and you feel as special as you are me and the whole family feel! It is truly a blessing to spend holidays with you, you are too fun a personality and you make us feel so comforted and blessed.