Pet sitters take care of your furry, four-legged family members while you are away. It's always nice to have someone responsible and caring look after your dog, cat, hamster, rabbit or ferret while you are away for an extended period.
So next time you use the service of a pet sitter, write them a thank-you note. It doesn't have to be lengthy – after all, it's just a note! But it needs to be thoughtful and personal, not too generic.
If you are looking for some fresh ideas on how to thank your pet sitter for watching after your favorite little companion, then this article is purrfect for you.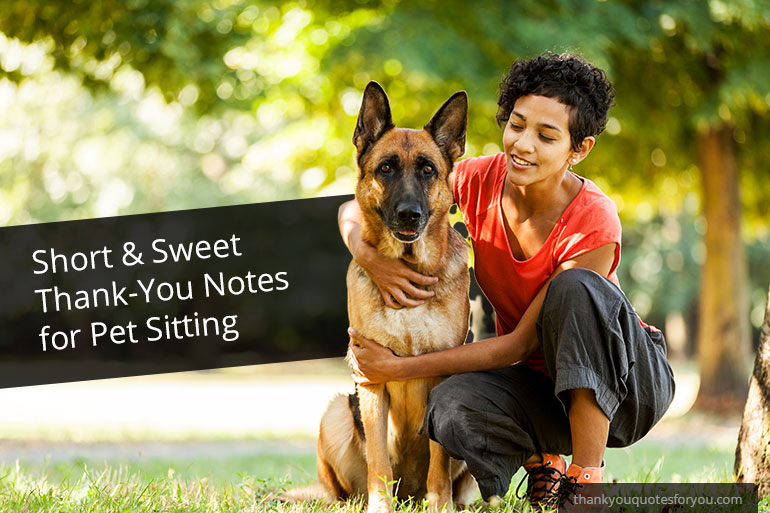 Appreciative Messages for Your Pet Sitter
I cannot begin to explain how beloved this dog is to me. It is why I am so selective of who gets to dog sit (name of dog). You are well appreciated for all the times you have watched over him in my absence.
Being away from my cats used to be torture for me. I could not figure out anyone fit enough to help watch over my feline companions. All these changed when you came into the picture, and I am very grateful for this.
I don't particularly appreciate spending time away from my little ones. However, there are times this was inevitable. When such times arise, I am always happy to bank on you. Thank you for always looking out for my hamsters.
My dog is not so fond of warming up to people. It had been my major problem when we needed the service of a dog sitter. However, things are a lot different with you. (Name of dog) connects very easily with you, and I am thrilled it is this way. Well done!
Thanks for creating a serene environment suitable for my dog in my absence. There are not many facilities as peaceful as yours.
I have had my fair share of terrible pet sitters. It is why I do not take what you offer my cats for granted. Thank you for your outstanding service.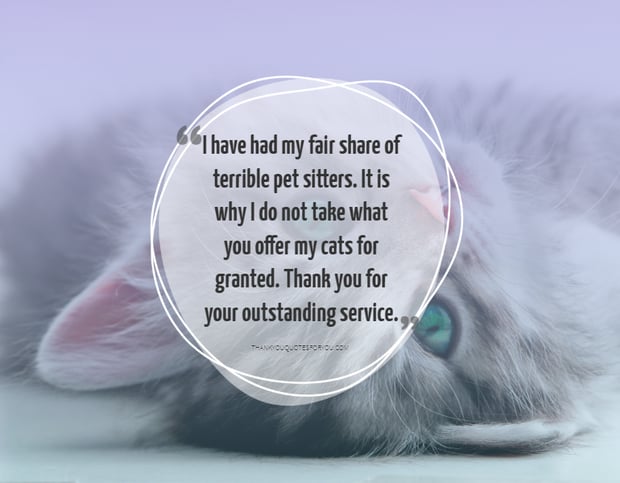 I have a special bond with my canine companion, which is why who comes into my dog's life means a lot to me. Thank you for your precious help!
I cannot imagine a better pet sitter in the world than you. That is how privileged my rabbits and I are to have you in our lives. We appreciate you so much.
I'm always reassured whenever my dog is with you. It is because you have proven yourself as more than capable of taking good care of my canine buddy. Thank you for your exceptional service.
It is not often that you meet a pet sitter passionate about looking out for our little animals under their care. You are a rare one for all the right reasons, and I appreciate you for this.
Thank you so much for all you have done for my pet. It means a lot more to me than words can describe. Keep up the great job!
You have a remarkable effect on my dog and every other puppy that ends up with you. It is why these canines always feel secure with you. I do not completely understand how you do it, but I appreciate that you always get it done. Well done (name of recipient).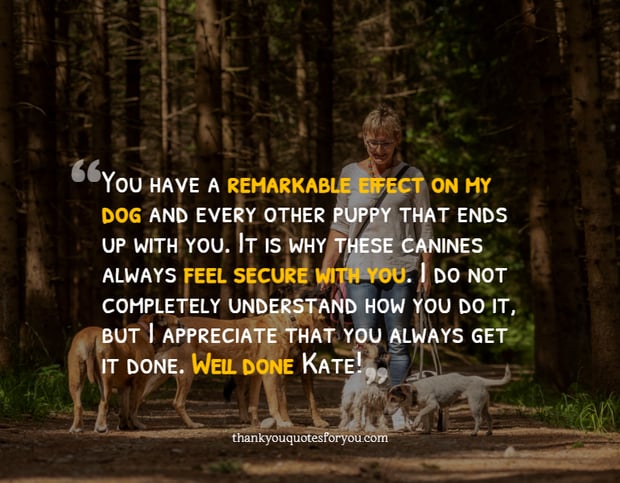 Thank you for coming through for me by taking good care of (name of dog). The need to travel was unexpected but important. Deciding to help out with (name of dog) made things a lot easier. I am very grateful.
I cannot thank you enough for always helping out with my cat. It means a lot to me, and you have my sincerest gratitude for this.
Whenever I need to leave my dog for a few days, I am always glad that I have you to help out. I don't need to worry when I know you are here looking after him. I can't recommend you enough to my family and friends.
My dog was dealing with severe separation anxiety before you came into the picture. The services you offer are one of the key reasons (name of dog) have recovered so quickly. I am very grateful for all you have done to help out.
You started as a dog walker, but you are much more than that. You are my dog's second parent, and I appreciate you for doing a very good job. Well done!
You know your pet so well. It is why you also know that having another person watch over your little furry companion is not a stroll in the park. Showing your appreciation to your pet sitter won't be an issue anymore with all these ready-made thank you messages.