What is it that makes life beautiful? Luxurious cars? Big houses? Huge Bank balance? All of this becomes meaningless if you don't have loyal people in your life to share your happiness and bliss with. Our family, friends, and relationships are what make our lives beautiful and wholesome.
When you get married, you are introduced to a new family, new people, and make new relationships. The family of your better half becomes your reliable and trustworthy family. One of such pure and unique relationships is what a person may have with a sister-in-law.
You can share everything with your sister-in-law – from philosophical chats over a cup of coffee to arranging secret birthday parties for your partner, your sister-in-law will feel like home. Have a beautiful and devoted sister-in-law? Why not show her some appreciation with the help of these meaningful, sincere, and eloquent quotes?
Best 25 Thank You Messages for Sister-In-Law
Saying thank you is essential in any relationship. Whether you are thanking your sister in law for cooking a great meal or whether you want to send a heartfelt message for a nice thing she did for you, you have to show your appreciation.
Here are a few messages you can use to express your gratitude.
The first time I met you, I didn't realize how important you would become to me. This message is a token of appreciation for everything you do to make life better each day for my family and me.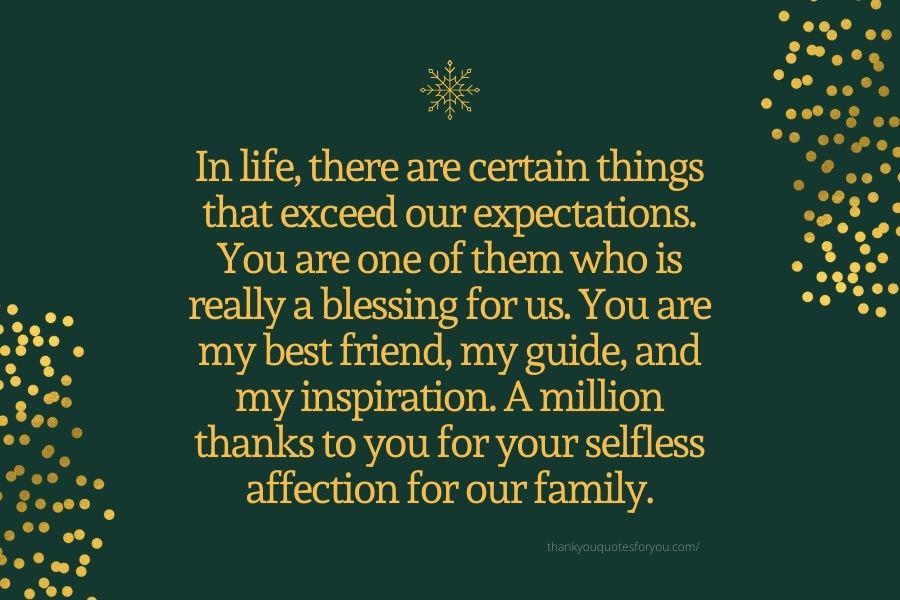 It is true that it is by marriage that we are associated with each other, I feel like you are something other than an In-Law. You are just like my soul sister. Thank you, dear.
You have a very special place in my heart. A sister I cherish and appreciate. Thanks a ton.
I'm sending this message with gratitude and respect to a woman who has become an integral part of my family. You have brought more care and love to my family than I could have imagined. Lots of love and prayers for you, little sister!
Dear sister, I want to appreciate your sincere and relentless efforts in actively contributing to the betterment of this family. Your presence has been a blessing for all of us. We appreciate everything that you do for us. Have a nice one!
I feel so lucky that I have an amazing sister in law like you in my life. Thanks a lot for being a meaningful part of it.
Having a sister-in-law like you makes my life so delightful and easier. It's just like I didn't just gain a new relationship in life, but I also got a sweet sister. Thanks a ton, dear.
There is nothing that brings me more joy than seeing our extended family living together peacefully and harmoniously, helping each other, being a source of strength for one another. Dear sister-in-law, your presence has solidified the bonding in the family. When I count my blessings, you are a big part of it. God bless you, sis!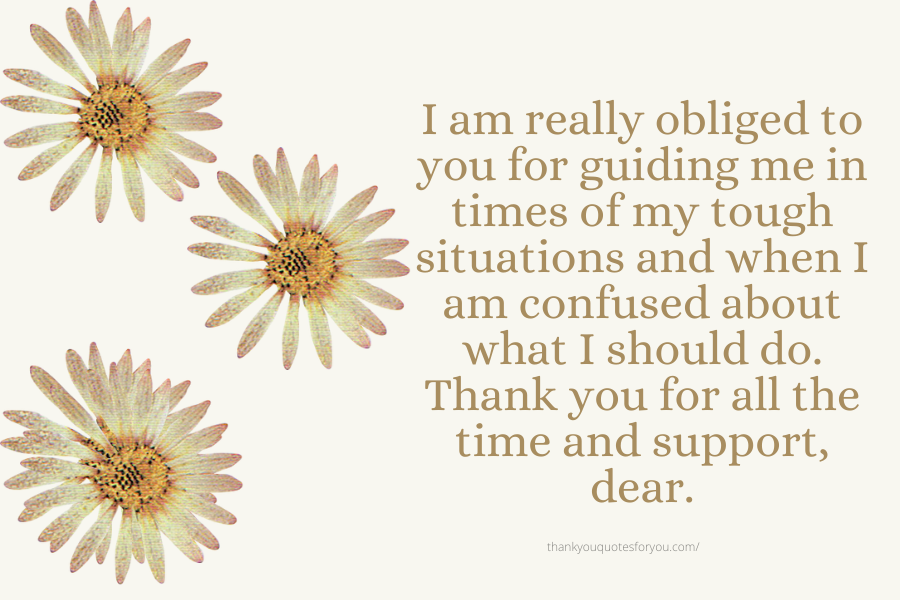 You're like the friend and sister I never had, and I'm so delighted to call you my sister!
You are not my biological sister, but you have touched my heart and gave me so much love and affection like my own sister. Thank you so much, dear.
I always appreciate how you're always there for our family through the bad and good times. Thank you so much for your contribution and sacrifices for my life.
 You shared your love and affection with us and were always there in our every up and down.  Through the years for love, loyalty,  laughter, and tears. I express my heartfelt thankfulness for your countless love and affection for our family. 
 We aren't sisters by birth but we knew and understood each other very deeply. There is a special bonding between us. A million thanks to you.
Sister isn't always your blood relation, sometimes it's a special connection with someone who understand you, stand by your side in every circumstance, and love you. You are very close to me and the woman who is always there to encourage me. Thank you so much, dear.
Our friendship stays the same and grows, for sisters-in-law we became. Your love and affections are just priceless for me. Thanks a lot for your boundless love.
Hey, sister in law! Thank you for being supportive, helpful, and caring. It is a real blessing to have you around, and I don't take your presence in my life for granted. I want to let you know that I value everything you do to help sort things out in my life. Thank you!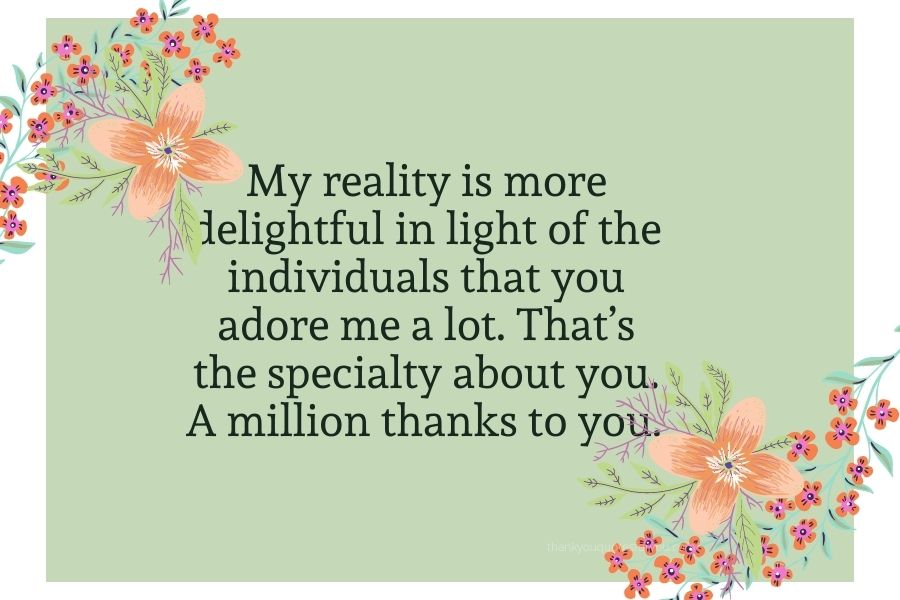 As a sister in law, you're just awesome.  You always guide me like an elder sister and understand me like a friend. You are the woman who always supports my dreams and helps to boost my self-confidence. We feel truly blessed to have you in our family. Thanks a lot, dear.
You, my dear sister in law, fit right in with my small family, and I never think of you as anything other than my little sister. You are a remarkable person with a huge heart, and you have always been there for my family through thick and thin. Accept this small token of appreciation.
In life, there are certain things that exceed our expectations. You are one of them who is really a blessing for us. You are my best friend, my guide, and my inspiration. A million thanks to you for your selfless affection for our family.
I wish that you always sparkle and shine wherever you go. You are very precious and a blessing to me as a sister in law. Thank you so much, dear.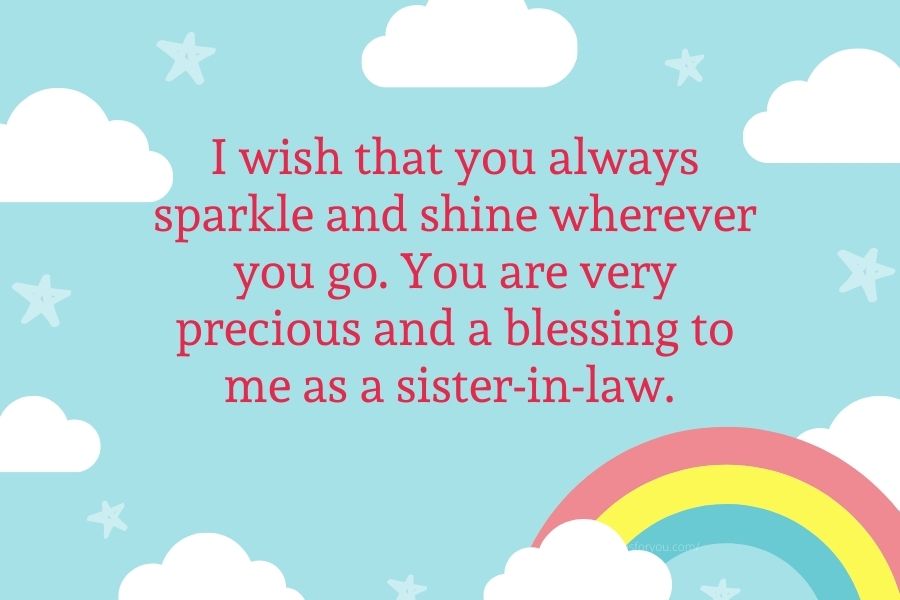 You're a really beautiful sister-in-law both by look and heart. Your contributions in my life are just precious and I always keep you a special place in my heart. Thank you so much.
I'm so fortunate to have a beautiful, smart, funny, and caring sister-in-law. Thanks a lot.
Thank you for all the times you have put yourself and your life on hold to take care of me and mine. I want to express how thankful I am for such a unique and wonderful sister-in-law through this message. Thank you for being the older sister I needed through my time of despair and agony. You have made a huge difference in my life.
You have a lot of patience and understanding to handle every situation beautifully. You're never demanding. You're so generous and joyful and always try to make us happy. You have a true heart and are very honest at everything. You are my wonderful sister-in-law. Thanks a million.
When everyone in this family stood against us, you were the one who defended us and took a stand for us. I can't thank you enough for everything you have done for my partner and me. You are the living personification of the word sister.