There's no better way to spend our birthday than by bringing friends and family together for an amazing time! But it becomes a lot more memorable when someone throws a surprise party unexpectedly. It makes us feel loved and special. It's always nice to show our gratitude to those who took the time and effort to organize this party. So if you're still out of words after that huge celebration, then you can choose from this list of heart-warming thank you messages below that you can say or send to them. Oh, and by the way, happy birthday!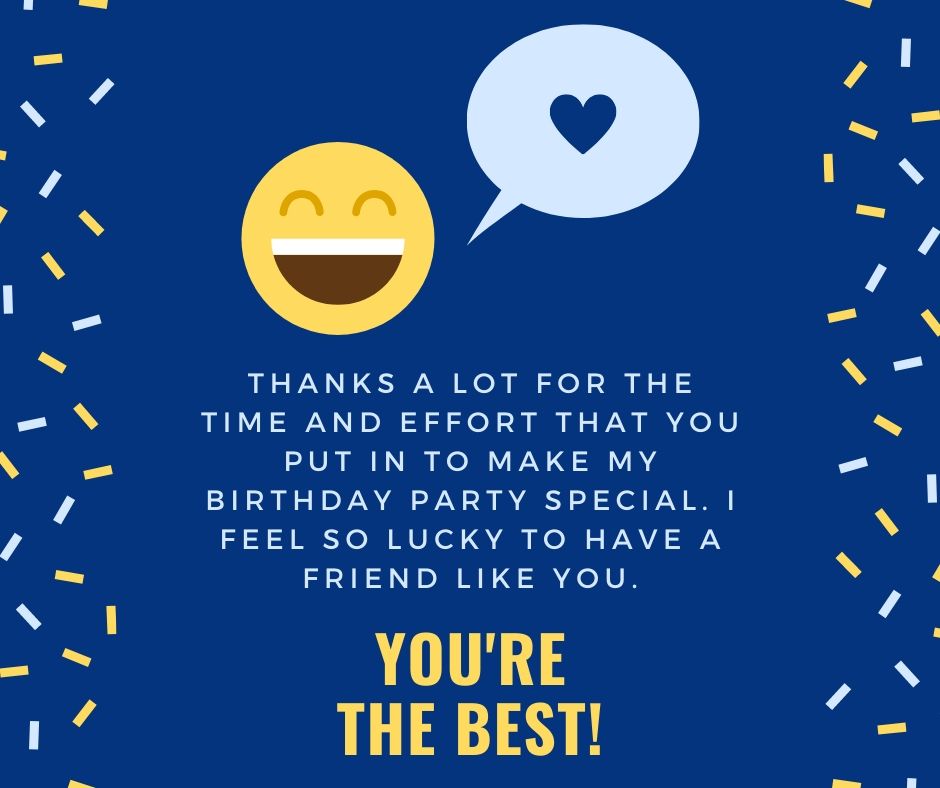 SUrprise Birthday Thank You Messages
I'd like to say thank you for throwing this surprise party on my birthday. I enjoyed the great food and deeply appreciated your presence, this made my day a lot more memorable. I am just so grateful for the time and effort you put in to make this day so special for me.
Thanks for surprising me with such a wonderful and magnificent birthday party. I am just overwhelmed by your generosity. I shall cherish this beautiful moment forever.
This birthday party was no doubt a surprise and it made me realize that there are still a lot of people who really care about me. I am just so overwhelmed by the love and support, and I would like you to know that I am thankful for that.
I am out of words. This surprise birthday party really made me emotional and cry with tears of joy. I may have turned a year older but your unconditional love made me feel a lot younger. May God bless you for your kindness and support.
I would like to say thank you for setting up this surprise birthday party. This means a lot to me. Words cannot express how much I appreciate your efforts in arranging everything including the invitations, the program, the food and the drinks. The party was definitely a grand affair and it would not be possible without you. You are truly my best friend.
I want to say how grateful I am for having a sister who never fails to show and express how much she truly loves me. I appreciate your efforts in arranging this huge birthday party. The food was terrific and the event incredible. From the bottom of my heart, thank you, I love you.
I am just so overwhelmed with this event. This is my very first surprise birthday party. I don't know how to thank you for the hard work you did to make this occasion possible. Much love!
Thanks a lot for the time and effort that you put in to make my birthday party special. I feel so lucky to have a friend like you. Thanks again for the surprise birthday party. Be my friend forever and I wish you a great life ahead with special surprises.
Wow, a surprise birthday party. A first in my entire life! This is just unbelievable. For a day, it felt like I was the queen and that's all thanks to your exceptional organizational skills. You rock!
I am astonished to get the first surprise birthday party of my life. Thanks for putting so much effort to make my birthday memorable. It really feels honored.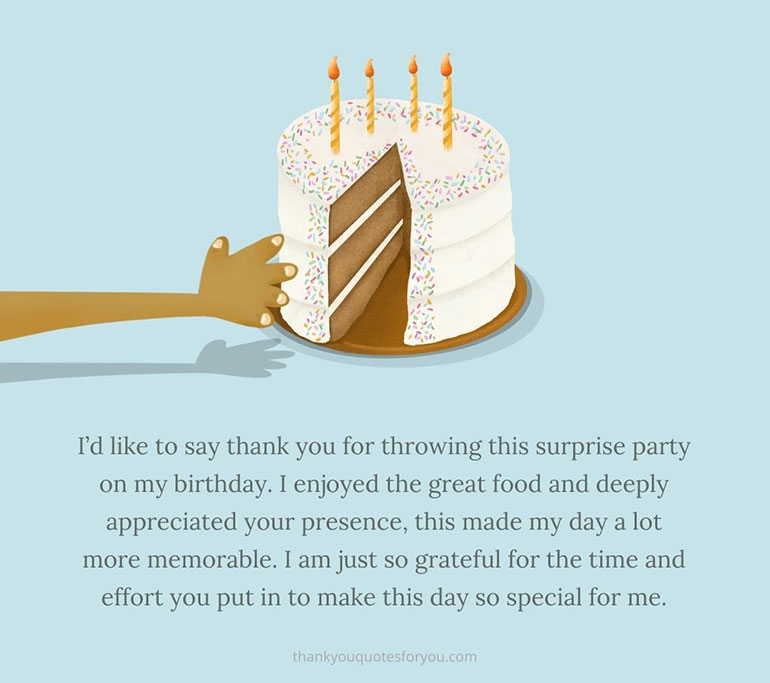 At my age, I was not expecting any surprise birthday parties anymore, but you still made it happen. Thank you for all the time, hard work, and effort you poured into this event to celebrate my birthday.
I am still pinching myself up to now because I never really imagined that someone would throw a surprise party on my birthday. I thought that these things only happen in the movies but hell no, it's for real! Thanks a lot for this. I sincerely appreciate it.
My birthday used to be a silent affair, but you made it huge. A million thanks for organizing such a memorable surprise party. You made it truly glorious!
I am extremely thankful to God to have such a special person in my life. You took all the pain and hard work and made my birthday fabulous. Thanks for my grand surprise birthday party.
What a marvelous party it was, I could never imagine. With such great food and wine, my old childhood friends and relatives, you made me cherish the great memories of my life, this was the best birthday party I ever had. Thanks for that and I wish you the very best for your future.
Wow, this birthday bash was awesome and one for the books! I cannot thank you enough for giving your time and heart in making this event possible. This is something that I will never forget.
I am truly blessed on my birthday. Blessed to spend it with so many lovely people, blessed to receive a lot of nice gifts and most of all, blessed to have such a wonderful person like you in my life. My sincerest gratitude for your efforts in throwing this heartwarming party for me.
I feel so lucky to have a friend like you. Thanks a lot for doing this surprise party. No one has done something so special like this on my birthday.
This surprise birthday party was unexpected and I had a lot of fun. Thanks a million for setting this all up. You made my day a lot more special than I wanted it to be.
I was thinking of having a simple birthday party with friends and dear ones but what you did is beyond what I ever imagined! Thank you for creating this memorable surprise event on my special day.
I woke up a year older but I don't care! I had a blast on my birthday, thanks to you! I appreciate everything you did in setting up this party from the food and drinks to the guests. It was flawless. I could not ask for more.
No one really knows my birthday since I'm new here in the city, so I was really surprised that everybody was here to celebrate it with me. Thanks for inviting them all and setting up this party. I will never forget this moment for the rest of my life.
The morning I woke up on my birthday I saw beautiful bouquets, an awesome present, a nice red cake. The evening party was unforgettable. You managed everything so beautifully. Thank you is just a small word for this, but I still want to say thanks to you for my surprise birthday party and let you know that your efforts are highly appreciated.
I just want to say thank you for organizing this surprise party on my birthday. I never imagined that I'd be celebrating my birthday in this place with my closest friends. The location was beautiful but what's even more beautiful is you who made it all happen.
What a wonderful surprise, what a fabulous time, only you could have made it possible. I will cherish this moment forever. I am grateful for having a friend like you in my life. Thanks for the awesome surprise birthday party.