We can't become successful in life without cooperating and appreciating each other's efforts. Always learn to thank those people who extend their hands to help you along the way. A mailman and postal workers are hard workers of all kinds who work day in and day out only to pass important information and deliver mail to the exact address at the exact time. No matter how the weather may be, rainy or shiny, They always do their duty with full dedication counting on our mail and packages to deliver us for our sake.
Delivering care packages and snail-mail letters have become a thoughtful and meaningful part of the new normal. Most people do not value and take the time to appreciate the mail carrier even though in most areas, you will have the same mail carrier every day. A few words can make your mail carrier's day beautiful and put a smile on her face.  It's really our foremost responsibility to express gratitude to the hardworking mail carriers that deliver packages, mail and smiles on a daily basis. It's also important to choose the right gestures and words to show your thankfulness. Are you searching for ways to give your mailman or postal worker a well-deserved token of your appreciation?  Find some ideas to thank your mailman or delivery man driver to help you show your appreciation! Reward their dedication with giving a thank-you note.
Thank You Ideas for Mailman
Thank you a lot for delivering the useful mail. I am really grateful and impressed with your hard work and dedication. I truly appreciate getting my mail on these worst weather days! Thanks Again.
I express my thankfulness for your effort and accuracy in delivering our mail. And thank you for delivering our most important piece of information. Without your dedication, it may not be possible to pass it to us at the right time. Thanks a lot.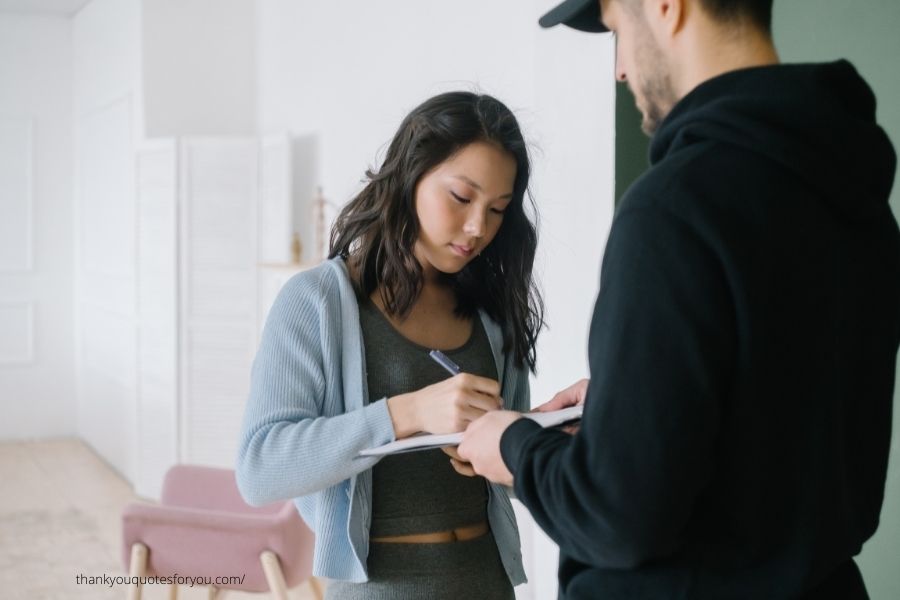 Each day I feel curious about getting my configuration letter. Thanks a ton for bringing the mail. I really appreciate your job and show my utmost thankfulness to you.
Thanks a billion for delivering this important letter to us. I appreciate your cooperation and dedication to your duty. Thank you again.
You keep doing your work in such bad weather. We really appreciate your willingness and effort to still deliver our mail on time. That's very kind.
You show your true humanity and dedication by delivering mail on time. Without caring for your family and wellbeing, you are committed to all. I cannot express my appreciation in words. I'm really grateful for your cooperation.
You're doing a great job. You have a spirit to keep doing your work in every weather. Thank you for your great effort and contribution in delivering our mail. You're the best. Keep doing.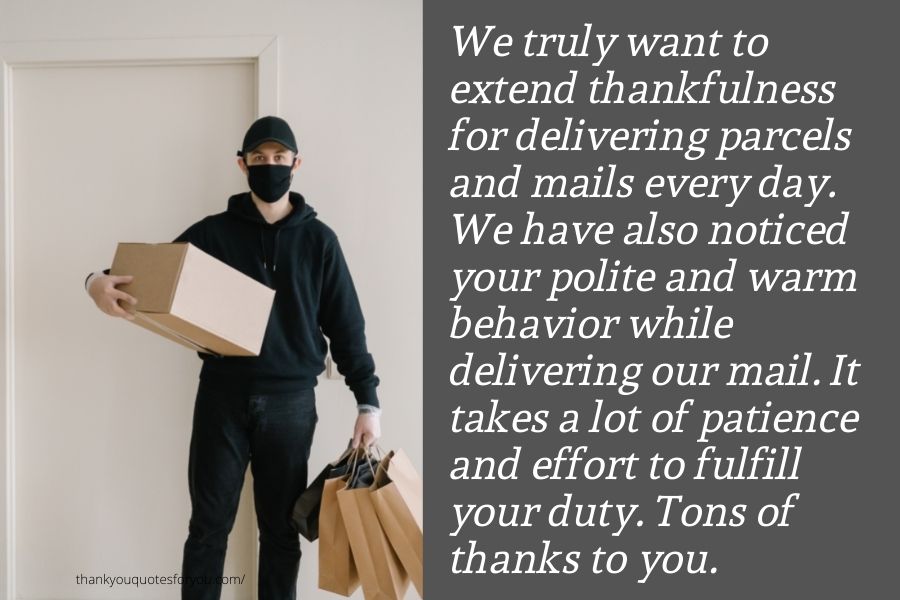 Thanks a million! You delivered our mail so promptly. We truly appreciate your devotion to your duty. You're an amazing man!
For your dedication, we are receiving all our letters on time. I want to extend a warm thank you to you for doing your job sincerely.
You are the person who makes our day by bringing good news to us. You are the person behind our happiness. So I express my sincere thankfulness to you for bringing us our mails.
Thanks a ton for delivering our mail during the rainy day last week. We are really impressed with your hard work and loyalty.
 My words are not enough to extend thank you. You are providing amazing services, each day, without any fail. Thanks a ton for being a dedicated mail carrier.
You are the person who is always there with mail when it is raining so hard when it is so hot outside. You put in a lot of effort and do your duty day and night. So, words are not even enough to show our thankfulness to you. A million thanks to you.
I truly appreciate your commitment and dedication. Because none of my emails ever got missed. You try to deliver every mail on time by committing yourself to your job. Please accept my best thanks.
For your great work, We have never missed any mail yet and that is what makes you so different. You are such an honest and sincere mail man I ever met in life. A warm thank you to you.
 You are doing your duty so well. You bring us our important mails along with much good news, many surprises. We are really grateful for your warm cooperation. Thank You!
Your hard work thought always inspired us to be committed to our job and that spirit makes you such a special person. Please accept my deepest thanks.
We truly want to extend thankfulness for delivering parcels and mails every day. We have also noticed your polite and warm behavior while delivering our mail. It takes a lot of patience and effort to fulfill your duty. Tons of thanks to you.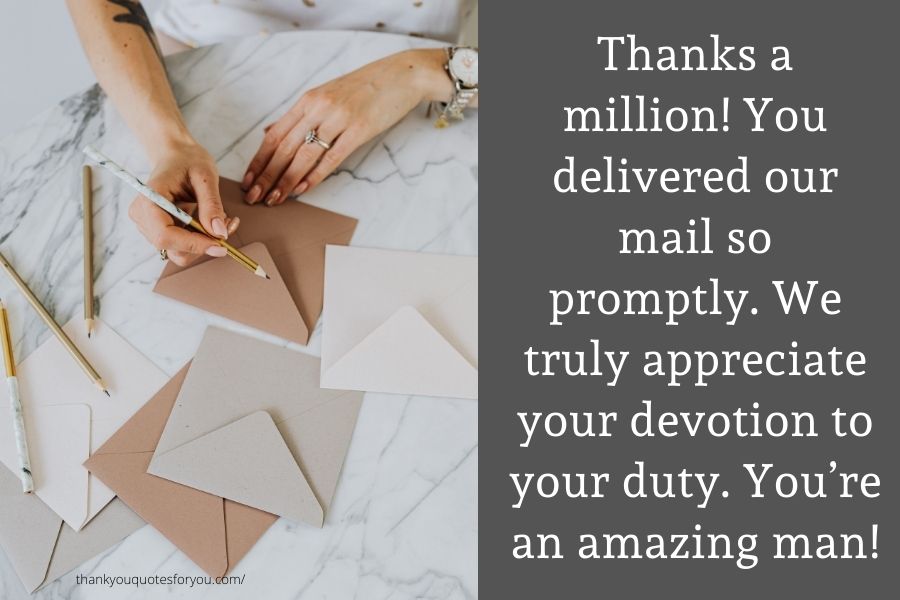 You spend a lot of effort to deliver the most important mail and packages safely. You committed to your job for bringing a smile to our faces. It's a small token from our heart to extend our thankfulness for your loyalty.
Dedication and devotion are two key factors for doing a job. You are the example for us who teach us to be honest towards our duty, no matter what the weather. Your work ethics are the inspiration for many. Thanks a lot for your dedication.
You deliver mail and parcels straight to our doors. I truly appreciate that you are very loyal at your job. It's your greatness. We are in your debt. Thanks a lot.
I express a sincere "Thank You" for bringing us mail. Please accept a token of appreciation for working hard only for us without caring about the weather.
By delivering mail and parcels, You are the person who is the reason for bringing smiles to many faces. You truly deserve a lot of appreciation and gratitude for your commitment and punctuality. I thank you most warmly.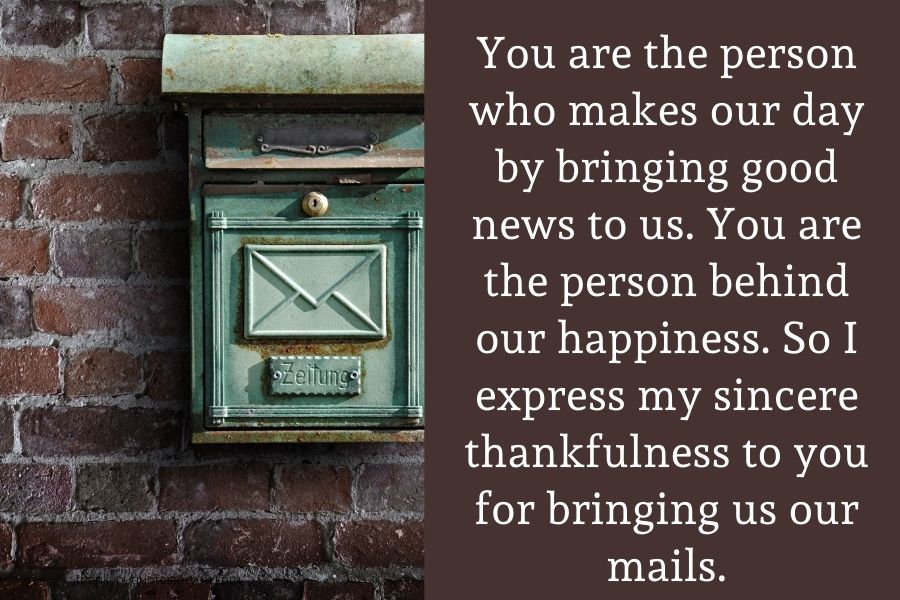 It's very hard to find a truly amazing mailman like you. I really appreciate your loyal nature and extend thanks for the awesome service you have given to me.