The profession of a therapist is a noble profession. Helping people out to deal with everyday problems and sometimes problems which can not be shared or expressed in words is a talent and a virtue God has bestowed in the hands of therapists and counsellors.
They don't just understand the problems that we speak but also the fears that we are frightened to share or express among our peers and family members.  They truly understand the nature of the human mind and the functioning of all the psychological and emotional hormones and feelings that keep us sane and human.
If you are thinking of sending some nice and thankful messages to the therapist who made or is making a difference in your life, then you have come to the right direction. Here are a few quotes and messages you can send to your therapist to remind them how joyous and thoughtful talking with them feels to you and how you would never take anything for it.
Normal Thank You Quotes And Messages For Therapists
Thank you for all the time and patience you have had throughout my journey of getting better and feeling better about myself, I could have never embarked on this journey on my own.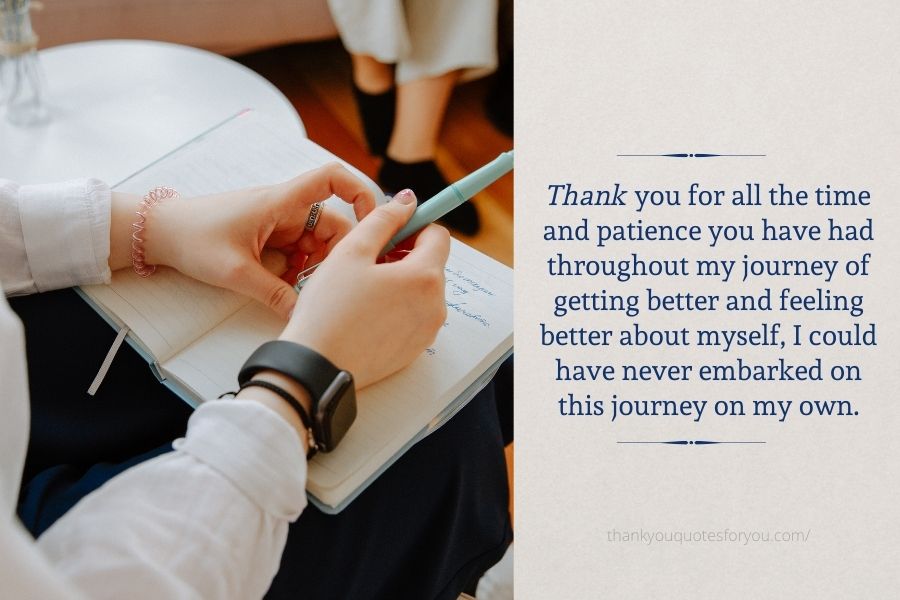 Thank you for all the hours of listening and waiting for me to open up. The past few months have been the most awakening for me. I never thought I would feel so good in my own body and mind.
Thank you for all the counselling and preaching, it has been a wonderful experience for me to understand and to reconsider everything I have ever believed in. All my addiction and abuse feel conquerable now. It has all been your trust and faith in me that has given me the confidence and the desire to change myself.
Time and again the study of psychology has always left me astonished. You are the most gracious and generous doctor I have ever had the privilege to be a patient of. I have spyrusted you with everything in me from the first day of our counselling. Thank you so much for not just being my doctor but also for being a good friend and a keeper.
Thank you so much for being around and for always listening to whatever I had in my mind. These past few sessions of therapy with you have truly made me think about my existence and about all my worries which I would have otherwise always dodged to think about.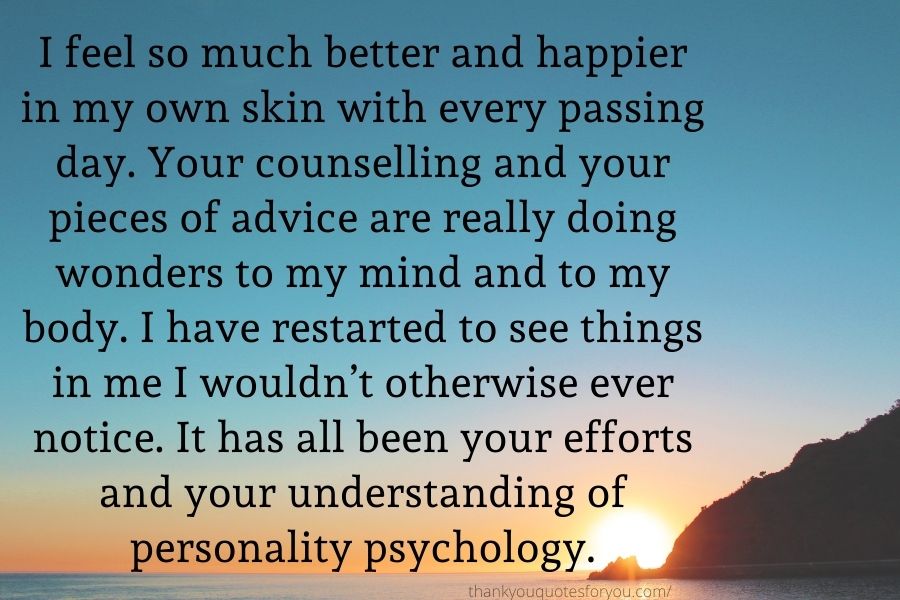 I have never had so much of heart to heart conversations with any other human being. I feel so blessed to be around you and to open my heart out knowing that I am at a safe place and I will not be judged for anything I say or feel.
I didn't know people like you exist! You have filled my life with so much acceptance and love, which I could have never seen otherwise. It feels terrible to me that these sessions are going to end soon and I would not be able to see you. You have changed so much in my life and in me, I will always be thankful to you.
I feel so much better and happier in my own skin with every passing day. Your counselling and your pieces of advice are really doing wonders to my mind and to my body. I have restarted to see things in me I wouldn't otherwise ever notice. It has all been your efforts and your understanding of personality psychology.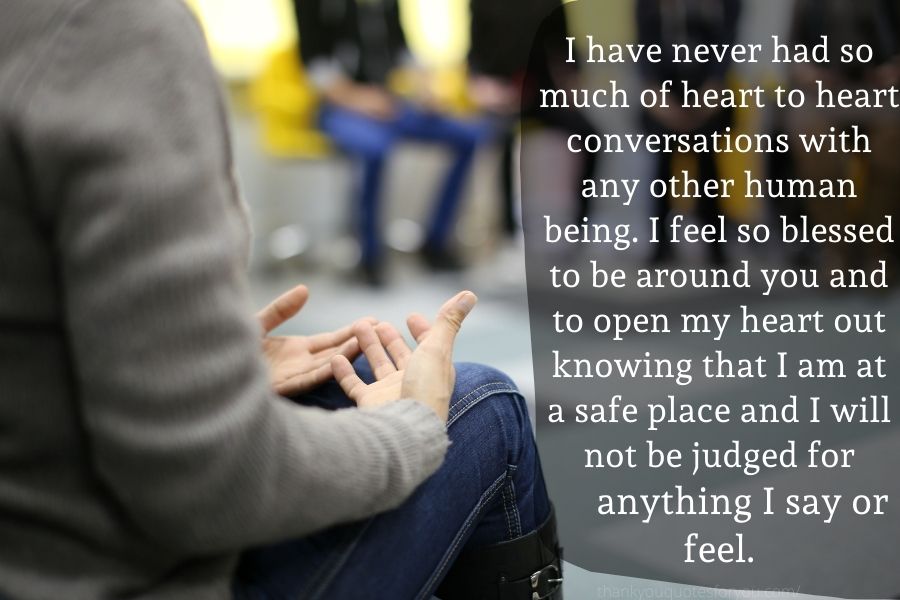 Thank you for helping me find joy and happiness on my own again. It would all have been a hundred times more difficult and painful without your constant guidance and support. I will always keep rooting for you, I hope there are numerous more therapists like you who understand the functioning and the complexity of human emotions.
Thank you for shopping for your concern and tenderness towards me. I feel so accepted and well understood when I am around you. I can never be thankful enough to you for all the pain that you have taken for me.
Personalised Thank You Messages And Quotes For Therapists
Thank you for helping us rebuild our home again. I and my husband feel so much more closer to each other emotionally as well as mentally. These past few months have really been a roller coaster, we are so glad that we had you to guide us all through our journey.
I am highly aware of your busy schedule, but I hope that you take out the time to read this message. You have truly changed my life. I have started to realise the issues I always kept undermining. It has truly been a privilege for me to know myself again through you. Your words work like magic on people's brains. I am so glad you choose the profession of a therapist as your career.
I would like to inform you of all the joy in my heart, that I finally made it into the university. Thank you for having my back all this whole and for helping me trust myself and my beliefs. I highly appreciate all that you do to make a difference in the lives of teenagers like me.
Thank you for always finding me the nicest of quotes and thoughts to make my day better. You have really made a huge impact on my life and on all my habits.
Thank you for always having my back and for guiding me through all the tough and emotional times of my life. I have always believed in therapy and counselling and it is because of people like you who understand the functioning  of the human brain and the complexity of emotions that people like me still feel healthy and emotionally stable.
I feel so much more stable and grateful to everything that I have, the experience of therapy and counselling will always be a happy memory for me, I am so thankful to you for helping me believe in myself and in exploring the various multitudes of options that are available to me. I am glad that there are counsellors and doctors like you in the world.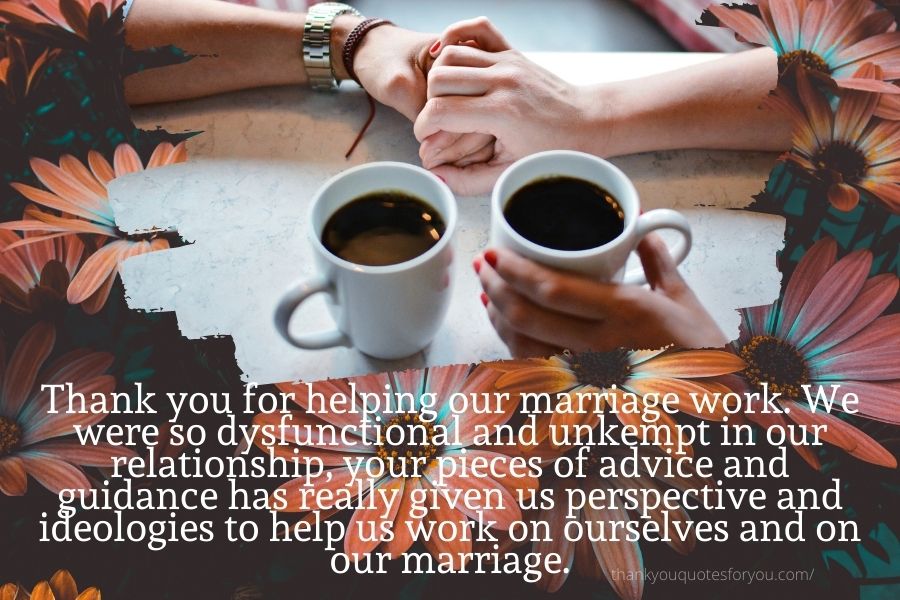 Thank you for helping our marriage work. We were so dysfunctional and unkempt in our relationship, your pieces of advice and guidance has really given us perspective and ideologies to help us work on ourselves and on our marriage.
I am so grateful to you for helping me out in the most crucial and painful years of my youth. I feel blessed that I got the help that I needed for my mental and emotional stability from you.
It is a moment of great pride for me to see you succeed more and more with each passing day. 
You will always be the person I remember the most in my prayers because you have really helped me shape my career and my life likewise. It was truly a blessing to be healed and treated under your guidance and help.