"Thank you" is an awesome phrase that we often use in our daily life between souls.  The most effective way of appreciating a person is just saying "Thank You'" which means a lot. We can really make our near and dear ones feel so special by saying words of appreciation. So we add so many adjectives to make it more fanciful and formal.
"Thank You" is also the easiest and elegant way of appreciating people that you are really valued for what you are and what you do. We can never repay all the good things that people do for us, but we must surely express our gratitude with this sweet praise 'Thank You'. In our daily life whether professionally or personally we commonly use many thank you notes and phrases. But we are sometimes confused about how we can represent our thank you notes or messages in a better manner or style.
'Thank You Note' when we send a person, we are surely going to make a good impression on the people that help us, support, and encourage us in life! When someone tries to help us reach a goal, supports us, looks our best, it's important to show our gratitude to that person. But how do you go about doing that without looking at cheesy words! 
How to Say Thank You WithOut Sounding Cheesy
Here find some simple ideas on how to say thank you without actually having to say "thank you" without sounding cheesy. You need to write grateful, refreshing, and humble remarks while sending a "Thank you note " to someone. You can use the Thank you notes/messages/quotes for professional or personal purposes. Let's find amazing and creative ideas to represent your thank you note in a most stylistic and formal manner.
I will remain grateful to you for all your support, guidance, encouragement. I immensely extend my heartfelt gratitude and thankfulness for all you've done for my career growth.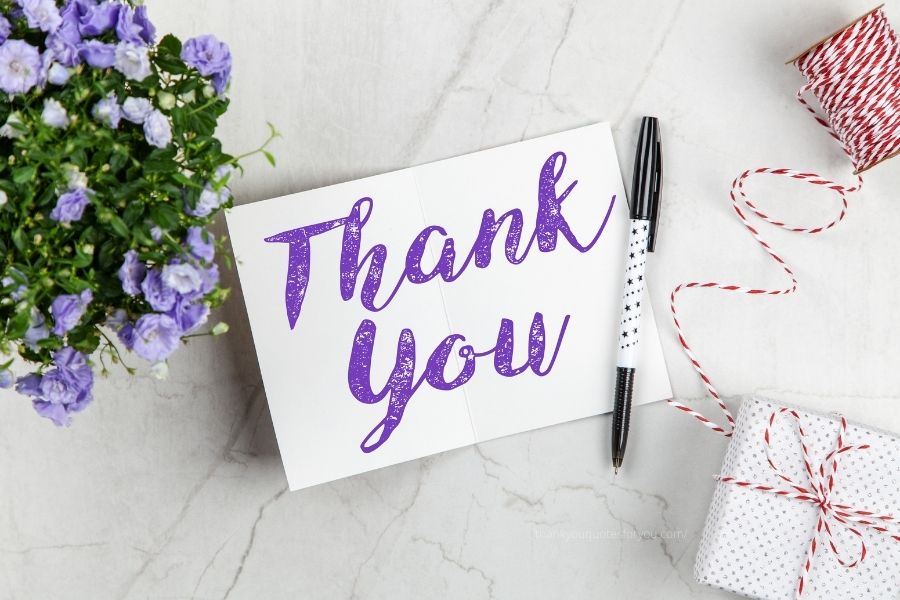 You are one of the most inspirational people in my life because you show me the righteous path which is truly valuable for me. Thanks a bunch. 
I would like to express my gratitude and thankfulness from the core of my heart. I highly respect and appreciate you. Thank You wholeheartedly. 
I extremely appreciate everything you did for me with so much love and care. Your affection and love always touch my heart. Thanks a ton for everything! 
Just extending my thankfulness won't be enough for your contribution. Thanks a lot for your support! 
You are the most valuable person in my life who is extremely supportive through my difficult time. You are really a blessing to me. Thanks for showing your compassion and kindness to me.
Your polite behavior touches me. Thanks a lot for being so loving and compassionate to me. 
Thanks a lot for inviting me to such a wonderful party. The decorations were awesome and the food was so delicious. Everything was so perfect. Thank you for inviting me.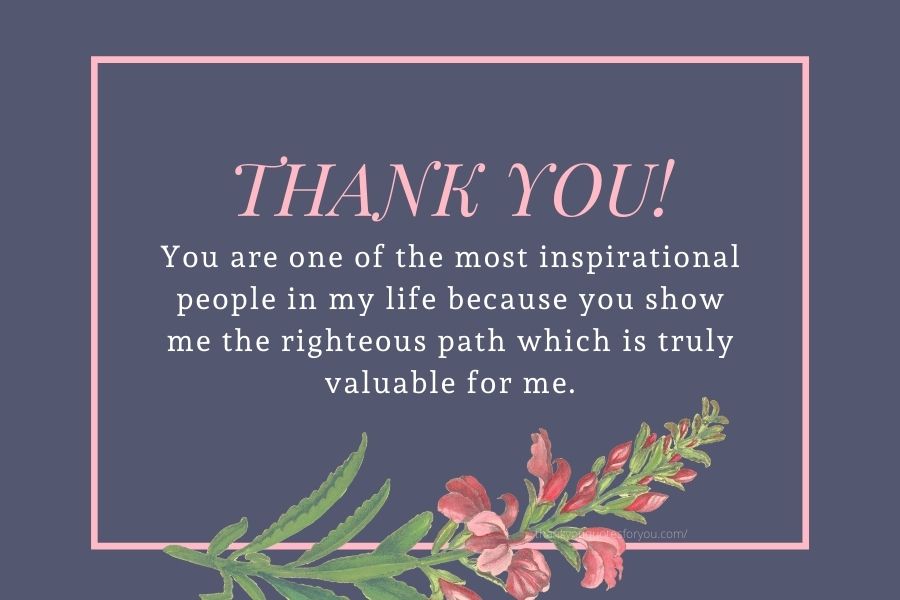 Thank you, for standing by my side in every situation of my life. You are my path guide and lifetime supporter. What I am today, it's because of you. Thank you for healing half of my sadness with your patience and tolerance! 
I express my heartiest thank you for you! I want to express my sincere gratitude for encouraging and supporting me in all my ups and downs. Thank you for giving me assistance in early stages of my life.
Your gift was just stunning. I really loved it.! I can't express in words how much respect and thankfulness to you for the things that you do for me. Your continuous motivation and support make me happy are highly appreciated. Thank you!
Just expressing  thank you is not sufficient for me. I express my appreciation for you; I feel immensely happy when I listen to your encouraging words.
Your words of encouragement are my best jewels which are very precious to me. I feel honored to have a person like you in my life. Thank you!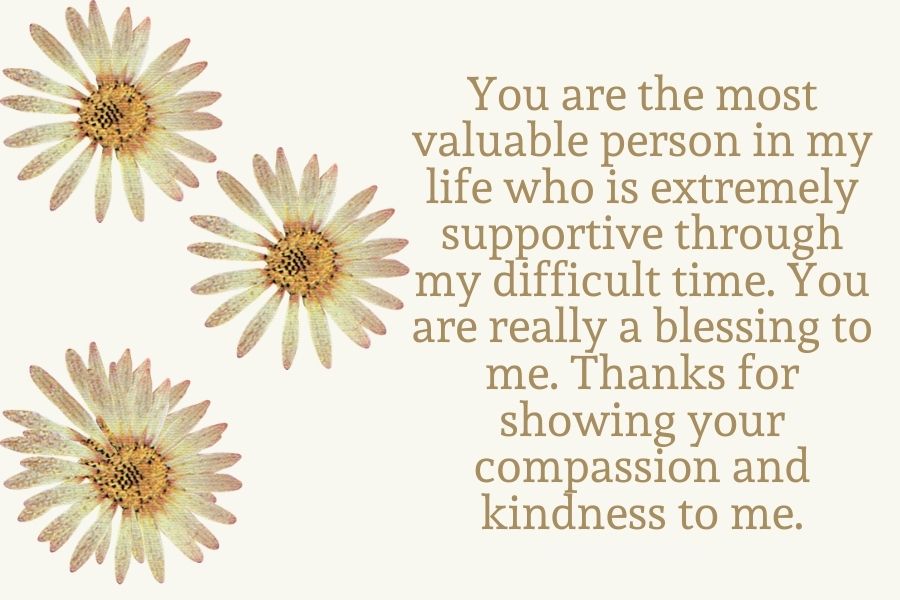 Thank you for your inspiring words. Your words have a great impact on my life. I will give my thankfulness to the Almighty for sending you into my life! Thank you so much for your kindness and generosity toward me.
Your support and motivation have always been the pushing factors in my life. I am able to stand up for myself because of your back support. I appreciate your strong support for me. Thank you so much!
Thank you so much for pushing me to do my best, I'm extremely feeling pleased to write a thank you note! Thank you very much for your boundlss affection towards me.
You are truly a God-like person in my life who inspires me in every tough situation of my life to do my best. Your words are just as wonderful as you are! Thank you!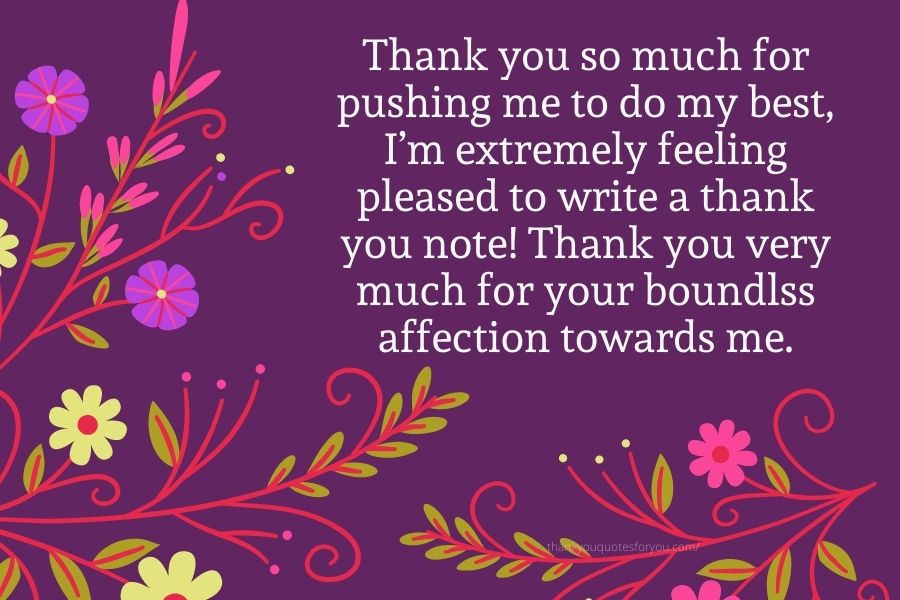 I express my profound thankfulness to you because you have an immense impact on my life. I highly show my gratitude to you. Thanks a bunch!
You are like a flower that adds colors, fragrance, and freshness to everyone's life. I am very happy to have such a wonderful person like you in my life. Thank you for everything!
It's really wonderful how you make me feel so special all the time. I express thanks for your care and love.
Thank you for always guiding me at every stage of my life.
Thank you so much for always giving me lots of motivation and enthusiasm. I feel very fortunate when I am with your company. Thanks a lot!
You are always there to help me to become a better version of myself from inside and out. I will remain grateful to you for the changes that you brought into my life. Thank You!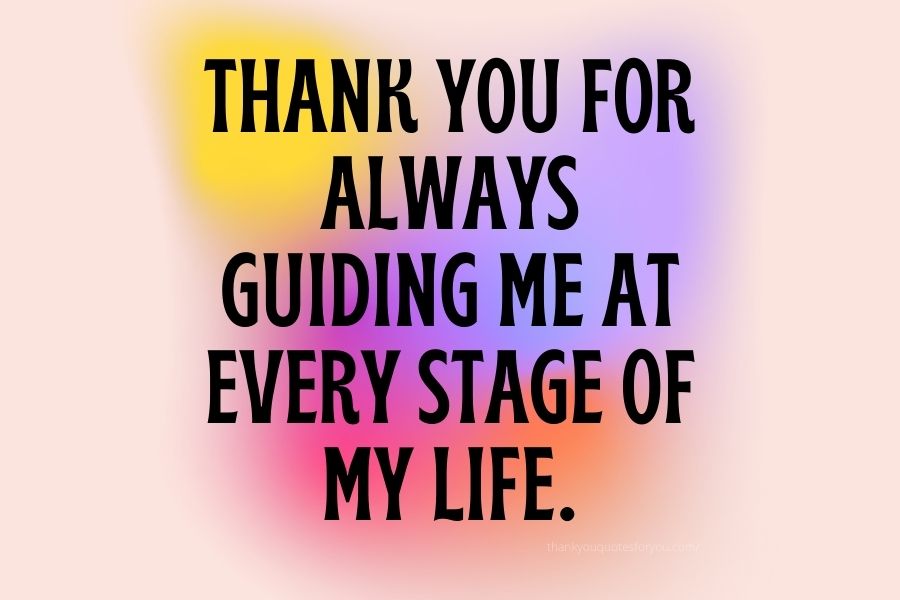 The righteous path, your ideologies, and your work ethic have always motivated me to become a productive individual, a good performer, and a good human being. Thank you for all your contributions to my personality development.