We often take the people in our office for granted. We often complain about them, ignore their presence, and don't try to learn about their lives outside of work. But when we take the time to be grateful for our coworkers, it can improve our work life.
Here's what gratitude can do to your workplace experience:
– Better communication between coworkers and help ease conflicts
– Improve productivity and morale
– Encourage building strong relationships with colleagues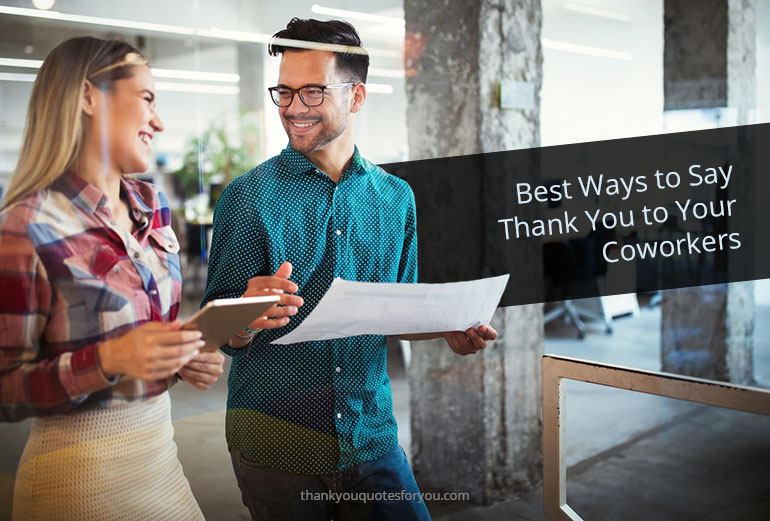 Thank You Quotes for Coworkers
Sometimes, all you need is a bit of inspiration to write meaningful thank you messages for someone. We have prepared some effective thank you notes for your colleague to help you out. So, let's get right into it!
I am glad we are working in the same office,  this place would have been so boring without you around. Thank you for always being the nicest to me.
I'm so happy we're working together on this project. A coworker who is so helpful with everything is a true blessing. You are the reason how I get the motivation to come to work every day.
I couldn't have finished this job on time without your tremendous help. The boss has been thrilled with my work, and a big part of it goes to you. I really appreciate it. Thank you again.
The opportunity to work with you has been my favorite thing in this workplace. There's so much to learn from you, and I am looking forward to working with you further. You have been so helpful in the past few months and made me adjust to this place in no time. So, thank you so much.
A good coworker like you is invaluable to have around. I can't imagine what this workplace would be like without somebody there whom I could count on in tough times, who teaches me new things every day, and with who I can be myself.
I know you have been busy with your own tasks lately and yet, still took the time to help me. Thank you so much for this. You have been kind to me ever since I came to this workplace.
Your ideas have always been useful to all of us in this workplace. Your creative mind, helpful hand, and eye for detail are an asset for this company and all of its employees. Really appreciate your presence here. Thank you!
Whenever I needed help with a task or asked you to cover for me, you were there. You never made me feel like I was alone at this place. A coworker like you deserves all the appreciation. I hope you prosper much more in life.
Even though I am new to this place, I don't feel like a stranger here. And it is all thanks to a colleague like you. You have introduced me to all the good people here and taught me so much about this place that I no longer feel like an outsider. Thank you for all this!
You have not only been a good friend and coworker but also a true inspiration. Your hard work has always inspired me to do my tasks perfectly and on time. Whenever I was stuck with a problem, you were the one who looked out for me. Thank you for every time you helped me.
I might not say this enough, but I am glad I found a coworker like you. At first, I was scared about being transferred to a new department, but all my worries vanished right when you were introduced to me. You have helped me with everything ever since. So, thank you for being the best coworker.
Having you on my team has always helped me start a new project without any issues. Your ability to tackle problems and come up with perfect solutions always amazes me. Your skills and qualities are of so much help to this whole team. So, thank you for getting us through it all.
You have helped me through every task I needed help with, and I appreciate this. But what I am more grateful for is that you have shown so much kindness towards me. Whenever I was lacking in a skill, you helped me polish it. Whenever I was distressed due to my personal life, you helped me get through it. I don't have words to thank you enough, but I am still going to say that I am thankful for you.
Even though it wasn't your responsibility, you still helped me as much as you could. Only a genuine person can be so kind as to do this for me. If I can ever help you with something, let me know without hesitation. I hope you find all the success in this world.
You are my colleague and an amazing friend. We have so much fun at the workplace that it never feels boring. You are always there to listen and help me with my problems. Without you, I wouldn't have survived in this company.
Short Thank You Messages for Colleagues
Thank-you cards are a great way to show appreciation for a coworker's hard work. Writing them can also have a positive impact on the person who receives them and those who write them. No need for a lengthy message here, you can keep it short and sweet.
I don't think there's anything that you can't do. No matter what kind of project I have, you have always been helpful.
Your effort for this company truly inspires me to be like you and do good.
You are the reason why I always feel good at this workplace.
Thank you for being more of a friend to me than a competitive coworker.
Whenever I have a problem here, you come up with a solution. Seems like you did Ph.D. in being the best at everything.
How does it feel to be so good with everything you do?
I am amazed at how you can be hardworking and helpful to this team.
Really appreciate your contribution to this team and all the projects. You are a precious person for this company.
You are the kind of coworker everybody loves to have in their company. I am glad you are my colleague and a fantastic friend.
Your creative visions have been so helpful for all of us. You always see through the problems even before they come up.
You always made time for me, even when you were busy. I appreciate all the help you have given me over the years. Thank you!
Your professionalism is, without a doubt, my favorite thing. A person so hardworking and deserving should get super successful. Wish you all the best!