Now and then, the safety and integrity of our communities are threatened. It could be from a natural disaster or from unruly elements who rear their ugly heads ever so often.
Our communities survive these onslaughts because of the heroics of those among us who rush towards scenes of danger while most of us scamper for safety – the first-aid workers, firefighters, paramedics, police officers, and so on.
Needless to say, every community as a whole owes its survival to the first responders serving them. And we all should be grateful to them for keeping our communities together, oftentimes at great risk to their lives.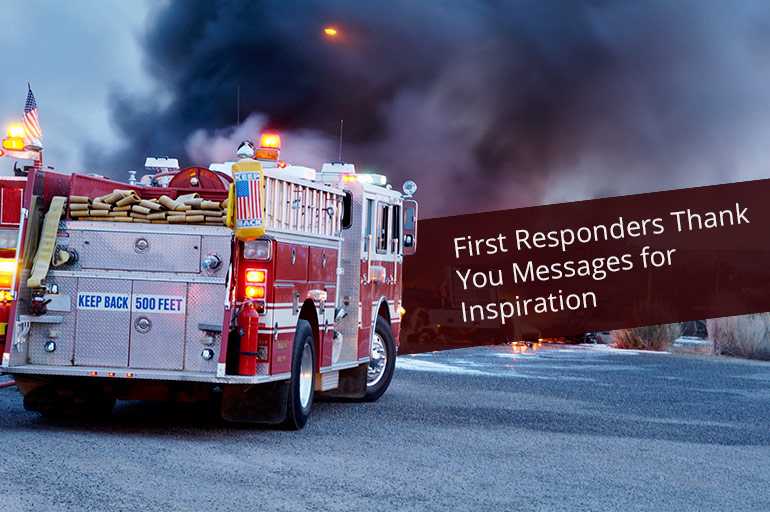 Expressing our gratitude to them is one way to recognize the importance of their work to the community. This can help uplift their spirits and encourage them to do even more. 
This article will share tips on crafting moving and inspiring thank you messages to make first responders feel recognized and encouraged.
Some Appreciative Messages for First Responders
Here is to say thank you to you for selflessly giving yourself day after day. What you do is one of the reasons we all can lead happy lives. We are grateful.
Words are not enough to express my admiration and gratitude for your bravery in the running towards danger to keep us all safe. You all are angels. Thank you.
If we had the whole world to give you, it still wouldn't be enough to pay you for the selfless services you render to keep our community together. But we can't give you the whole world. However, we recognize the sacrifices you make in your line of work, and we'd like to let you know that we are grateful for all of it. Thank you!
Hey! My family and I owe you a debt of gratitude for your intervention during the fire incident at our residence. How could we ever repay you? Thanks to you, our boy is still with us. We will forever remain in your debt.
The moments immediately following my accident on the highway were quite chaotic. But from the moment you arrived at the scene, a wave of calm enveloped me, and it has since stayed with me as I recover from my injuries. Thank you for what you do. You make a real impact on everyday lives.
Thank you for your commitment and dedication to keeping our community safe, even at great risk to your life. We are so thankful for your service. We will continue to offer prayers on your behalf as you faithfully serve in harm's way.
Thank you for always putting your all on the line to keep us safe. Your courage and bravery are the thread that holds this community together. Thank you.
Dear hero, this is to thank you for risking your life daily to protect our lives and properties and to make the world a safer and better place for us all. You are our hero!
The recent fire outbreak in our neighborhood and your response to the incident have helped me to see just how much of our lives we owe to people like you. Thank you so much for all that you do to keep us safe.
Dear first responder, what you've been doing through these tough times is nothing short of incredible. Thanks to you, we can navigate a difficult pandemic that we've never anticipated. Thank you. Stay strong and never give up.
Dear healthcare worker, thank you for putting yourself at risk every day for the good of others. You all are the heroes of today's world. You're working to save lives, and it is making a positive difference in our world. Thank you!
Dear first responder, thank you for giving your life, time, and energy to the most vulnerable among us. You represent the best of humanity, helping those in need and protecting our loved ones. Thank you, and stay safe.
Thank you for giving so much of yourself to help others in these dire times. I am so grateful for you, and I hope you find moments of joy in-between the chaos. Love and light!
Thank you for all you do. It represents the flicker of light and hope in these dark times. May your strength never fail you.
Dear first responder, to do the things you do requires tremendous bravery and strength. Thank you for being brave for us all. We are grateful.
Dear first responder, thank you for being courageous and risking your lives to help everybody else. You are a hero. Keep up the good work, and stay safe.
Thank you, dear first responder, for all you do for us. Without your strength and fearlessness, our communities would have crumbled at the hands of this pandemic and many other similar vices. Thank you!
Dear police officers, thank you for your swift response to our call for help for my elderly neighbor who had fallen and was locked in her house. Your swiftness and efficiency in gaining entry into the house helped save her life. Thank you.
Dear frontline worker, thank you for all the help you are giving to our world right now. You are making a bigger impact than you realize.
Dear health worker, thank you for putting your lives at risk to help the vulnerable in these times. Words are not enough to thank you for your strength, courage, and dedication.
Thank you for everything you are doing to help us all. You are deserving of our applause, respect, and much more.
Thank you for all the hard work you're putting in to keep us all safe. Your selfless service is helping us all get through these tough times.
Thank you to all who risk their lives day after day to tend to the sick and dying. You are the angels sent to nurse our hurting world. May God Bless you all.