A coach is someone who preaches us, guides us, and motivates us towards excellence. Without their constant and subtle efforts and commitment, a player can never be good enough to compete and win. They are the best advisors and sometimes even our best critic. It's important to appreciate a person with so many interrelated disciplines and to remind them how grateful we are to them.
Thank You Quotes And Message For Coach
All the health advises and workout routines that you recommended me have worked wonders in toning my muscles. It has started showing in my game as well. Thanks, Coach for the advice and guidance, you always hold the light to show me the right path.
Your training practices and sports ethics are wonderous. I have never felt more efficient at working out and my diet is really helping me in getting my muscles well toned, thanks to you sir! I am able to perform well in the tournament as well, all because of your belief and faith in me.
You have preached and instilled my mind with so many eternal lessons. I feel obliged to you for having taught me the strength of team spirit and trust. I understand now how it important these small things can be under pressure in the field. I assure you that I will use all the preachings of yours wisely and not waste it ever!
All the hard work and belief you have invested in me will never go in vain. I will always look up to you, my mentor. Thank you for all the guidance and support you have bestowed upon me and on our teammates. You have taught us togetherness and unity, and what wonders teamwork can bring to a match.
All the matches we have ever won and will win in the future will be because of you. You have taught us so thoroughly and well that we aim for nothing less than perfection. Thank you for believing in us and for making us believe in ourselves.
Thank you for all the sleepless nights and early mornings that you have invested in me. I will make you very proud,I can promise you that. I have learned great lessons of life from you and I do not intend upon losing any of those.
Thank you coach for believing in me and for training with me, day in and out. I have learned discipline and devotion from you. I'm always grateful to you for always being there for me. You have shaped not just my career but also my personality, I wish I could eve repay you for being the best mentor in the world!
Dear mentor, you have always been my biggest supporter and the best critic that I can ever ask for. Thank you for your truthfulness and faith that you shower upon me.
Dear Coach, you are one of those people I very highly respect in my life. All the time and effort you have put in to shape my strong points and to strengthen my weakness, I can never really you for being so kind and devoted toward training me. I always look forward to opportunities to make you feel proud.
It is always said that a good teacher is a second parent. You have always been my guardian in the field, Coach! Thank you for being a part of my journey towards reaching my goal, yours was an irreplaceable spot! I pray for your good health and wellness.
Whatever I have been able to achieve today, none of it would have been possible without you, Coach! Your discipline and devotion towards training me and towards your job inspires me as well as all my teammates. We have got our dream coach and we are super proud of you!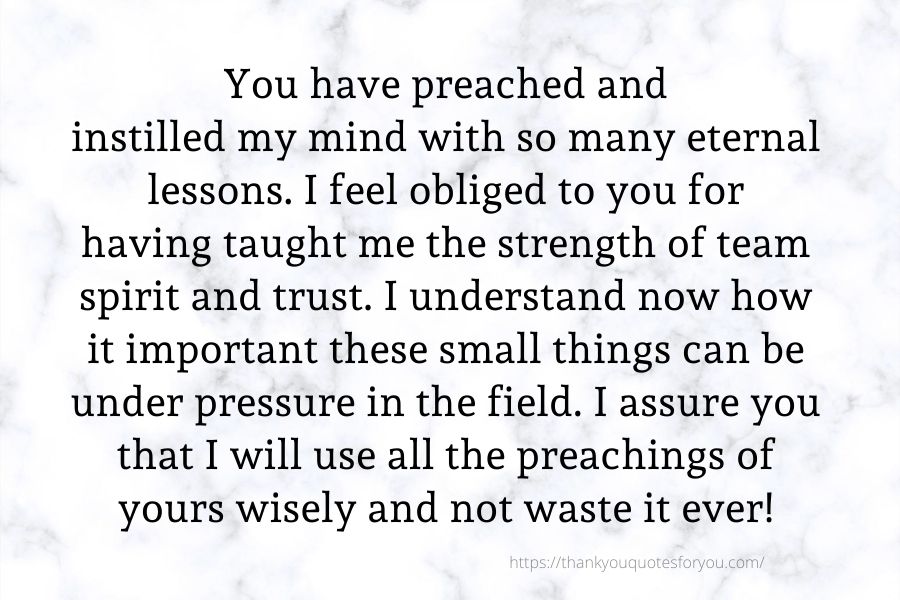 Thank you Coach for breaking every glass ceiling that prevented me from being my optimum self. I have improved efficiency and productivity because of your constant mentorship and preaching. I feel deeply grateful to have a very awesome mentor like you! Thank you for all the time and effort sir!
Your management and preaching skills are unparalleled. I feel grateful that I have a talented coach as you are. Your skills portray perfection and are near to excellence, I always aspire to be someday as good as you are.
To the most inspiring and motivating coach ever, your residence and devotion has always inspired me. I feel blessed to have a mentor like you. You have witnessed my failures as well as my successes. Thank you for never giving up on me and for always making me work hard to my true potential.
You have seen a potential in me that I couldn't see for myself, and I'm forever grateful to you for that! Thank you for guiding me towards my vision. I aspire to make you proud one day very soon! All the opportunities that have ever come my way are largely because of you. You have always motivated me to be better than who I was yesterday.
Thank you for standing beside me like a rock during the moments of adversity. I can never repay you for the amount of faith and support you have bestowed upon me.
Dear coach, All of the efforts you have put in day and night in shaping all my talents and in motivating me to take up better opportunities- thank you so much for beliveinga and for having faith in me. I feel deeply grateful to you and the efforts you make each day.
You have inspired me through all the seasons of life. Thank you for the guardianship and for making me practice more and more each day. I can never be thankful enough to you. Each day training under your guardianship is a bliss.
Thank you for all guidance and mentorship you have provided me in the past years. I have learnt so much from you, I can never express the gratitude I feel towards you. I feel highly content with wisdom and confidence because of your continuous training practices and mentorship.
Thank you coach for all the golden opportunities that have come my way because of you. I genuinely wish you for best of health and wellness. You have helped me accomplish dreams that otherwise I wouldn't have even dreamt off.
Your approval and validation means the world to me. Thank you for making it a priority to train me personally. I'm highly greatlul to you for all the support and wisdom that you have imparted upon me.
Thank you for working on me and for shaping all my strengths. I'm forever grateful to you for the belief you have in me and the dedication with which you have coached me all through past few years.
All the opportunities and possibilities that I get know wouldn't have been possible without you. Thank you for guiding me throughout my journey to my mission. I'll forever be grateful for the sacrifices you have made in coaching me.
Thank you coach for believing in me, on field and also off field. I feel more confident after every practice. The tricks and techniques you have taughts me on the field will always be very valuable to me. I'm grateful to you for investing your precious time on me.
Thank you coach for investing your time and effort in shaping my career. I have learnt from you every day. You have been an inspiration to me and for our entire team. We assure you that we will perform well at every event and we will try to grab every opportunity that we see coming.
Practicing with you never feels like a hard task. We adore you for making on field practice so much fun. No other coach would have ever been so thoughtful in making the practices more fun and enjoying. We admire your efforts. You have supported me and our team through thick and thin and we can never really repay you back for it.
You have inspired each and everyone of us, the dedication with which you train us is beyond excellence. We feel grateful and blessed to have a mentor and a coach like you. Thank you for making me and our teammates worth the opportunities and possibilities that now come our way.
I can never be thankful enough to you. You have added so much bliss and wisdom into our lives. You have taught us not just on the ground but also in our personal lives. You have been our best friend in moments of adversity and despair. I feel highly blessed to have a coach like you.
Thank you for putting in the effort and the time inorder to train us to perfection. We have not idealed anyone more than you. Your work ethic and your dedication towards the sport and rules is beyond expressible. We feel highly obliged to be trained by you. You are and you always will be the best coach we ever had.
Dear coach sir, you have guided us at moments of despair. Thank you for having your hand on our shoulders. You have preached us unity and togetherness. The team spirit you have developed in us over the course of time is unbreakable, All the credit for ehateve achievement we as individuals or our team makes will always be because of you.
Thank you coach for believing that we are ready for the best leap. You have trained us intensively since past years, we assure you to provide you with our bestest of performance in this tournament and every further opportunity that we may get.
I on behalf of my entire team would like to thank you for all the sleepless nights you have spent in planning and organising our practice schedule, all the early morning when you would make us practice and trainee to be the best of the best. We will forever be indebted to you for shaping our career and our persona.
Thank you Coach for teaching me the lesson of team spirit and commitment. I have learnt so much from the sport as well as from you! You are the best preacher I could have ever asked for. Thank you for making me worth competing and winning.
Thank you for taking care of my diet and my health throughout the process of training. Your gym trainings and work out routine really helped me to get back in form. I'm forever indebted to you for the constant support and guidance you have bestowed upon me. I hope for your good health and wellness.
Your diet plans have worked wonders in my effeciencey and my muscle mass. You have been the best trainer I have ever worked with in the past years. Thank you for taking personal care of each of your sports person, I feel blissful to trainee with you.