By forgiving others we gain mental peace and satisfaction. Forgiveness also helps you to rediscover yourself. It may not remove your past but you may create a better future and a better version of yourself. Surely, you should never regret whom you forgive if you accept forgiveness and it just means that you've let go all the anger and negativity towards them. Forgiveness is also the greatest humility that everyone should possess.
Thank you messages for forgiveness are such messages which are written by a person to thank someone who has granted forgiveness to him/her. These messages should sound extremely polite and should have a tone of gratitude. You can get a few ideas and thoughts to express your feelings and emotions to your near and dear ones. Just read these Forgiveness Messages to know more about the power of forgiveness and to express the thank you notes to your friends and near and dear ones to share your feelings.
Thank You Messages For Forgiveness
Hi dear, I feel indebted to you that you forgave me for making you hurt the other day. I was feeling so ashamed of my actions but by forgiving me you have proved that you have a big and better person. Thanks a ton, dear.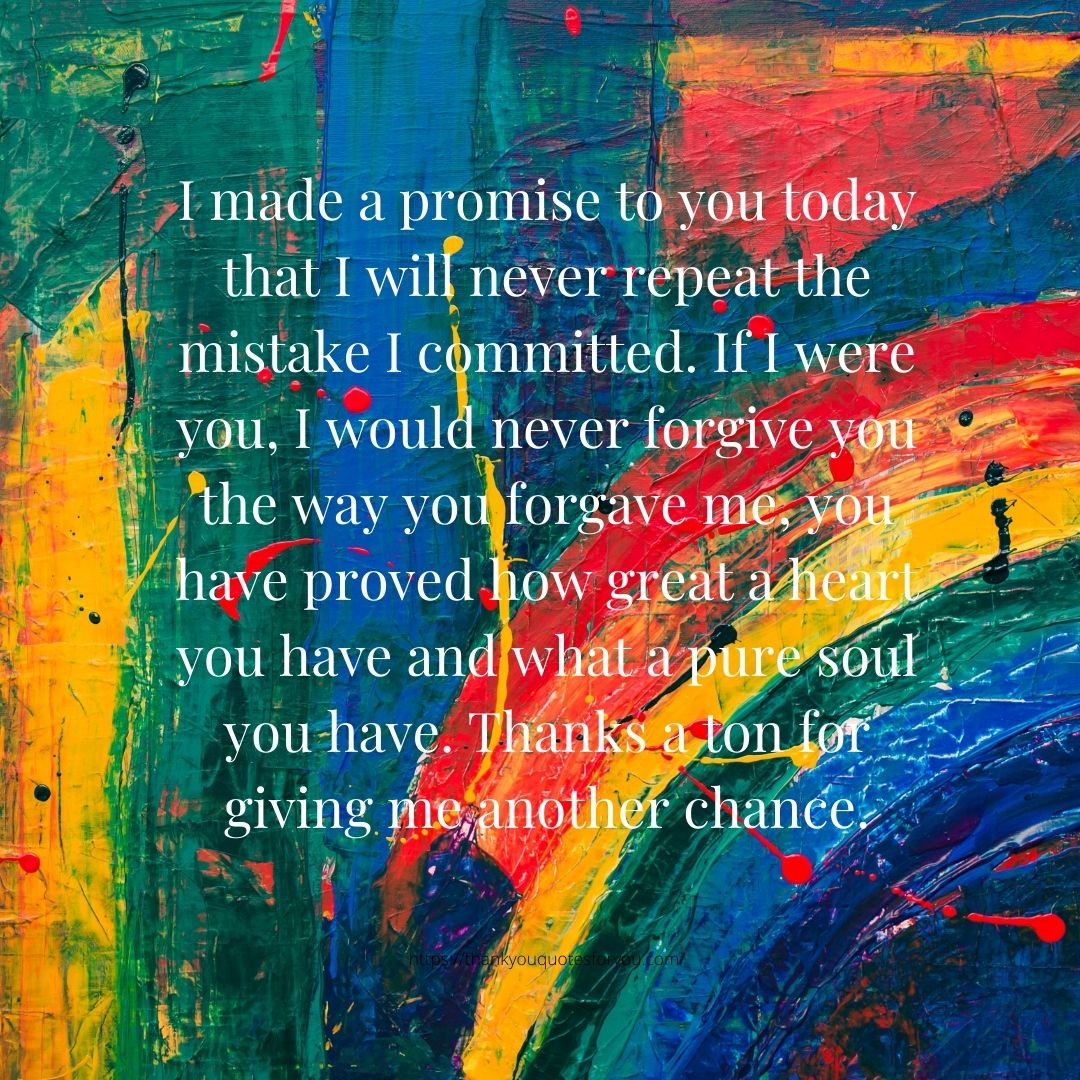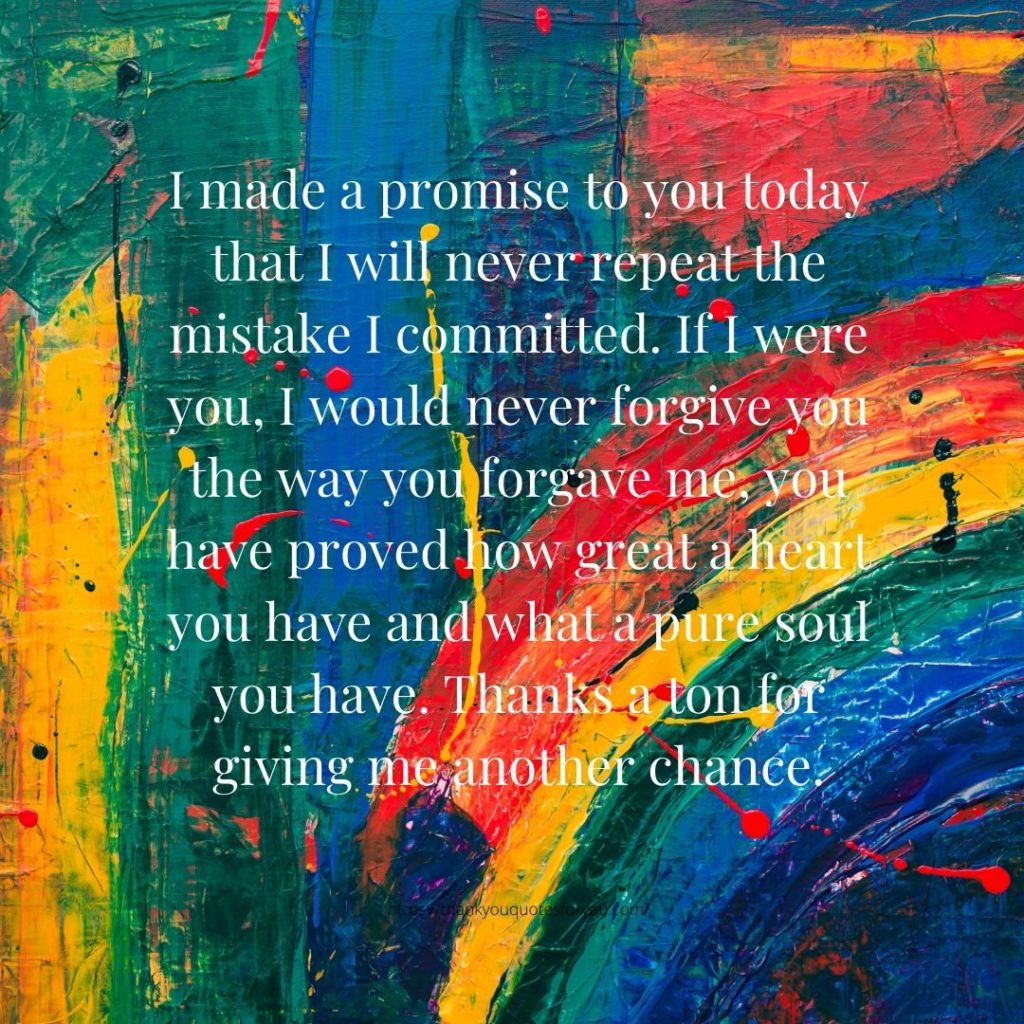 It is considered that the person who forgives has a great heart and earns the respect of all. And today by forgiving me you have earned huge respect. I am really grateful for your forgiveness and want to say to you that I will never ever hurt you again.
What I did deserve cruel treatment and response, but you have a big heart that you forgave me. I don't know how to give my gratitude for your forgiveness and pure heart. You have won my respect today.
You have no idea how ashamed I was feeling all this while after committing those mistakes. I feel much better after you forgave me. Thanks a ton for your forgiveness, I will always remember it.
I made a promise to you today that I will never repeat the mistake I committed. If I were you, I would never forgive you the way you forgave me, you have proved how great a heart you have and what a pure soul you have. Thanks a ton for giving me another chance.
The person who forgives is a person with a great heart and moral value and a clear mind. I am really obliged to you that you forgave me for my mistake on the day when I said really bad things about you.
I am really speechless to express how thankful I am to you that you granted me your forgiveness. Thanks once again.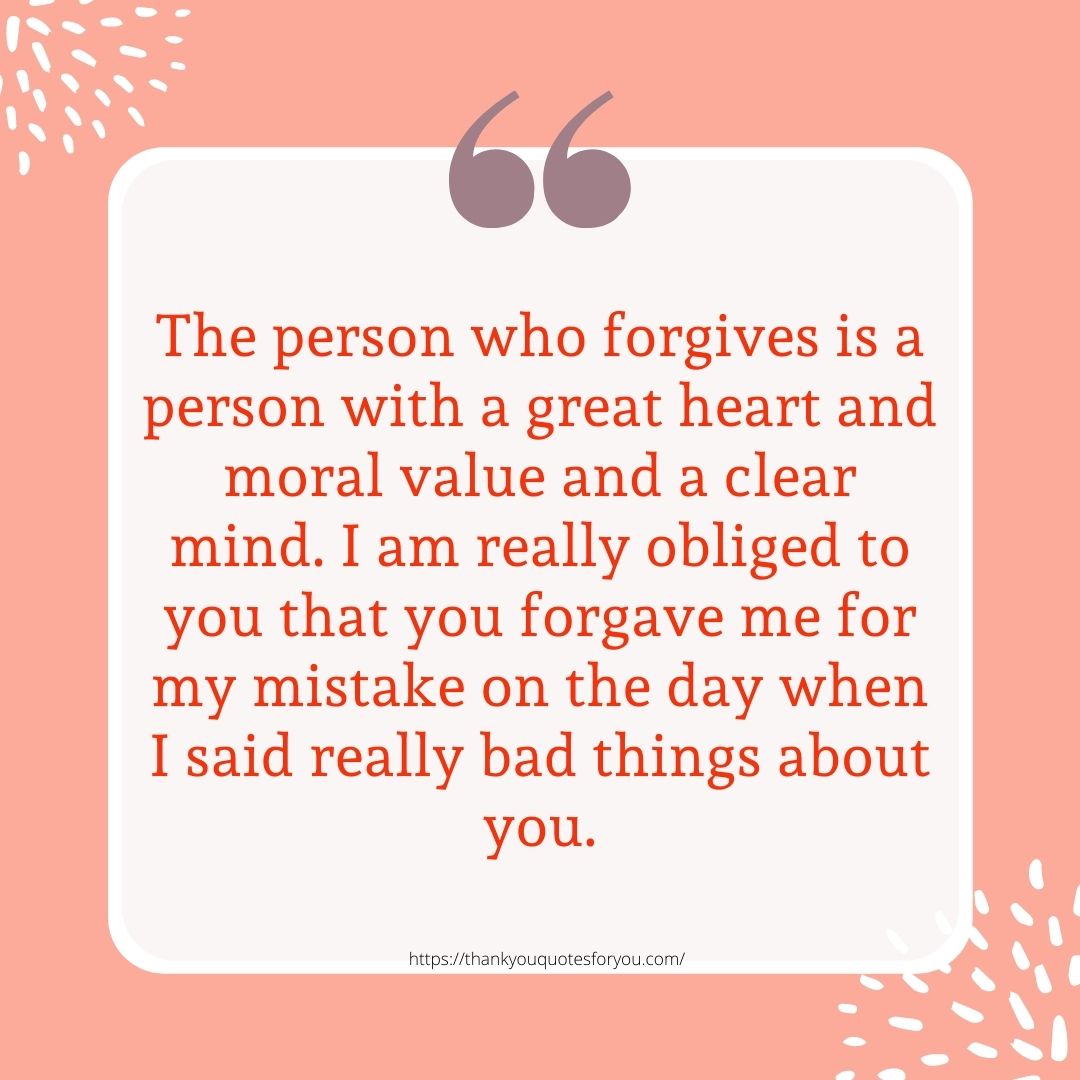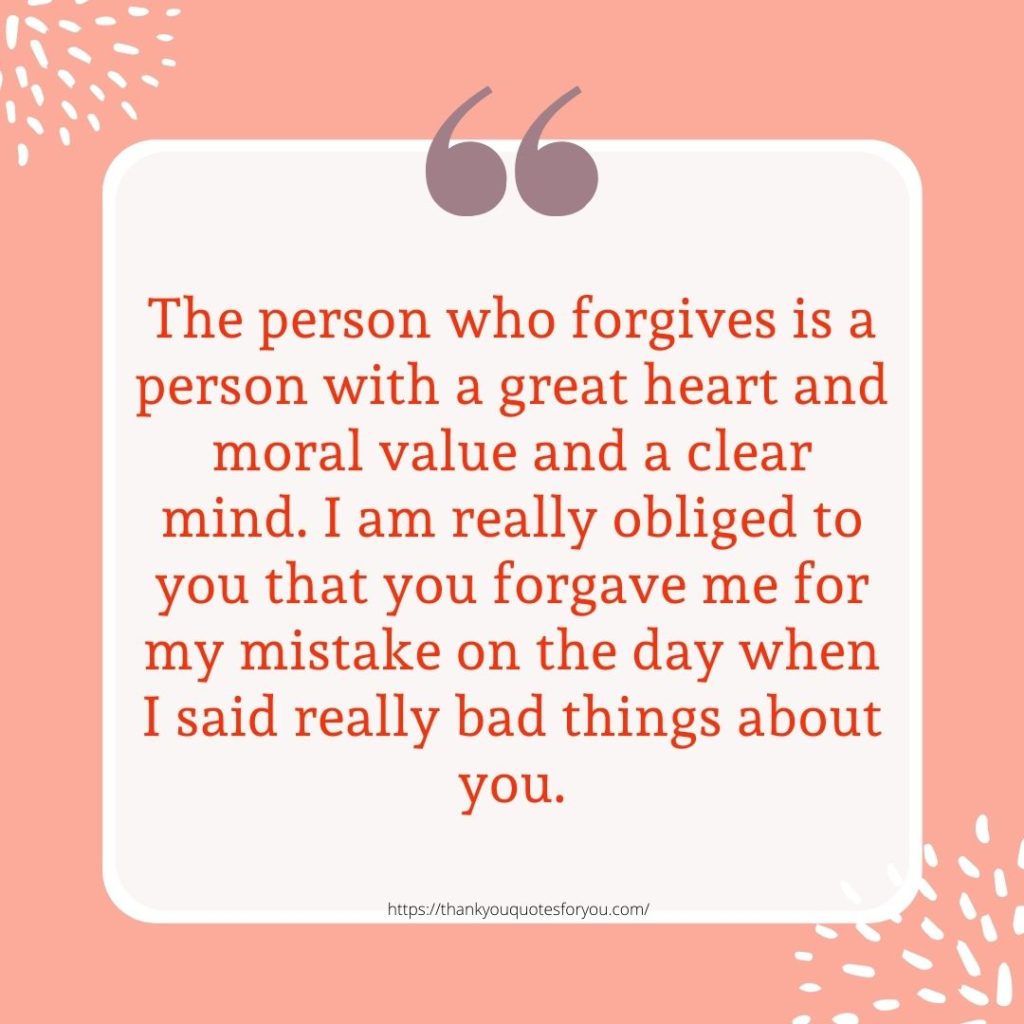 What I did, I was really feeling very ashamed for that but your forgiveness makes me feel better about myself. Thanks a million.
Forgiveness is also another form of Love. It takes a courageous and strong person to say they're sorry and an even stronger person to forgive.
The best way to take revenge on those who do any wrong with you is to forgive them. Don't hurt them more. So you forgave me with a big heart. A million thanks to you.
Forgiving is rediscovering the shining path of peace. You have such a big heart that you forgave my mistake. I really feel very bad for it, but your forgiveness gives me a chance to become a better version of myself.
God offers us the very best qualities that are love, forgiveness, and peace. You are the one who understands who I am and forgives me for my big mistake. Thank you again for giving me another chance to remain in your heart. Thank you so much.
I feel great pleasure and gratitude to you that you forgave me for wrong doings. I  realized a lot about my misconduct activities. Thanks a ton.
Forgiveness gives us discipline, imagination, persistence, and special psychological strength. I want to express my thankfulness to you for forgiving my mistakes. Thanks a billion.
I really realized a lot and understood my mistakes. Forgiving me for it is not easy. But you are a great and pure soul so that forgave me easily. I am so obliged to you that you give me a second chance. Thank you so much.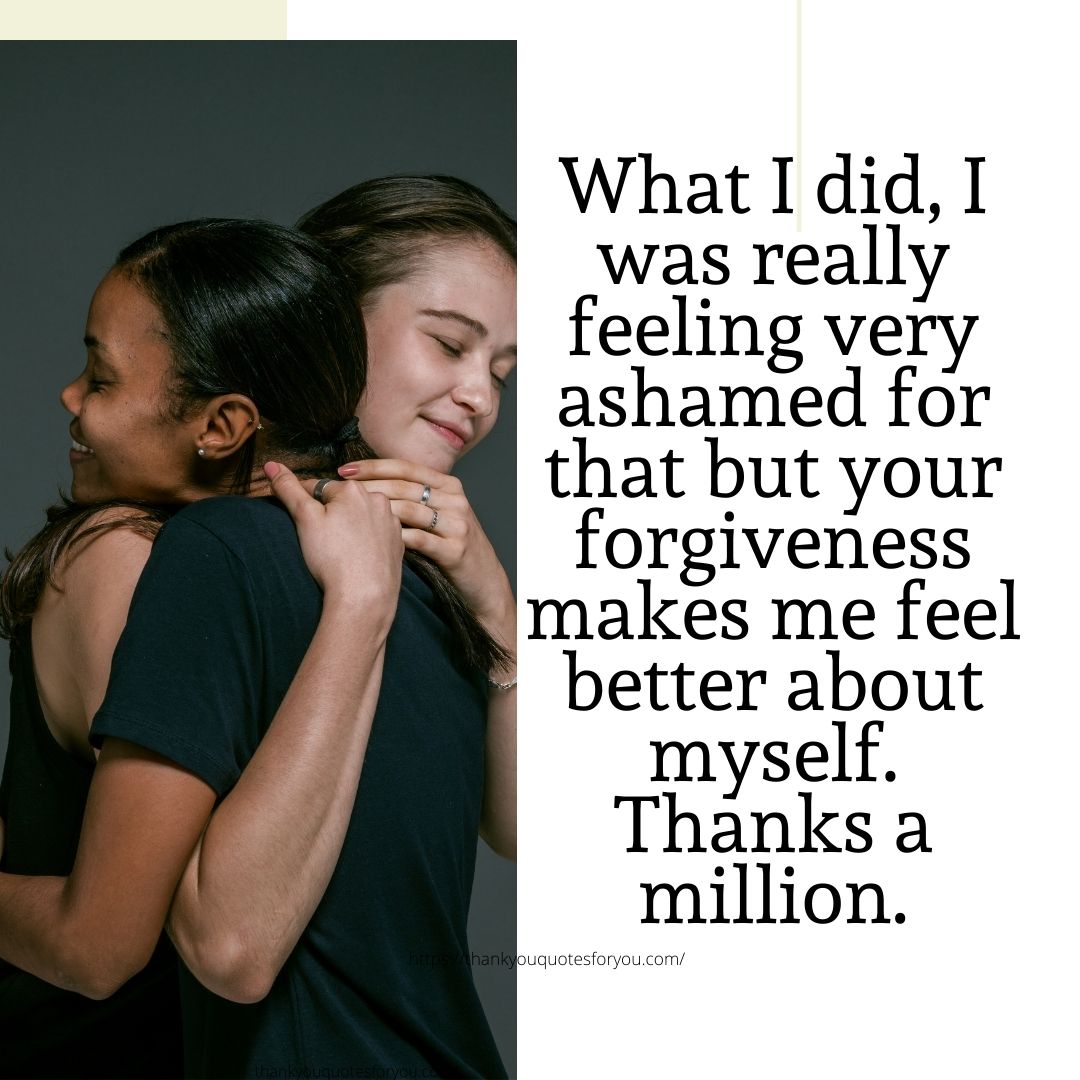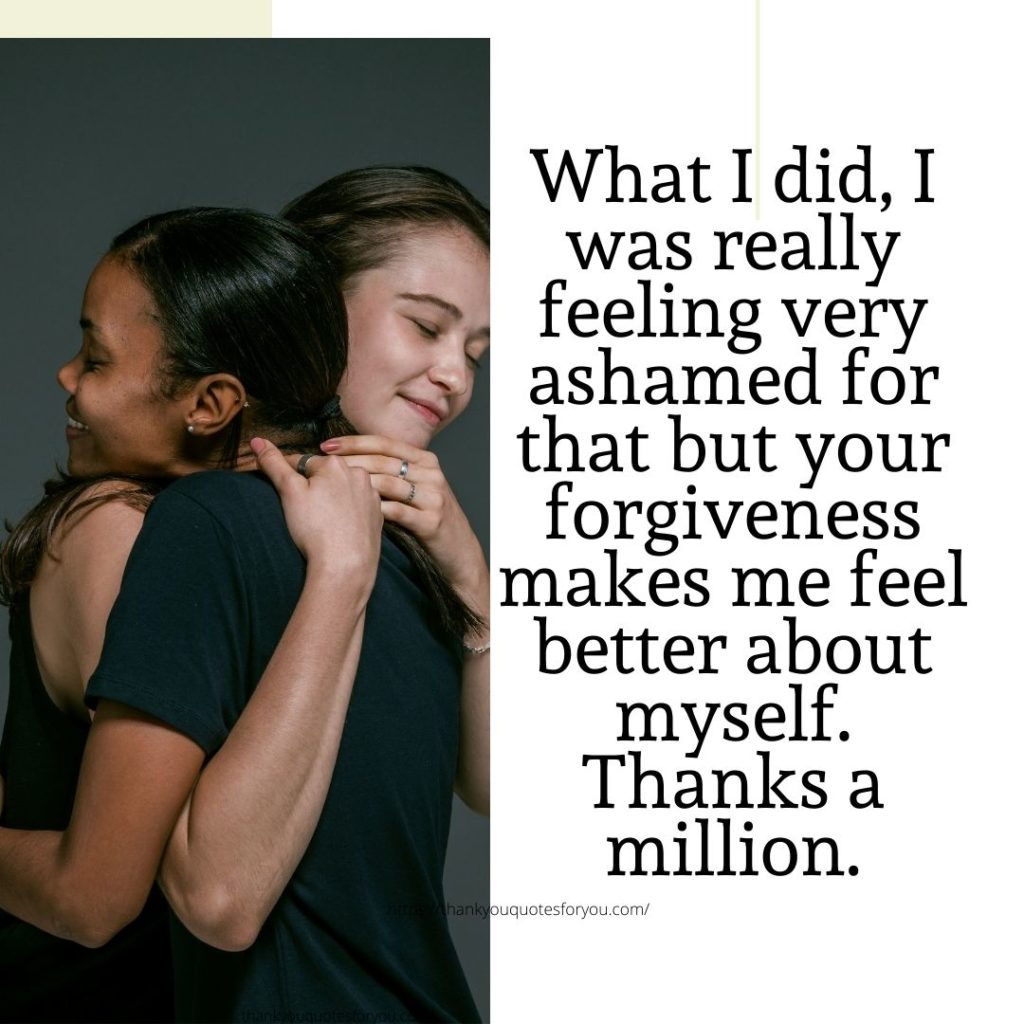 I am so fortunate that I found a person like you who forgives all my mistakes and accepts me for who I am. Thanks a lot, dear for forgiving my mistakes. You have such a big heart.
I really feel guilty for my mistakes. I don't know if I deserve a second chance. But you are such a compassionate and generous person that you always forgive me and give me a second chance. I will try not to repeat the same mistake. I will always remain grateful to you. Thank you so much. 
I really want to express my gratitude to you for forgiving me. I made many mistakes in my life but you always stand by me and are ready to forgive me. Thanks a lot.
It is said that whosoever forgives and gives a second chance is taking a risk again to keep trust in you. You still choose to take risks for me and I really feel sorry and guilty for all that I did. Thank you so much for keeping trust in me again.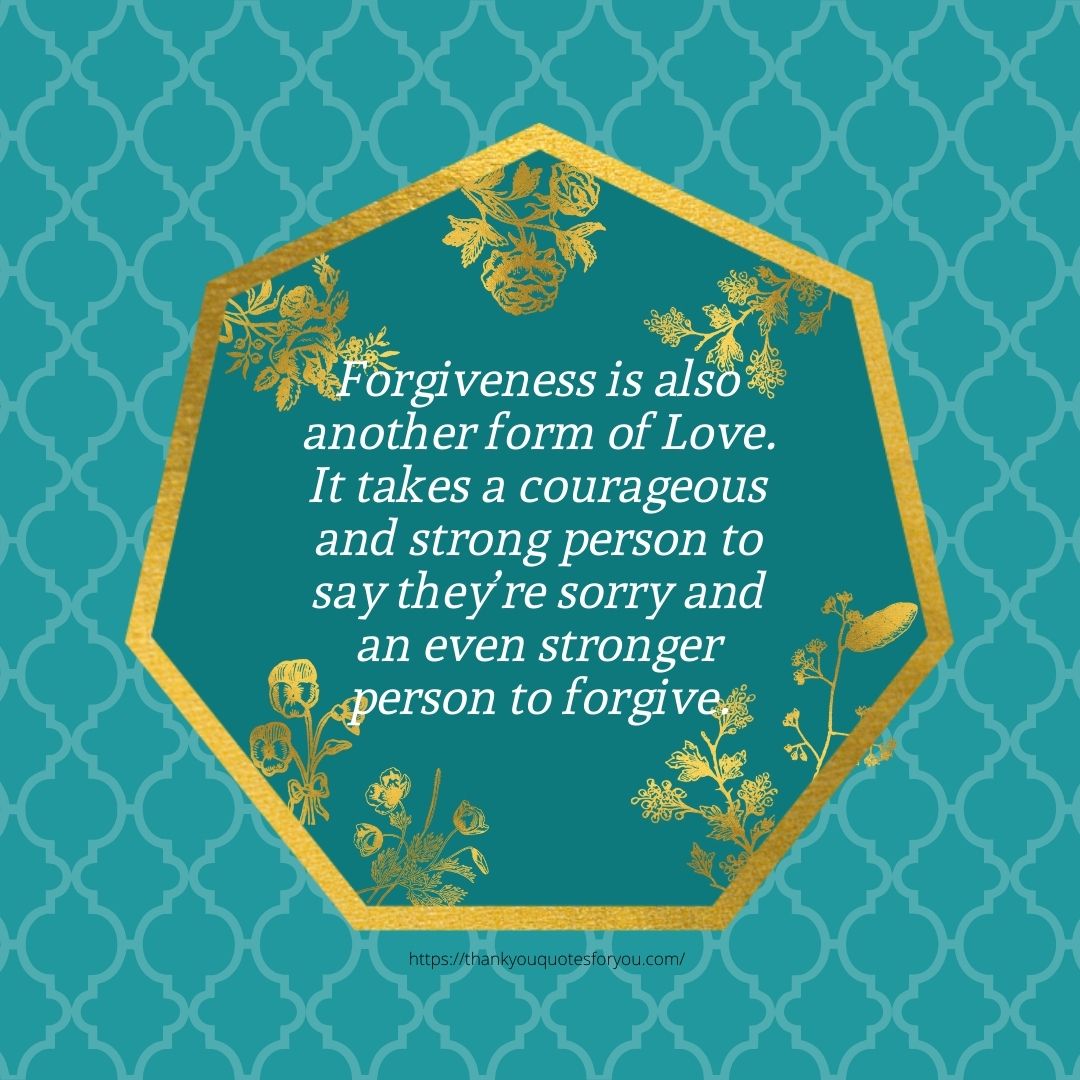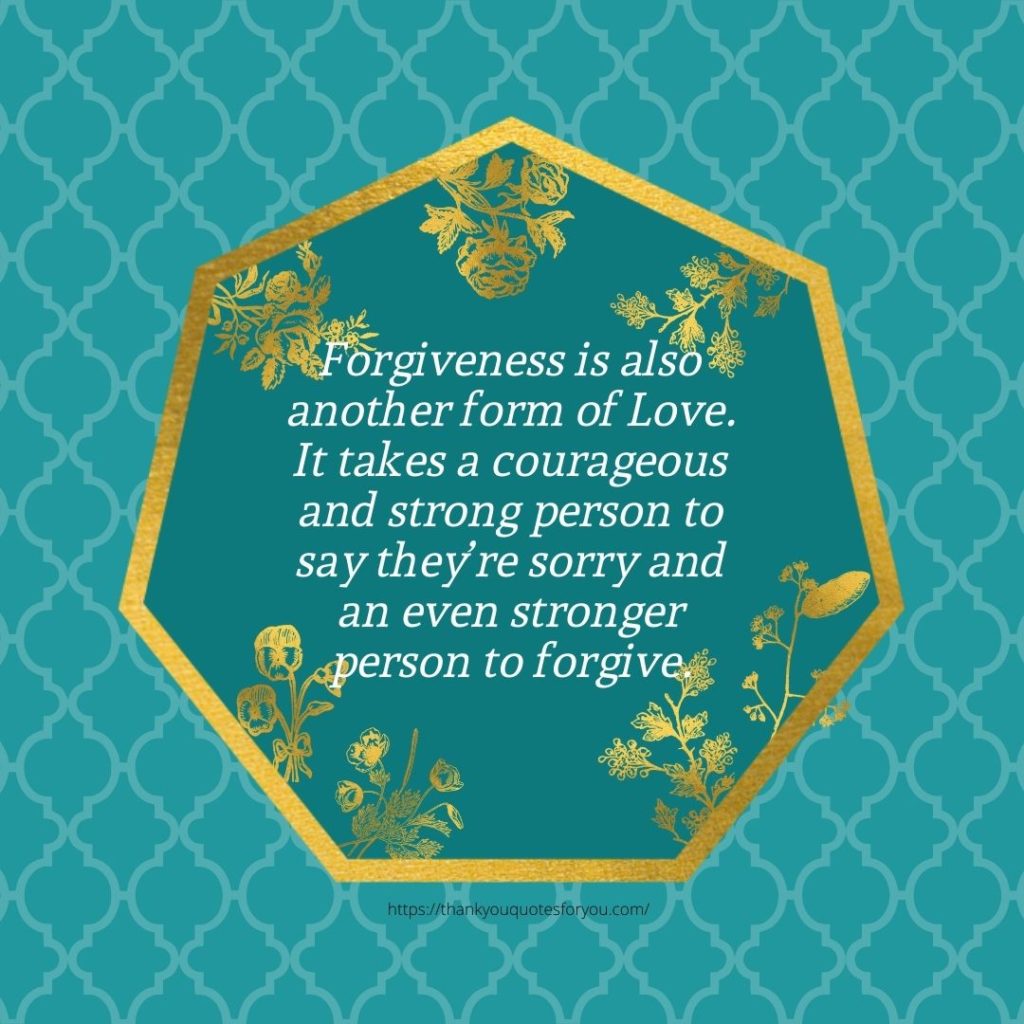 I am very obliged to you that you forgave me and gave me a second chance. I really feel ashamed of what I did. I will try to fix all the things right onwards. Thanks a lot 
I am so obligated and fortunate that you gave me another chance and forgave all my mistakes. I assure you that I will try not to make this kind of mistake again in my life. Thanks a ton for showing trust in me again.
I am really sorry for what I did. Mistakes are just human nature. But I had no idea that you have such a great heart to forgive my mistakes. Thank you so much, dear.