Regardless of type and nature, businesses thrive on building lasting relationships with the customers they serve. Like most other relationships, such connections can benefit immensely from a genuine expression of gratitude. Successful businesses know this, and that's why they capitalize on every opportunity to say thank you to their customers.
There are many ways a business can benefit from saying thank you to its customers for the purchases they make. First of all, it's a surefire way to stand out from the multitude of competing businesses in the market. Second, thank you notes can make your customers feel essential to your business, which is the foundation for their experience after transacting with you. A good customer experience can increase the chances of getting repeat business and, even more important, referrals.
For a more significant impact, businesses must be intentional and purposeful in crafting their thank you notes.
Tips on crafting thank you notes for orders
The following tips will help you craft a genuine thank you message for your invoice or "thank you for your order" emails to express gratitude to your customers.
Always stay positive: This implies staying away from subjects or words that may evoke negative emotions.
Keep it short and straightforward: Your customers don't have all the time in the world to read a message from you. The shorter your message, the better.
Be clear, or don't bother: Not writing a thank you note at all is way better than coming up with one that is confusing.
Be personable: If you can afford to, you should. Don't be too formal. Infuse some personality into your message.
Go personal: Specificity adds much power to your message. Details like the product or service the customer purchased can increase the genuineness of your gratitude. A handwritten note can also achieve this effect if you're selling on Etsy or Amazon. It tells the customer you do care about them.
Avoid grammatical blunders: Many find avoidable grammatical mistakes irritating and off-putting. There are tons of free tools to check your messages for grammar. Use them.
Thank You Messages for Purchases
Thanks for coming in today! We look forward to seeing you again at (company name).
Thank you for your purchase (customer name). I hope you love the product. Please reach out to (customer rep name) at (rep email address) if you have any questions or need clarification.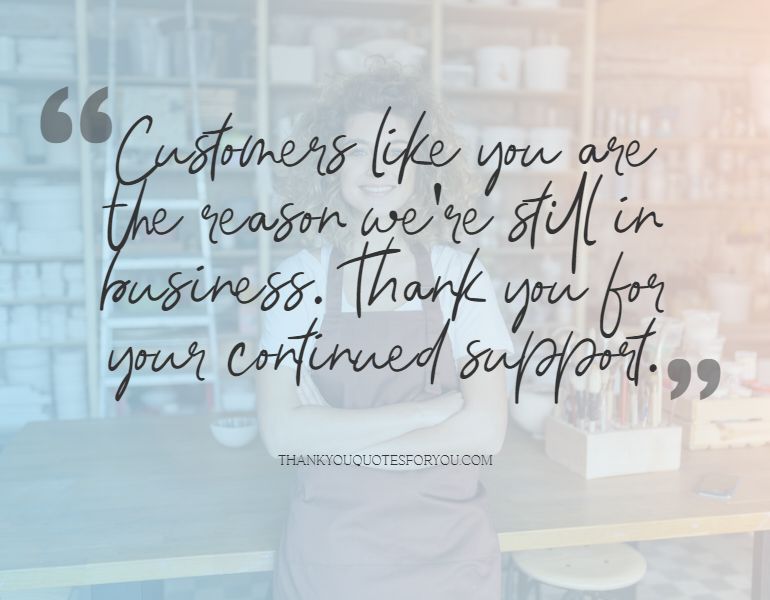 Thank you for purchasing (product name). It is one of our flagship products, and we hope you enjoy every bit of it.
Customers like you are the reason we're still in business. Thank you for your continued support.
Thank you for always choosing our products. We wouldn't have a business without you.
Thank you for your purchase. Your support is a sacred trust that we will never take for granted.
Dear (customer name), thank you for making that purchase. It will always be our pleasure to serve you with quality products.
Dear customer, your purchase indicates your utmost faith in us. We are grateful for it, and we promise not to fall short of your expectations.
Dear customer, you are the real superheroes for small businesses like ours! Your patronage has seen us through the pandemic/recession. Thank you!
Every purchase you make from us is yet another opportunity for us to deliver outstanding products, making us stronger and better. Thank you for choosing us always.
Dear customer, your partnership with our brand is a privilege we hope has been as rewarding to you as it has been to us. We appreciate your support.
Dear customer, we hope the (product name) you purchased is all that you hoped for and more. Thank you for your patronage. Do not hesitate to call us on (phone number) if you have any questions about the product.
Dear esteemed customer, your support motivates and inspires us to keep making great products. Thank you for being our muse.
Hi (customer name). Thank you for making us your choice brand. Your trust means a lot to us. We hope you enjoy your most recent purchase as always.
Our company grateful for loyal customers like you. We wouldn't be here without you. Thank you.
Dear (name), all of us are grateful for your purchase at (company name). We hope it brings you great satisfaction.
Thank you for your purchase. We take it as a privilege that you chose to do business with us, and we look forward to doing more with you in the future.
Thank You Notes for Etsy Buyers
Hi (name), thank you for purchasing from our shop. We hope you enjoy your order enough to buy from us again. For your next purchase, use the code Discount20 to get a 20% discount on any product. Cheers.
Dear (name), thank you for making your first purchase from our shop. We're happy to share this novel buying experience with you, and we hope you found it enjoyable. Please do not hesitate to look around the shop for more products you might like.
Thank you for trusting us with your order. If you have any problems, please contact (name) via (email/phone no.)
Thank You Messages for Amazon Buyers
Hi (name). Thank you for purchasing our super cool product on Amazon. Your satisfaction is of utmost importance to us. Kindly leave us a review using the link below or via your order history.
Hello (name). Thanks so much for your latest purchase. The (product) you bought is one of our best-selling products. We hope you like it, and we would love to hear your thoughts on it. Cheers
Dear (name). Thank you for shopping with us. We've had so many great reviews from previous buyers of the products you purchase. We hope to add yours to the list. Cheers