Thanks to the growing interconnectivity of our world, we often have to travel across states, countries, and even continents for business transactions and, sometimes, pleasure. We need places that feel home to stay while conducting our business in a foreign land when we do. 
While there are quite a few dwelling options available to travelers, hotels are one of the most widely available around the globe. The best ones will provide you with comfortable and homely shelter and give you access to world-class facilities that will help you create wonderful memories. Some will go the extra length to help you plan your trip and suggest ways to make the most of it.
All of these are not possible without dedicated staff delivering world-class services round the clock. And whether you're a traveler who has been on the receiving end of these first-class services or a manager who is responsible for ensuring service delivery is always top-notch, you ought to find ways to say thank you to your hotel staff.
Saying thank you may encourage them to keep up the good work or simply add gloss to their day. Read on for sample messages you can use as a guide as you write to appreciate the hotel staff that has served you.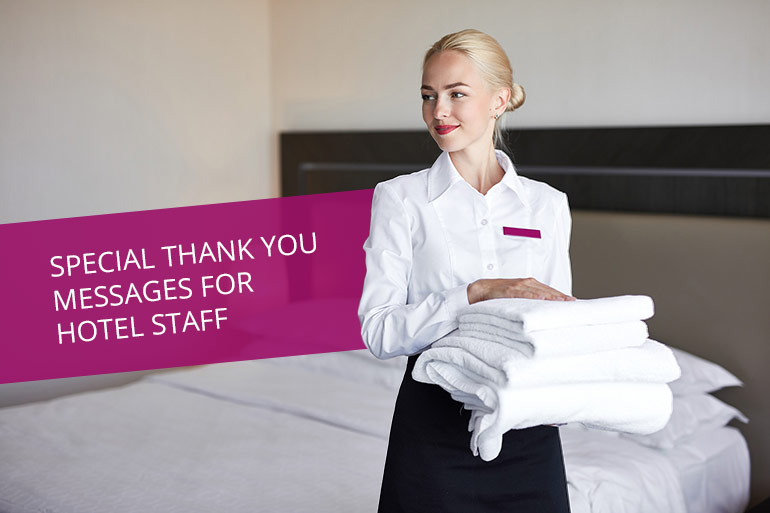 Some Inspiring Thank You Quotes for Hotel Staff
I am grateful to you and your team for the extraordinary service I enjoyed at your hotel. You all went above and beyond to ensure I was comfortable and well cared for throughout my time with you. Thank you, and keep up the good work!
Thanks to the warmth and hospitality of the staff at your hotel, this has turned out to be the best vacation I have had so far. I'll be looking forward to spending time with you the next time I'm within the area.
I had a wonderful experience staying at your hotel during my last business trip. The professionalism and warmth your team exuded made me feel quite at home. Thank you!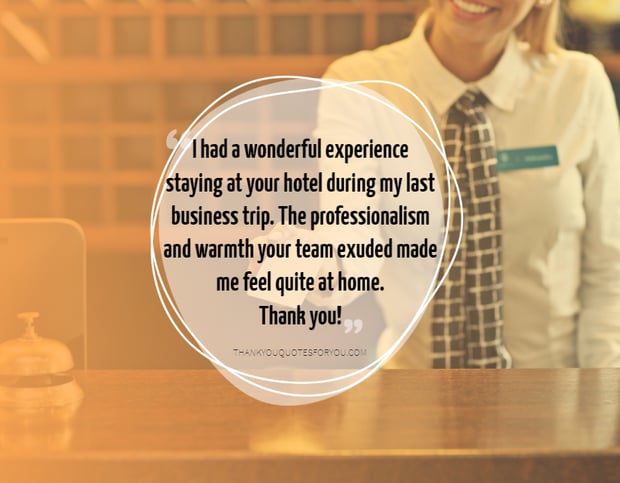 I was impressed by the professionalism on display during my stay at your hotel. Thank you for your hard work, and please do keep it up.
The quality of service delivered by your staff members during my last trip has convinced me that I can always rely on your hotel for the home-away-from-home feeling. Thank you for always doing a good job. I'll be sure to choose you next time I come around.
I want to congratulate you and your team for consistently delivering top-notch hospitality services over and over again. I've not had to make any complaint since I have been using your facilities. Please keep up the good work. You have a life-long customer in me.
Thank you all for using your talents and skills to provide hospitality services of the highest quality to public members. Because of you, we have the confidence to embark on trips to the strangest of lands knowing that you'll be there to make us feel at home. Thank you for the good work. Please keep it up.
Thank you for helping to make my trip enjoyable. I was pleasantly surprised at the professionalism on display during my stay at your hotel. You made me feel important and very well cared for. Keep working like this, and nothing will be able to stop you!
The professionalism and warmth you and your team exuded during our stay in your facility was such a breath of fresh air. Thank you for upholding the highest standards in hospitality.
I can't but say thank you. Even though I was thousands of miles away from home, you made me feel quite comfortable and relaxed. Thank you for being such a thorough professional.
Thank you for making our stay at your hotel a memorable one. There's no way I would forget the warmth and kindness you offered my family and me. You made us feel at home. As such, I wouldn't hesitate to recommend your hotel to my friends and colleagues whenever I have the opportunity to. Thank you once again!
I'm always excited when I come across workers who do their jobs with diligence and enthusiasm. You embody both of these traits in abundance, and I can't wait to once again be on the receiving end of your warm service. Thank you!
Thank you for your excellent hospitality; it surpassed my expectations. Your staff treated me like family and made sure everything I needed for a comfortable stay was readily available. I look forward to staying at your hotel again soon. Warm regards.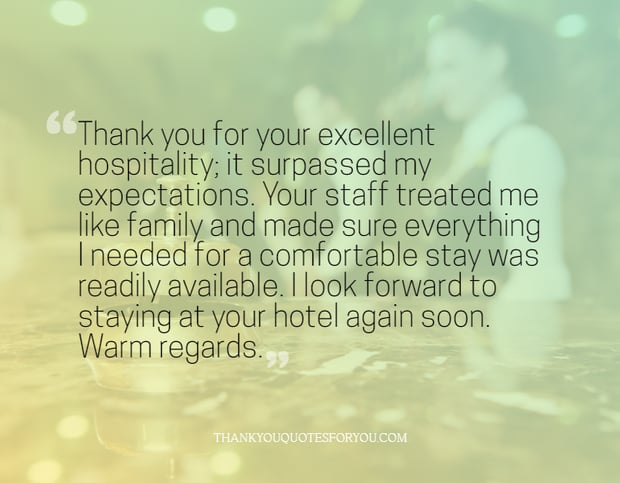 Thank you for your service and care for my wife and me during our stay at your hotel. Because it was our first vacation in about a decade, we needed it to be perfect. And thanks to you and your team, it was! I want my friends and family to have the kind of experience we had with you, so I will gladly recommend you.
When I embarked on my trip, I was anxious about what the accommodation would look like. But from the moment I stepped into your facility, all my anxiety disappeared. From the cool ambiance of the environment to the warm receptiveness of your team, I immediately felt at home. Thank you for such impressive service.
I want to express my gratitude to you and your team for ensuring my stay at your hotel was as good as it could be. It felt as if I was in my home. Thank you.
When I found out I had been booked into a room in your hotel, I didn't know exactly what to expect. Now, after spending three days here, I can't but say thank you. It's been such a wonderful couple of days. I wish I didn't have to leave.
Though I am now back home, there are several beautiful memories from my stay at your hotel that I'm sure will stay with me for a long time to come. Thank you for creating an environment that makes it possible. You're doing a great job!
Hey! Thank you for the warm reception I got at your facility. It was just the foundation I needed for a successful business outing in Hawaii. I promise to be back as soon as possible.