Many companies want to show their employees that they are appreciated for all of the work they do. The best way to do this is by thanking them, letting them know they're appreciated. You can also hand out an employee of the month certificate to publicly acknowledge the contribution of your best employees and encourage others to work harder. Make sure they have everything they need to be successful at work. It is important to show gratitude because it fosters a positive culture and motivates employees to continue doing a great job.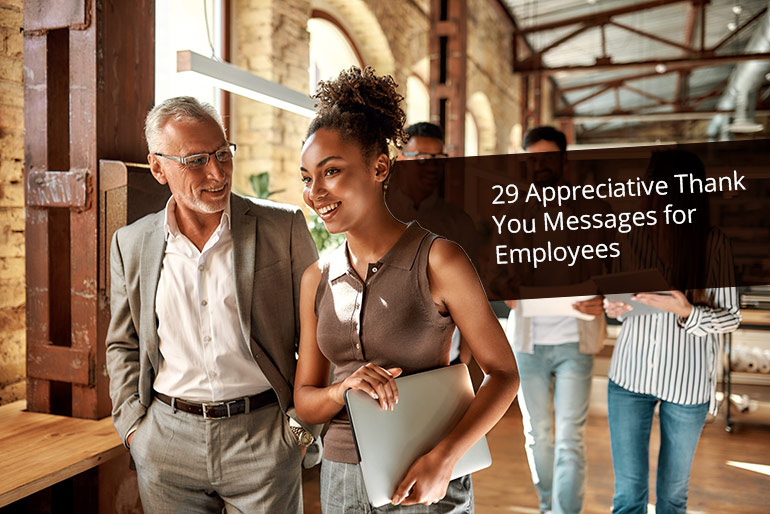 We have got all sorts of inspirational messages for you to appreciate your employees. So, let's get started!
How to Write a Meaningful Thank You Message to Employees?
Writing a thoughtful thank you note to your employees is easy. You can send the same generic message to all the employees or write a personalized one for each employee. If you just want to thank a team or individual, a personalized message is a better option.
Let's find out how it is done efficiently!
Step 1
Mention their position and importance in your company. Tell them how good this company has been because of their hard work.
Step 2
Highlight their best qualities such as hard work, timeliness, creativity, good communication skills, a good understanding of their work. The qualities can be both about the work or about their personality. Personality-related qualities can be things like enthusiasm, kindness towards other workers, their fun personality, etc.
Step 3
Mention that you are grateful for everything they have done for the company. If a recent task done by the employee has been useful to you, you can mention that as well.
Step 4
Assure them that they will always get the reward of their contribution to the company by you.
Step 5
End the message with a good wish.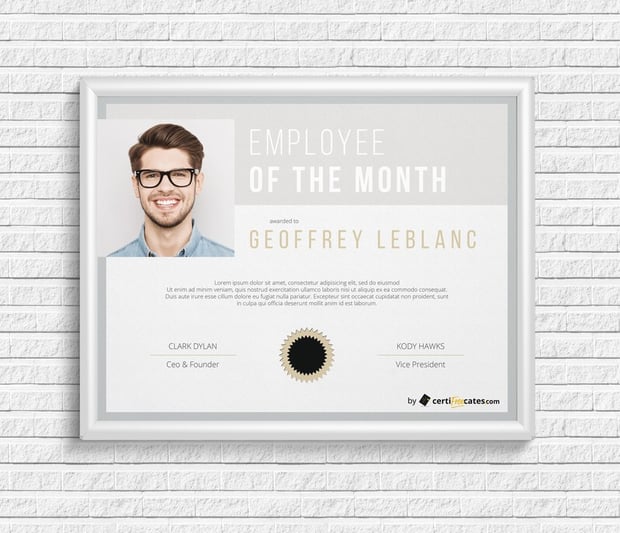 Thank You Quotes for Employees
Telling your employees that they are valued is necessary. But if you need some ready-made messages to send to your employees, we are here for you. Below are some thoughtful messages for your employees to make their day. So, let's dive right in!
Your presence in this company has always benefited us in multiple ways. I am thankful to have such a great asset in this company that cares about his/her tasks and helps others with their tasks. You are so good at what you do and I really appreciate your contributions.
Thank you for your hard work for this company. Your creativity is beyond words. Your visions, ideas, and ability to work on them are amazing.
You always do all the tasks given to you on time and sometimes even before the time. It is truly amazing how you can handle all the work burdens like a professional and never be late with anything. You are an absolute inspiration for everyone in this company.
You have pulled off this project like magic. Only you could have done this therefore we assigned this project to you. You amaze us by reaching the main goal of the project and got a lot more benefits from it for the company. Your presence in this company is important and we really appreciate you.
Thank you for saving our company from the loss that could have come. Your quick work and enthusiasm have saved the company. You deserve this promotion and much more. Hope to see you in this company always.
Being an employee, you have outdone everybody. You deserve to prosper in your life. You have made a difference in this company because of your amazing skills. Thank you for doing so much for this company.
Every interaction with you has made me happy with the decision of choosing you. You have such a creative and sharp mind which is useful for this company. Your ability to come up with beneficial solutions for every problem is truly amazing.
Your dedication to your tasks every time you are given one is an inspiration for all of us. Having you in this company has been very helpful. Your presence is valued here and we hope you are having a good time here.
The last project you worked on was so good that we are mesmerized by your skills. The way you handle everything about work deserves all the appreciation and applause.
The whole company is impressed by your performance. You give out your 200% in every task and always work with your heart. Your enthusiasm has benefited this company in ways I can't even explain. Thank you for being such a hard-working asset to this company.
You are the kind of person who makes the environment flourish. Your presence in this company makes everything successful and makes other employees have a good environment. You are like the best smelling flower in a garden that everyone loves to have. This company is truly blessed to have you as an employee.
Thank you for giving your all in for the (name) project. Your talent and skills have made that project a huge success.
Thank you for being the person who is always doing the right thing for this company. I can always rely on you to do any task in time. You always take care of everything about your job in this company and this is my favorite quality of yours. You don't just come here to earn but to contribute to this society with your skills and talent. If the title "the best employee" had a face, it would have yours.
 Keeping you in this company was the best decision I ever made. You have proved your worth in this company on multiple occasions. You deserve a lot from this company and I hope you will get it. Thank you for being this way. Hope you stay the same with your talent and skills.
The way you handle your team and communicate with them is amazing. You understand the tasks assigned to you and can also convey the company's messages to other employees fluently. You are always my go-to person for such tasks due to your extraordinary communication skills.
Hope you are having the best time in this company and that you are happy with everything. No matter what you do, you are always good at it. An employee like you is the true definition of a good asset. Thank you for always doing your tasks on time with great results.
Your utmost dedication and professionalism towards work and this company is your best quality. It makes you unique and stand out from others. We hope you always stay this way because we truly appreciate an employee like you in our team.
We are happy that we have you on our team. Thank you for doing everything with so much professionalism and expertness. We are proud of you!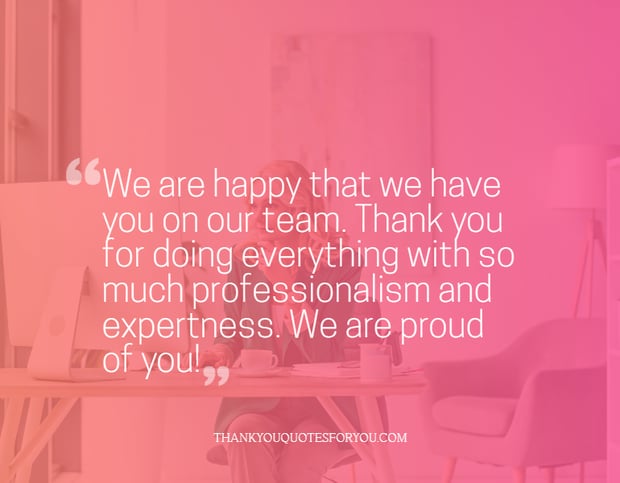 My whole team and I applaud you for your work on the (name) project. You have earned the trust of everyone here. We hope you get nothing but the best from life.
Only you can see through problems and come up with helpful solutions right away. You make impossible tasks possible. It is because of you and your team that our company is on top. Really appreciate your contributions to this company. Thank you!
Short Thank You Messages for Employees
Just want a short and sweet message for your employees? Sometimes only a single sentence can be enough to let someone know that they are valued. Get inspiration from the messages below.
We are aware that whatever you do is always good. Therefore, we have once again chosen you for the new project.
It seemed like magic the way you handled that problem. Only you can get us to the top every time you are given a task.
Despite having a hard time and a lot of work burden, you have maintained such a good environment in the workplace. All the applause for you!
Your ability to do your job efficiently is an inspiration for other colleagues. Always stay this way!
We hope you are not having any issues here because a great asset like you must feel the best at all times.
Your positivity inspires everyone around you to do their tasks efficiently.
You are our motivator in every situation. Your dedication and talent are what this company needed the most.
You always go the extra mile just to get your job done. It is one of your inspiring qualities.
Everyone should learn from you because you are nothing but the best at everything you do.